Sandi Morris' World-Leading Pole Vault Mark Highlights U.S. Performance In Diamond League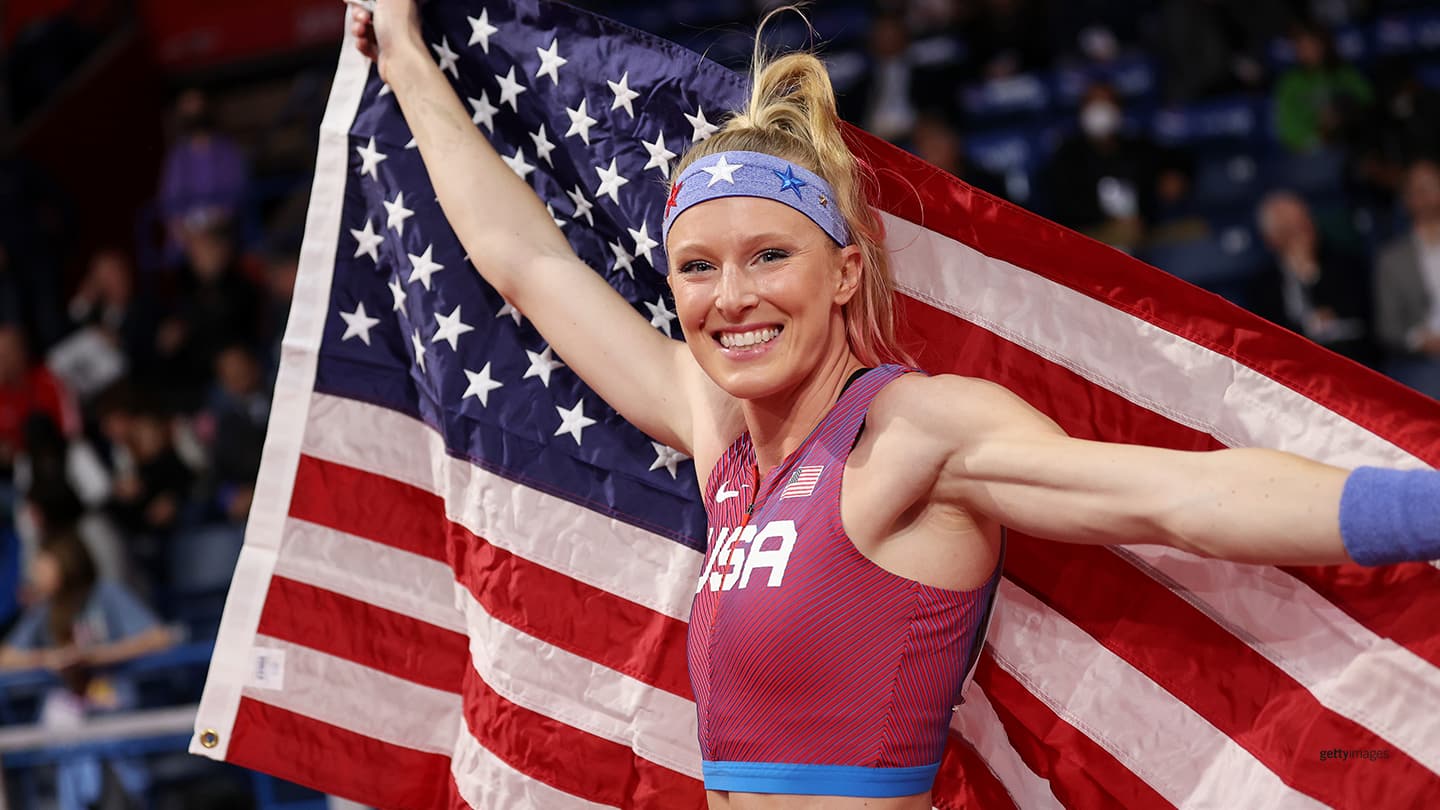 Sandi Morris poses after the women's pole vault at the 2022 World Athletics Indoor Championships on March 19, 2022 in Belgrade, Serbia.
Olympic medalist Sandi Morris' world-leading mark in pole vault highlighted a three-win day for U.S. women at Saturday's Diamond League event in Birmingham, United Kingdom.

Reigning Olympic champ Valarie Allman also came out on top in women's discus and two-time Olympic gold medalist Dalilah Muhammad broke the tape first in the women's 400-meter hurdles. Four other Americans landed on the podium, with Laulauga Tausaga taking third behind Allman in discus, Olympic gold medalist Bryce Deadmon and Kahmari Montgomery finishing second and third, respectively, in the men's 400-meter and Olympian Bryce Hoppel taking third in the men's 800.

With Tokyo gold medalist Katie Nageotte going out early, her U.S. teammate Morris soared to victory. The American record holder topped the field with a world-leading height of 4.73 meters. Morris' season best was 4.72.

The first U.S. win of the day went to Allman, who took gold in discus in her Olympic debut last year at the Olympic Games Tokyo 2020. Allman set the pace with her second throw of 67.85 meters. She holds the world lead with a throw of 71.46.

"It felt really good," Allman said to World Athletics after her event. "I think it always gives you a ton of confidence to know the work you put in the offseason is really going to yield a result."

Tausaga, a 2019 national champion at the University of Iowa, threw 60.80 meters to finish third.

Muhammad won by more than half a second in the 400-meter hurdles, an event she won at the Olympic Games Rio 2016 and took silver last year in Tokyo. Muhammad also won gold in the 4x400 in Tokyo. Like many U.S. athletes she's looking forward to having the world championships on home soil in July in Eugene, Oregon.

"My friends and family will get to be there so I think just having them in the stands, seeing a lot more familiar faces cheering me on will just bring an extra level of excitement and adrenaline," she said afterward to World Athletics.

On the men's side, Deadmon just edged out Montgomery by .01 seconds for second and Montgomery in turn just eked out third by the same margin over U.S. teammate Vernon Norwood. Deadmon and Norwood were part of the 4x400 team that took gold in Tokyo as well as the mixed 4x400 team that took bronze. Montgomery is a former national champion at the University of Houston.

Rounding out the podium finishes for Team USA was Hoppel in the men's 800. The Tokyo Olympian set a season best with a time of 1:46.33, breaking his old mark by nearly a second. Hoppel finished 15th in the 800 in Tokyo.

Diamond League action continues stateside next with the Prefontaine Classic at Eugene on May 28.
Todd Kortemeier is a sportswriter, editor, and children's book author from Minneapolis. He is a freelance contributor to TeamUSA.org on behalf of
Red Line Editorial, Inc.