Parenting One Of Many Daily Duties For Paralympic Snowboarder Mike Schultz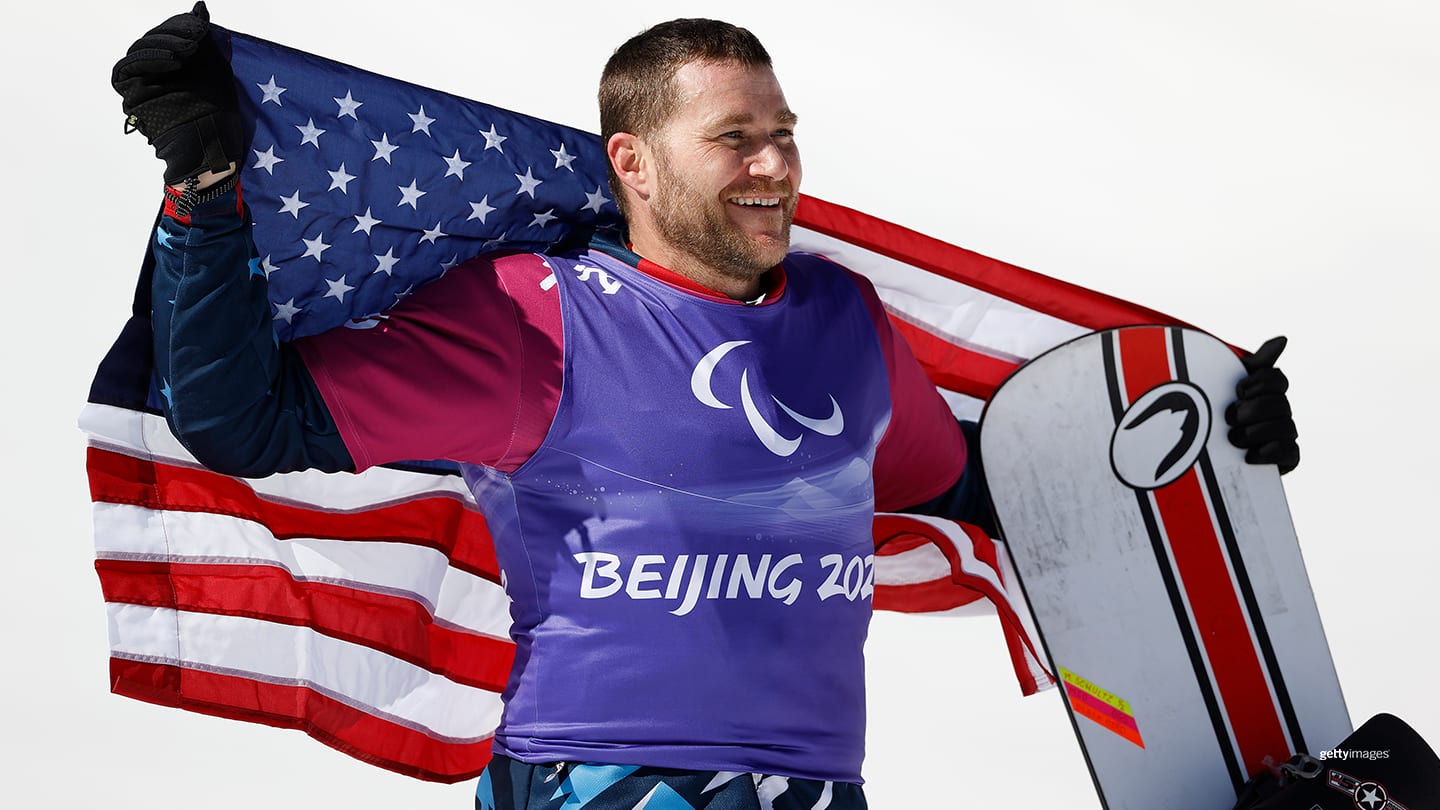 Mike Schultz celebrates after competing in the men's snowboardcross SB-LL1 big final at the Paralympic Winter Games Beijing 2022 on March 7, 2022 in Zhangjiakou, China.
Mike Schultz wears many hats. He's a Paralympic gold medalist in snowboarding, an X Games adaptive snowboarding and motocross medalist, successful entrepreneur, horseman, public speaker and now published author.

While he juggles those aspects of his busy life, he also plays his most important role of all — that of dad to 8-year-old daughter Lauren.

"It's complicated," Schultz said. "It's awesome."

The biggest challenge, said Schultz, is budgeting his time daily.

"I'm a family man, obviously," said Schultz, who is married to Sara Schultz. "I have my business, BioDapt. And then we have our training and competition schedule. In order to be very proficient at each one of them, it definitely takes a lot of consideration with my time management.

"I'm far from perfect at it, but I start every day or every week with a game plan of the time I'm going to spend towards each one and compartmentalize each one of them, so I'm focused on each one individually. It's so easy to get distracted."

Schultz, who owns two silver medals in addition to his Paralympic gold, founded BioDapt in 2010 to produce high-performance prosthetics for athletes. At the Paralympic Winter Games Beijing 2022, 26 athletes from 11 countries used his equipment. His typical day begins with four hours in his office and workshop.

"I try every day to stick to my program, knowing that it's going to take a left turn here and there," said Schultz, who also owns six horses and co-wrote his memoir "Driven to Ride" that was published earlier this year. "You've just got to pivot. I have a checklist that I start off every day.

"I love the feeling of checking boxes when I accomplish a task. Realistically, by the end of the day, I've got far more new boxes than the ones I have checked."

As Schultz prepared for Beijing, where he earned a silver medal in snowboardcross, he trained in his home gym in St. Cloud, Minnesota. Lauren often joined him.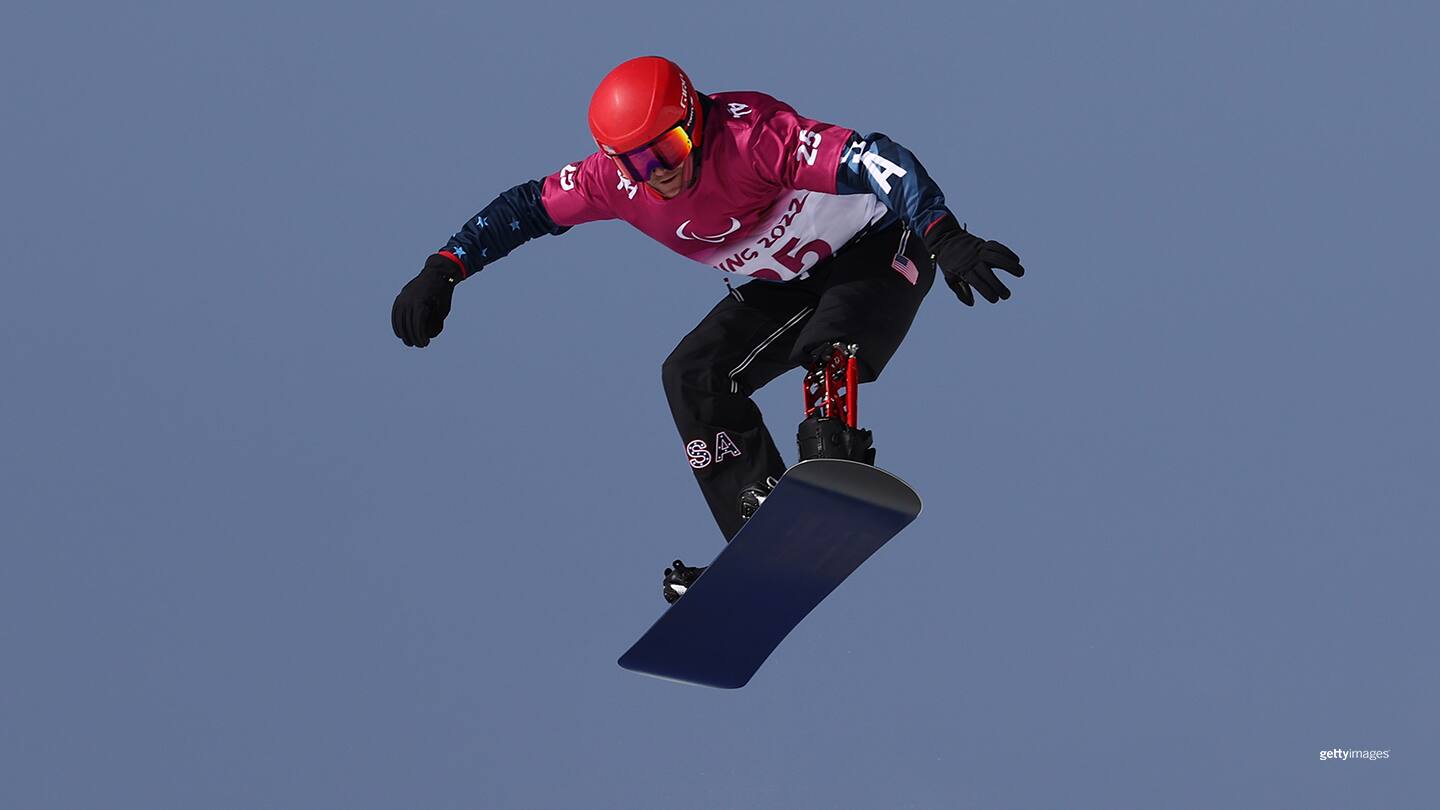 Mike Schultz competes during the men's snowboardcross SB-LL1 qualification at the Paralympic Winter Games Beijing 2022 on March 6, 2022 in Zhangjiakou, China.
"In 2018 during the PyeongChang Games, she was 4 years old, so it was a little over her head," Schultz said. "She understood what I was doing, but the following quad coming into Beijing, it was so much more fun to have her involved in it more. She's a little gymnast, and she's a very motivated gymnast.

"And one of the coolest parts pertaining to these Games was that she was my little training partner. That was a fun way to include her, and she'd be able to see the progression of my workouts, which would motivate her to work harder in the gym while she's doing her gymnastics."

Lauren's involvement continued outside of the gym.

"She was very much a part of a lot of it, whether it be working out in the gym with me or on the ski hill training," said Schultz, "like she'd run stopwatches and she'd go through my training courses with me. It was so much fun.

"That was the really positive part. One of the reasons why I decided to go to Beijing was I really wanted her to be able to come to China with my wife Sara and experience it as a family. Unfortunately, that wasn't able to happen with COVID."

COVID also added another layer of difficulty to the already hectic travel schedule for Schultz leading into the Games.

"The biggest challenge of it all these last two years was the time away from home and the whole quarantining process before and after my travel, which really challenged us as a family and was a unique situation that we weren't necessarily prepared for," Schultz said. "There were some definitely difficult moments there where I couldn't embrace Lauren like the way I wanted to, and we had to keep our distance.

"There were some tough times throughout the last two years with it all. She couldn't understand why I couldn't give her a big hug. That was a little tough."

One of the incentives for the 40-year-old Schultz to continue with competitive snowboarding is getting Lauren to another Games at an age when she will better appreciate the experience.

"It's definitely a motivator because I can see how I'm influencing her to work harder," Schultz said. "I'm just a good role model for her, and she's able to see how hard I work for what I want. That's going to transfer into her thought process.

"And for me, being a parent, I think that's probably the most valuable lesson that anyone can teach their daughter or son, just being a good role model driven towards goals and understanding, well, it doesn't always work out the way you want it. But as long as you pour your heart and soul into it and do your very best, good things will happen."
Bob Reinert spent 17 years writing sports for The Boston Globe. He also served as a sports information director at Saint Anselm College and Phillips Exeter Academy. He is a contributor to TeamUSA.org on behalf of
Red Line Editorial, Inc.