News
Brenna Huckaby
Noah Elliott
Noah Elliott, Brenna Huckaby And Zach Miller Win Gold At Snowboarding Worlds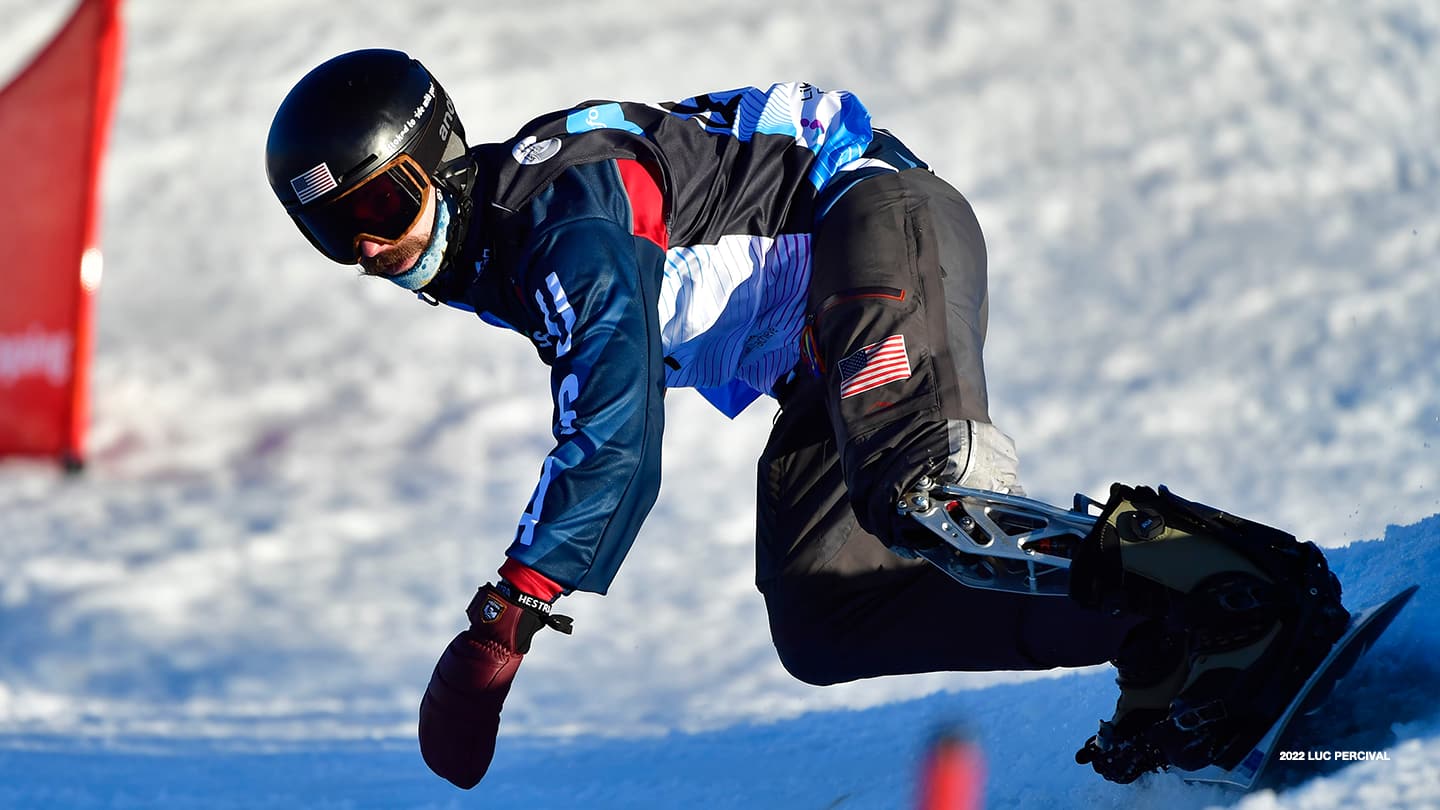 Noah Elliot competes during the men's snowboard LL1 qualifiers at the 2022 World Para Snow Sports Championships on Jan. 13, 2022 in Lillehammer, Norway.
Two U.S. Para snowboarders won their first world championships and another won her fourth Friday in Lillehammer, Norway, as the snowboarding competition began with banked slalom at the World Para Snow Sports Championships.

Noah Elliott, Brenna Huckaby and Zach Miller all landed on top of the podium in their respective events, continuing Team USA's hot start to these combined world championships. Mike Schultz finished behind Elliott to earn silver, and in Para alpine, which had its opening events postponed Thursday due to bad weather, Andrew Kurka brought home a bronze medal in men's sitting downhill. Team USA now has five gold medals and eight medals total after two days of competition.

Huckaby, a two-time Paralympic gold medalist, made a dramatic return to the international stage after taking two years off for the birth of her daughter Sloan. Huckaby scored a big victory in the women's SB-LL1 semifinals over Switzerland's Ellen Walther, then needed a comeback in the final to edge Cecile Hernandez of France for the gold medal. It's the fourth gold medal at worlds for Huckaby and her first since 2017 when she won gold in banked slalom and snowboardcross.

"Being able to finally show up to race, give it my all, and walk away with a win is beautiful," Hucakby said to U.S. Paralympics Snowboarding. "I was coming into the final race from behind so I was really nervous about how I was going to pull ahead for a win. I just reminded myself that this race was for my girls (daughters Lilah and Sloan), and I was going to go out there and race for them."

Elliott and Schultz put on a show in men's SB-LL1, dueling over two heats of all-American action. Elliott nabbed the lead after the first heat then maintained that lead in the second to win by 1.67 seconds. Elliott is a Paralympic gold medalist, but had yet to earn gold at worlds. The silver medal is the second for Schultz, a Paralympic gold medalist.

Paralympic hopeful Zach Miller topped Canada's Alex Massie by 1.49 seconds in men's SB-LL2 to win his first career world championship gold medal. Only 22, Miller won a bronze at the 2019 world championships and is off to a great start on this year's world cup circuit with a gold and a bronze medal to his name.

"I'm over the moon," Miller said. "Today was a roller coaster and I'm so happy to be a world champion. The team absolutely killed it today, three titles and multiple medals, everyone went out and did their best. I am so thankful for everyone that supported me today, and those watching and supporting from home."

In Para alpine skiing, Andrew Kurka earned the first medal in that sport for Team USA at worlds with his bronze medal in men's sitting downhill. It's the fourth career world championship medal for Kurka, who has one gold and one silver medal from the Paralympic Games.

Snowboarding competition resumes Jan. 21 with snowboardcross, while alpine resumes Saturday with the men's and women's super-G.
Todd Kortemeier is a sportswriter, editor and children's book author from Minneapolis. He is a contributor to TeamUSA.org on behalf of
Red Line Editorial, Inc.