Tyler Carter's Paralympic Swan Song Was, In His Mind, Perfect
Tyler Carter celebrates after competing in the super combined slalom run at the Paralympic Winter Games Beijing 2022 on March 7, 2022 in Beijing.
BEIJING – In his last run down the "The Rock" at the National Alpine Centre at the Paralympic Winter Games Beijing 2022, Tyler Carter sailed under the finish gate and immediately put his face in his hands.

He bent down, hunched over. Tears began to roll down his cheeks.

Yet he was grinning.

His final Paralympic run.

More than 12 years of sacrifices — all for seconds on the slopes — had come to a close.

Carter is only 28, yet his career as a standing skier spanned three Paralympic Winter Games and a decade worth of world cups. The Pennsylvania native was unable to make it down the hill for two of his four events in Beijing, but the "one-legged Captain America," as he refers to himself, said getting to his final Games was an accomplishment in itself. He was plagued by injuries and countless setbacks the past few years, in addition to having to balance a full-time job as a guest experience supervisor at the U.S. Olympic & Paralympic Museum in Colorado Springs, Colorado.

"To be able to make these Games and come out and race in four events — it wasn't my best skiing ever — and give it my heart and my all was great," Carter said. "It's an honor to be here and you can't ask for anything more. I'm so blessed to have been able to do this for so long.

"I didn't think I'd make one Games, let alone three. Some people grow up wanting to be an Olympian or Paralympian. It didn't happen for me until I went to Vancouver to spectate the Games. To have made it this far, and knowing this was my last and being able to truly enjoy every run and moment, not everyone gets to do that and go out on their own terms, but I got to do it."
The seeds were set in Carter's Paralympic journey a dozen years ago. The native of Topton, Pennsylvania, who had his right leg amputated as an infant after being born without a fibula, was invited to Vancouver to watch the 2012 Paralympic Winter Games as part of the Paralympic Experience Vancouver delegation for young student athletes. Watching from the stands, he was inspired to become a competitive skier. Coaches at the National Sports Center for the Disabled in Winter Park, Colorado, saw potential in Carter and recruited him to pursue it.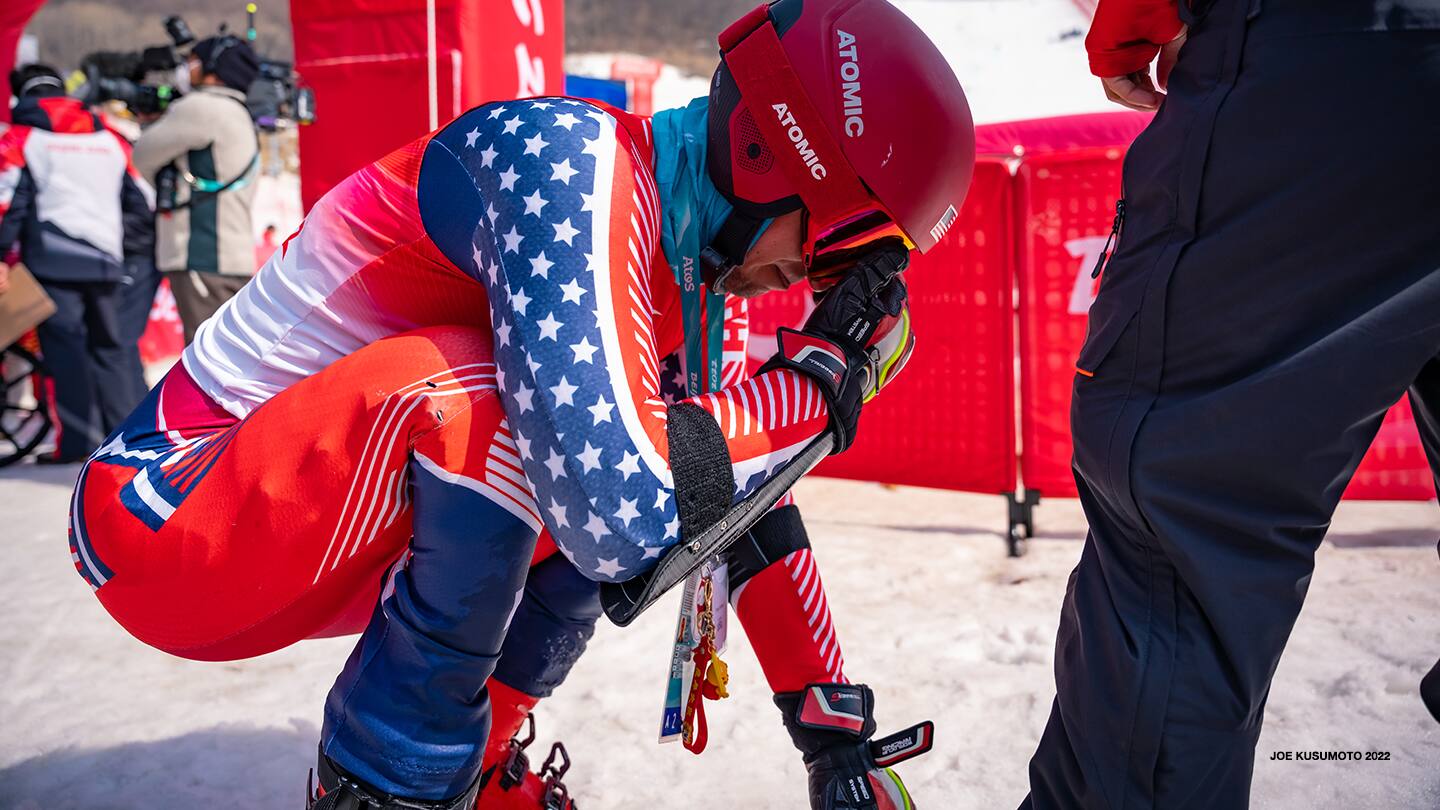 Tyler Carter after competing in his final race at the Paralympic Winter Games Beijing 2022 on March 9, 2022 in Beijing.
More than a decade later, his 2.5-hour commutes from working in Colorado Springs to training in Winter Park have caught up with him, and he's ready to turn the page to the next chapter in his life.

His Paralympic swan song was perfect, in his mind. Carter was voted by his teammates as one of the U.S. flag bearers for the Opening Ceremony, along with fellow alpine skier Danelle Umstead, and made countless memories with the other athletes in the village and on the slopes that will last a lifetime, he said.

Now, the healthy living advocate and ice cream enthusiast ponders his next chapter.

"That's the big question — what's coming up next?" he said. "I work at the U.S. Olympic & Paralympic Museum in Colorado Springs, and I have my family there cheering me on an anxiously waiting for me to come home and come back to work, so that's going to be the starting point.

"There are a lot of things I want to continue to do. I want to continue being involved with Team USA and the Paralympic Movement. For me, the biggest thing is being a role model, moving the Movement forward and being a bright light in the world and keeping some positivity around."

As Carter finished up talking about his future, he allowed his tear ducts to open up, crying as he called out his support system for their contributions over the years.

"I've got to thank my family. They've had my back this whole time, and I couldn't have gotten here without them, as well as my coaches and my teammates," he said.

"It's really a team effort. You don't do it alone."
Stuart Lieberman has covered Paralympic sports for more than 10 years, including for the International Paralympic Committee at the London 2012, Sochi 2014 and PyeongChang 2018 Games. He is a freelance contributor to TeamUSA.org on behalf of
Red Line Editorial, Inc.