U.S. Wheelchair Curling Team Looks To Make A Comeback After Dropping To 2-4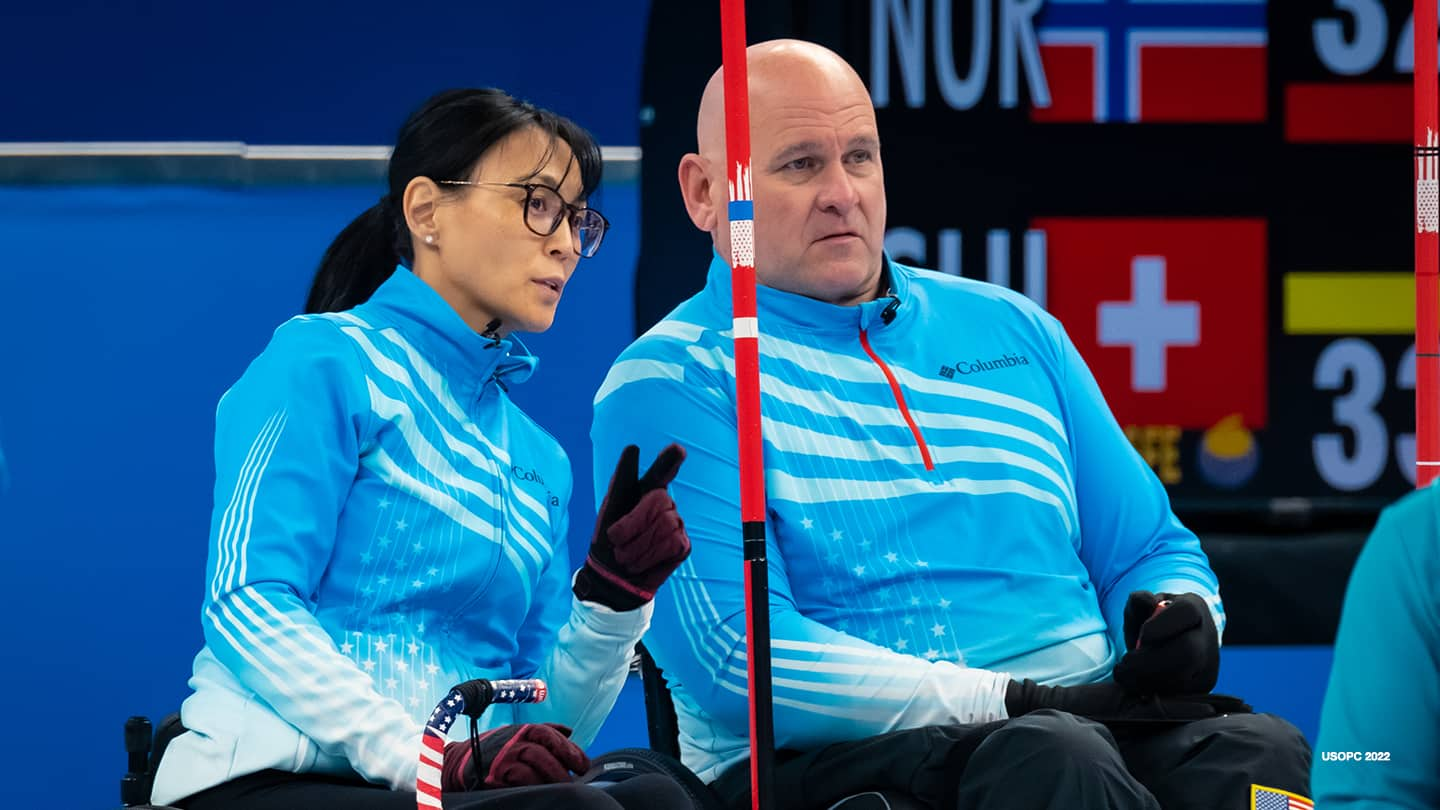 Batoyun Uranchimeg and Dave Samsa look on while competing in the wheelchair curling round robin match against China during the Paralympic Winter Games Beijing 2022 on March 8, 2022 in Beijing.
BEIJING — With a 2-4 record, the U.S. wheelchair curling team is hoping to stay alive for the playoff rounds at the Paralympic Winter Games Beijing 2022. Following a 10-2 loss to the host nation on Tuesday, Team USA now sits in a three-way tie for eighth place in the standings with four round robin matches left on its schedule. The top four teams will advance to the semifinals.

After dropping its first two contests at the National Aquatics Centre in Beijing, the Americans bounced back to win two of their next three, defeating Estonia and Norway, before falling to Canada.

Another loss to China late this evening in Beijing puts the U.S. in a must-win situation from here on out. The U.S. struggled early against China, as the reigning Paralympic and world champions took a quick 5-0 lead on their home ice after the second end. The Americans took a point in the third to get themselves on the board, but China answered with another three in the fourth end and two in the fifth end.

The team is hoping to quickly erase their recent losses and move on to the next set of matches.

"We are like goldfish. You miss something, you have a short memory, you go on," said the team's second, David Samsa, the 56-year-old from Green Bay. "We have a very good dynamic. We all get along very well, and we can talk about anything that happens on the ice that upsets me or anybody. We are very open. We talk and get over it."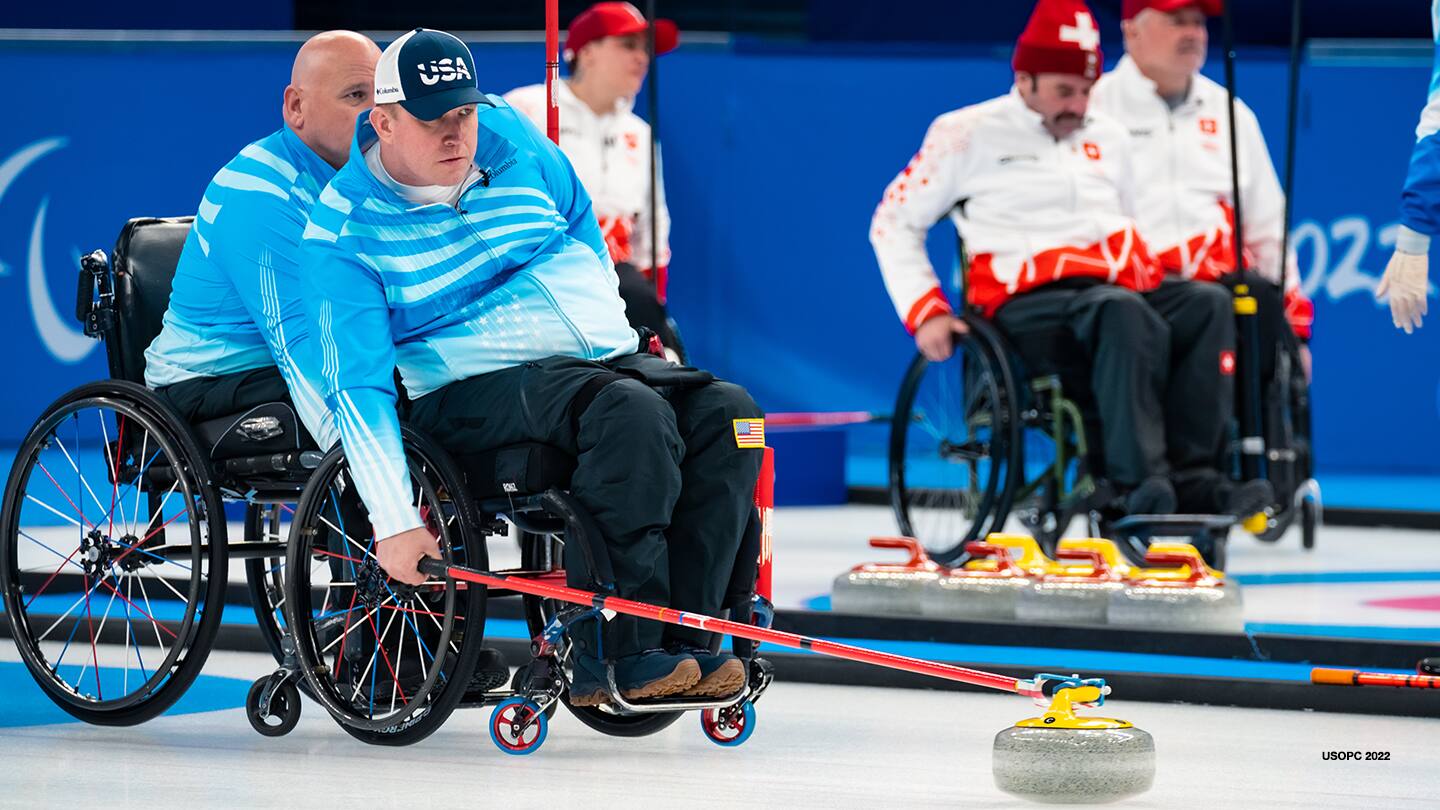 Matthew Thums and Dave Samsa compete in the wheelchair curling round robin match against China during the Paralympic Winter Games Beijing 2022 on March 8, 2022 in Beijing.
Five months ago, the U.S. didn't even know if it would have a wheelchair curling team in Beijing. After missing the world championships in 2020, it earned a spot in the 2021 edition of the event by winning the World-B Championship. With a fourth-place finish at last year's world championships, it earned its best finish since winning bronze in 2008 and qualified itself for Beijing.

The program has competed in every Paralympic Winter Games that wheelchair curling has been contested in dating back to Vancouver 2010, with its highest Paralympic finish being fourth at those Games.

Following a disappointing eighth-place finish at PyeongChang 2018, four of the five members of the team were replaced this Paralympic cycle.

Former University of Connecticut basketball walk-on Steve Emt is the only returning member from PyeongChang 2018 — a memory he's trying to pack away.

"I thought about PyeongChang for about two days and that was it. It was miserable and awful, but then you've got to flip your mentality," Emt said. "In 2018, we were hoping to win. Now, we're expecting to win. The podium is our expectation, and a gold medal would be the greatest thing."

For the four newcomers making their Paralympic Winter Games debuts — Matthew Thums, Oyuna Uranchimeg, Pam Wilson and Samsa — they are hoping to brush off the nerves that have haunted them in early matches.

"It's been incredible, this being my first Paralympics," said Uranchimeg, the team's lead and a native Mongolian. "The first few games we were a little bit nervous. A lot of us are here for the first time, and that played a role in that. But we regrouped after our third loss and decided we needed a win on the board to get momentum."

The U.S. will now regroup before its final two days of round robin matches. Team USA will take on Switzerland and Latvia on Wednesday, followed by Sweden and South Korea on Thursday. The U.S. has a game in hand over Canada, Latvia and Norway, three teams it is chasing in the standings, and a pair of wins Wednesday would get the team back to .500 and right back in the mix of teams hoping to snag a semifinal spot.
Want to follow Team USA athletes during the Paralympic Winter Games Beijing 2022? Visit TeamUSA.org/Beijing-2022-Paralympic-Games to view the competition schedule, medal table and results.
Stuart Lieberman has covered Paralympic sports for more than 10 years, including for the International Paralympic Committee at the London 2012, Sochi 2014 and PyeongChang 2018 Games. He is a freelance contributor to TeamUSA.org on behalf of
Red Line Editorial, Inc.