U.S. Wheelchair Curling Team Earns Paralympic Qualification, Sets Sights On World Title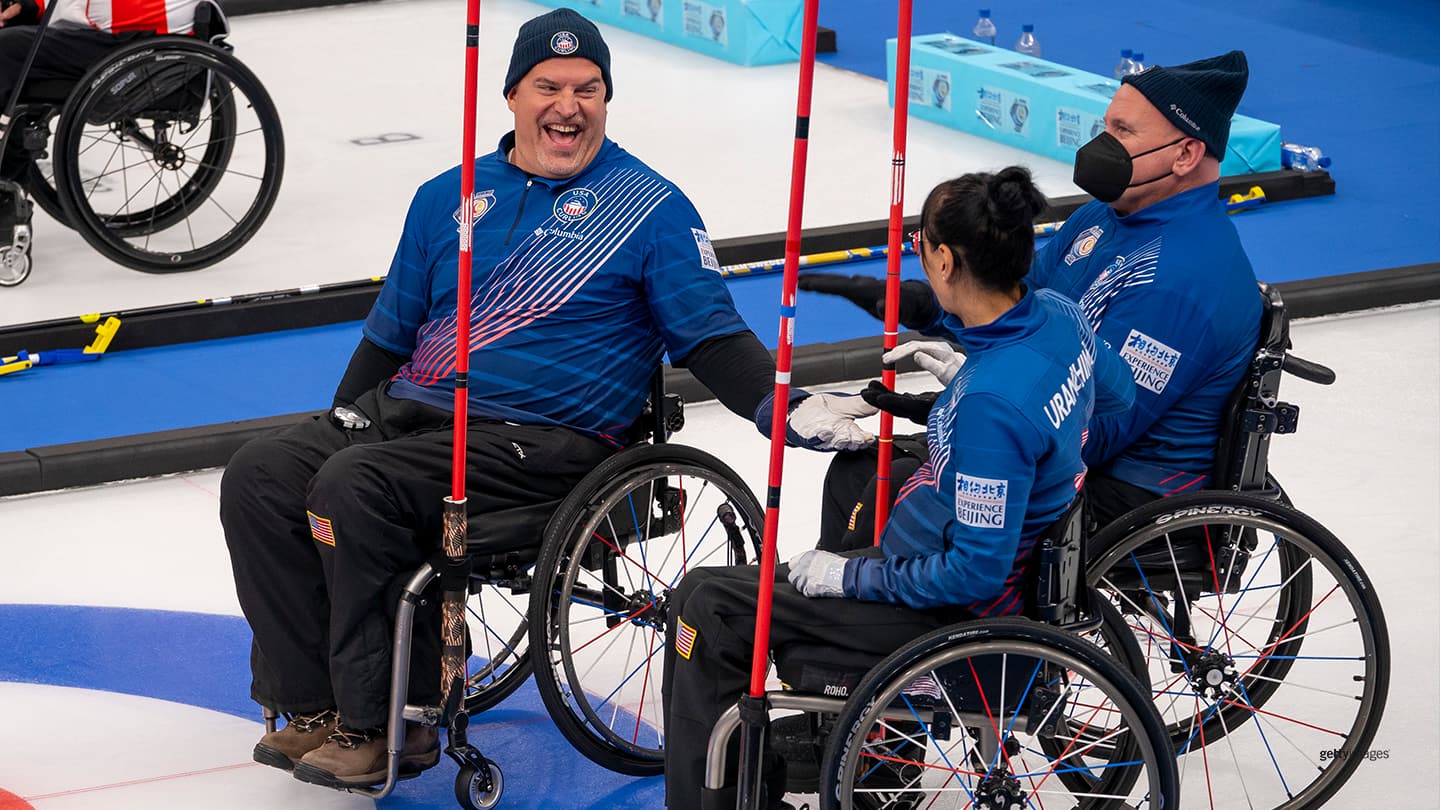 Steve Emt, Oyuna Uranchimeg and David Samsa high five as they compete against team Latvia during the 2021 World Wheelchair Curling Championship on Oct. 27, 2021 in Beijing, China.
The U.S. wheelchair curling team is sliding back to Beijing.

With their results so far at the World Wheelchair Curling Championship taking place this week also in the Chinese capital, the U.S. team of Matthew Thums, Steve Emt, David Samsa, Oyuna Uranchimeg and Pam Wilson has secured a berth into the Paralympic Winter Games Beijing 2022.

In order to qualify, the Americans needed to finish among the top seven this week, or above Italy. With one day of pool play remaining, the team secured both.

After defeating Latvia 9-2 on Wednesday, the U.S. team is tied for fourth with a 6-3 record. Italy ranks 10th at 2-7, but even if the U.S. lost its final two games Thursday it'd still be among the top seven.

Now Team USA turns it attention to finishing the task this week by winning a world title. The top teams after pool play advance to Friday's semifinals; medal rounds are set for Saturday.

The tournament is being held in the famous "Water Cube" venue that was used for swimming during the Olympic Games Beijing 2008. Now transformed to the "Ice Cube," it will host curling at both the Paralympics and Olympics next year.

Wheelchair curling has been part of the Paralympic Winter Games since 2006, eight years after curling made its debut in the Olympic Winter Games. Team USA has qualified for all four editions of the Paralympic tournament, with its best finish being fourth in 2010.

Emt, the team's vice skip, is the only Paralympian on the U.S. squad, having also competed in 2018. In an interview with TeamUSA.org before the world championships, he spoke of this team's chemistry on the ice together.

"When I came back from PyeongChang after the 2018 Paralympics, friends who watched the game noticed that we were not a very good team," Emt said. "Individually we all did well, but as a team we just didn't have it. (What) we have now is different. There's a different feeling, the better mojo, whether we win or lose."

After missing out on the 2020 world championships, the U.S. qualified for this year's tournament by winning the World Wheelchair-B Championship in April in Lohja, Finland.
Chrös McDougall has covered the Olympic and Paralympic Movement for TeamUSA.org since 2009 on behalf of Red Line Editorial, Inc. He is based in Minneapolis-St. Paul.