Katie Ledecky Opens Worlds With Another Win In The 400 Free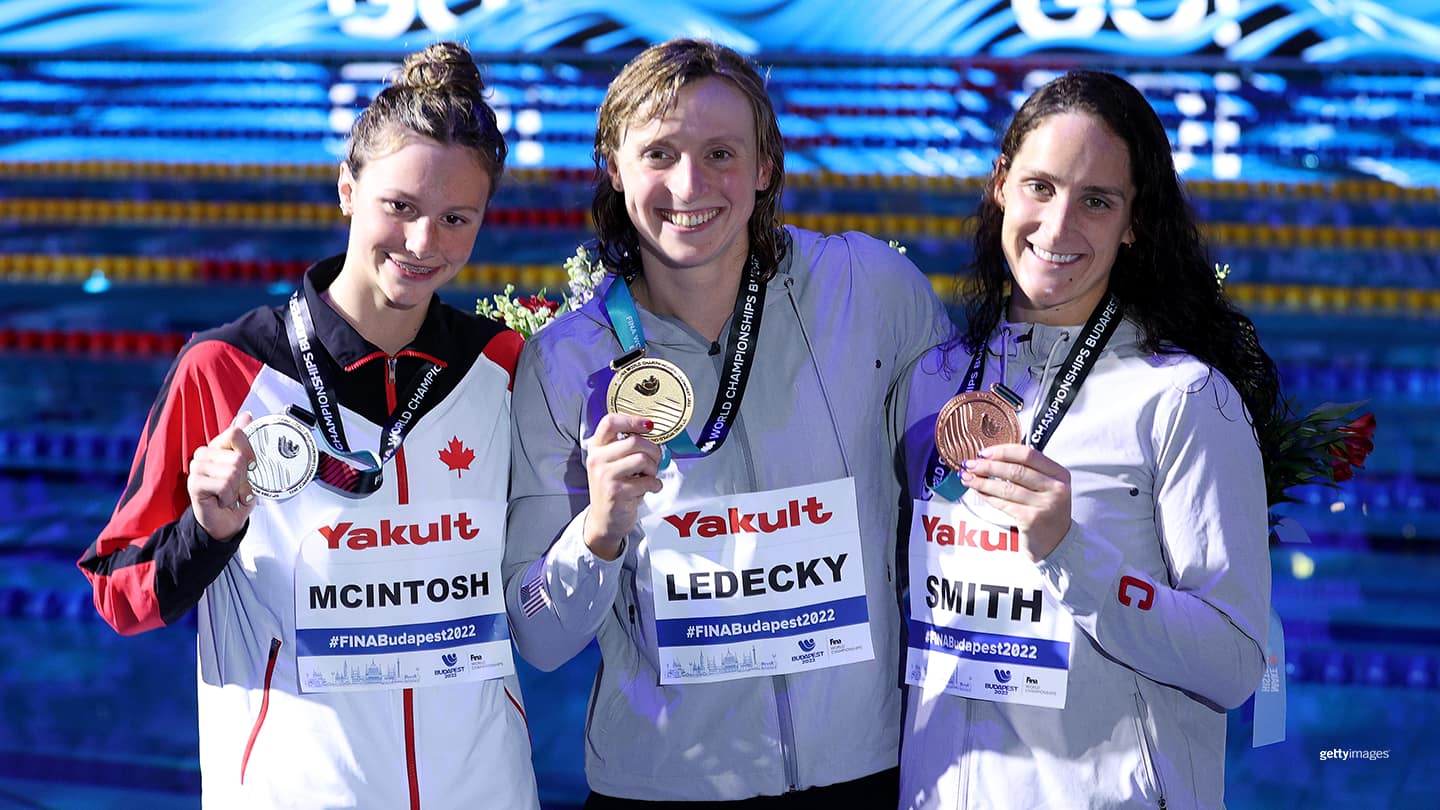 (L-R) Summer McIntosh (Team Canada), Katie Ledecky and Leah Smith celebrate during the medal ceremony of the women's 400-meter freestyle final at the 2022 FINA World Championships on June 18, 2022 in Budapest, Hungary.
Seven-time Olympic champion Katie Ledecky reclaimed a world title in record time Saturday.

On a day when U.S. swimmers won six medals across five finals as the FINA World Championships opened in Budapest, Hungary, Ledecky cruised to victory in the women's 400-meter freestyle, holding off Canada's 15-year-old star Summer McIntosh.

Ledecky's time of 3:58.15 beat McIntosh by more than a second and also set a new world championships record.

Her performance highlighted a strong opening day in the pool for Team USA, with the U.S. men's 4x100-meter freestyle team also winning a gold medal, and Americans adding a silver and three bronze medals. The only final in which the U.S. didn't medal was the men's 400 free.

The world title was Ledecky's fourth in the 400 free, having also won in 2013, 2015 and 2017. Competing while ill at the 2019 world championships, she still won a silver medal. She also won the Olympic silver medal in the event last summer in Tokyo.

"It's great," said Ledecky, now a 16-time world champ. "It gets the meet started out on a good note."

She was joined on the podium by 2016 Olympic teammate Leah Smith, who finished third in 4:02.08 to win bronze. That matched her result from the 2019 world championships.

"I'm pumped," Smith said.

Caeleb Dressel, a seven-time Olympic gold medalist, swam the opening leg on the men's winning relay, with Olympic gold medalist Ryan Held, Justin Ress and Brooks Curry closing things out.

"We got the job done," said Dressel, who was also part of Team USA's winning 4x100 free at the Olympic Games Tokyo 2020. "We did. Everybody did their part."

Curry swam in the 4x100 free prelims in Tokyo.

The U.S. women's 4x100 relay team captured bronze behind Australia and Canada. Among those on that squad was Erika Brown, who was also on the U.S. 4x100 team that won a bronze medal in Tokyo. She was joined by Olympic silver medalist Torri Huske, Olympic bronze medalist Kate Douglass and Claire Curzan, who also qualified for Sunday's finals in the women's 100-meter butterfly.

Americans Carson Foster and Chase Kalisz rounded out the U.S. medals with a silver and bronze, respectively, in the men's 400 individual medley, finishing behind France's Leon Marchand in near world-record pace at 4:04.28. The 20-year-old Foster clocked in at 4:06.56, while Kalisz, the reigning Olympic champion in the event, was at 4:07.47.

Kieran Smith and Trey Freeman finished seventh and eighth, respectively, in the men's 400 free final.

Several Americans also advanced through the heads on Saturday, including Dressel and 2020 Olympic relay gold medalist Michael Andrew, who finished one-two in their semifinal in the men's 50 fly to qualify for Sunday's finals. Dressel, the defending world champion in the event, won with a time of 22.79 seconds.
Paul D. Bowker has been writing about Olympic sports since 1996, when he was an assistant bureau chief in Atlanta. He is a freelance contributor to TeamUSA.org on behalf of
Red Line Editorial, Inc.