Six Things To Watch As Swimming Kicks Off At The FINA World Championships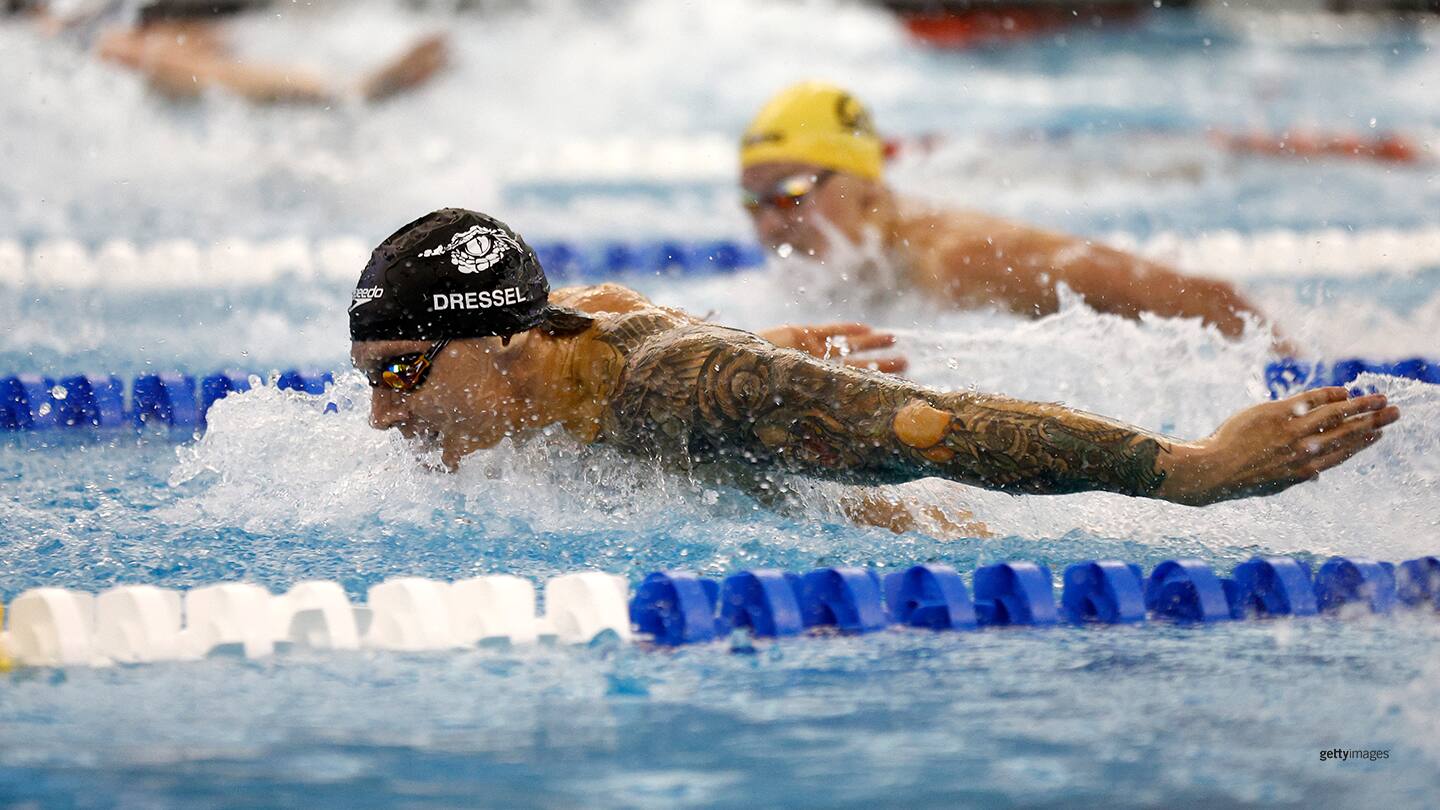 Caeleb Dressel competes during the men's 100-meter butterfly finals at the Phillips 66 International Team Trials on April 28, 2022 in Greensboro, N.C.
No male swimmer has won three consecutive world championships in the same three events. Michael Phelps, a 23-time Olympic gold medalist, won the 100- and 200-meter butterfly in three consecutive world championships from 2007 to 2011, but never the three same individual events in three consecutive worlds.

Caeleb Dressel is the two-time defending champion in the men's 50 free, 100 free and 100 fly. He is also the defending world champ in the 50 fly. The Orange Park, Florida, native is coming off an Olympic Games in which he won five gold medals, including the 50 free, 100 free and 100 fly.

Although this is only Dressel's third world championships, he's already a 15-time medalist, with 13 of them being gold. He stood atop the podium six times in 2019, while also winning two silver medals.


Drama In The Women's
Breaststroke
Keep an eye on two-time Olympian Lilly King in the women's breaststroke events.

The native of Evansville, Indiana, is the defending world champion in the 50- and 100-meter breaststroke events, and won an Olympic silver medal in the 200 breaststroke at the Olympic Games Tokyo 2020. If she won all three events in Budapest, she'd be the first to do so in the same stroke.

King finished runner-up to Tatjana Schoenmaker of South Africa in the 200 in Tokyo, and third to American teammate Lydia Jacoby and Schoenmaker in the 100. Neither Jacoby nor Schoenmaker are competing at the worlds.


Here Come The Teen
Sensations
Claire Weinstein, a 15-year-old from White Plains, New York, is the youngest in an impressive wave of American teenagers on the women's roster. She'll compete in the 200-meter freestyle.

Joining her are a pair of 16-year-olds, Katie Grimes of Las Vegas, and Leah Hayes of Sugar Grove, Illinois. Also in the teen group are 17-year-olds Bella Sims of Henderson, Nevada, and Claire Curzan of Cary, North Carolina.

Curzan, Grimes and Sims are already Olympians, having made Team USA in 2020, where Sims won a relay silver medal. More recently, Weinstein and Sims finished 1-2 in the 200 freestyle at the TYR Pro Series Swim earlier this month in Mission Viejo, California.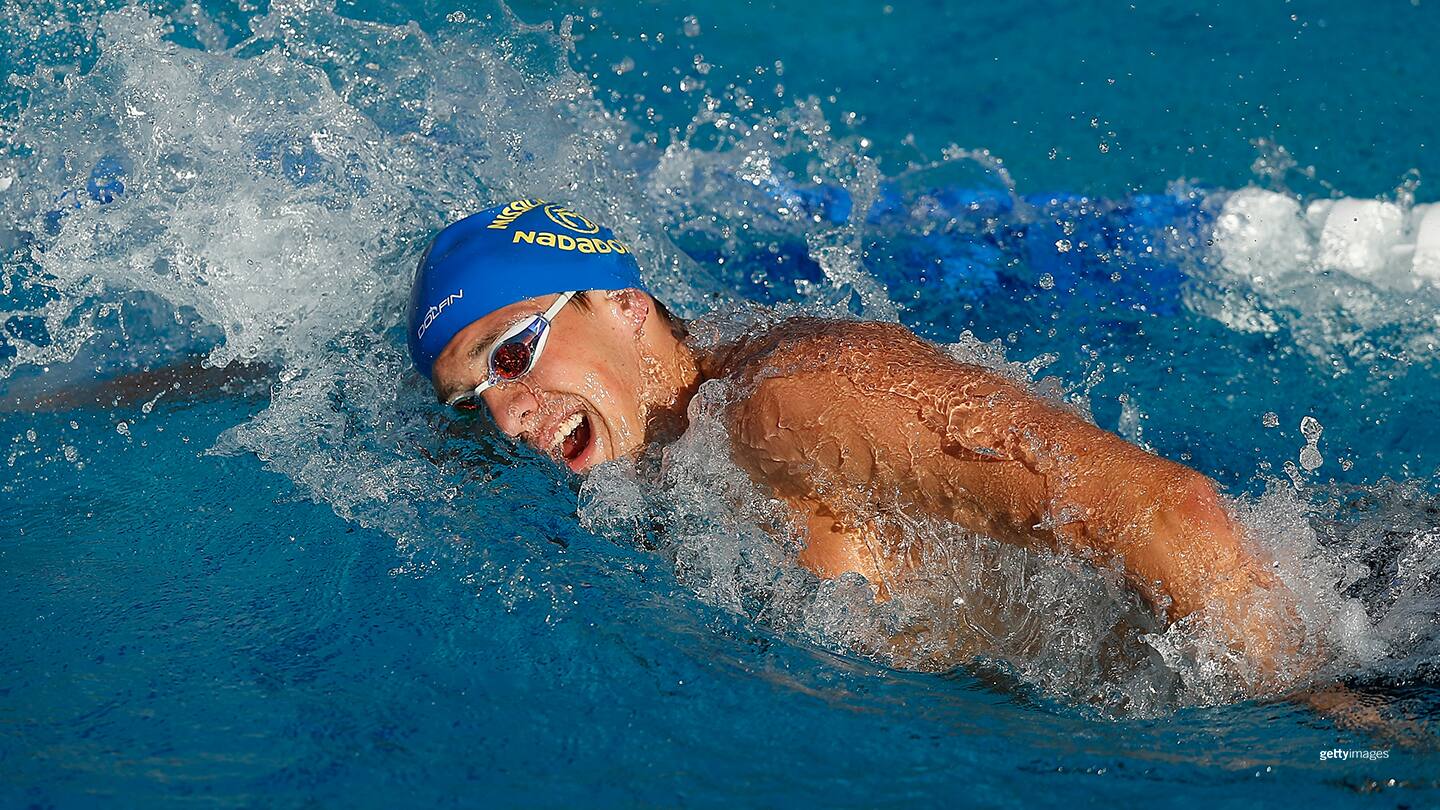 Michael Brinegar competes during the men's 1,500-meter freestyle final at the Phillips 66 National Championships on July 31, 2019 in Stanford, Calif.
The U.S. open water lineup is packed with swimmers who'll be making their world championships debuts. Of the nine Americans, only 2020 Olympian Michael Brinegar and Brennan Gravley competed in the 2019 world championships.

The world championships features three open water events for men and women — 5K, 10K, 25K — up from just a 10K during the Olympics. Those making their debuts include Mariah Denigan and Katie Grimes in the women's 10K, and Dylan Gravley in the men's 10K. Older brother Brennan Gravley is also racing in the men's 10K. Both 10K races are scheduled for June 29.

Other long-distance entrants: Joey Tepper and Brennan Gravley in the men's 5K; Brinegar and Tepper, men's 25K; Anna Auld and Summer Smith, women's 5K; Kensey McMahon and Auld, women's 25K.


Two-time Olympians Ryan Murphy and Caeleb Dressel were among the five team captains selected for the 41-member U.S. team. They were also team captains at the Tokyo Games.

"It's an incredible honor," Murphy said, a four-time Olympic gold medalist. "I think whenever I'm in a position like this, I think back to my first (international) teams and how much I looked up to guys like Nathan Adrian, Anthony Ervin, Michael Phelps — there are so many incredible people who have been in this role."

Natalie Hinds, a 2020 Olympian, and Lilly King, a two-time Olympian, will make their debuts as captains for the women's team. Also named as captain was 2016 Olympian Leah Smith, who served in the same role for the 2019 world championships.


The Olympic Channel and Peacock, on the NBC platform, will televise the finals at noon ET each day. A highlights show will be on NBC at noon ET June 26.


Saturday, June 18
Opening Ceremony, 400-meter men's and women's freestyle, 400 men's IM, 4x100 men's and women's free relays.

Sunday, June 19
100 men's breaststroke, 100 women's butterfly, 50 men's fly, 200 women's IM.

Monday, June 20
200 men's free, 1500 women's free, 100 women's and men's backstroke, 100 women's breast.

Tuesday, June 21
800 men's free, 200 women's free, 200 men's fly, 50 men's breast, 4x100 mixed medley relay.

Wednesday, June 22
200 women's fly, 100 men's free, 50 women's back, 200 men's IM, 4x200 women's free relay.

Thursday, June 23
100 women's free, 200 women's breast, 200 men's back, 200 men's breast, 4x200 men's free relay.

Friday, June 24
50 women's fly, 50 men's free, 100 men's fly, 200 women's back, 800 women's free, 4x100 mixed free relay.

Saturday, June 25
50 men's back, 50 women's breast, 1500 men's free, 50 women's free, 400 women's IM, 4x100 men's and women's medley relay.

Sunday, June 26
Open water, 6K team relay

Monday, June 27
Open water, men's and women's 5K

Wednesday, June 29
Open water, men's and women's 10K

Thursday, June 30
Open water, men's and women's 25K
Paul D. Bowker has been writing about Olympic sports since 1996, when he was an assistant bureau chief in Atlanta. He is a freelance contributor to TeamUSA.org on behalf of
Red Line Editorial, Inc.