News
Madison Chock
Evan Bates
'Lovers From Outer Space' Madison Chock, Evan Bates Are Now Engaged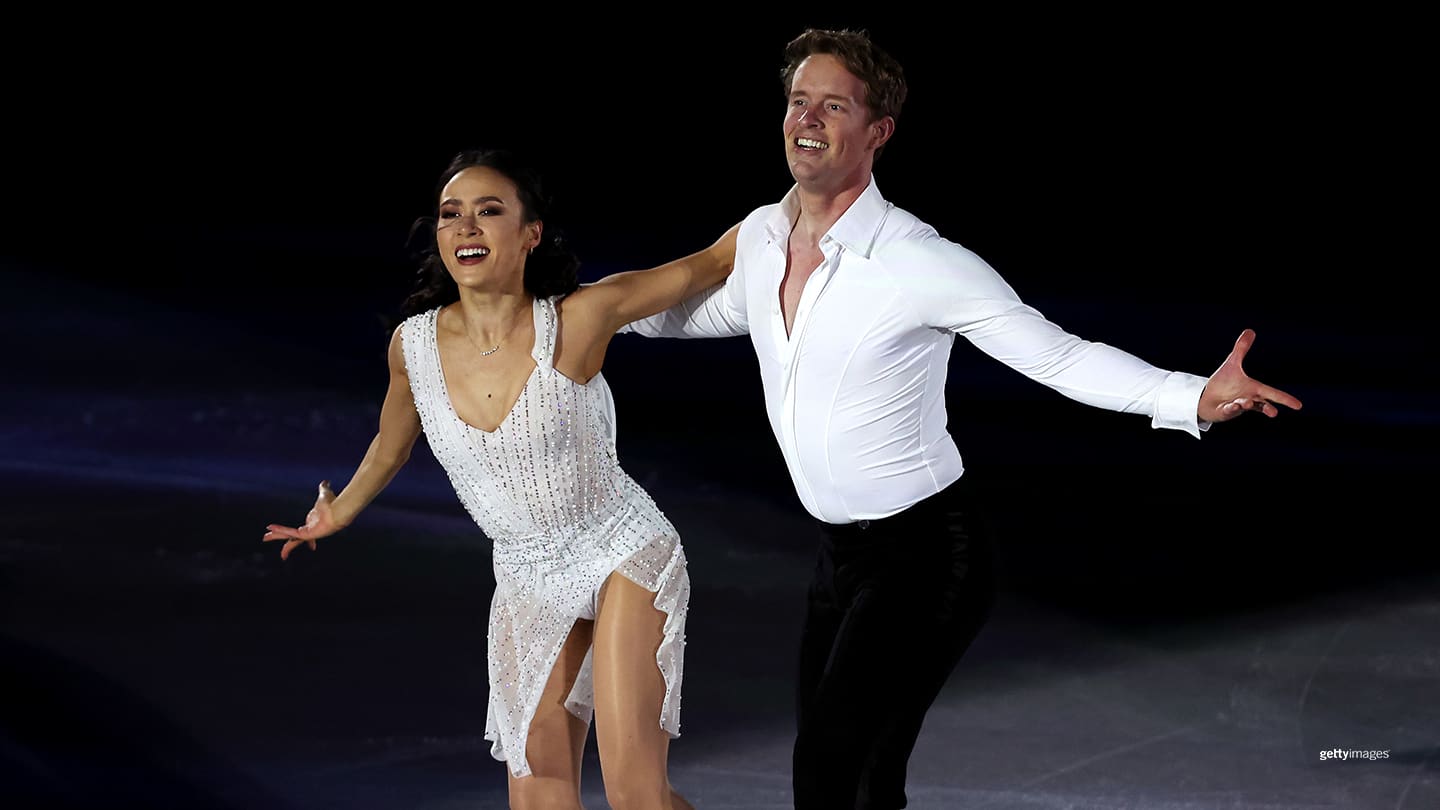 (L-R) Madison Chock and Evan Bates compete during the figure skating gala exhibition at the Olympic Winter Games Beijing 2022 on Feb. 20, 2022 in Beijing.
Madison Chock and Evan Bates' partnership on the ice brought them incredible success as one of the country's most accomplished ice dance teams of all time. Now they're locking their partnership in for life, this time as a couple.

"Left home with my boyfriend, coming back with my fiancé!" Chock shared to Instagram Thursday.

The longtime skating partners, who competed in their third Olympic Winter Games together earlier this year in Beijing, then won a world championships bronze medal a few weeks later, were vacationing in Thailand, based on other pictures Chock has posted recently.

Chock, originally of Redondo Beach, California, and Ann Arbor, Michigan-native Bates had known each other for years and even went on a date for Chock's 16th birthday. Although that didn't lead to a romantic relationship, they began competing together as ice dance partners in 2011, and a few years later started dating again.

"Skating together is something that we love doing, and we love doing it together," Chock said when the couple announced their relationship on NBC's "Today" show in 2018. "Now, we're together on and off the ice, and it makes it even more powerful. It feels completely genuine and real … it brings us closer together every day."

Since their 2011 debut Chock and Bates have won three U.S. titles — including the most recent one — three world championships medals and a team silver medal at the 2022 Olympics in Beijing. They also finished among the top-10 individually at each of their three Olympics, including fourth in Beijing.

That Beijing performance drew attention both to their skating as well as their romantic relationship, with the couple performing a free dance described as an intergalactic love story set to music from Daft Punk.

That free dance, nicknamed "the astronaut and the alien," stood out thematically among the field, and their performance of it in the team competition secured the silver medal for Team USA.

Between the team and individual ice dance competitions, Chock and Bates celebrated Valentine's Day together in the Olympic Village — a fact that seemed to catch Bates off guard at the time.

"There is no candlelight dinner," he said. "Maybe I'll go to the gift shop and see if I can get something there."

Bates indicated that the team would instead celebrate after the season, and after closing things out with another world championships medal in March, they did just that.
Chrös McDougall has covered the Olympic and Paralympic Movement for TeamUSA.org since 2009 on behalf of
Red Line Editorial, Inc.
He is based in Minneapolis-St. Paul.