Physical And Mental Toughness Finally Come Together for Team USA Boxer Rashida Ellis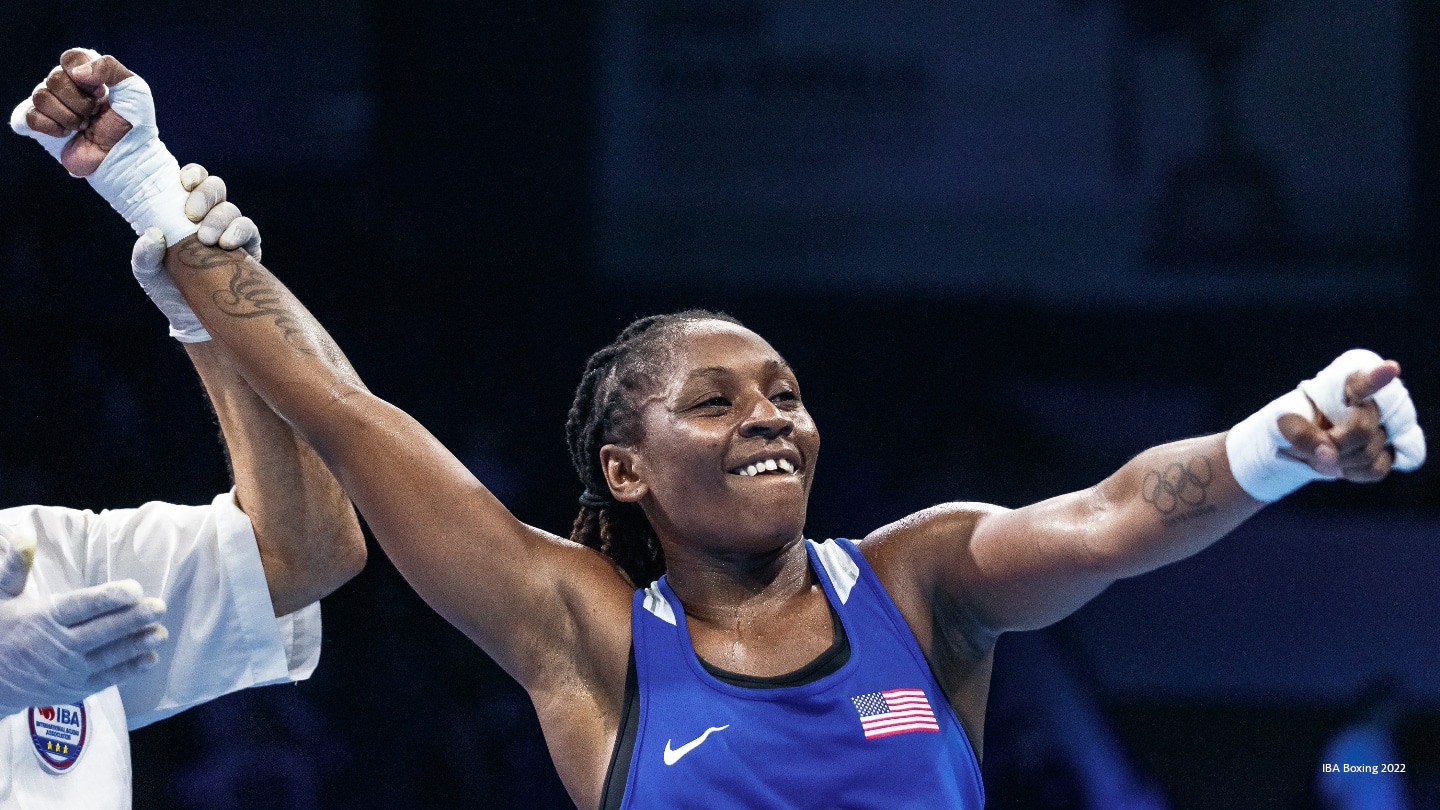 Rashida Ellis celebrates after winning the 60kg world boxing title at the 2022 IBA Women's World Boxing Championships in Istanbul, Turkey on Friday 20 May, 2022.
Boxing is a sport that puts the athletes' physical fitness on full display.
Muscles and minimal clothing. Endurance, perhaps unlike any other sports requires. And an eye on every movement, with even the slightest moment of weakness opening a window to punishment.
Simply put, the physicality of boxing is a sight to behold.
But what about the mental side of the sport? Rashida Ellis has seen the highs and lows of that spectrum, and she understands now more than ever that boxing is a sport about mental health as much as it is about physical prowess.
"Anybody can be physically in shape," Ellis said recently, "but if you're not mentally there, it's a totally different game."
Ellis is coming off the biggest victory of her career — a defeat of Brazil's Beatriz Ferreira in the 60 kg. gold-medal match of the IBA Women's World Boxing Championships on May 20. By securing the 3-2 split decision, Ellis became the first American woman to win lightweight gold at the world championships.
She believes that her mental fortitude guided her to the career-defining win in Istanbul, Turkey.
"I just had to tell myself, 'I got this. This is my year,'" said Ellis. "'I've trained so hard. Nobody is stopping me from winning this gold.'"
Part of what Ellis had to overcome mentally against Ferreira was an 0-3 career record against the Brazilian star entering the gold-medal match.
"It felt good to dominate her because I usually lose (to her) by a point or two, which is a split-decision, so it's up to the judges," Ellis explained. "I honestly just felt in way better shape going into this event. And mentally, I was just ready."
Ellis' mental preparation has certainly undergone a revolution over the years. At 26, she is significantly more poised and more positive than she's ever been.
"It was always just me getting into my head before fights," said the native of Lynn, Massachusetts. "I'd get nervous, I'd get way too much in my head, I'd just zone out. But I learned to work around that and just have faith in myself more."
Ellis noted that she inherited the ability to fight through adversity mostly from her mother, although her non-stop desire to become stronger physically and mentally is mostly an internally driven force.
"It was just me," Ellis said, "determined to put in the hard work and never give up."
Part of that hard work leading up to the world championships was a two-week stint at the Olympic & Paralympic Training Center in Colorado Springs, Colorado, followed by a two-week training camp in Italy. Ellis noted that the training (and the sparring, in particular) really helped her prepare for the worlds.
The other key part of Ellis' recent backstory is her performance at the Olympic Games Tokyo 2020. She earned a first-round bye in the event before getting eliminated in the Round of 16.
"My Olympic experience was a good lesson that I needed to learn," Ellis said. "I thought I was ready, but I wasn't at that time."
Ellis believes that she internalized that Olympic disappointment and used it as fuel to get to where she is today.
"I trained much harder after the Olympics," she said. "We had a 2 ½-week break and then we were back training, just trying to get better, working on my flaws, because I know I'm gonna see those girls once again. I just think the sad moments lifted me up. Now nobody is stopping me."
In the end, perhaps the pain was worth it.
"It hurt me," she said, "but I just didn't give up. And right now it's 2022 and I'm a gold medalist."
Moving forward, Ellis will continue her rigorous training schedule that features six days of training each week. She only takes off Sundays to relax a bit.
"I just enjoy laying down," she said with a laugh. "I'm sore by the end of the week."
Ellis will head back to Colorado Springs on Aug. 1 for a Team USA training camp, and then she will participate in a warmup tournament against international competition in September.
In addition to the pleasure she takes in being an elite boxer and now a world champion, Ellis takes significant pride in being an openly gay star athlete.
"People should be free to be whoever they are," Ellis said, referencing June 1 being the start of Pride Month. "It shouldn't have to be celebrated. This is just how it should be."
And speaking of celebrations, Ellis hopes to do just that at the Paris Olympics. She expects to enter the 2024 Olympic Games still at her peak in terms of physical condition and mental toughness.
It doesn't appear that confidence is going to be an issue.
"After I get that gold in 2024, I'm gonna turn pro right after that," Ellis said. "And then I've got to get a few fights in before I'm known, and then I'll start taking belts. I want to be known as one of the greats."