Yale University Calls Nathan Chen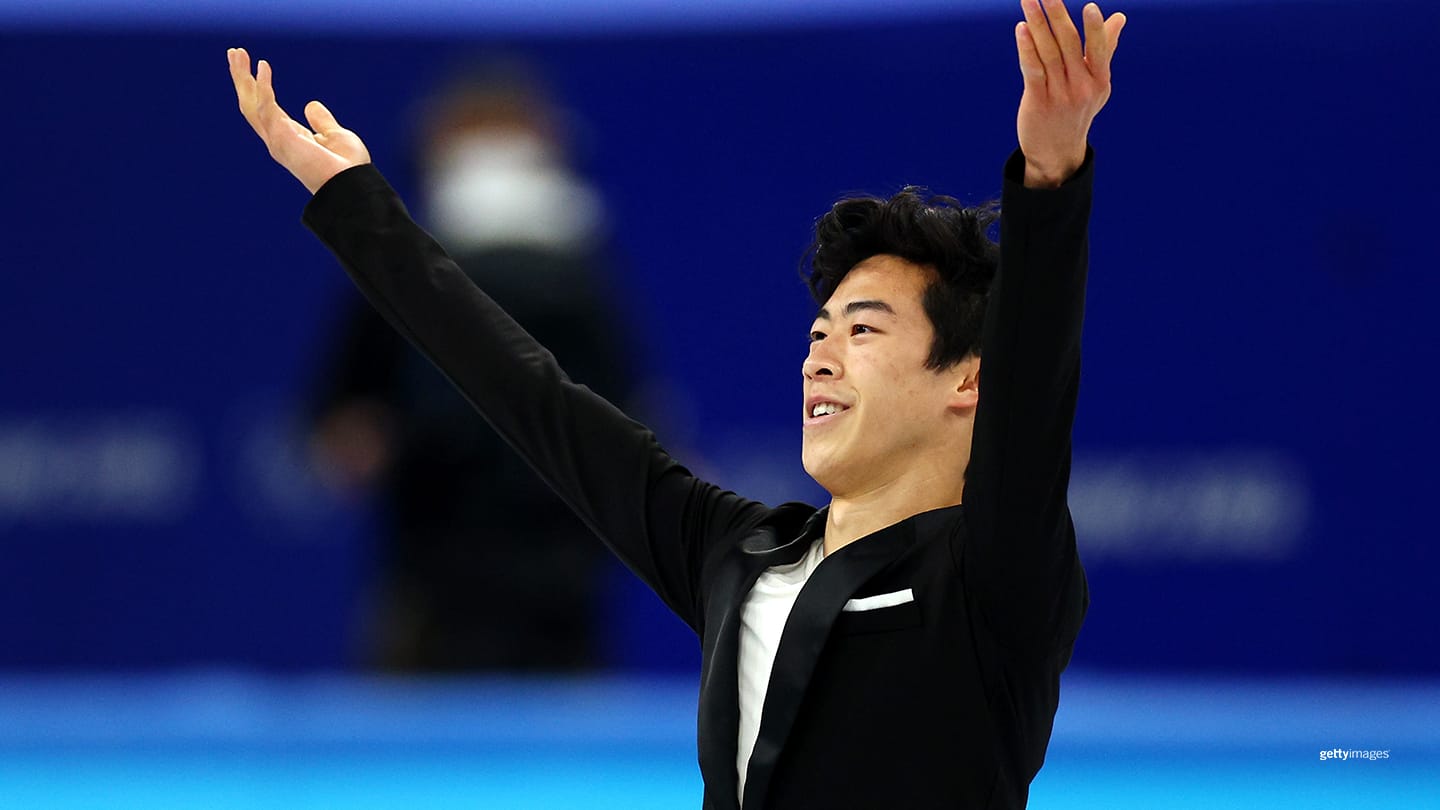 Nathan Chen celebrates after the men's individual short program for the team event at the Olympic Winter Games Beijing 2022 on Feb. 4, 2022 in Beijing.
Even after winning an individual gold medal at the Olympic Winter Games Beijing 2022, figure skater Nathan Chen couldn't quite believe he was in the running for an ESPY.

"When I first saw the nomination, honestly, I thought it was like a typo or something," Chen, 23, said. "And then, as I read through the list, I was like, 'Oh my gosh, that's super cool.' Previously, I didn't realize they had a specific Olympic men's category."

Though Chen didn't end up winning — the Best Olympian, Men's Sports award went to Team USA swimmer Caeleb Dressel — just being nominated was a treat in of itself, he said.

"The fact that I've been nominated is a huge honor for me," Chen said.

Of course, life comes as you fast when you're an Olympic champion, and Chen has had no shortage of opportunities since winning his gold medal. So as much as he would have liked to have been in Los Angeles for the July 20 ESPYS ceremony, among the likes of A-list sports stars like Stephen Curry, Megan Rapinoe, Shohei Ohtani and Russell Wilson, he had to follow along from afar.

Instead, Chen was already in Japan preparing to take part in the three-city "The Ice" tour, which also features fellow Team USA Olympians Vincent Zhou, Jason Brown, Alysa Liu, Mariah Bell, and Madison Chock and Evan Bates, along with many Japanese stars.

Coming off an intense Olympic quad, one in which Chen also won three world titles before winning his gold medal in Beijing, the skating star has leaned into the different opportunities that have some his way.

Skating is never too far from Chen's life, and "The Ice" is only the latest in a series of high-profile performances from Chen. In April, he took park in Japan's "Stars on Ice" tour before headlining the 24-city "Stars on Ice" U.S. tour. When speaking via telephone with Team USA earlier this month, the skater was in Idaho for a show at the Sun Valley Outdoor Ice Rink, where he has performed regularly since he was a child.

"Sun Valley is a special place for me," Chen said.

The winner of six consecutive U.S. titles has also made the rounds of reality TV series. Known for incorporating hip-hop moves into his programs, he took a turn on NBC's "Dancing with Myself" and, along with older siblings Alice, Tony, Colin and Janice, filmed a "Celebrity Family Feud" for ABC.

"We did that against (Marvel superhero actor) Simu Liu and his team, which is a pretty cool experience," Chen said.
The Utah native returned to his childhood training center, the Salt Lake City Sports Complex, for CBS' "Secret Celebrity Renovation," where he worked with a design and construction team to turn two under-utilized rooms into skater and parent lounges, complete with study areas and coffee stands.

"I've traveled a lot, and seen a lot of skating rinks, and I know having a nice extra room is really beneficial, to take your mind off of skating for a little bit so you're fresh when you get back on the ice," he said. "And so hopefully that's a little bit of something that the people at the Sports Complex will enjoy."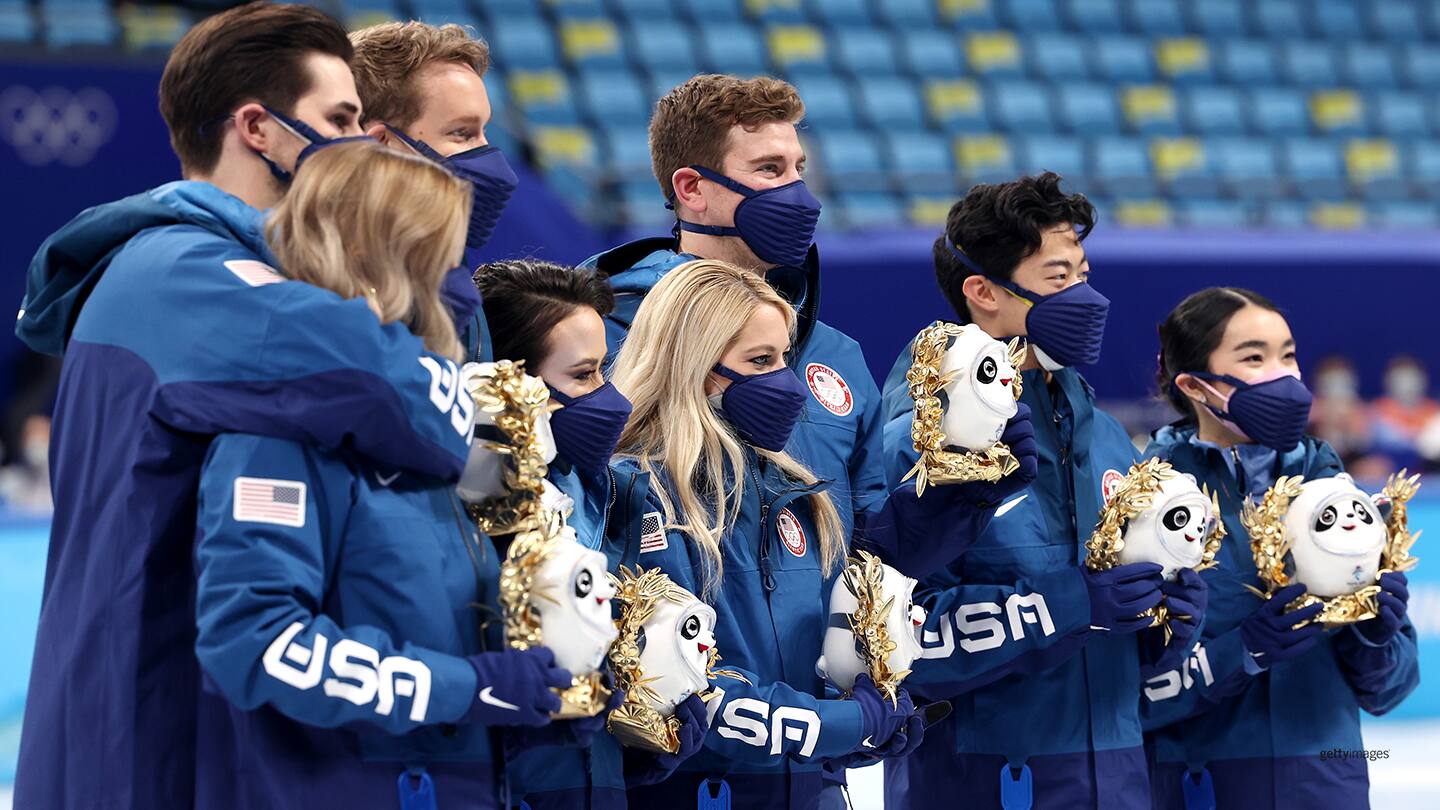 Team USA poses after winning silver during the team event flower ceremony at the Olympic Winter Games Beijing 2022 on Feb. 7, 2022 in Beijing.
Meanwhile, Chen's book, "One Jump at a Time: My Story," from HarperCollins, hits the shelves in November. It relates the many highs of his career, along with the challenges, including his family's determination to find the resources to pay for expensive training, a painful hip injury and surgery in 2016, and a disappointing fifth-place finish at the Olympic Winter Games PyeongChang 2018.

"(The book tells) bit more of the dynamics with my family and with my mom (Hetty Wang), specifically with my coach, Rafael (Arutunian), and how we sort of navigated difficulty to come together to accomplish the goals that we wanted," Chen said.

"I think everyone had a really strong talent within my team, but we all took the time we needed to work together and figure out exactly how to make that work," he added. "And I think that's definitely applicable to a lot of other athletes as well."

All of these events, though, are extra-curricular for Chen, who will return to Yale University in August as a rising junior after taking the last two academic years off to prepare full-time for the Beijing Games.

A statistics and data science major, he will take mostly STEM classes, but plans to explore other academic areas.

"Language is a requirement, so I still have a couple more language classes," Chen, who previously took Spanish, said. "This upcoming semester, I think I'll be taking an astronomy class, but I haven't confirmed my classes quite yet. There are a couple of interesting classes that are available."

After living with mom Hetty in an apartment while training in Irvine, California, the past several years, he's also looking forward to living in a residential dorm among other students.

"I'll always find my way back to the rink here and there, but for these next few years especially, it'll be time for me to explore, time for me to talk to other people, understand what their lives are like, what sort of career paths they decided to go down," Chen said. "(It will) kind of help me understand what it is that I find passion for, outside of skating."

One thing Chen won't be doing this fall is skating, at least competitively. This fall's ISU Grand Prix skater assignments came out on July 21, and for the first time since 2016, his name was not on them.

"It will always be exciting to watch the skating, but it will also be a little bittersweet, knowing that I won't be there," Chen said ahead of the announcement. "At the same time, I know that, in theory, skating will always still kind of be there for me, if that's the path that I want to continue choosing. But this next sort of part of my life, going back to school, is something I've been looking forward to for a while, so I'm mostly excited for that."
Lynn Rutherford is a sportswriter based out of New York. She is a freelance contributor to TeamUSA.org on behalf of
Red Line Editorial, Inc.