From Twitter To Wimbledon, Coco Gauff And Jack Sock Open Mixed Doubles With A Win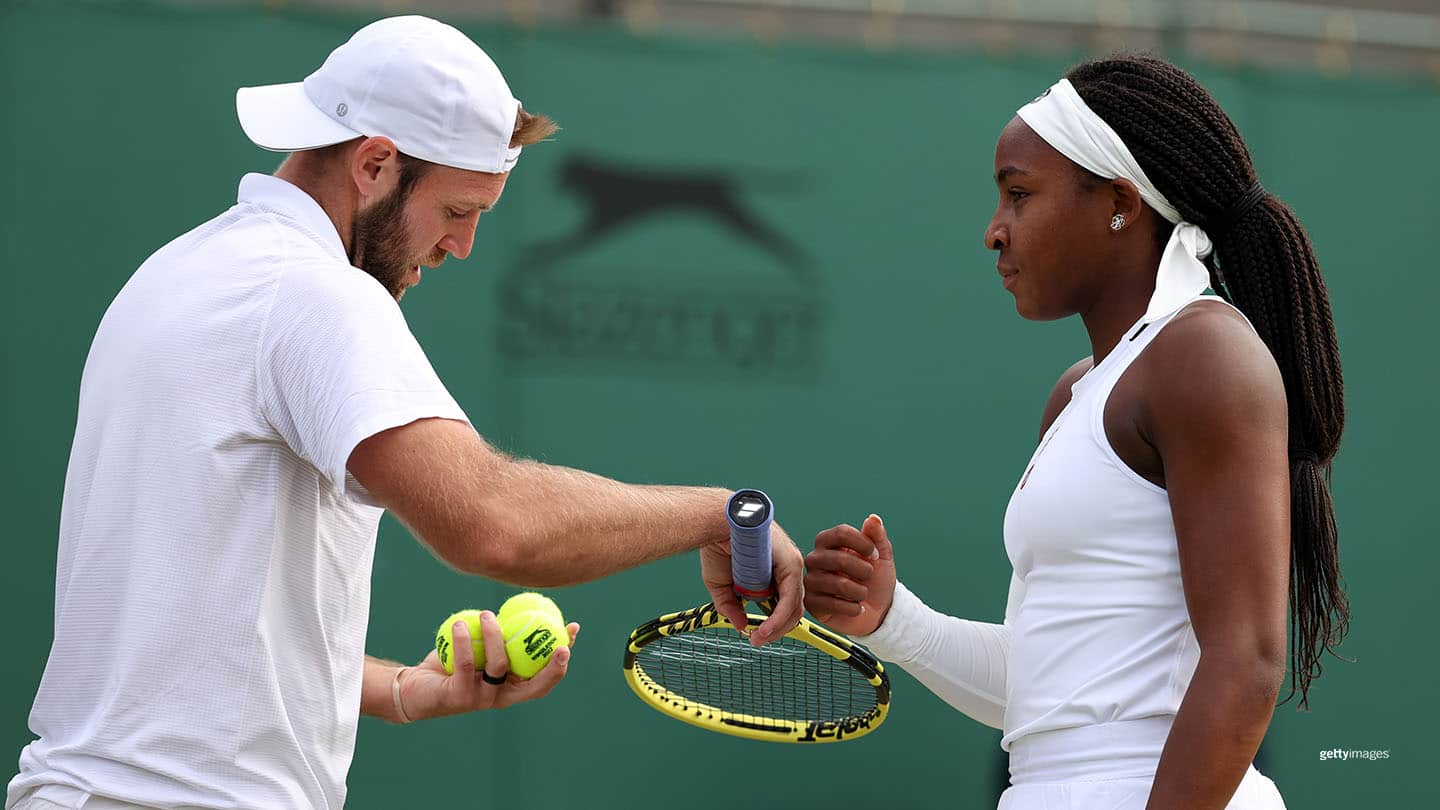 (L-R) Jack Sock and Coco Gauff compete during their mixed doubles first-round match against Kyle Edmund and Olivia Nicholls (Great Britain) at The Championships, Wimbledon 2022 on July 02, 2022 in London.

Started from a tweet, now Coco Gauff and Jack Sock are into the third round at Wimbledon.

On June 15, a few days after reaching the women's singles and doubles finals at the French Open, Gauff dropped an offer onto her Twitter timeline.
Who wants to play mixed at wimby 🌱🤝 ?


— Coco Gauff (@CocoGauff) June 15, 2022
The replies came rolling in. Mikaela Shiffrin rose her hand, via emoji. Hundreds of others joined her. One response looked a little more legit.
We'd be a decent team 👀 https://t.co/FvIPsQJMJ8


— Jack Sock (@JackSock92) June 16, 2022
A few days later, on TikTok, Gauff revealed that her Wimbledon mixed doubles partner's "last name is the same as an article of clothing."
On Sunday, following some scheduling delays, the veteran Sock and rising star Gauff made their All England Club debut together, where they defeated Great Britain's Kyle Edmunds and Olivia Nicholls 6-4, 6-1.

They'll met Nicolas Mahut of France and Zhang Shuai of China in the round of 16 on Sunday.

Their unique origin story came from Gauff seeking "someone I'll have a lot of fun with" but not really knowing how to go about finding — or asking — that person, she told Tennis World.

"I didn't want to ask somebody and get rejected, so I was just seeing who responded," she said.

Gauff, 18, is playing mixed doubles for just the third time at a Grand Slam, though she's already made quite the name for herself in women's singles and doubles. Last month she made her first singles final in Paris, while reaching her second final in doubles. The teen was set to make her Olympic debut last year in Tokyo as well but had to withdraw due to a positive COVID test.

Sock, meanwhile, is 29 and with a world of experience under his belt. In addition to winning the 2016 Olympic gold medal in mixed doubles alongside Bethanie Mattek-Sands, Sock also won the men's doubles bronze medal in Rio, and he's also claimed four Grand Slam titles — three in men's doubles, one in mixed.

Both players have been eliminated from their respective singles competitions at Wimbledon, with each losing in the third round, though Sock is also playing men's doubles. He and fellow American Denis Kudla won their opening match on Wednesday.
Chrös McDougall has covered the Olympic and Paralympic Movement for TeamUSA.org since 2009 on behalf of
Red Line Editorial, Inc
. He is based in Minneapolis-St. Paul.