Heptathlete Anna Hall, Triple Jumper Tori Franklin Claim Bronze Medals On Day 4 Of T&F Worlds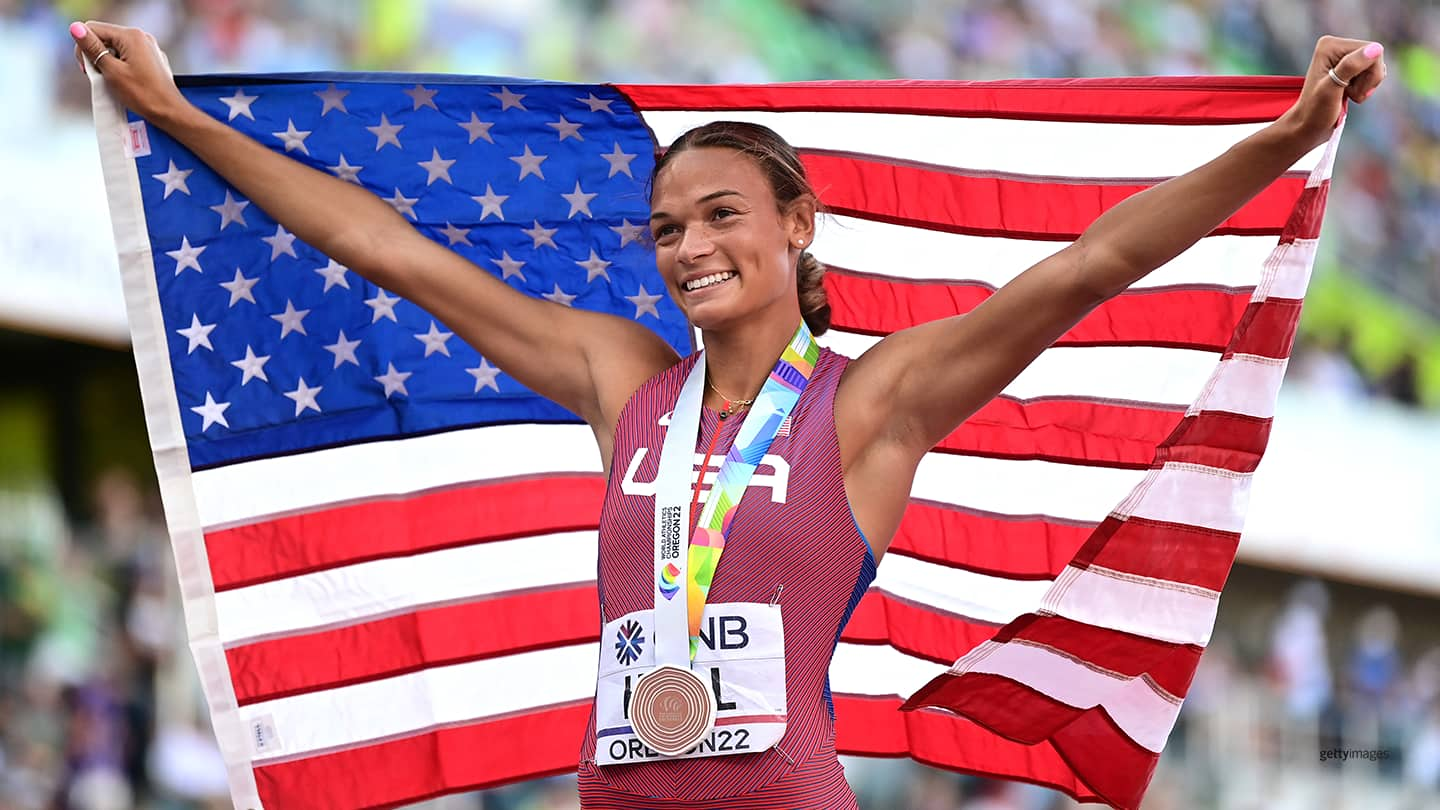 Anna Hall celebrates after winning bronze in the women's heptathlon at the 2022 World Athletics Championships on July 18, 2022 in Eugene, Ore.
The heptathlon is the most grueling of women's track and field competitions, encompassing seven events over two days. Anna Hall won the NCAA title in June for the University of Florida, and she just kept on going.

On Monday, the 21-year-old from Highlands Ranch, Colorado, finished third at the World Athletics Championships in Eugene, Oregon. In doing so, she became just the fifth American to win a world championships medal in the multi-event competition, and the first since Shelia Burrell also won bronze in 2001.

It's been a similar story at the Olympics. Since Jackie Joyner-Kersee won back-to-back gold medals in the event in 1988 and 1992, only Hyleas Fountain has reached the Olympic heptathlon podium, winning a silver medal in 2008.

Joyner-Kersee, considered one of the greatest athletes of all time, was on hand at Hayward Field doing commentary for NBC Sports.

"You got it, you got it," she told Hall afterward.

Hall ended Day 1 by posting the fastest time in the 200-meter to boost her total score to 3,991 points, trailing only leader Nafissatou Thiam of Belgium by 80 and Anouk Vetter of the Netherlands by 19.

"Honestly it's probably going to come down to the 800, so I'm ready to run hard," she said.

Indeed it did.

Hall stayed in contention with the fifth best long jump and the seventh best javelin throw, though Thiam led the former and Vetter the latter. The American went into the 800-meter with just a 75-point lead over Poland's Adrianna Sulek for the final podium spot.

Hall made it impossible for Sulek or any others to gain ground by winning the event with a time of 2:06.67 to give her 6,755 total points. Thiam, the two-time defending Olympic champion, won her second world title with 6,947 points. Tokyo silver medalist Vetter was second with 6,867.

Triple jumper Tori Franklin was the other U.S. athlete to reach the podium Monday, finishing third. In the process, she became the first American woman to win a world championships or Olympic medal in the event.

The Chicago native made her Olympic debut in Tokyo, finishing 25th with a best jump of 13.68 meters. She was nearly a meter farther on Monday, going a season-best 14.72 meters on her fifth attempt. Venezuela's Yulimar Rojas, the reigning Olympic champ and two-time defending world champion, continued her dominance in the sport with a winning jump of 15.47 meters, while Jamaica's Shanieka Ricketts was second in 14.89.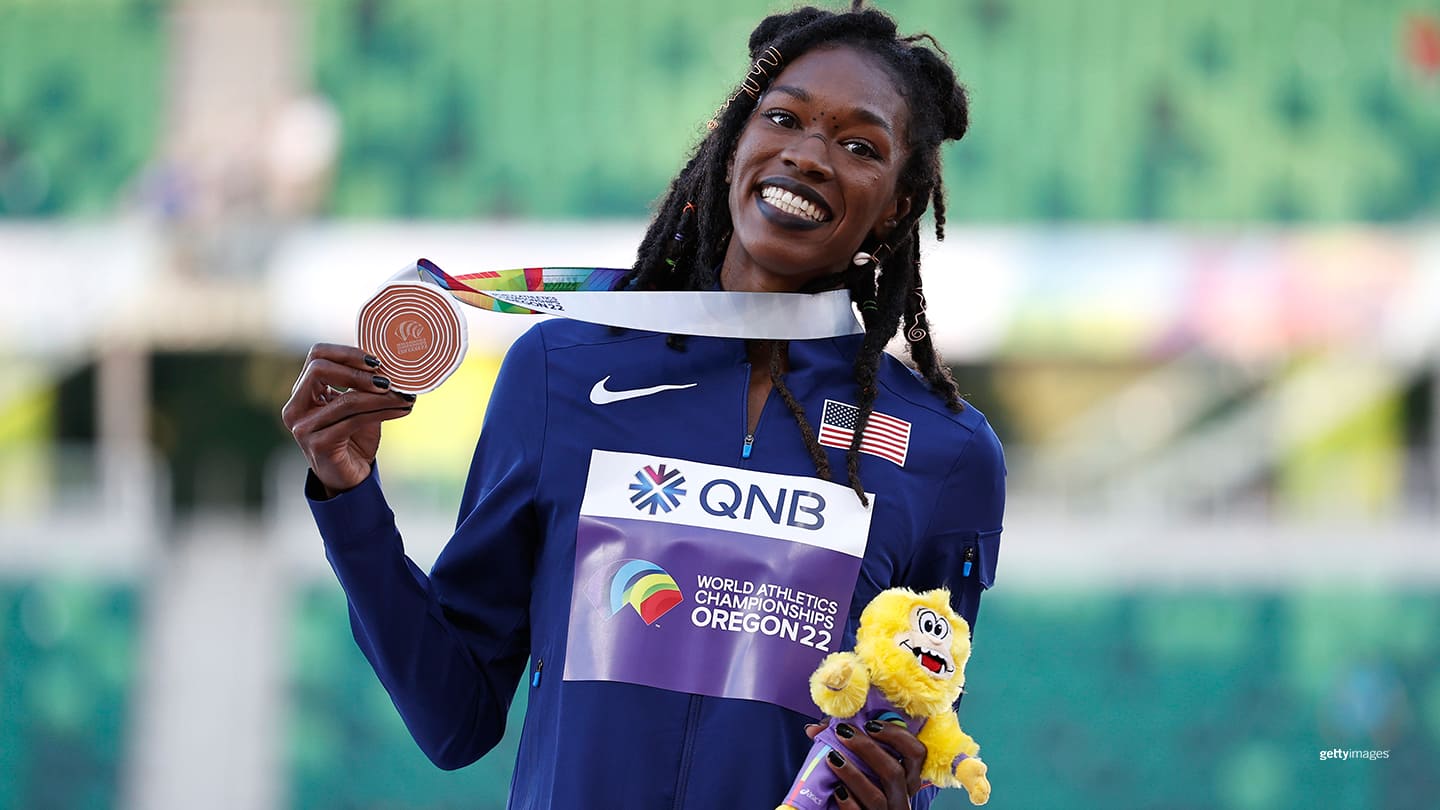 Tori Franklin poses during the medal ceremony of the women's triple jump final at the 2022 World Athletics Championships on July 18, 2022 in Eugene, Ore.
With four of 10 days of competition in the books at these world championships, Team USA leads all countries with six gold medals and 16 total medals. No other country has more than six medals.

Evan Jager fell short of the podium in the men's 3,000-meter steeplechase, though in some ways just getting to the world championships was a win. After winning an Olympic silver medal in 2016 to become the standard bearer of U.S. men's steeplechase, Jager battled injuries and went five years without racing in a major competition until the U.S. championships three weeks ago in Eugene.

The Algonquinn, Illinois, native stayed near the front group for much of Monday's final before ultimately finishing sixth in 8:29.08. Two-time Olympian Hillary Bor was eighth in 8:29.77 .

"The fight back here was brutal, I didn't think I'd be back here a lot of times, but I kept believing in myself," Jager said.

Two U.S. Olympians finished among the top 10 in men's high jump. Shelby McEwen was fifth with a best jump of 2.30 meters, while JuVaughn Harrison was 10th at 2.27. In Tokyo, Harrison became the first American since Jim Thorpe in 1912 to compete in both the high jump and long jump at an Olympics.

There were also two top-10 U.S. finishes in the day's final track event, the women's 1,500. Sinclair Johnson was sixth in 4:01.63 and Olympian Cory McGee 10th in 4:03.70. Both were making their world championships debut.

The day started with all three Americans placing among the top eight in the women's marathon. Sara Hall was fifth with a season-best time of 2:22:10, while Emma Bates was two spots back with a personal best time of 2:23:18.

Keira D'Amato, who set the U.S. record earlier this year and was a late entry into the field, finished eighth in 2:23:34.

Americans dominated the heats of the 200. In the men's event, reigning world champ Noah Lyles posted the top time among the seven heats at 19.98, while Olympic teammate Erriyon Knighton, who is just 18 years old, tied for second at 20.01. Fred Kerley, who won the 100 on Saturday, also advanced to the semifinals, as did Tokyo silver medalist Kenny Bednarek.

All three U.S. sprinters advanced in the women's 200 as well, led by Abby Steiner, the reigning NCAA and U.S. champ, who was third overall with a time of 22.26.
Chrös McDougall has covered the Olympic and Paralympic Movement for TeamUSA.org since 2009 on behalf of
Red Line Editorial, Inc.
He is based in Minneapolis-St. Paul.