Noah Lyles Having Fun Again As He Posts World-Leading Time In 200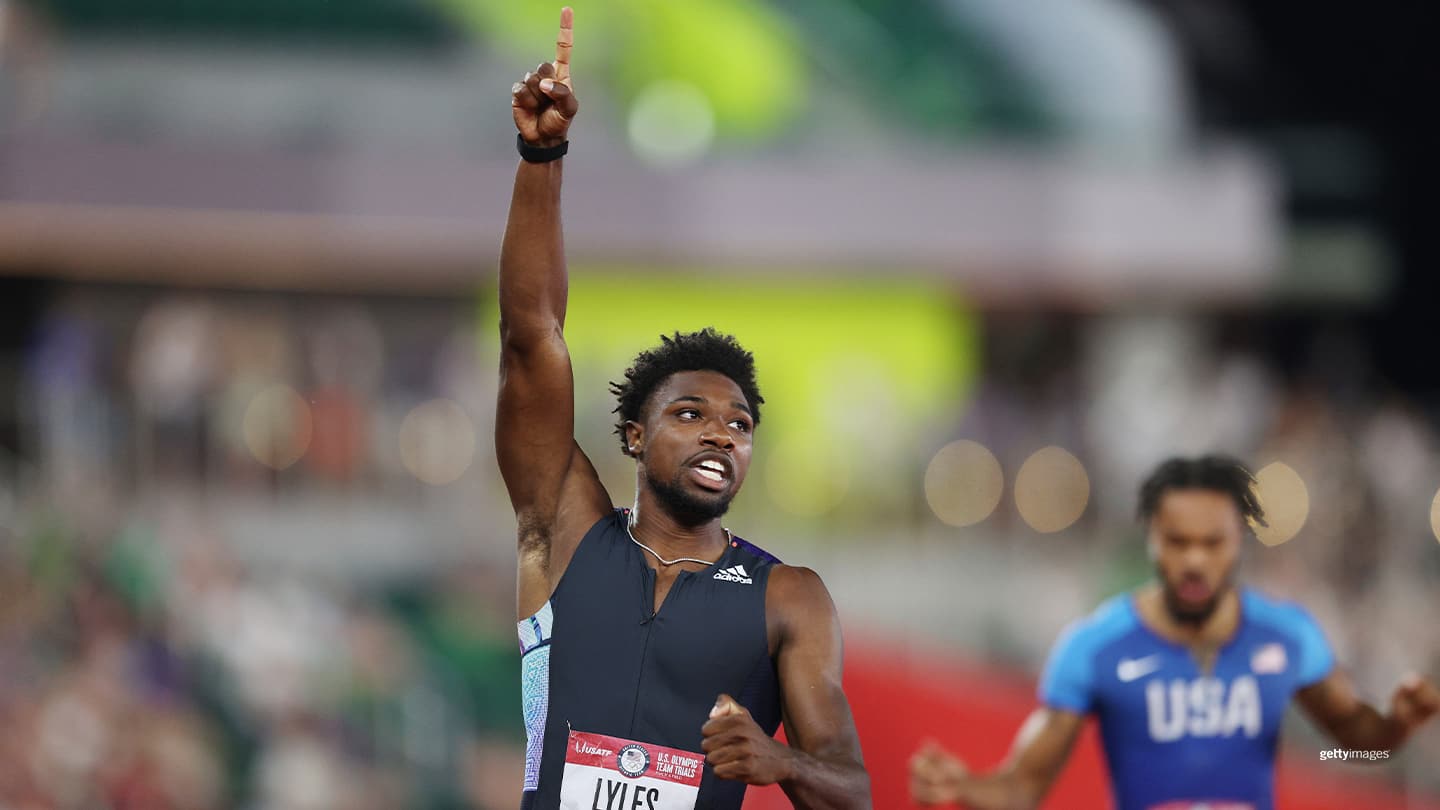 Noah Lyles reacts after winning the Men's 200 Meter Final during the 2020 U.S. Olympic Track & Field Team Trials at Hayward Field on June 27, 2021 in Eugene, Ore.
EUGENE, Oregon – Noah Lyles has always said that the day he stopped having fun is the day he leaves track and field.

Then this year he stopped having fun. "And I did not want to leave," Lyles said. "I was like, 'I know this can be fun again.'"

Hmmm. What could make the reigning world champion enjoy the sport once more?

How about winning the 200 meters Sunday night to close out eight days of action at the U.S. Olympic Team Trials – Track & Field?

"My first feeling is, 'Shoot, that was hard, but gosh, that was fun," said Lyles, who finally earned the spot on the U.S. Olympic team that he's wanted for nine years. In 2016, when Lyles was just 18, he missed by one place and six-hundredths of a second.

"I don't think anyone can prepare you for the lion you have to slay at the Olympic Trials," Lyles said. "It's not world championships. It's not U.S. championships. This is the hardest team to make and everyone knows it."

This time, he took no chances. As he stood in front of the starting blocks for the introductions, Lyles raised his arms and tilted his face toward the heavens in the "spirit bomb call" from Dragon Ball Z. "It's for when you need some energy and I definitely got it today," said Lyles, who posted the world-leading time of 19.74 seconds. He shot one arm into the air in triumph as he crossed the finish line.

"It was real nice to see a little bit of that old Noah," he said with a smile, "but to see a lot of new Noah."

For a while, it looked like new Noah might be a 17-year-old named Erriyon Knighton. Knighton, who broke Usain Bolt's under-20 world record, kept setting personal bests at the Trials. He was in the same heat as Lyles, beating him 20.04 to 20.19, and then in the same semifinal, where they were neck-and-neck before Knighton won 19.88 to 19.91.

"I know that who I was in the semis is not who I'm going to be in the finals," Lyles said. "I'm not pressing. I'm not gassing it."

He said he was talking to Knighton and "He's like, 'Bruh. I'm running out of fear.' In 2016, I was running out of fear, too. I was coming out here, I gotta give my all each and every time to make sure I make it.

"Now that I'm faster, I'm more mature. I know how to be in good positions. I don't have to run like that. When it's all said and done, I know how to put the whole race together. And when I put the race together, y'all are going to be in trouble.:

Still, Lyles was rooting for the youngster.

In the final, after Kenny Bednarek's name popped up on the big screen in second place with a personal best of 19.78 seconds, Lyles said he hoped to see Knighton's name next. And there he was, in third place with a PR of 19.84 seconds, to make it three first-time Olympians at the Olympic Games Tokyo 2020.

"I'm so proud of him," Lyles said. "He literally embodied what I wanted to do in 2016. And it hurt so much that I didn't get to make that team. To watch him PR in each round, I was just hoping, 'Don't gas out, don't gas out.' I was so happy for him, 'Bruh you did it. You did what I didn't do.'"

Knighton, who turned 17 in late January, is believed to be the youngest male member of the Team USA track team since Jim Ryun in 1964.

"The race plan today was just to get out," Knighton said. "I did good' I'm on the team. I'm 17, so I can't complain with that."

A high school football star who started running track to help with his speed and then ditched football, Knighton is so young (and polite) that he called the University of Oregon students conducting Zoom interviews "sir."

He said making the Olympic team hadn't sunk in yet. "I'm just happy and I feel like it's a really big achievement," Knighton said, then flashed an ever-so-brief smile before turning serious again.

Lyles said he is willing to take Knighton under his wing, and he had already offered some advice. After Knighton won his heat, he bolted before the NBC interview. He did the same thing following the semifinal.

"I saw him run out the corner," Lyles said, "and I was just thinking, 'Bruh, I told you last time you gotta stick around. They're going to want to interview you on TV. This is your time to tell your story and he just zoomed out of there. I was just laughing. It's a missed opportunity, but he'll have plenty of others."

But the focus after the final was on Lyles, who regained his mojo after a disappointing seventh place finish in the 100 meters, thwarting his bid to double in Tokyo.

He said this has been his hardest season. He lost about three months because he couldn't get the massages he needed because his long-time massage therapist was ill. "My body was so busted up, I was so tight," he said.

His brother Josephus, who also ran at the Olympic Trials, asked him earlier this year, "What are you scared to run for?"

Finally, the massage therapist came back and even treated Lyles for four-hour sessions.

"It took two months for my body to go back to normal," said Lyles, who said he felt like himself by the end of May.

On the track, he paid particular attention to the curve. But it was his outlook that really took a turn.

"I realized every time I tried to get aggressive, I started tensing up," said Lyles, who has lost only one 200 final in his professional career. "If I let it flow, let it go, let it be smooth and rhythmic and I get into that Noah Lyles, groove, that's when everything starts moving the way I want to and I don't have to press for it."

When he went to the call room Sunday, he said he knew he would be the winner.

"I knew I was going to run fast today," said Lyles, "but at the same time, it wasn't the joy and excitement that got to me. It was a peace and serenity that came over me, instead of that excited dramatic flaring Noah that I've had in the past. I feel like I'm changing and I'm OK with that."
It's not often that any athlete is mentioned in the same sentence as Jim Thorpe, but here goes: JuVaughn Harrison will be the first American man to represent Team USA in both the high jump and long jump since Jim Thorpe in 1912. Harrison contested both finals on Sunday and won both. He started with the high jump, clearing five bars cleanly to finish at 2.33meters (7-7 ¾). Darryl Sullivan jumped the same height, but had two early misses. Shelby McEwen was third at 2.30 (7-6 ½).

Because of a heat delay lasting several hours, Harrison, who made his first Olympic team, did not have to hurry to the long jump. When the Trials resumed, he jumped a personal best of 8.47 on his third attempt for the victory, and he was 8.00 meters or over for his whole series.
Marquis Dendy was second at 8.38 meters (27-6) and Steffin McCarter was third at 8.26 (27 1 1/4), which equaled his personal best.

"Doubling in high and long jump is rare," Dendy said of Harrison. "It's amazing. He's a great talent. It's all kinds of crazy."
Karen Rosen has covered every Summer and Winter Olympic Games since 1992 for newspapers, magazines and websites. Based in Atlanta, she has contributed to TeamUSA.org since 2009.