College Hockey At The Core Of Team USA Roster, Style At 2022 Winter Olympics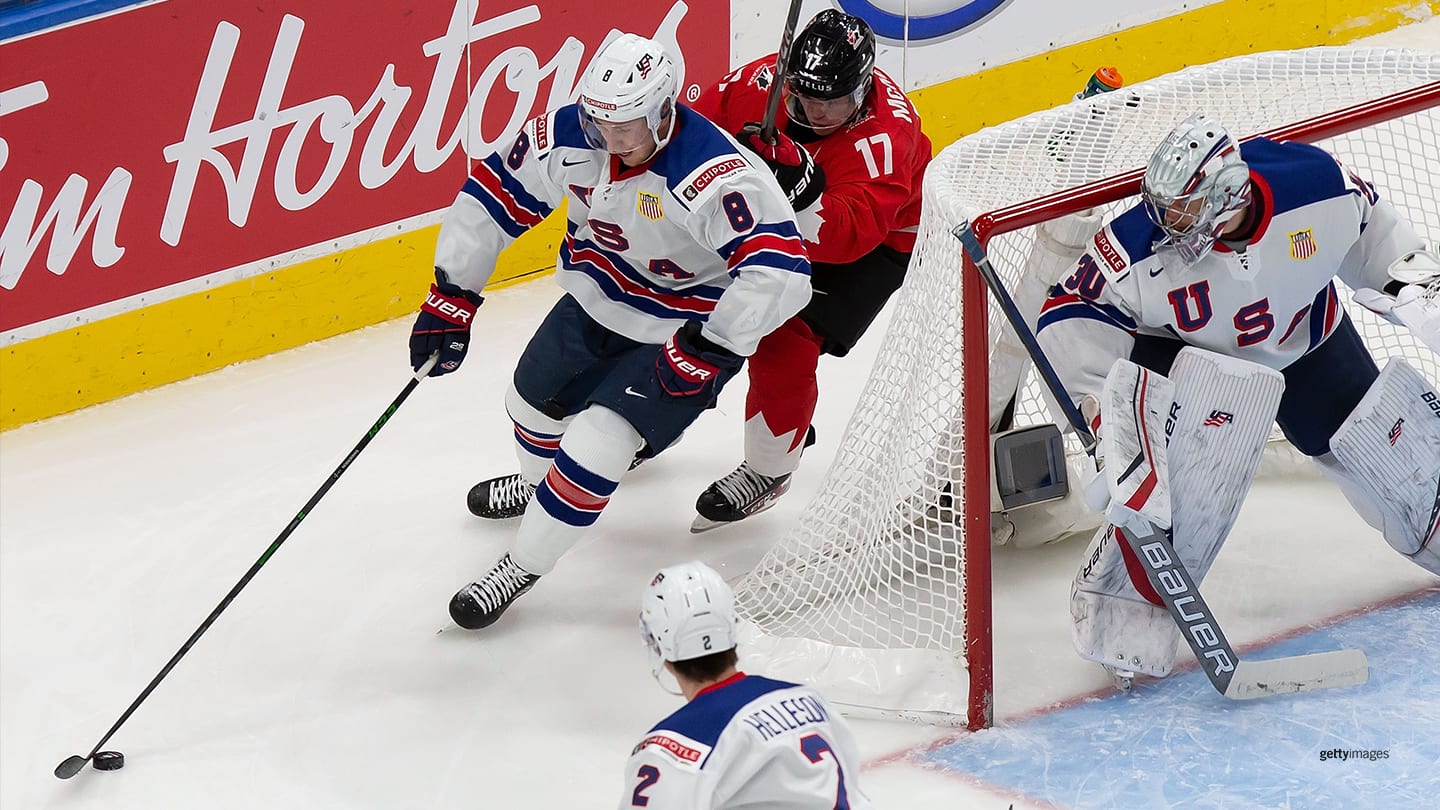 Jake Sanderson (left) competes during the men's gold-medal game at the 2021 IIHF World Junior Championships on Jan. 5, 2021 in Edmonton, Canada.
The U.S. men's hockey program learned a lesson from the Winter Olympic Games PyeongChang 2018. The success of Ryan Donato, Jordan Greenway and Troy Terry led them to believe that college hockey players can make a noticeable difference and the path to success should involve more players from the NCAA.

In total, USA Hockey general manager John Vanbiesbrouck selected 15 players from the college ranks coupled with 10 professional players either in Europe or the American Hockey League to represent the U.S. during the Olympic Winter Games Beijing 2022.

Despite a young roster, head coach David Quinn has set the bar quite high.

"We wanted to take the best team possible to compete for a gold medal," Quinn said with confidence. "When we looked at the player pool that was available to us, we thought speed, skill, pace, tempo was going to be the strength of our team."

The growth of college hockey and the effort made by USA Hockey at the grassroots level have been key contributors to the deep pool of talent available.

The Olympic roster is comprised of players from 14 NCAA schools.

"It speaks volumes as to how good college hockey is," said Matty Beniers, a 19-year-old forward at the University of Michigan. "Not just one league, pretty much across three, four different leagues. There are a lot of great players, college hockey is really good and I think it gets overlooked at times. It's tough, big, fast, hard and I think it prepares you well for the next level."

Beniers along with defenseman Jake Sanderson are two of the top players competing at the collegiate level selected to play in Beijing. Sanderson, a well-rounded defenseman, was selected fifth overall by the Ottawa Senators in the 2020 NHL Draft while the Seattle Kraken took Beniers with the second overall selection in 2021.
"We are looking for guys that play 200 feet. These guys (Beniers, Sanderson) are skilled players with a hardness to their game that are committed to playing in all three zones," Quinn said. "That's why they were drafted where they were, that's why they are going to be big parts of the team we have and that's why they've got great futures in the NHL."

The challenges for Quinn and his staff are enormous as his team will first be together when they step foot in China on Feb. 3.

"We are going to have to make decisions in a hurry, there is not a lot of time for practices, there is not a lot of time for players to play through bad stretches," Quinn said. "It's just a different setting but at the end of the day it's about managing your players and putting them in the best position to have success and that's our job as coaches. We got to make sure that we find the right combinations and put our team in the right mindset to play the style we want to play. We are very fortunate that we have a staff that has coached in international competitions."

"We got a lot of confidence in the players that we have chosen, we've got a lot of confidence in the staff," Quinn said. "We'll be able to become a team in a hurry and play as a unit."

The Winter Olympics will provide a different opportunity to each player, some are searching for an NHL contract, while others are looking to prove themselves on the international stage. However, every player and staff member are looking forward to the chance to represent the United States.

"It's a life-changing opportunity for everyone involved," said Quinn, who dreamed of playing in the Olympics and now gets a chance to lead Team USA from behind the bench.

"For some, they wanted to swim over there to play on this team," Vanbiesbrouck said. "It's a time of opportunity and that's what this game is made of, opportunity. To be known as an Olympian is a big-time thing for everybody and that's why NHL players wanted to go."
Scott Charles is a sportswriter whose work has been featured in the Associated Press, various NBC platforms and Yahoo! Sports among other places. He is a freelance contributor to TeamUSA.org and you can follow him on Twitter @ScottMCharles.