Nordic Skiers Kendall Gretsch, Jake Adicoff Earn First U.S. Gold Medals Of Para Worlds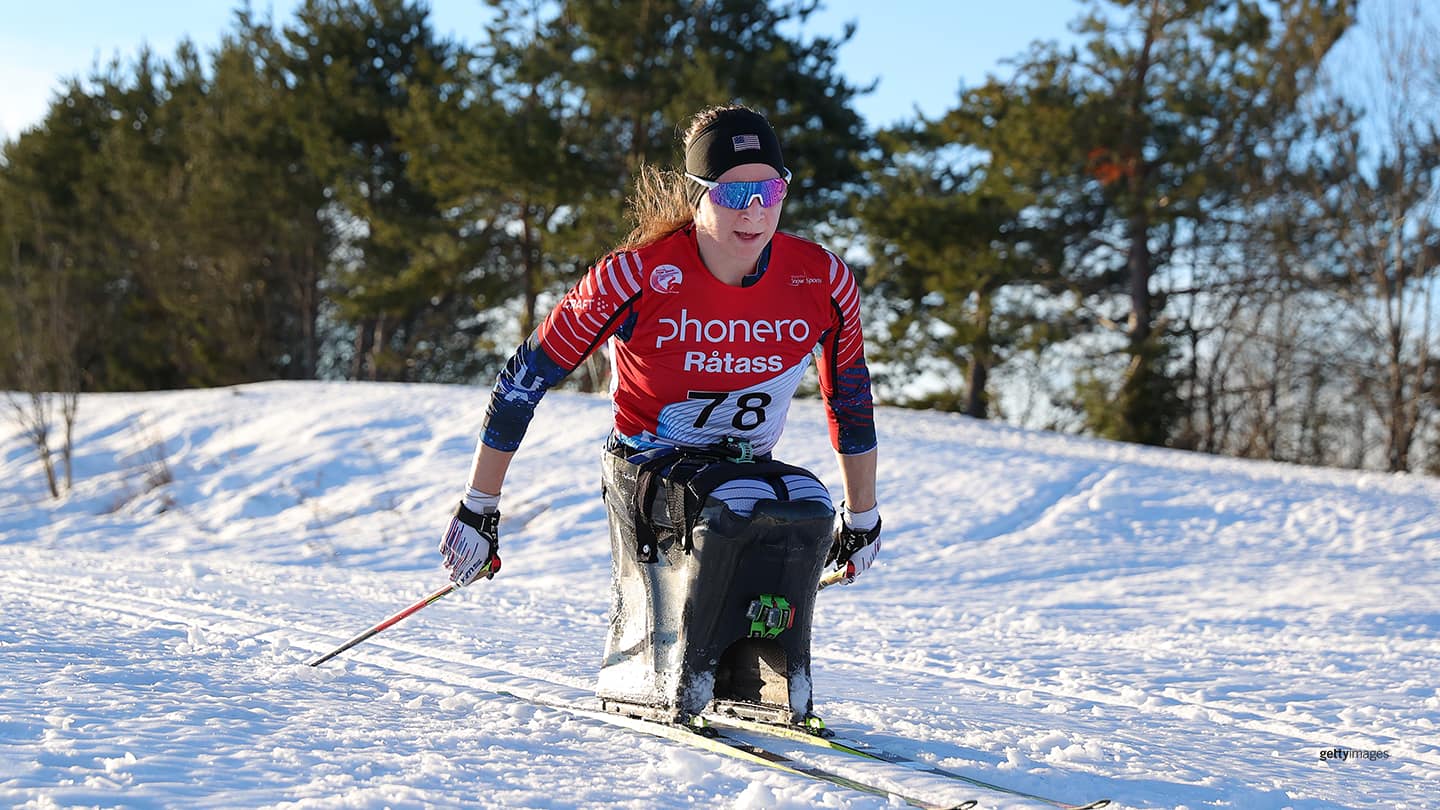 Kendall Gretsch competes in the sitting 10-kilometer cross-country race at the 2022 World Para Snow Sports Championships on Jan. 13, 2022 in Lillehammer, Norway.
Just a few months after she landed atop the paratriathlon podium at the Paralympic Games Tokyo 2020, Kendall Gretsch was back on top again Thursday in Lillehammer, Norway, this time on skis at the World Para Snow Sports World Championships.

Gretsch's title in the women's sitting 10-kilometer cross-country race was one of two gold medals on the day for Team USA, as Gretsch was joined by Paralympic medalist Jake Adicoff. Adicoff took home his first world championship gold medal with a win in the men's visually impaired 12.5-kilometer race. Sydney Peterson snagged a third medal for the U.S. when she finished second in the women's standing 10-kilometer to open a thrilling first day of racing in Lillehammer for the United States.

"Today was a great way to start off the races," Gretsch said to U.S. Paralympics Nordic Skiing. "I'm looking forward to some fast racing ahead. It's a great opportunity to learn more and get some race experience in before Beijing."

The 29-year-old Gretsch won her second career world championships gold medal and her first in cross-country. Gretsch previously won gold in individual biathlon at the 2019 world championships, her first as a Nordic skier, a year after making her Winter Games debut with gold in biathlon and cross-country. The multisport athlete also owns three paratriathlon world championships and the aforementioned Paralympic gold medal.

Adicoff had previously retired from the sport after winning his first Paralympic medal four years ago in PyeongChang, but has made a comeback over the past year with guide Sam Wood. The 26-year-old won silver in PyeongChang in the 10-kiolmeter classic and also competed in the 2014 Sochi Games. Adicoff and Wood have earned one bronze medal on the world cup circuit so far this season.

"It feels great," Adicoff said. "Lillehammer has been skiing really well so far, I've been having a lot of fun here. It feels great to go and get that first podium, and hopefully we can go out and get some more here."

The surprise of the day belonged to Peterson, who was competing in just her second international race. The 19-year-old competed in one world cup earlier this year for Team USA, finishing fifth. That qualified her for the world championships, and she impressed in beating out Ukraine's Liudmyla Liashenko, a Paralympic medalist.

Other notable performances for Team USA included six-time Paralympic medalist Dan Cnossen finishing seventh in the men's sitting 10-kilometer and Paralympian Dani Aravich taking eighth in the women's standing 10-kilometer. Alpine skiing was also on the schedule for Thursday but was postponed due to weather. The world championships continue through Jan. 23.
Todd Kortemeier is a sportswriter, editor and children's book author from Minneapolis. He is a contributor to TeamUSA.org on behalf of
Red Line Editorial, Inc.