For Mariah Bell, Taking The Long Road Is A Healthier, More Successful Route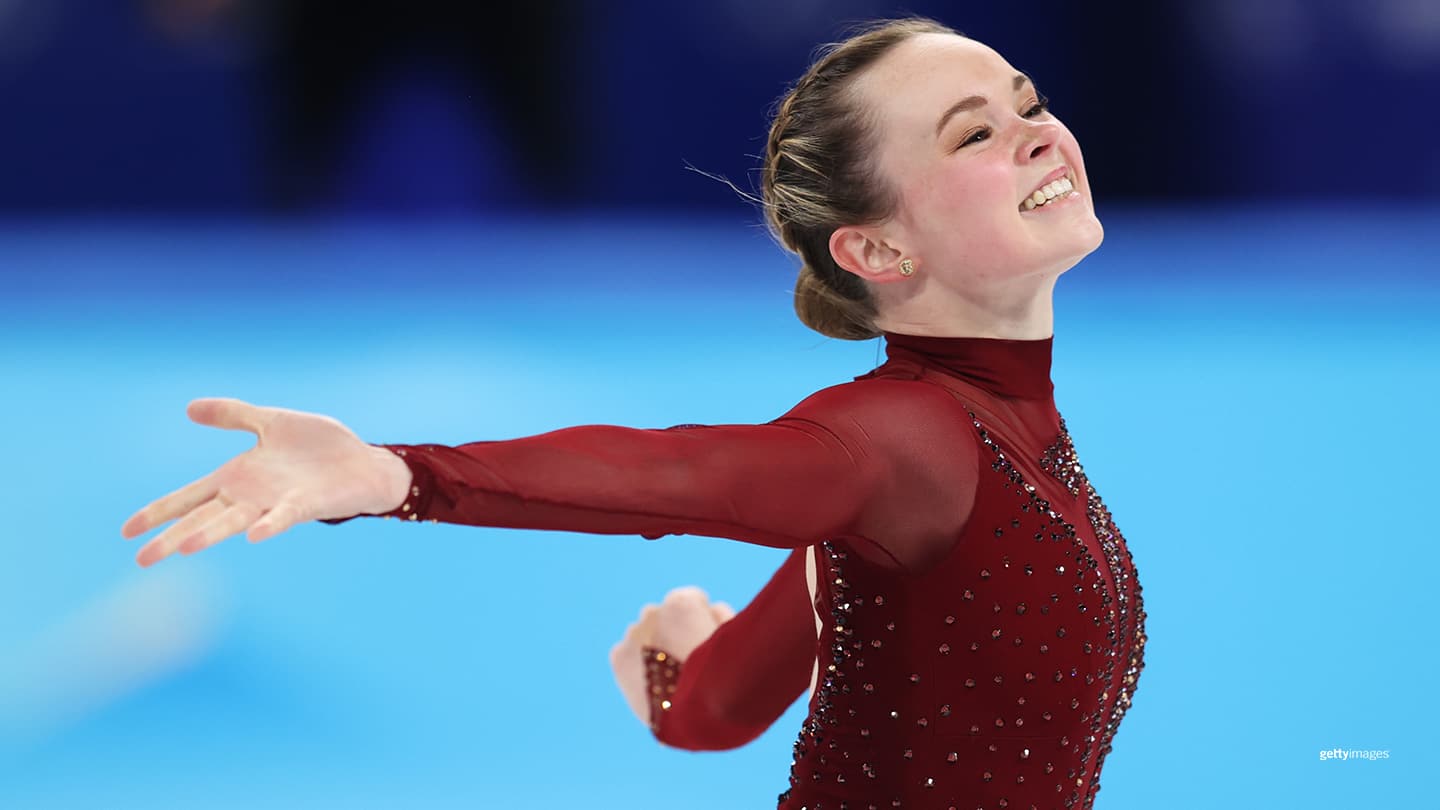 Mariah Bell competes during the women's single skating free skate at the Olympic Winter Games Beijing 2022 on Feb. 17, 2022 in Beijing.
BEIJING — Until she won the U.S. title in January, Mariah Bell never thought too much about her age. After the 25-year-old captured the crown on her ninth try, though, it was the first thing people wanted to talk about.

Reporters were quick to tell Bell she was the oldest U.S. women's champion since Beatrix Loughran some 95 years earlier, and questions about her age continued right up through her 10th-place finish at the Olympic Winter Games Beijing 2022.

"All of a sudden at nationals, there were these facts being thrown around, about how I was the oldest in I don't know how long," Bell said in Beijing earlier this month. "That title was given to me, but I'll gladly take it."

Three of the 30 skaters who competed in women's singles in Beijing are a shade older than Bell. But most — including Anna Shcherbakova and Alexandra Trusova, the gold and silver medalists from RPC, and two-time U.S. champion Alysa Liu, who placed seventh — are teenagers.

Reminded that some of these younger athletes possessed the quadruple jumps and triple axels she lacked, Bell refused to take the bait. To her, being 25 is a plus.

"I don't feel that much different (physically) than I did when I was 17 or 18, only I do have more experience," she said. "When you're younger, you're dealing with growing, and your body's changing. At 25, that's not happening anymore. That's to my advantage.

"I know my body, I know how to train. I have more experience dealing with nerves and excitement. I have all of my tools and I just pull them out when I need them and I get to enjoy my skating and have all of these amazing experiences."

To Bell's way of thinking, success didn't come late, but right when she was most prepared to handle it. In 2017, after winning bronze at the U.S. championships and placing 12th at her first world championships, she was considered a contender for the PyeongChang Olympic team. An uneven 2017-18 season, especially a disappointing sixth place at the U.S. championships, put that goal out of reach. Today, she thinks she simply wasn't ready.

"I just let everything become way too big," Bell said. "Skating wasn't even that fun. Competing felt so stressful that year. It felt I was trying not to lose something, rather than to gain something.

"This year, I was just excited to gain something. I had nothing to lose."

Bell credits her long-term thinking to her parents, Kendra and Andrew Bell, who supported — but never pushed — her skating career and that of her older sister Morgan, who competed as a senior at three U.S. championships.

"What they wanted for us was not to be national champions or Olympians," she said. "That would be amazing, but what they cared about was the people we became, what our work ethic was, were we kind, were we positive influences in society? … I think they did this perfectly. I want them to write a book."

Told of her daughter's suggestion, Kendra Bell laughed; a book isn't on her to-do list. But she agreed with Mariah's take on how the family treated skating.

"The only thing Mariah and Morgan ever had to do, was finish what they started," she said. "If I signed a contract (with a rink) that they would skate X number of weeks, with X number of sessions, they were going to finish that contract. But other than that, no. Finish what you start was the only requirement."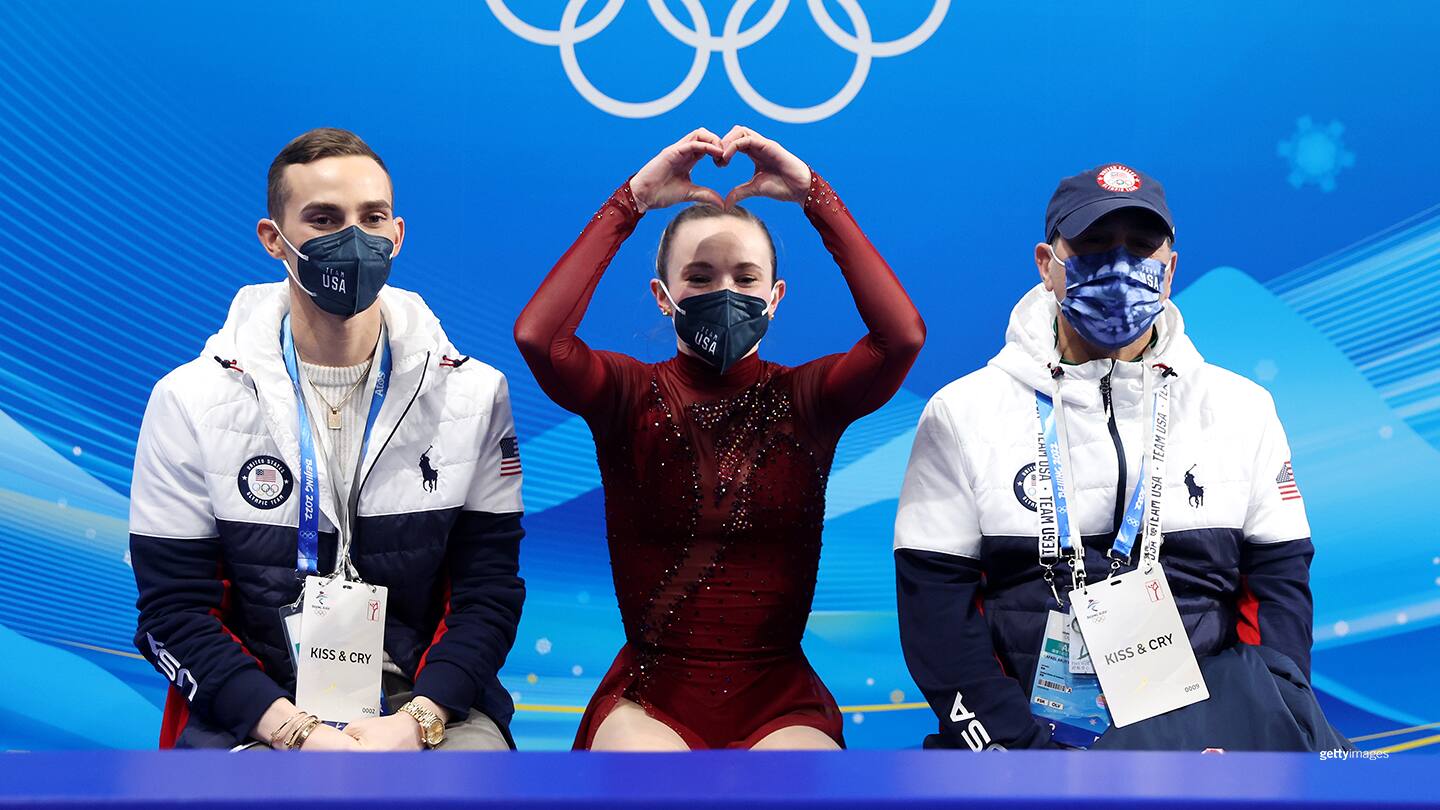 Mariah Bell reacts to her score with coaches Adam Rippon (L) and Rafael Arutyunyan (R) during the women's single skating free skate at the Olympic Winter Games Beijing 2022 on Feb. 17, 2022 in Beijing.
Morgan, four years Mariah's elder, retired from competitive skating in 2013. She enjoyed a long career with Disney on Ice, portraying the role of Anna in "Frozen" in 22 countries around the world.

"There really never was pressure," Morgan said. "My parents always said, 'We'll do anything realistic we can to help you reach your goals, and if you come up to us one day and say, 'I don't want to do it anymore,' we'll follow you down the path you want to go.' … It made us appreciate skating, that we had this chance to take part in this really cool privilege."

The sisters point to an incident more than ten years ago, when Mariah stomped on the ice during a tough practice session. Kendra told her to get off the ice; when Mariah didn't comply, she went out and dragged her off.

"She said, 'This is not who you are. You need to be a respectable person and have good character,'" Mariah said. "Just the fact (my parents) cared about my sister and I as people before athletes, that's true love. It really sets you up to feel like, what you do as an athlete doesn't determine who you are as a person."

"Oh, I remember that day," Morgan said, laughing. "My parents wanted us to respect ourselves, the sport, the ice, the coach. And my mom wouldn't take any attitude or anything. … (My parents) instilled in us that skating was a privilege. It wasn't something that it was assumed we got to do. There is much more to life, and you do what you do with integrity."

As Morgan and Mariah climbed the ranks, they and Kendra relocated from the family's home in Houston in 2008 for more a competitive training environment in Westminster, Colorado, where Mariah was coached by Cindy Sullivan for several years. She attended school in person, graduating from Ralston Valley High School in Arvada in 2014.

In 2016, Mariah took control of her career, moving to Southern California to train with the renowned Rafael Arutunian, coach of Olympic champion Nathan Chen. She has since added Adam Rippon, the 2016 U.S. champion and 2018 Olympic team bronze medalist, as well as choreographer Shae-Lynn Bourne to her team.

"For us, it was slow and steady wins the race," Kendra said. "Every parent who has ever asked, I've said, 'It's a marathon, not a sprint.' There are going to be bad days, and you have to take the good with the bad, and make sure that (your kids) are mentally where they need to be. Competing is cutthroat and it can be catty and it can be nasty, but it can also be very rewarding, and where you make some of your best friends.

"We just tried to always keep it, 'Do the same thing at nationals as you do at home.' A triple toe (jump) is a triple toe whether it is at nationals, or at home, or at the Olympics. The nerves, of course, are different, so we just tried to keep everything in perspective and keep it light."

Mariah plans to compete at the 2022 world championships on March 21-27 in Montpellier, France. And although she has yet to announce whether she will continue her competitive career beyond this season, her age will likely not factor into her decision.

"I think it truly is a state of mind," she said. "If you fall into the trap of, 'I'm too old' or whatever, then you are just setting yourself up to feel that way."

Currently, skaters as young as 15 may compete at the world championships and Olympics. In June, the International Skating Union Congress will consider a proposal to raise the minimum age for senior international competition to 17. Bell supports the proposal.

"You want athletes to have an opportunity to have this be a profession, not a one-year run at it," she said. "If you look at Sasha Cohen and Michelle Kwan, they were competing at a time where they did it for so many years, it gave a great outlook for the sport. People could follow their careers. If we (raised) the age limit, I think it would promote that idea of longevity. Somebody over 25 wouldn't be shocking at an Olympics."
Lynn Rutherford is a sportswriter based out of New York. She is a freelance contributor to TeamUSA.org on behalf of
Red Line Editorial, Inc.