Team USA Reaches New Heights In Biathlon At The 2022 Winter Olympics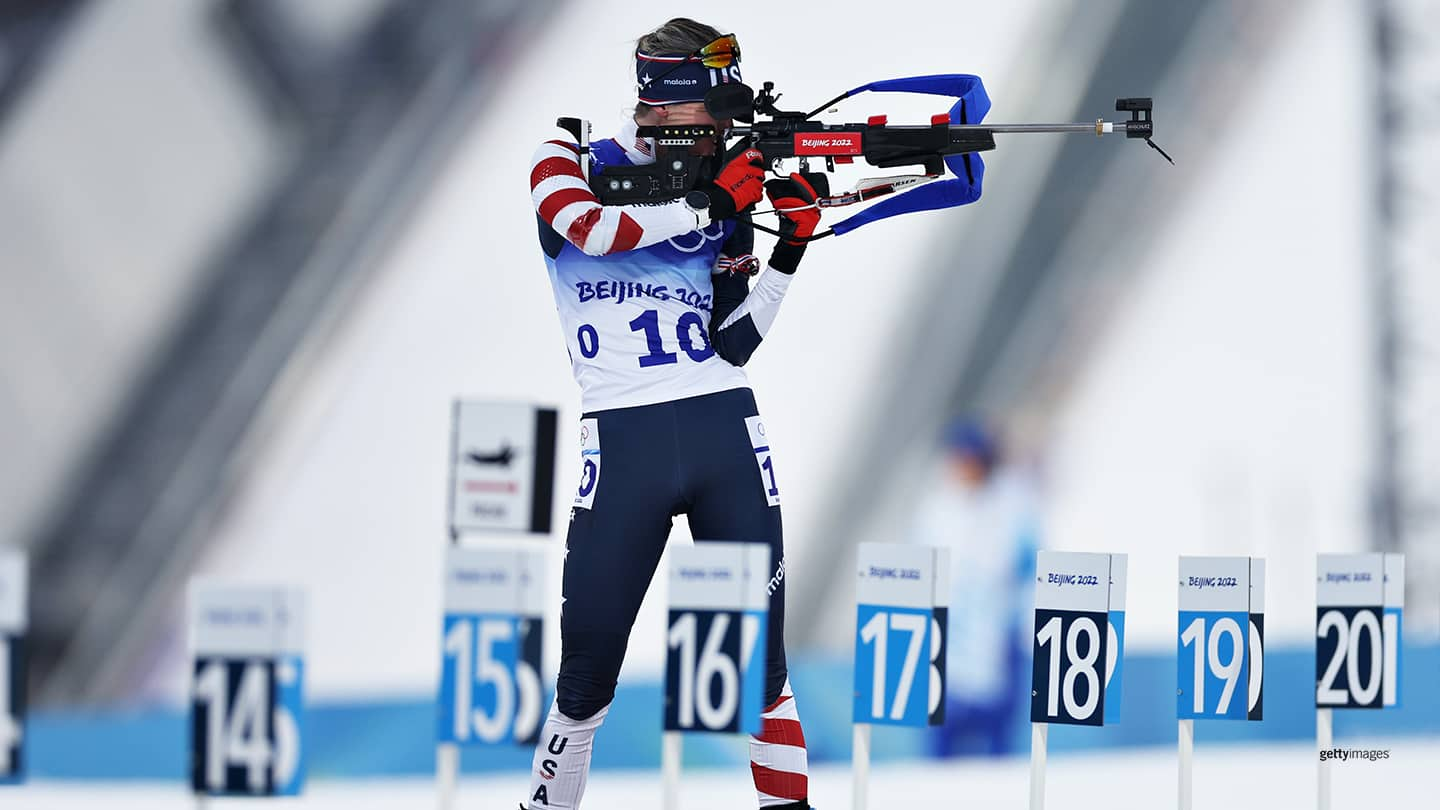 Clare Egan shoots from a standing position during Women's Biathlon 7.5km Sprint at the Olympic Winter Games Beijing 2022 on Feb. 11, 2022 in Zhangjiakou, China.
The sport of biathlon is a true physical test for a human being, where only the most well-trained athletes can find success at the highest levels.
Athletes must endure the combination of cross-country skiing, one of the most grueling physical sports where heart rates hover around 180bpm, with rifle shooting — which requires a considerable reduction in heart rate to obtain a steady shot.
With 11 medal events on offer at the Olympic Winter Games Beijing 2022, there were plenty of opportunities to see these great athletes in action at the Zhangjiakou National Biathlon Centre in the mountains northwest of Beijing.
As a testament to the sport's difficulty, Team USA arrived in Beijing having never won an Olympic medal in biathlon. And despite several inspiring performances from the eight-member team that included three Olympic newcomers, Team USA will have to keep building for the future to land on that elusive podium finally.
Amongst the impressive Team USA performances in Beijing came from first-time Olympian Deedra Irwin. She finished seventh in the women's 15km individual race to mark the best Olympic finish ever for U.S. biathlon.
Thanks to her combined results, the 29-year-old Irwin also qualified for the 12.5km mass start and finished a respectable 23rd on the final day of competition. Just earning a spot in the race is a victory, as it depends on the athlete's results in prior events — and the race itself is limited to only the top 30.
"To get a top 10, make the pursuit, have an awesome relay with my teammates and make the mass start, it was just way more than I expected," Irwin said after finishing the mass start, where she pushed up six places from her starting position.
Olympic veterans Susan Dunklee and Clare Egan capped their Olympic careers by guiding the U.S. women to an 11th place finish in the 4x6km relay. The team included Irwin and two-time Olympian Joanne Reid, who turned in an impressive final leg, resulting in a strong finish for Team USA.
In reflecting on her teammates' impressive careers and their influence on her as an athlete, Irwin remarked, "They're just so inspirational...they're trailblazers in U.S. biathlon. I just hope to live up to the legacy they've created for this program. They're definitely going to be missed in the future."
Team USA wrapped up their biathlon competition on the men's side with a 13th-place finish in the 4x7.5-kilometer relay. The four teammates endured frigid temperatures and windy conditions that tested all the athletes but allowed Team USA some positive takeaways from their experience in Beijing.
"It's been up and down; that's the nature of biathlon," said three-time Olympian Sean Doherty of the team's performance in Beijing. "We've had some great moments as a team. We've had some strong performances, and I think we gave it our all, and that's something we can be satisfied with. Now we get a little break and refocus for the next world cups."
Alongside Doherty, the men's team consisted of Jake Brown, Paul Schommer, and Leif Nordgren, who wrapped up his Olympic career in Beijing after three Olympic Games.
"We're going to miss him, that's for sure," Brown said of Nordgren. "It's been fun to have him as a mentor, this year especially, being able to pick his brain on some things knowing he's going to be moving on. He's been able to share so much with us. It's been really valuable to have him around."
While Team USA posted historic finishes, Norway dominated the biathlon competition in Beijing on both the men's and women's sides. The Nordic powerhouse took home an astonishing 14 total medals and six gold. Several athletes brought home a record five total medals — but it was France's Quentin Fillon Maillot that raced into the Olympic history books with five podium finishes in each of his five races.
Norway's Marte Olsbu Roeiseland claimed three golds and two bronze medals for the women. Norway's men were powered by the Boe brothers, with 33-year-old Olympic veteran Tarjei winning two golds in relays, bronze and silver in individual races.
Meanwhile, younger brother Johannes Thingnes outdueled his brother, winning four gold medals — two in relays and individual titles and a bronze in the 20km individual event.
Want to follow Team USA athletes during the Olympic Games Beijing 2022? Visit TeamUSA.org/Beijing-2022-Olympic-Games to view the competition schedule, medal table and results.
Lisa Costantini is a freelance writer based in Orlando. She has covered Olympic and Paralympic sports for various publications, and has contributed to TeamUSA.org since 2011.