Speedskaters Joey Mantia, Mia Manganello-Kilburg Take 4th In Mass Start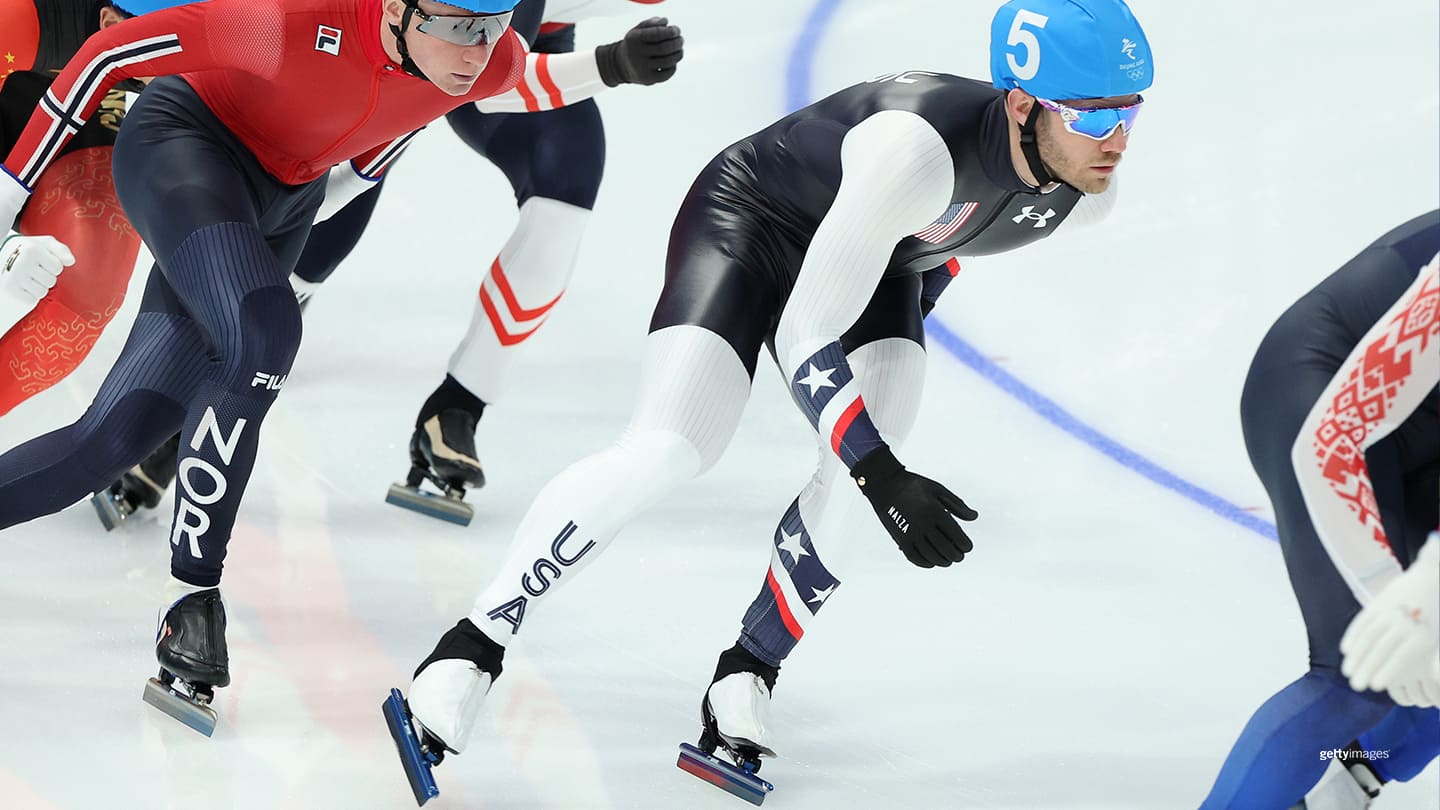 Joey Mantia skates during the Men's Mass Start Semifinals at the Olympic Winter Games Beijing 2022 on Feb. 19, 2022 in Beijing, China.
BEIJING — Two-thousandths of a second isn't much, maybe representing the very tip of a skate blade at the finish line, but it was enough to make Joey Mantia just miss the medal stand Saturday in the men's mass start at the Olympic Winter Games Beijing 2022.

Mantia and Mia Manganello Kilburg were the top U.S. performers in the final event of the speedskating competition from Beijing with their fourth-place finishes. But neither skater was satisfied with just coming close. Mantia could only try and make sense of it afterward.

"I felt like I put myself in a perfect position to medal," Mantia said. "I skated the best race I could, and it's the mass start. You never know."

Mantia has in the past described mass start as "NASCAR on ice," more in line with the chaotic pack racing of short track than the time trials of long track. That can lead to mad dashes for the finish line like Saturday, when Mantia was side-by-side with South Korea's Seung Hoon Lee in the final stretch. Both skaters reached out their skates at the line, and Mantia said he also felt Lee's arm reach out as both men jockeyed for position.

"I was pretty confident I had a bronze medal there," said Mantia, a three-time mass start world champion. "And then, hand on arm, and I looked down, I could see his blade a little bit in front of mine. But coming up on him I thought my blade was in front of his and then he put his back in front of mine. So, I don't know if there was contact pulling back, it felt like a little bit, maybe not on purpose but I think it happens."

Mantia said his coaches sought a protest on the matter, but that long track does not have a formal system for review like in short track where contact is the norm and not the exception. It has been an up-and-down Games for Mantia, a three-time Olympian. Earlier in the Games he won a bronze in team pursuit for his first Olympic medal, but placed sixth in the 1,500-meter, one of his strongest events alongside mass start. Mantia had to miss Friday's 1,000 due to back tightness, and said it was still affecting him Saturday and he's had trouble feeling comfortable on the ice throughout the Games.

"It's frustrating because I've done everything I could possibly do this season to train, to get to this point, to medal, and the body just is saying we're not going to give you quite everything you need," Mantia said.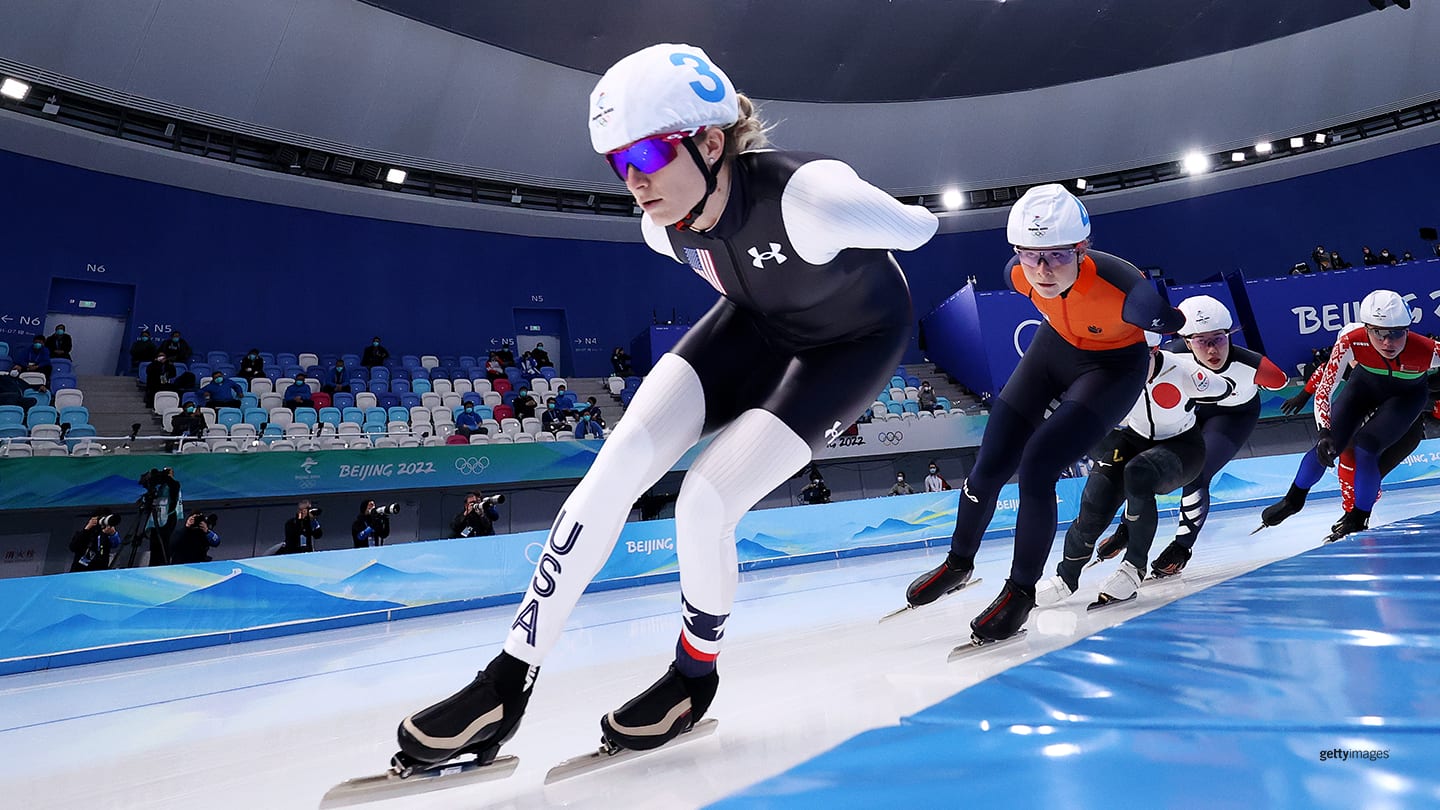 Mia Manganello-Kilburg skates during the Women's Mass Start Semifinals at the Olympic Winter Games Beijing 2022 on Feb. 19, 2022 in Beijing, China.
Manganello Kilburg had a lot to be happy with, closing out the Olympics on a high note with the best finish ever for a U.S. woman in mass start since it was added to the Olympic program in 2018. She'd previously won a gold medal in the event at the World Cup Four Continents Championship, but has never medaled at the world championships and was 15th at the PyeongChang Games. Manganello Kilburg, however, also wondered what could have been.

"I feel pretty good about it, it's the best result I've had, ever, in a mass start," she said. "I'm also disappointed though because it's the best I've felt in a mass start speed-wise, but unfortunately it was extremely aggressive out there, probably the worst I've ever experienced, and with about four, three to go I got bumped back a bit further than I wanted to be and had to burn a match early, and I just wasn't able to close that gap to the front girls."

Team USA was able to place two women in the mass start final, with 19-year-old Giorgia Birkeland finishing 13th in her first-ever Olympic race. It was also her first international senior mass start period, though she won the race at January's U.S. Olympic Team Trials. Mass start was her only race of the Games.

"(Getting through to the final) meant a lot," Birkeland said. "That was like basically my final, that's what my coach told me, just to like get through the semi. It was a good confidence booster. This is like my first international senior mass start, so to actually make it was really good for me."

Also racing Saturday for Team USA was first-time Olympian Ian Quinn, who won the men's mass start at the Olympic trials. Quinn made a late charge to finish eighth in his semifinal but did not advance to the final because he earned no sprint points and was classified 13th. The mass start was his only race of the Games.

The conclusion of mass start also concludes the long track speedskating competition at the Beijing Games, and it was a good one for Team USA. The U.S. tied for fifth with Norway with three medals, most for Team USA since 2010. 2010 was also the last time an American speedskater won gold until 2022, when Erin Jackson broke through in the 500.
Want to follow Team USA athletes during the Olympic Games Beijing 2022? Visit TeamUSA.org/Beijing-2022-Olympic-Games to view the competition schedule, medal table and results.
Todd Kortemeier is a sportswriter, editor, and children's book author from Minneapolis. He is a freelance contributor to TeamUSA.org on behalf of Red Line Editorial, Inc.