Short Tracker Kristen Santos Finishes Fourth In Women's 1,000-Meter After Crash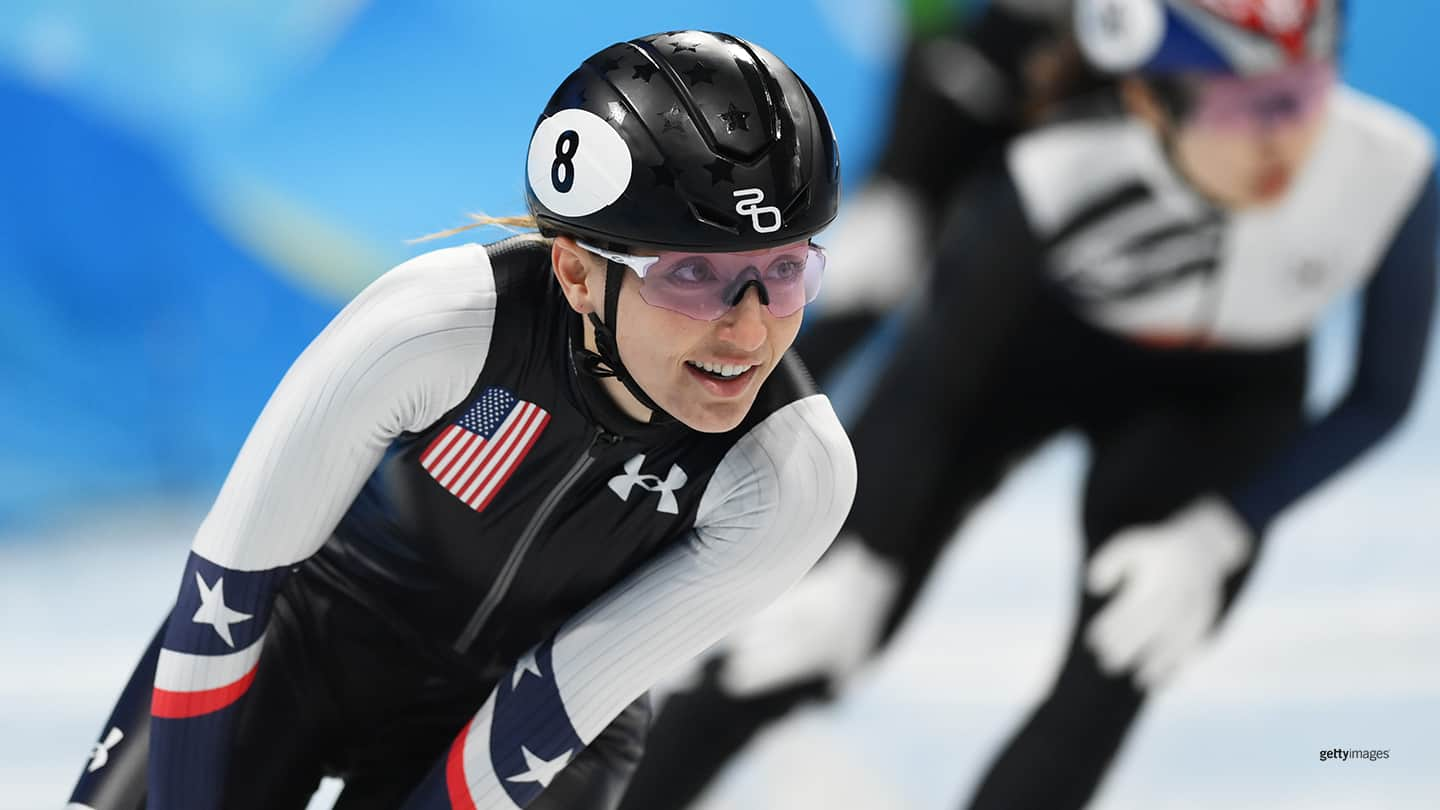 Kristen Santos reacts after skating during the women's 1000-meter quarterfinals during the Olympic Winter Games Beijing 2022 on Feb. 11, 2022 in Beijing.
BEIJING — Just as she did in come-from-behind wins in the quarterfinals and semifinals, Kristen Santos was hanging around and ready to make her move in the women's 1,000-meter final Friday night at Capital Indoor Stadium.

Only this time, there was no surging move into the lead around the outside, only disaster as Italy's Arianna Fontana collided with Santos and sent her careening into the mats on the final lap. Santos would finish fourth. Fontana was given a penalty after the race, but that was too late for Santos and her medal hopes.

"That's part of the sport, I've been penalized more times than I can count," Santos said afterward. "I can't be mad at anyone for that. We're all going out there and trying our hardest, no one is trying to get disqualified, no one's trying to mess anyone else up, we're just trying to do the best we possibly can."

It was all setting up for Santos to win her first Olympic medal in her first appearance at the Games after she had been one of the best in the 1,000-meters all season long. Santos was the No. 2 woman at the distance on the world cup circuit, even winning a bronze medal on the same Beijing ice back in October. The only one to top her in the season standings was Suzanne Schulting of the Netherlands, who won gold Friday night and set an Olympic record in her quarterfinal. Minjeong Choi of South Korea was second with Hanne Desmet of Belgium in third.

Schulting's Olympic-record ways aside, Santos was looking like the one to beat on the night. In both her quarterfinal and semifinal, she was in the middle or the back of the pack before making her move to the outside to grab the lead. She won both races, doing so by the tip of a skate blade in the semifinal. She was in third in the final and looking to move up when she had the incident with Fontana.
FINALS BOUND‼️@USSpeedskating's Kristen Santos will rep #TeamUSA in the 1000m finals. #WinterOlympics pic.twitter.com/UO419bg6LH


— Team USA (@TeamUSA) February 11, 2022
Want to follow Team USA athletes during the Olympic Games Beijing 2022? Visit TeamUSA.org/Beijing-2022-Olympic-Games to view the competition schedule, medal table and results.
"In my mind I was just thinking I'm in medal position and I want to get the best medal possible," Santos said. "There was some contact, unfortunate, but I did everything I could and I can't be too upset with myself at the end of the day."
Santos definitely doesn't hold any ill will toward Fontana, an icon of the sport with 10 Olympic medals, two of them gold.
"She is the nicest person in the entire world," Santos said. "She's someone that I look up to every single day and she impresses me, so no bad blood there."
The 27-year-old from Fairfield, Connecticut, was making a delayed Olympic debut. Just before the U.S. Olympic Team Trials for the 2018 PyeongChang Games, Santos' hand was sliced by a skate blade. Surgery followed and she recovered in time to compete at the trials, but she wasn't at full strength and finished fourth, needing to finish third. She's been on top of her game this season, not only in the 1,000 but she also finished fourth overall in the 1,500.
"It's unfortunate, it's definitely heartbreaking and disappointing, but I just kind of have to move forward," Santos said. "I still have the 1,500; I know that I can be on that podium."
Quarterfinals in the women's 1,500 begin Feb. 16. It was a good night overall for Team USA as two other skaters made the top ten in the 1,000 as two-time Olympian Maame Biney and Corinne Stoddard were each eliminated in their semifinals to make Final B. In a race without much movement, Stoddard finished third after being in second for much of the race while Biney finished in fifth. Stoddard and Biney placed eighth and tenth overall, respectively. Those are career-best finishes in an individual race at the Games for both skaters.
"I'm super proud," Biney said. "I did everything I was supposed to do but my legs just gave out … It's all good, it's OK."
"It's my first Olympics and I'm only 20 years old so I'm really happy to get eighth place in my first Olympics," said Stoddard.
Also in action for Team USA Friday night was Ryan Pivirotto, who advanced out of his heat in the men's 500-meter. Pivirotto, competing in his second Olympic Games, was racing in the 500 for the first time at the Games and secured advancement as one of the four fastest third-place skaters. Quarterfinals in the men's 500 take place Sunday evening in Beijing.
Todd Kortemeier is a sportswriter, editor, and children's book author from Minneapolis. He is a freelance contributor to TeamUSA.org on behalf of
Red Line Editorial, Inc.