Team Shuster 1-0 As Gold Medal Defense Begins With Win Over ROC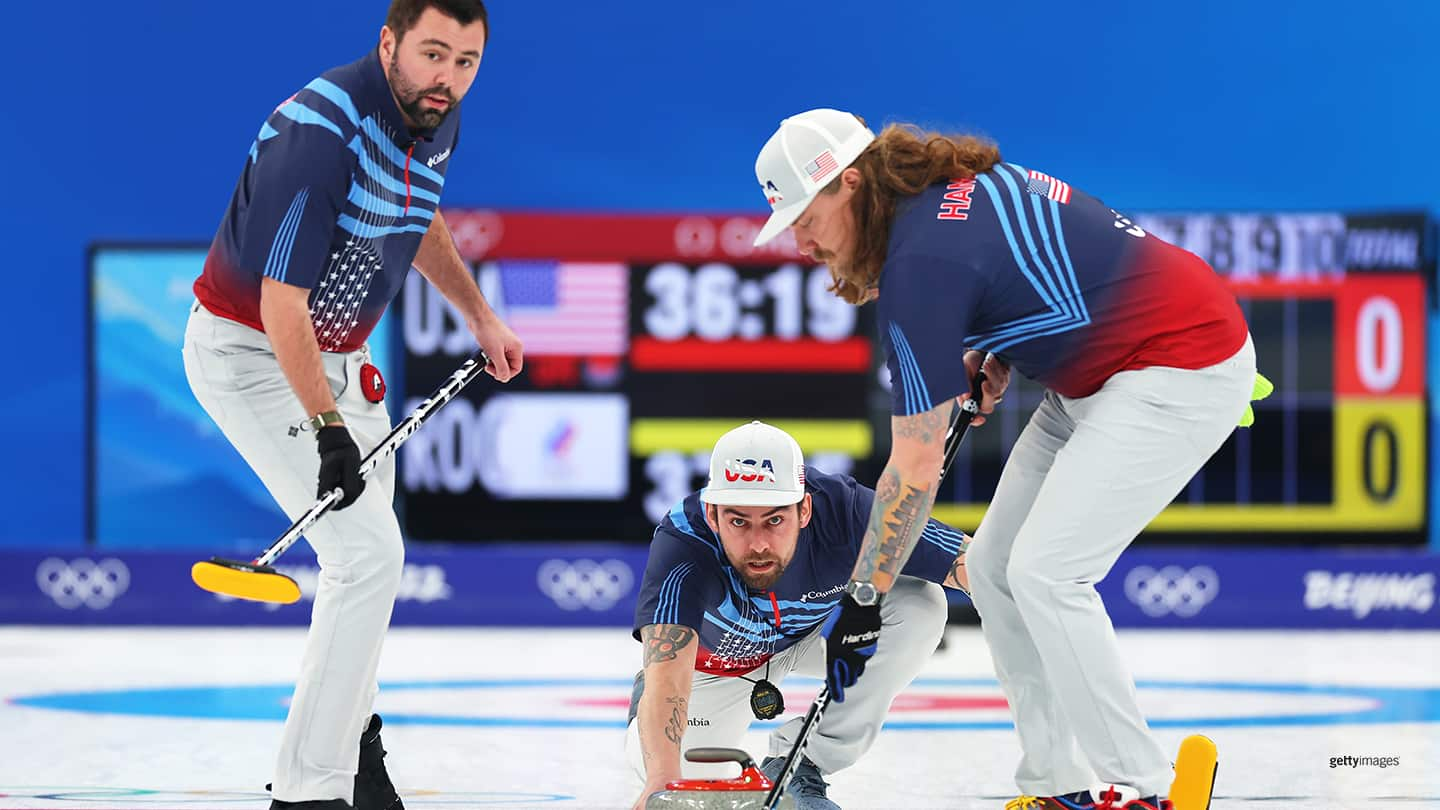 John Landsteiner (L), Chris Plys (C) and Matt Hamilton (R) of Team USA compete against Team ROC during the men's round robin session during the Olympic Winter Games Beijing 2022 on Feb. 9, 2022 in Beijing.
BEIJING — It's been 1,446 days since the U.S. men's curling team last took to Olympic ice. But the outcome was the same.

It took an extra end, but Team Shuster got off to a 1-0 start as they began the defense of their 2018 gold medal with a 6-5 win over the team from the Russian Olympic Committee (ROC), Wednesday night at Beijing's Ice Cube. The teams were nearly even, statistically and via the eye test, with a measurement determining whether Team USA would win outright in the 10th end or if there would be an extra frame. Close or not close, they all count the same to Shuster.

"I don't think it really matters, a good way to start the tournament is 1-0," Shuster joked after the game. "But no, it was really good to have to actually go out there and play a really good game as a team to get a win. Like that I just think is going to do nothing but build some confidence and some character to get through the tournament."

The ROC, while competing in just its second ever Olympic men's tournament — it competed as Russia in 2014 — proved to be a tough test. The team was one of the big surprises at the 2021 world championships despite coming in as one of the lowest-ranked teams in the field and having never medaled at worlds before. Skip Sergei Glukhov and company went 11-2 in the round robin, including a win over Shuster, and qualified straight to the semifinals. So there was no lack of skill on the ice Wednesday night.

The U.S. would get on the board first with the hammer in the first end, though there were very few rocks in play in the early stages of the game and the ROC managed a single to tie in the third. The offense ramped up in the fourth end with a crowded house, but Shuster's final draw for one came up short to give the ROC a steal of two.

"Those guys came out and played great," Shuster said. "And I thought we came out and played very good. So it was one of those things where we found ourselves in a little bit of a hole."

Team Shuster looked poised for a big end in the fifth but was bitten by some bad luck when a draw from Plys hit some debris. Shuster was left with a tough tap attempt for three, but the U.S. could only score one. However, that single was a foothold back into the game as the U.S. would steal one in the sixth end after Glukhov's last rock ticked the guard.

"We battled hard through just getting one in that end," said Shuster. "Came back and got a big steal, and we know if we're tied up with four ends to play, we're essentially playing a four-end game. And the way we were playing, we knew we had a chance to win."

After forcing the ROC to a single in the seventh, in the eighth Shuster used a bit of finesse in a game that was all about the finer details. Shuster played a tick shot to send the shooter and the rock it hit gently into the house to score two huge points. ROC blanked the ninth, setting up the dramatic measurement in the 10th. Then with hammer in the extra end, Shuster executed a draw to an open four-foot circle to secure the win.

The last time Team Shuster raised its brooms in victory at the Olympics was in the gold-medal game four years ago. While Plys is in for the now-retired Tyler George, John Landsteiner and Matt Hamilton have returned for their second Games while Shuster is making his fifth.

"Prior to playing today, I'd never had like any butterflies, anything like that, I was just kind of really looking forward to it," Shuster said. "And I think that's kind of where I've been trying to get my head at. And as we got done with our practice and we stood on the sideboards, and the drums started going from the ceremony, all of a sudden I was like, 'Chris, the butterflies showed up!'"

But the butterflies quickly dissipated as Team Shuster went back to business. Next up is the second of nine round robin games, against Sweden in a rematch of the 2018 gold-medal game, Thursday morning in Beijing. While these Games are unlike any other with protocols necessitated by the COVID-19 pandemic, the close-knit players of Team Shuster are able to count on each other for support.

"It's just incredible to get a chance to represent your country at the Olympic Games, with three of my best friends for sure, four of my best friends, actually, five of 'em if you count our coach (Sean Beighton) too," Shuster said. "We were in our (Olympic) Village apartment, before the event started here and we just all kind of looked around and thought how grateful we were to have Sean being kind of our age and one of our friends before he got into coaching.

"Having this opportunity, six of us that are so close-knit, is really incredible."
Want to follow Team USA athletes during the Olympic Games Beijing 2022? Visit TeamUSA.org/Beijing-2022-Olympic-Games to view the competition schedule, medal table and results.
Todd Kortemeier is a sportswriter, editor, and children's book author from Minneapolis. He is a freelance contributor to TeamUSA.org on behalf of
Red Line Editorial, Inc.