Ryan Cochran-Siegle's 14th Place Leads Team USA In Olympic Men's Downhill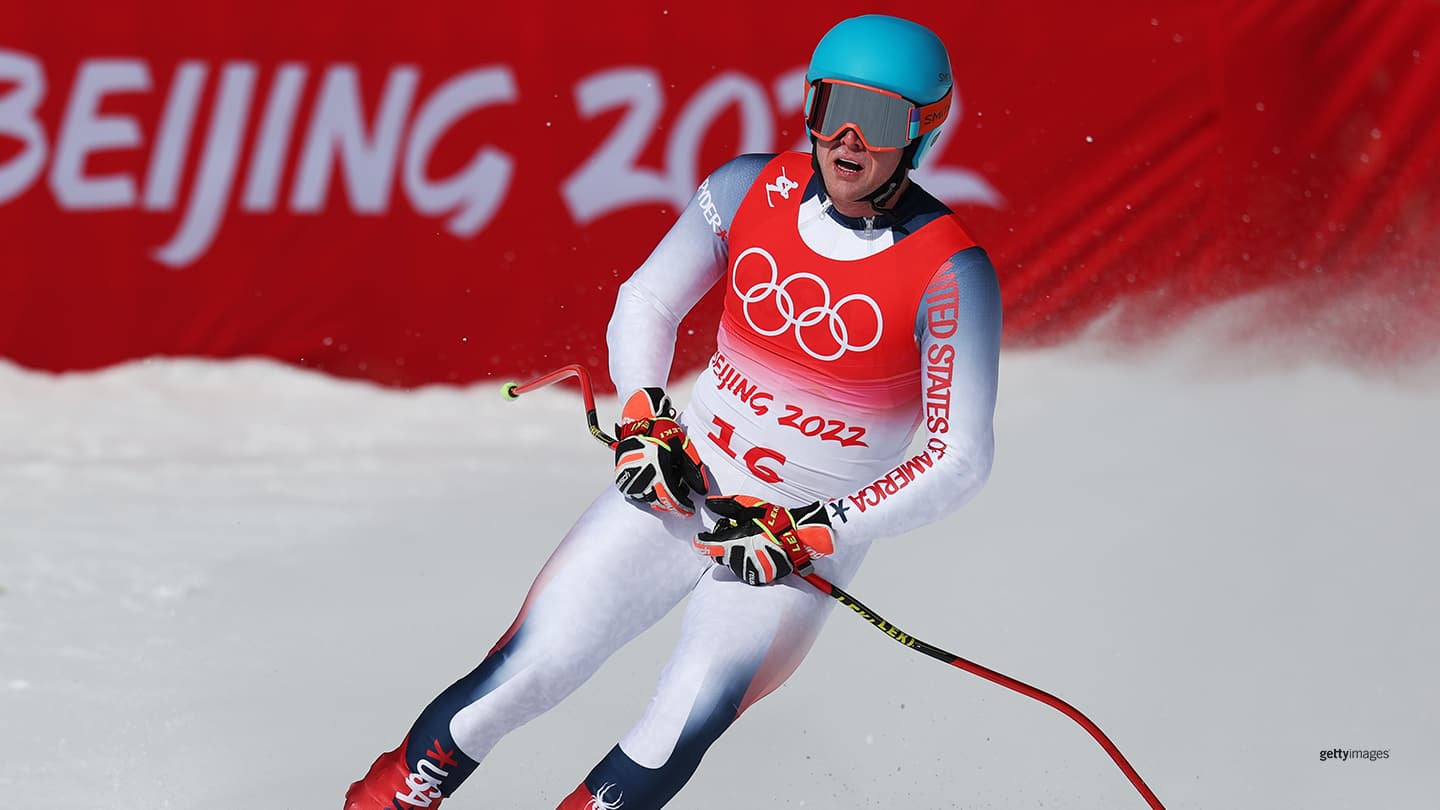 Ryan Cochran-Siegle skis in the Men's Downhill at the Olympic Winter Games Beijing 2022 on Feb. 7, 2022 in Yanqing, China
BEIJING — It's been eight years since the U.S. won a medal in the Olympic men's downhill. Three veteran U.S. speed racers — Ryan Cochran-Siegle, Bryce Bennett, and Travis Ganong — hoped to change that stat at the Olympic Winter Games Beijing 2022.

But on the Yanqing National Alpine Skiing Centre's new downhill run, the American Downhillers' runs were punctuated by small mistakes.

In his second Olympic Games, Ryan Cochran-Siegle was the top U.S. finisher in 14th place.

"I was trying to be relaxed and just go with the flow," said the 29-year-old alpine skier from Vermont. "I think maybe I was a touch too tentative and passive up top. You really had to commit through the bumps."

Bennett and Ganong — both raised on the steeps of Palisades Tahoe and in its Olympic tradition — finished farther down, in 19th and 20th, respectively. Formerly called Squaw Valley, Palisades Tahoe in California hosted the 1960 Winter Olympic Games.
Want to follow Team USA athletes during the Olympic Games Beijing 2022? Visit TeamUSA.org/Beijing-2022-Olympic-Games to view the competition schedule, medal table and results.

Skiing with the precision that the course demanded, Switzerland's Beat Feuz finally won an Olympic gold medal, crossing the line in 1:42.69. The 34-yaer-old Swiss skier claimed a bronze medal in downhill at the 2018 Games and has won the world cup downhill title four times.

With the silver medal — just 0.10 behind Feuz — 41-year-old Johan Clarey from France became the oldest Olympic medalist in men's alpine skiing (taking that title from American Bode Miller, who was 36 when he claimed bronze at the 2014 Sochi Olympic Winter Games). Clarey is a five-time Olympian, and this is his first medal.

Austria's Mathias Mayer won his third Olympic medal with the downhill bronze (1:42.85). Mayer, 31, was the 2014 Olympic downhill champion.

Except for Canada's James Crawford in fourth, just 0.07 of a second from a medal, the rest of the field was over a half-second behind these men.

It was an "easy" course, the men said. But it demanded perfection. As Feuz said, "I was standing perfectly on the skis, a dream come true."


Carrying On An Olympic Tradition
Although Cochran-Siegle — known in the ski-racing world as RCS — was disappointed with his downhill result at his second Olympic Winter Games, the fact that he is here adds another chapter to Cochran skiing history. These Games mark the sixth Olympiad for the U.S.'s most famous alpine skiing family.

Cochran-Siegle's mom, Barbara Ann Cochran, won Olympic gold in slalom 50 years ago — at the 1972 Sapporo Winter Games. His Aunt Marilyn and Uncle Bobby competed in Sapporo as well, with Aunt Lindy making her Olympic appearance in 1976. The press dubbed the four siblings the "Skiing Cochrans."

Fast forward a generation, and Cochran-Siegle's cousin Jimmy — Bobby's son — competed in the 2006 and 2010 Olympic Winter Games. And four other cousins have competed with the U.S. Ski Team.

Both generations grew up skiing at a little ski area that family patriarch, Mickey Cochran, built on the hill behind the family home in Richmond, Vermont. Cochran's Ski Area has since become a community gem now run as a non-profit, with Jimmy serving as the general manager.

Cochran-Siegle has long credited his upbringing as the root of his success.

"I grew up in a cool atmosphere where being at the Olympics was attainable, just seeing how many people in my family were able to be here," he said after the 2022 Olympic downhill. "I was fortunate in that sense."

Like his cousins, young Ryan's talent was on display early. But while his cousins excelled in the tech events of slalom and GS (Cochran's, after all, features just a 350-foot vertical drop), Cochran-Siegle wanted to go fast and straight.

One day, he flew so fast down the ski slope that he crashed through the base lodge's plate glass window. Once Uncle Bobby (a physician) determined that his nephew was all right, it occurred to him that this little boy might one day make it to the big show.

"I could have just as easily been in a grave too," joked Cochran-Siegle, but then added, "I think the reason why I went through the window is because I was trying to push to get fast."

In continued pursuit of speed, Cochran-Siegle has fought back from a series of injuries. In the process, he developed into a world-class giant slalom skier as well. Around recovering and training, he has ben pursuing a mechanical engineering degree at the University of Vermont.

Last season, Cochran-Siegle finally broke through to the world cup podium in both downhill and super-G. But then in the Kitzbuehel downhill in January 2021, he crashed, breaking his neck. He returned home to Vermont and had surgery to fuse the C6 and C7 vertebrae. He was back on snow in May last year and competing again on the world cup tour this year.

"I feel confident in the start gate," he said. "There are definitely some things that I'm trying to figure out still with my skiing. That's going to be a long process. But in terms of injuries, I was pretty well recovered in May."

Back home, family and friends gathered at Cochran's for a watch party — at least on Saturday night when the men's downhill was originally scheduled (high winds yesterday postponed it until today). The lights were on and the rope tow running, and outside, Cochran-Siegle's 9-year-old nephew, Charlie Brown, was ripping slalom gates — just like his dad Roger (Marilyn's son) once did. Roger is an NCAA slalom champion and former U.S. Ski Team member.

"He's definitely a little ripper," said Cochran-Siegle of Charlie. "I hope that he's able to follow his dreams the same way that I have."

Fans will have more chances to watch Cochran-Siegle race at the 2022 Olympic Winter Games. He will be back on the snow tomorrow for the men's super-G and likely next week as well for the men's giant slalom.

"I'm just hoping to try to build from here and put myself in the best position tomorrow, and in the spring and next winter," said Cochran-Siegle. "You know, that macro view."
An award-winning freelance writer based in Vermont, Peggy Shinn is in Beijing covering her seventh Olympic Games. She has contributed to TeamUSA.org since its inception in 2008.