Despite Disappointment, Maame Biney Confident She Can "Rise Like A Phoenix"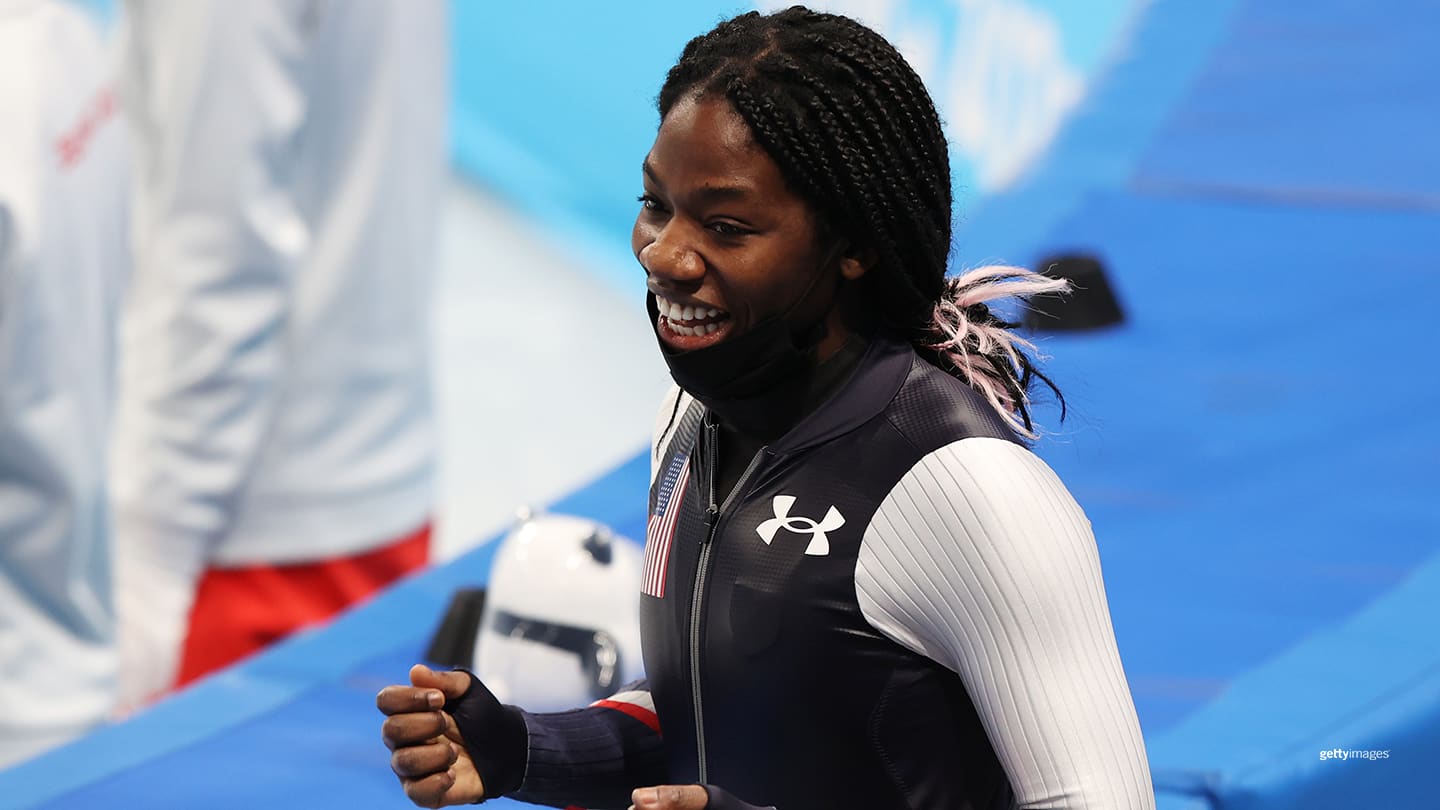 Maame Biney reacts during the mixed team relay semifinals during the Olympic Winter Games Beijing 2022 on Feb. 5, 2022 in Beijing.
BEIJING — It was a chaotic evening of short track on Monday at Beijing's Capital Indoor Stadium, with restarts and crashes aplenty, several medal hopefuls disqualified and one skater, Park Janghyuk of South Korea, carried out of the arena on a stretcher.

Maame Biney didn't escape unscathed. Skating in her second Olympic Winter Games, the 22-year-old from Reston, Virginia, went into the women's 500-meter with high hopes. Instead, racing in the second quarterfinal, those hopes were quickly dashed when one of her blades clashed with that of Hungarian skater Petra Jaszapati right at the start of the race, damaging Biney's blade.

"My blades, there's probably a strip on them right now, which means I can't, technically, skate," Biney said. "It's something preventing my blades from being sharp — I don't know how to explain it."

The top two skaters in each heat automatically move on, along with the two fastest third-place finishers. With a third-fastest spot still available, the skater tried to recover but couldn't build any speed.

"I was just basically stepping on the ice," she said.

After easing up, Biney finished the heat in third place, though her time of 46.099 seconds was not enough to move on. Her teammate, Kristen Santos, was assessed a penalty in her quarterfinal heat and also did not advance.

Italy's Arianna Fontana defended the gold medal she won in PyeongChang. Suzanne Schulting of the Netherlands won silver, and Canada's Kim Boutin took home bronze.

Following her heat, a smiling Biney bantered with reporters in the mixed zone, but still felt the loss.

"It really sucks because I knew I was capable of doing well in that race, just because I've raced (those skaters) before and I've beaten them," she said. "It was just super unfortunate. … It's all good, though. I've got the 1,000 and the relay to look forward to."

To hear the Ghana-born Biney tell it, she wasn't always as skilled at managing her emotions. As an 18-year-old in PyeongChang, she made history as the first Black woman to compete in short track for Team USA at an Olympics. Her exuberant personality captivated audiences, and she became one of the Game's breakout stars.

But inside, she was riddled by anxiety and pressure. She considered quitting, but instead turned to a sports psychologist for the tools she needed to manage competition.

"It is what it is, and it already happened, I can't change it," Biney said of her quarterfinal elimination. "I've been through lots of therapy to help me through situations like this, and I think I'm handling it a lot better than I would have two years ago or even six months ago."

"I'm just really happy to be here and even skate as well as I did," she added. "I got a season's best 500-meter two days ago (in a qualifying heat), so I'm pretty happy about that."

As a Black athlete in a predominantly white and Asian sport, Biney thinks it is important to stay positive and upbeat, especially at the Olympics.

"I feel there is no need to be bitter about a situation I can't do anything about," she said. "And I think that is some sort of inspiration to myself, and also to young Black girls around the world, who feel that whatever the situation presented to them, they (can) overcome it and rise up again like a phoenix."

Biney's alter-ego — a strong, assertive woman she calls Anna Digger — helps keep her anxiety in check and gives her the confidence to use her social media platforms to raise awareness of racial injustice, including the death of George Floyd in May 2020.

"I think that Maame is a little bit more go with the flow, and Anna is definitely like, 'I'm going to speak out for what I believe and do anything that I have a belief in,'" she said. "Anna definitely makes me more confident to (speak out)."
Want to follow Team USA athletes during the Olympic Games Beijing 2022? Visit TeamUSA.org/Beijing-2022-Olympic-Games to view the competition schedule, medal table and results.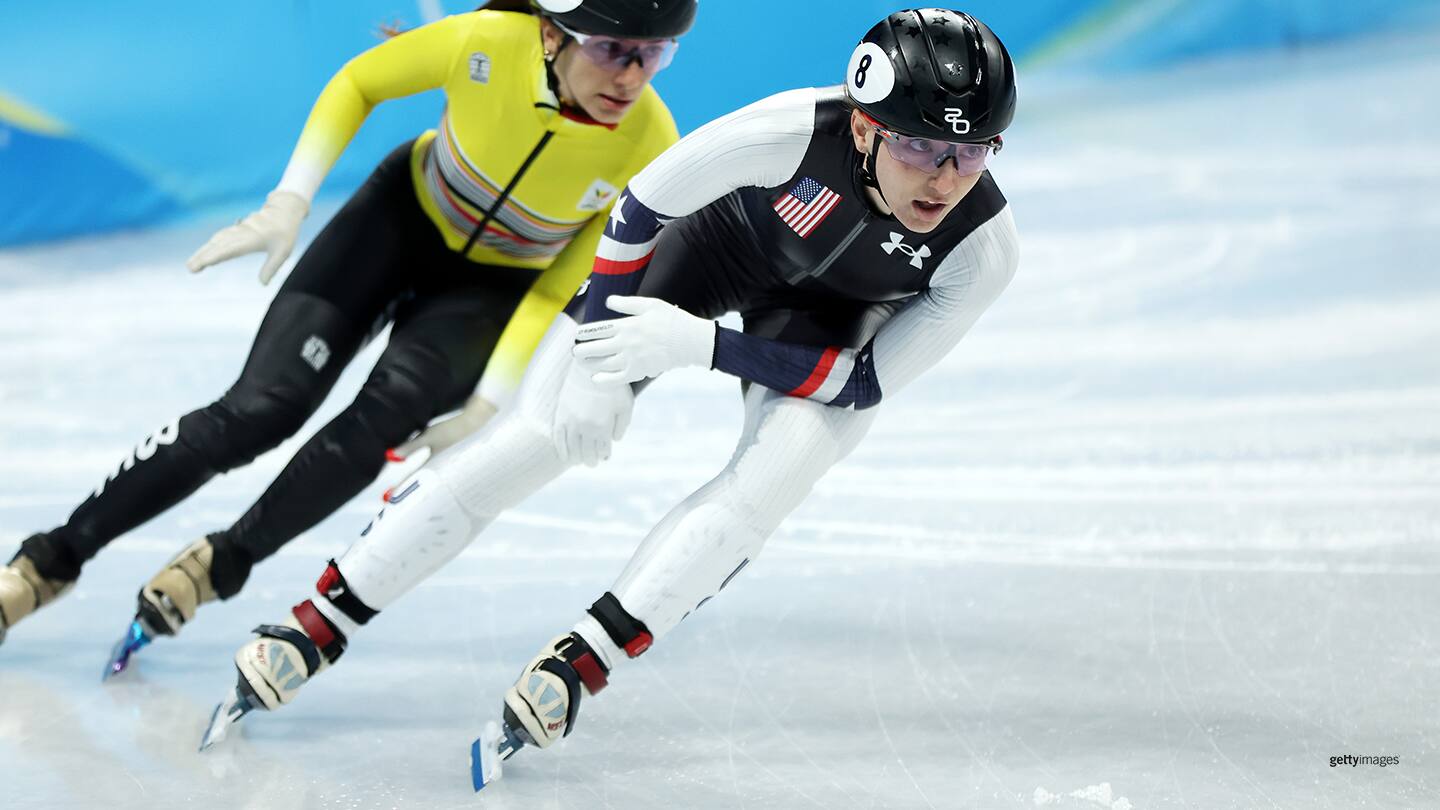 Kristen Santos of Team USA and Hanne Desmet of Team Belgium compete in a women's 500-meter heat at the Olympic Winter Games Beijing 2022 on Feb. 5, 2022 in Beijing.
Like Biney, Santos has other races — including the 1,000- and 1,500-meter — in Beijing, but the 500 disqualification stung.

"I was in (the final heat), and we knew there was no longer going to be a fastest-third position," Santos, 27, said. "I knew I had to be in that top two position no matter what. So, I kind of just had to go for it."

Santos arrived in Beijing as Team USA's top short track skater, man or woman, with top-10 world rankings in all three individual events. She is No. 2 in the 1,000 and No. 4 in the 1,500, which are still to come.

"Ultimately, obviously it did not work out as I had hoped or planned," she said of the 500. "It is a bit disappointing, but the 500 is not really my (best race), so I have to put it behind me and really focus on the 1,000 coming up."

Team USA's best performance of the night came from Andrew Heo, a 20-year-old from Warrington, Pennsylvania. He placed third in the B final of the men's 1,000-meter, giving him an eighth-place finish overall. China's Ren Ziwei took the gold medal, ahead of his countryman Li Wenlong and Hungary's Shaoang Liu.

"I gained a lot of experience, especially it being my first Games, making it to the B final," Heo said. "Obviously it would have been great to make it to an A final, but it's my first Olympics; others have probably been here (a few) times. I think to summarize the whole evening, it was all positives."
See ya in the semifinals, @heo_andrew! #WinterOlympics pic.twitter.com/Py1HYeiu9w


— Team USA (@TeamUSA) February 7, 2022
Like Biney and Santos, Team USA's Ryan Pivirotto of Ann Arbor, Michigan, had a disappointing night, catching his toe pick in the ice at the start of his quarterfinal 1,000-meter heat and falling.
"In hindsight, you think, 'Well, if I didn't do that, I could have made it out (of the quarterfinals)," Pivirotto, 26, said. "You learn from (some) mistakes, but this is something you can't really learn from, because you don't train for it to happen. It just happens."
Lynn Rutherford is a sportswriter based out of New York. She is a freelance contributor to TeamUSA.org on behalf of
Red Line Editorial, Inc.