Chock And Bates' Winning Free Dance Seals Figure Skating Team Silver For Team USA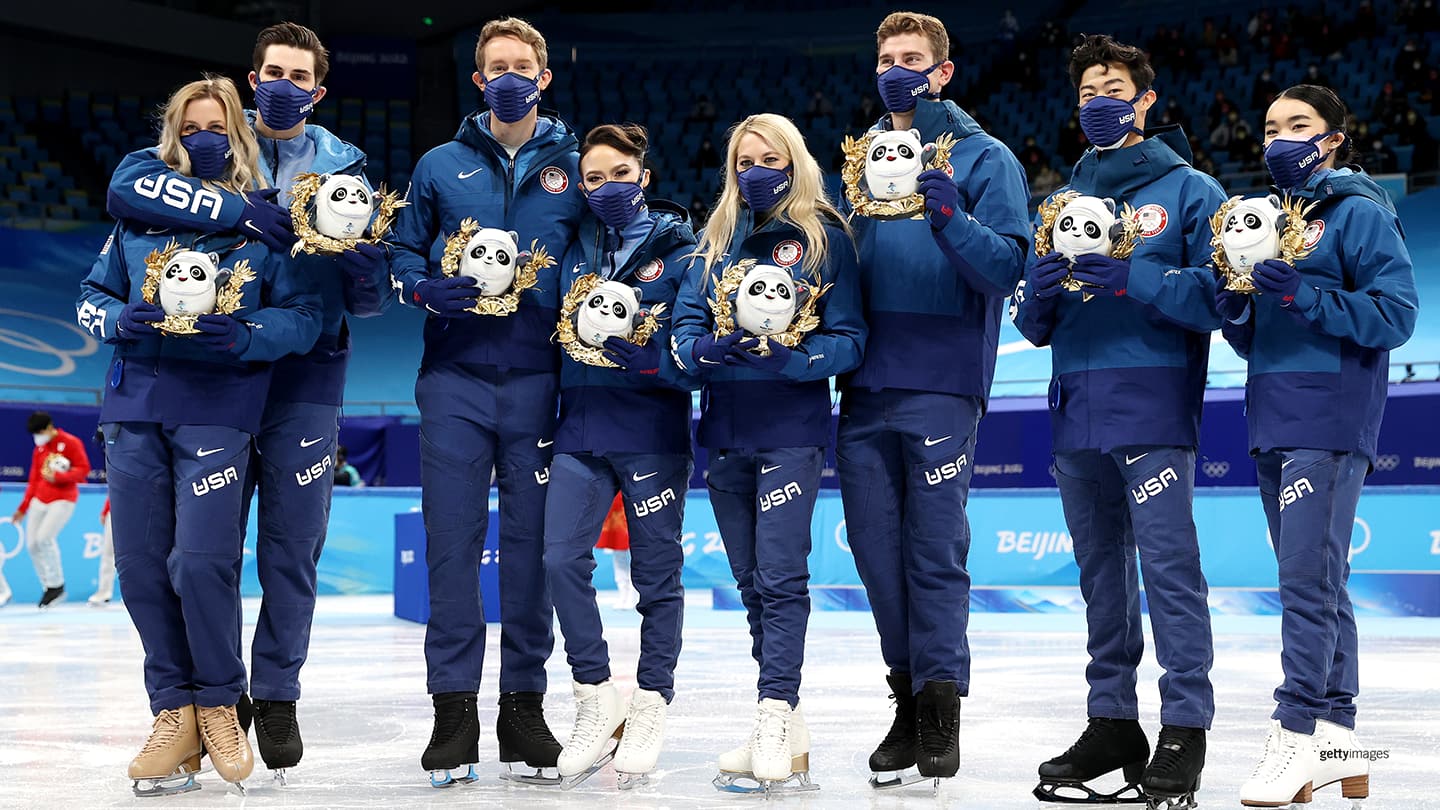 Team USA poses during the Team Event flower ceremony on day three of the Olympic Winter Games Beijing 2022 on Feb. 7, 2022 in Beijing, China.
BEIJING – Eight years ago in Sochi and four years ago in PyeongChang, ice dancers Madison Chock and Evan Bates sat in Team USA's box, cheering on their U.S. figure skating teammates as they won bronze medals.


This time around at the Olympic Winter Games Beijing 2022, it was Chock and Bates' winning free dance that clinched a silver medal for Team USA on the third and final day of the team event, held Monday at Capital Indoor Stadium.
"We've been lucky enough to sit in the box at every one of the (team) events," Bates, 32, said. "This year, knowing we would get the chance to participate was a big deal to us. We put a lot of emphasis on this event."


"We believe in ourselves," Chock, 29, said. "We've put in the hard work, we know we've checked all of the boxes, we have the experience, we have the support system, we have each other — that's all we need."


In the figure skating team event, skaters earn points based on their position in their respective standings.


Three-time world champion Nathan Chen won the men's short program on day one, and three-time U.S. ice dance champions Madison Hubbell and Zachary Donohue won the rhythm dance, putting the Americans in the top spot. Day two saw the U.S. slide to the silver-medal position with Karen Chen performing the women's short program and U.S. bronze medalist Vincent Zhou taking the ice in the men's free skate.
Team USA entered the third and final day of competition in a good — but not completely invulnerable — position. Team USA's 42 points put it second, with a three-point lead over Japan. Skaters from the Russian Olympic Committee led with 45 points; with strength in all disciplines, ROC was heavily favored to hold on for the gold medal.

Monday kicked off with the pairs free skate, won by ROC's reigning world champions Anastasia Mishina and Aleksandr Galliamov. Riku Miura and Ryuichi Kihara, 10th at the world championships last season, placed second, adding nine points to Japan's total. Alexa Knierim and Brandon Frazier, the 2021 U.S. champions, had trouble with the landings of their side-by-side triple salchow jumps and throw triple flip; they were fifth, earning six points.
We couldn't keep our eyes off of @alexa_knierim and @Brandon_F1992! #WinterOlympics x #TeamUSA
pic.twitter.com/b32BQ02PMV


— Team USA (@TeamUSA) February 7, 2022
The battle for the silver medal had tightened: Team USA and Japan were now tied, 48 to 48.
"Not our best today, we lost some points," Frazier, 29, said. "(The team) short we were very proud of, that's how we skate, and we know we can do the long similar, we do it a lot in our training. Just have to tap into it a little more."
Then, it was Chock and Bates' turn. The three-time and reigning U.S. ice dance champions took the ice for their free dance, an intergalactic love story set to music from Daft Punk and nicknamed "the astronaut and the alien." Their captivating performance, highlighted by stunning lifts and flawless twizzles (series of fast turns), won the day with 129.07 points, a new personal best.
Who else is still thinking about this performance? 👀#WinterOlympics
pic.twitter.com/o2njPZDR4K


— Team USA (@TeamUSA) February 7, 2022
The win added 10 points to Team USA's total, bringing it to 58. With Japan's Misato Komatsubara and Tim Koleto fifth in the free dance, the silver medal was now secured. Not only that, but Chock and Bates defeated Victoria Sinitsina and Nikita Katsalapov of ROC, the reigning world champions, in the process.
"Until today, we hadn't skated the free dance as well as we could have this season," Bates, a four-time Olympian who acted as Team USA's captain, said. "We knew that in training we were really developing this program, we were committed to it, it's a program that is out of the box, it's fast-paced, it's got a lot of demanding lifts and things like that."
"It took a long time for us to train it to a place where we could deliver it with abandon and emotion and today, we finally did," he added.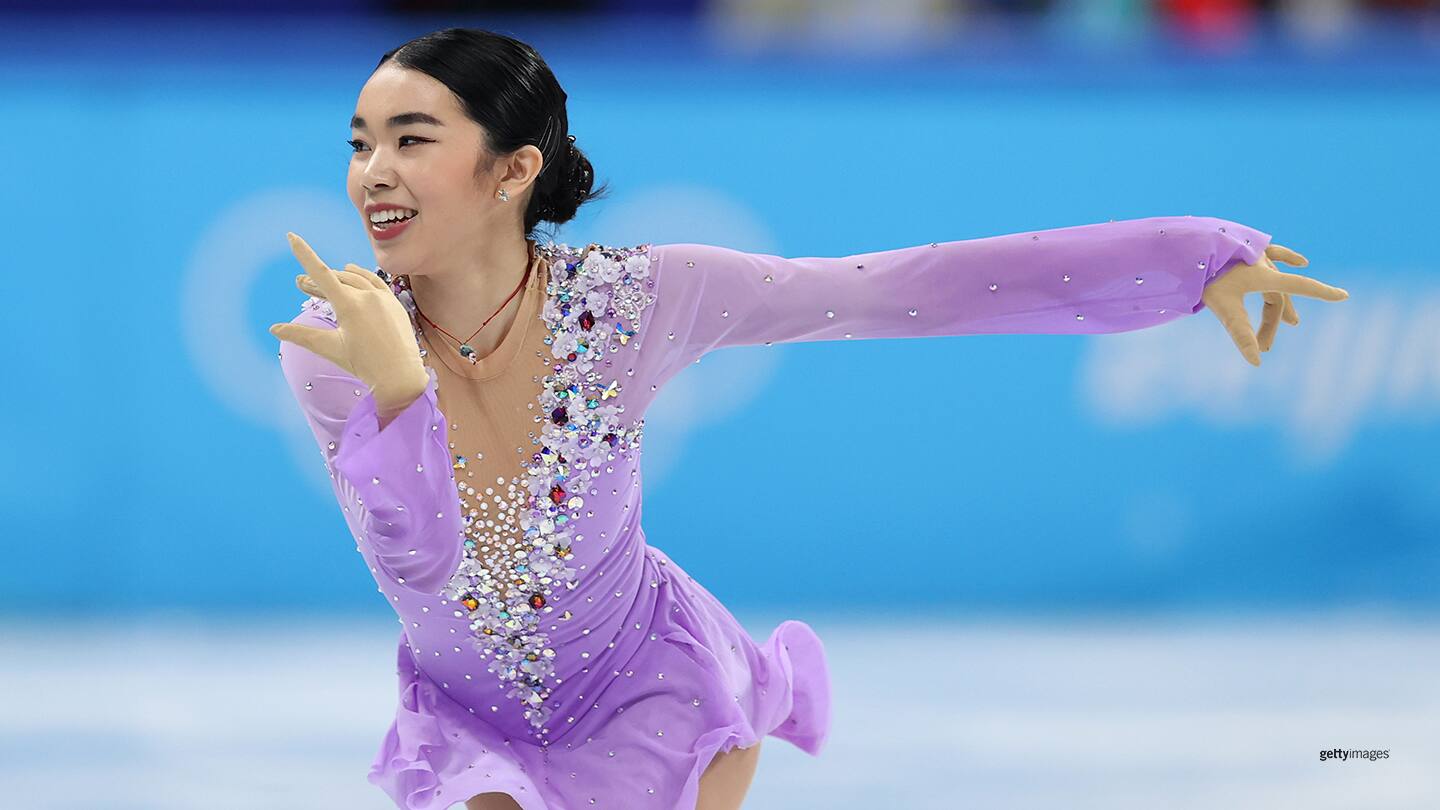 Karen Chen skates during the Women Single Skating Free Skating Team Event of the Olympic Winter Games Beijing 2022 on Feb. 7, 2022 in Beijing, China.
The team event concluded with the women's free skate. It was almost certain that Kamila Valieva of ROC, the odds-on favorite for individual gold, would win, and the 15-year-old did not disappoint: she landed two quadruple jumps and a triple axel, although she fell on a third quad. Still, Valieva earned 178.92 points, some 30 points over the field. Japan's Kaori Sakamoto was second, with Canada's Madeline Schizas third.

Performing an elegant free to the traditional Chinese "Butterfly Lovers' Concerto," U.S. silver medalist Karen Chen opened with a solid double axel-triple toe loop combination and went on to land two triple lutzes. Although several of her other jumps were a bit short of full rotation, she stayed on her feet, earning 131.52 points and placing fourth.
She's beauty and she's grace. ✨@Karebearsk8 is the whole package!#WinterOlympics
pic.twitter.com/DgmaOYaf45


— Team USA (@TeamUSA) February 7, 2022
"It feels great to just skate what I've been training," Chen, 22, said. "Obviously there were some boo-boos and things I can work on by the time I do my individual event, but it's definitely a great confidence booster. I'm really proud of the determination and fight I put out there."
The final tally? Team ROC 74 points, Team USA 65 points, Team Japan 63 points.
"It's been a great day," Chock said. "It was an incredible honor to be able to step up for the team and put out the best performance we could have, and we just feel pride in being a part of Team USA."
"We knew that we could win the free dance, and we knew that could be a significant boast to our team," Bates said. "It just feels great to contribute in a meaningful way."
Lynn Rutherford is a sportswriter based out of New York. She is a freelance contributor to TeamUSA.org on behalf of Red Line Editorial, Inc.