International Human Rights Day: Five Causes Team USA Athletes Are Fighting For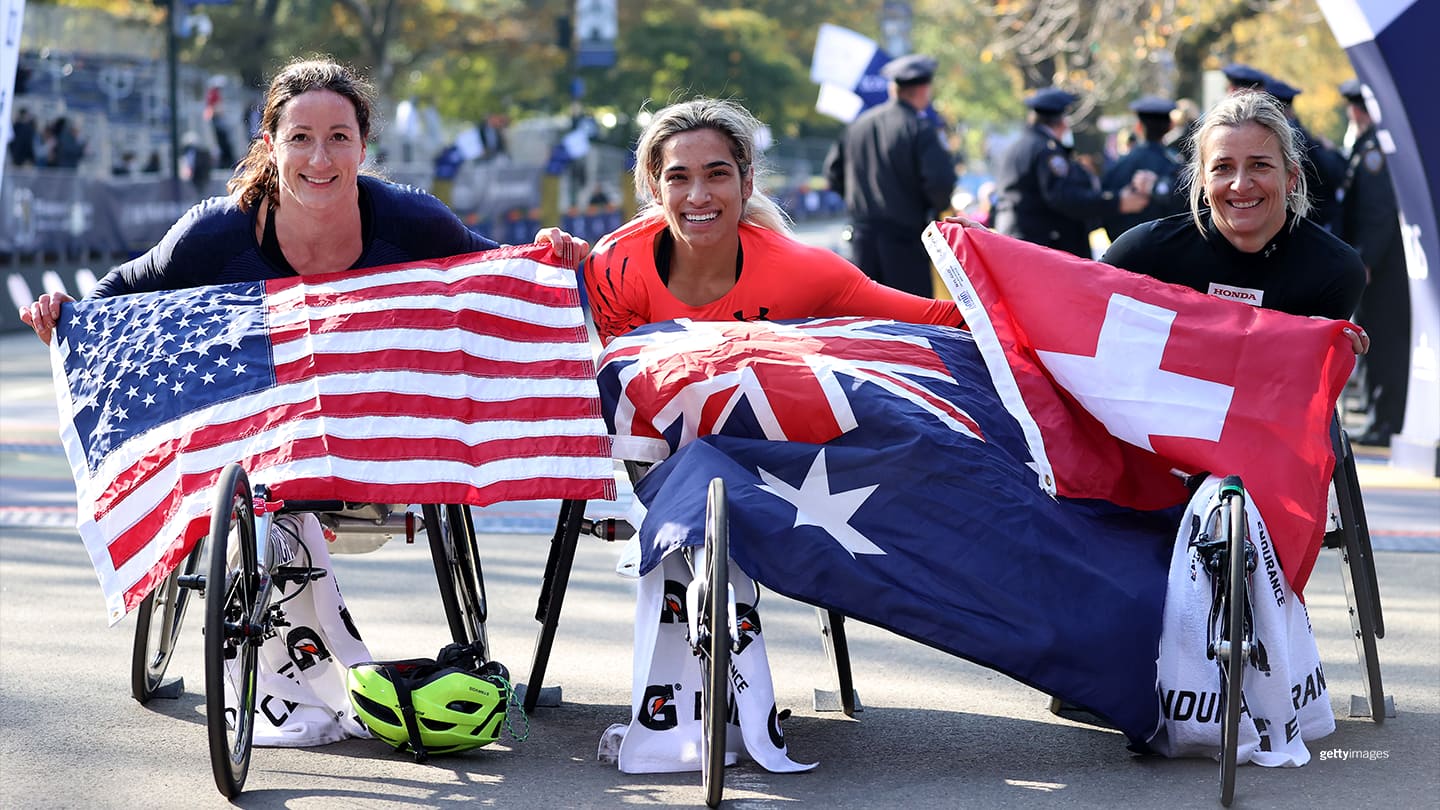 (L-R) Tatyana McFadden of the United States, Madison De Rozario of Australia and Manuela Schar of Switzerland pose after finishing on the podium of the 2021 New York City Marathon on Nov. 7, 2021 in New York.
On and off the field, Team USA athletes are making an impact and paving the way for future generations. Regardless of whether they are an Olympian or Paralympian, each individual athlete is passionate about their personal cause and consistently look to improve their community. This year, on International Human Rights Day, the theme is Dignity, Freedom, and Justice for all. Here are five causes that Team USA athlete are fighting for that encapsulate that theme.
Tatyana McFadden – Tatyana's
Law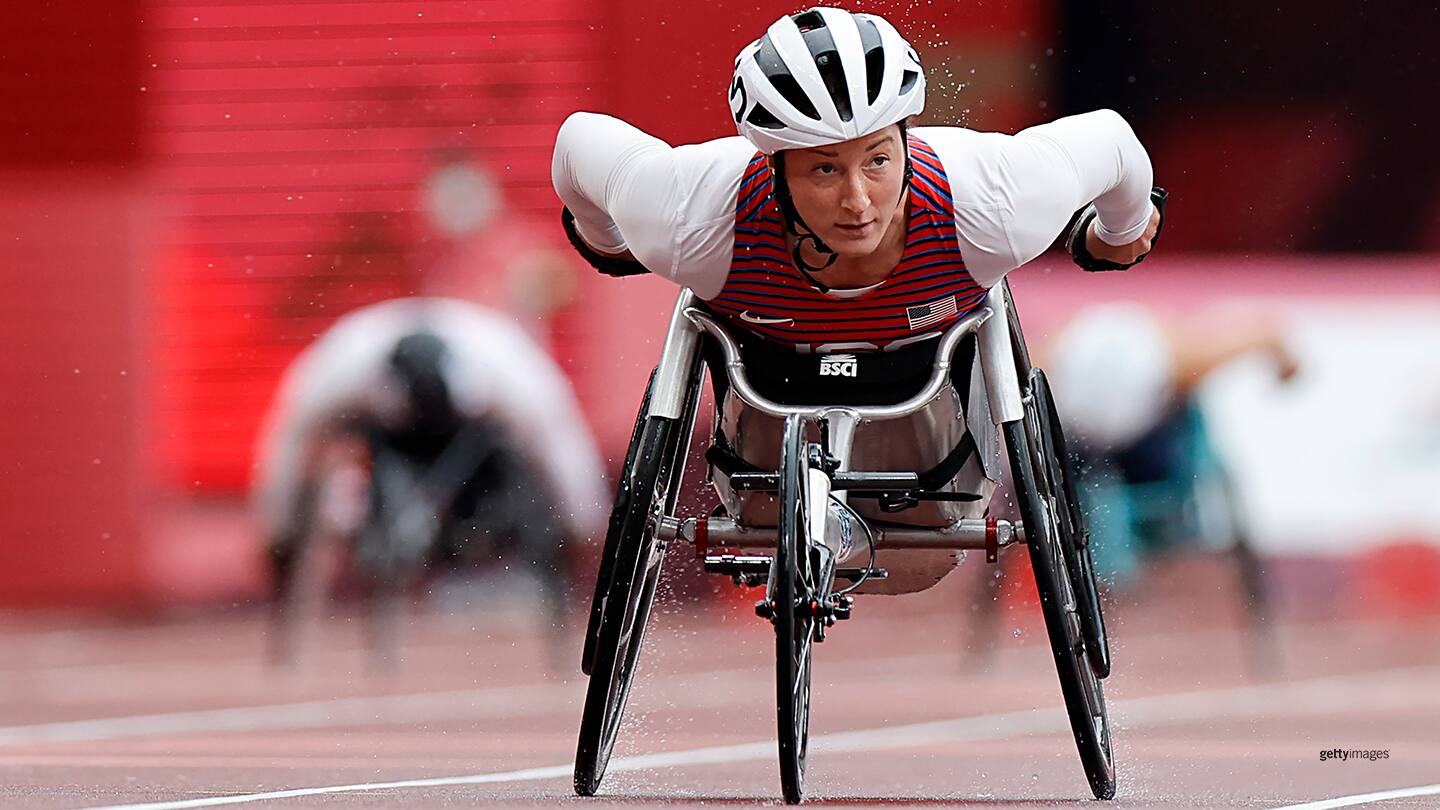 Tatyana McFadden competes in the Women's 400-meter T54 heat during the Paralympic Games Tokyo 2020 on Sept. 2, 2021 in Tokyo.
With 20 Paralympic medals and 23 World Marathon Major wins to her name, McFadden has been called one of the best women's wheelchair racers of all time. The Russia-born, Baltimore, Maryland resident races in multiple disciplines ranging from the 100-meter to the marathon. In 2014, she became a two-sport Paralympian as she competed in Para-Nordic skiing during the Winter Paralympic Games Sochi 2014.

After being denied a chance to run with able-bodied students at her high school McFadden started to notice inconsistencies with how the Americans with Disabilities Act was being enacted. In 2005 McFadden took up the issue with the US District Court. Her lawsuit is responsible for generating the Maryland Fitness and Athletics Equity for Students with Disabilities Act. In 2013 the claim was pushed into Federal legislation. Nicknamed "Tatyana's Law," the law requires schools to give students with disabilities the opportunity to compete in high school sports.
Jack Wallace – WeThe15
Movement
Jack Wallace competes in the Para ice hockey semifinals match during the Paralympic Winter Games Beijing 2022 on March 11, 2022 in Beijing.
Jack Wallace made his U.S. National Team debut since 2016. Since then, the forward has been a force for Team USA. He has helped secure two world championship gold medals and two Paralympic gold medals for the squad since joining the team. Wallace is working towards becoming a dual-sport athlete, with hopes of competing in paracanoe in Paris 2024.

Off the ice, Wallace is involved with the International Paralympic Committee's "WeThe15" movement. WeThe15 aims to end discrimination towards persons with disabilities and act as a global movement publicly campaigning for disability visibility, accessibility, and inclusion. "Everyone has different obstacles in life, whether it is your disability, your background, your gender," Wallace said. "Some (disabilities) are just much more obvious." Wallace was exposed to the importance in inclusion at a young age. His aunt, Mary Kay, has Down Syndrome. Wallace believes "It's not about ending all disabilities; it's about being inclusive towards them."

The WeThe15 movement was launched shortly before the Paralympic Games Tokyo 2020 and hopes to become the biggest ever human rights movement to represent the world's 1.2 billion persons with disabilities.
Maya Moore – Criminal Justice
Reform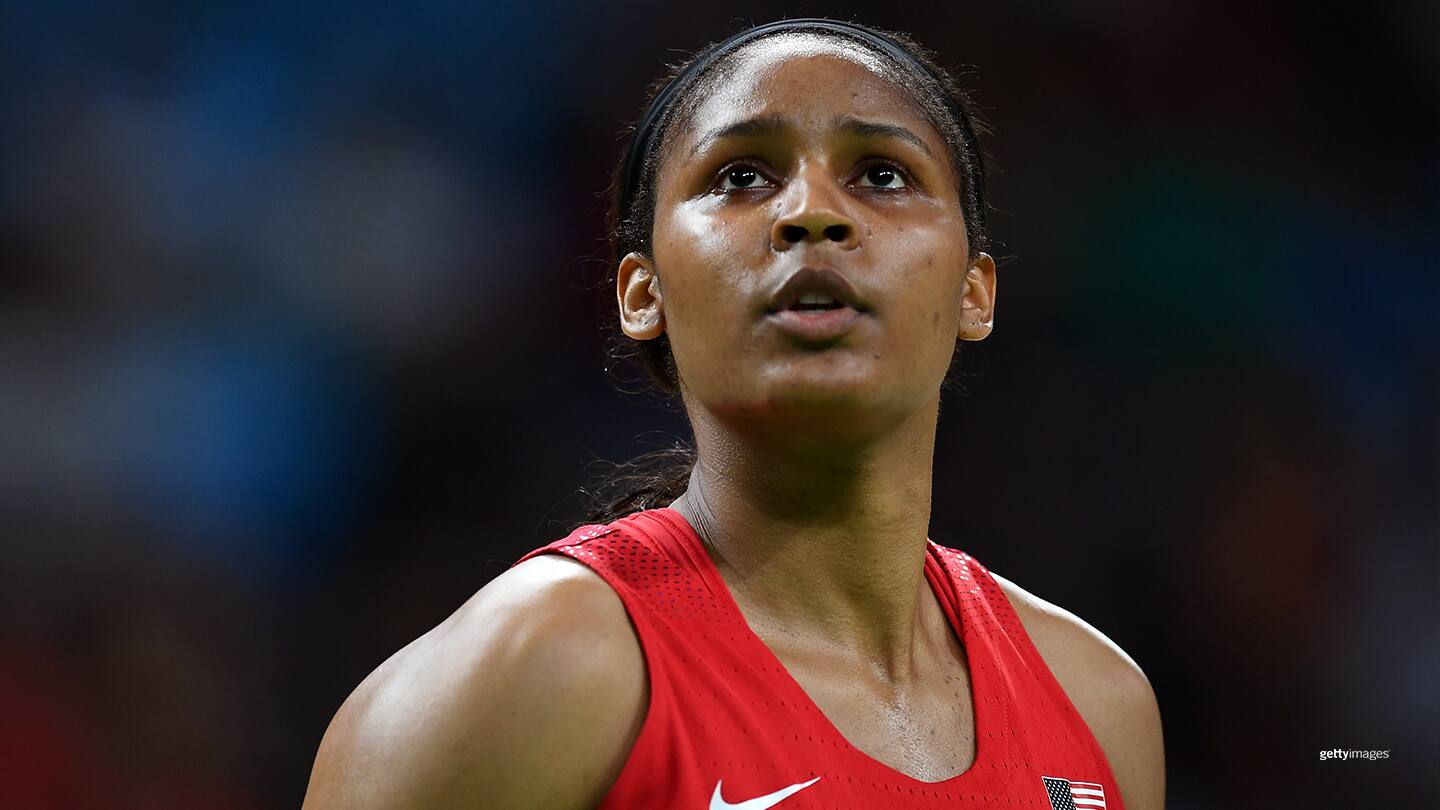 Maya Moore looks on during a women's semifinal basketball game between the United States and France in the Olympic Games Rio 2016 Aug. 18, 2016 in Rio de Janeiro.
The on-court accolades for Maya Moore are seemingly never-ending. The two-time Olympic gold medalist is one of 11 women to have secured an Olympic gold medal, a world championship gold medal, an NCAA title, and a WNBA championship. Moore is also the first female basketball athlete to be signed to the Jordan brand and was named Sports Illustrated's inaugural Performer of the Year in 2017. The news outlet called her the "greatest winner in the history of women's basketball."

However, it is her off-court activities that make her an inspiring figure. After the 2018 season, Moore stepped away from basketball to pursue a greater battle. The Jefferson City, Missouri native has fought to help reform the U.S. criminal justice system. Her Win with Justice project aims to correct the way prosecutors approach cases. Moore hopes that prosecutors get away from a "win-loss" way of thinking and take a broader approach to maintaining a fair justice system and safe communities. She began with fighting for the release of her now-husband, Jonathan Irons, who had begun serving a 50-year sentence when he was just 16 years old. Additionally, Moore is an advocate for the END IT Movement, a movement which seeks to end modern-day slavery.
Oksana Masters – Advocacy For
Ukraine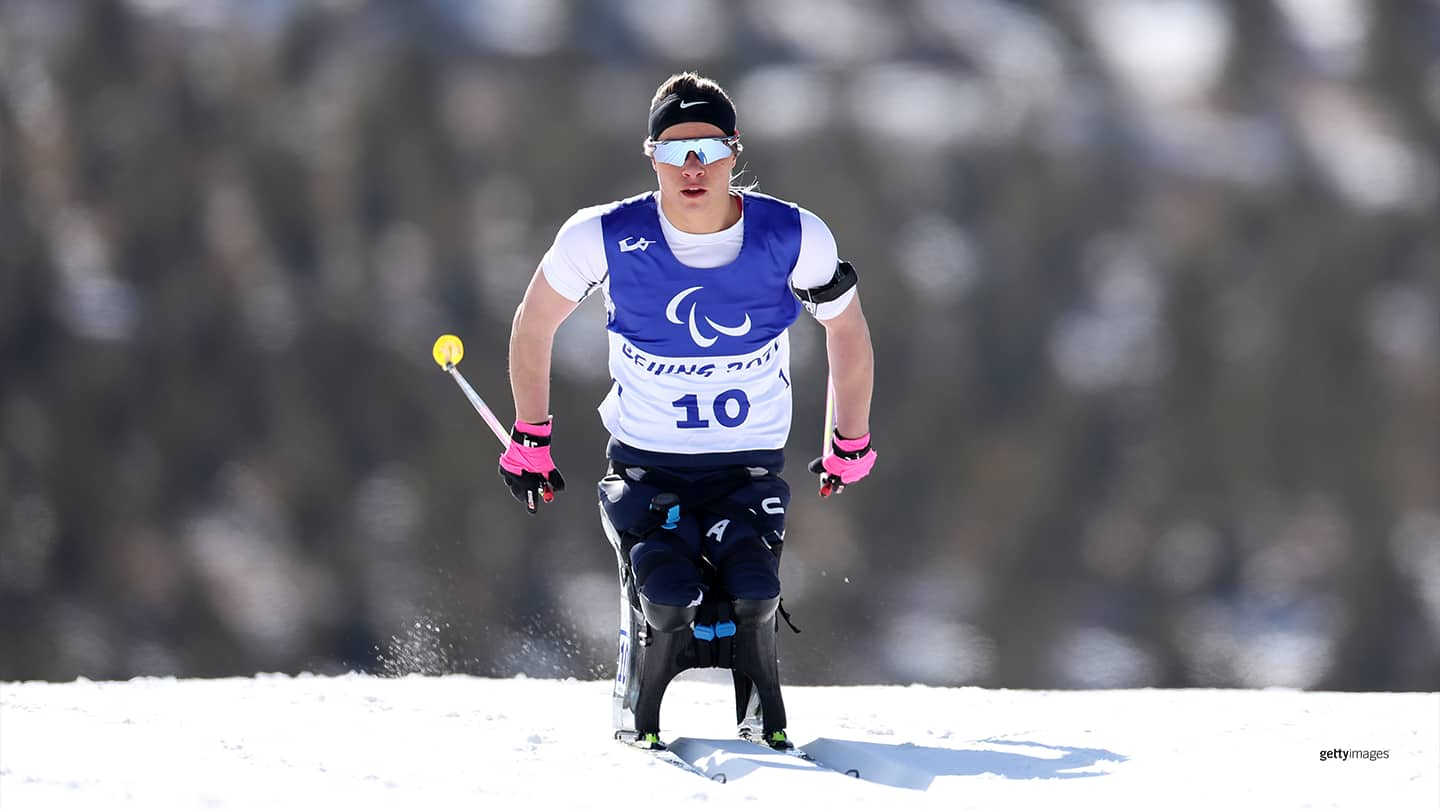 Oksana Masters competes in the Para biathlon women's middle distance sitting during the Paralympic Winter Games Beijing 2022 on March 8, 2022 in Zhangjiakou, China.
Oksana Masters is a decorated Paralympian and multi-sport athlete. The Louisville, Kentucky resident, who was born in Ukraine has appeared in six Paralympics (2012, 2014, 2016, 2018, 2020 and 2022) and has tallied 17 Paralympic medals (seven golds). Initially, Masters specialized in rowing and cross-country skiing. She won the first-ever U.S. gold medal in trunk and arms mixed double sculls at the Paralympic Games London 2012. After the London Games, she switched to the para-cycling, picking up two golds at the Paralympic Games Tokyo 2020. In the Paralympic Winter Games Beijing 2022, Masters secured a gold medal in biathlon. She secured podium finishes in all seven of her events, making her the most-decorated U.S. Winter Paralympian in history.

Off the field, Masters is an outspoken advocate for Ukraine, and frequently brings awareness to the country's ongoing war against Russia. In an interview with ESPN, Masters spoke about how her Ukrainian heritage helped her persevere through the Beijing Games.

"My heart is a blend of blue and yellow and red, white and blue, she said. "In my gut and heart, I feel that there is an extra special something and powerful that I have being Ukrainian. Something that helps me dig. My mom, my home in America, and the opportunities I've been given in my 32 years are why my Ukrainian heart can have a chance to fight and continue to work hard and set new goals."

U.S. Women's National Soccer Team – Equal Pay for Equal
Play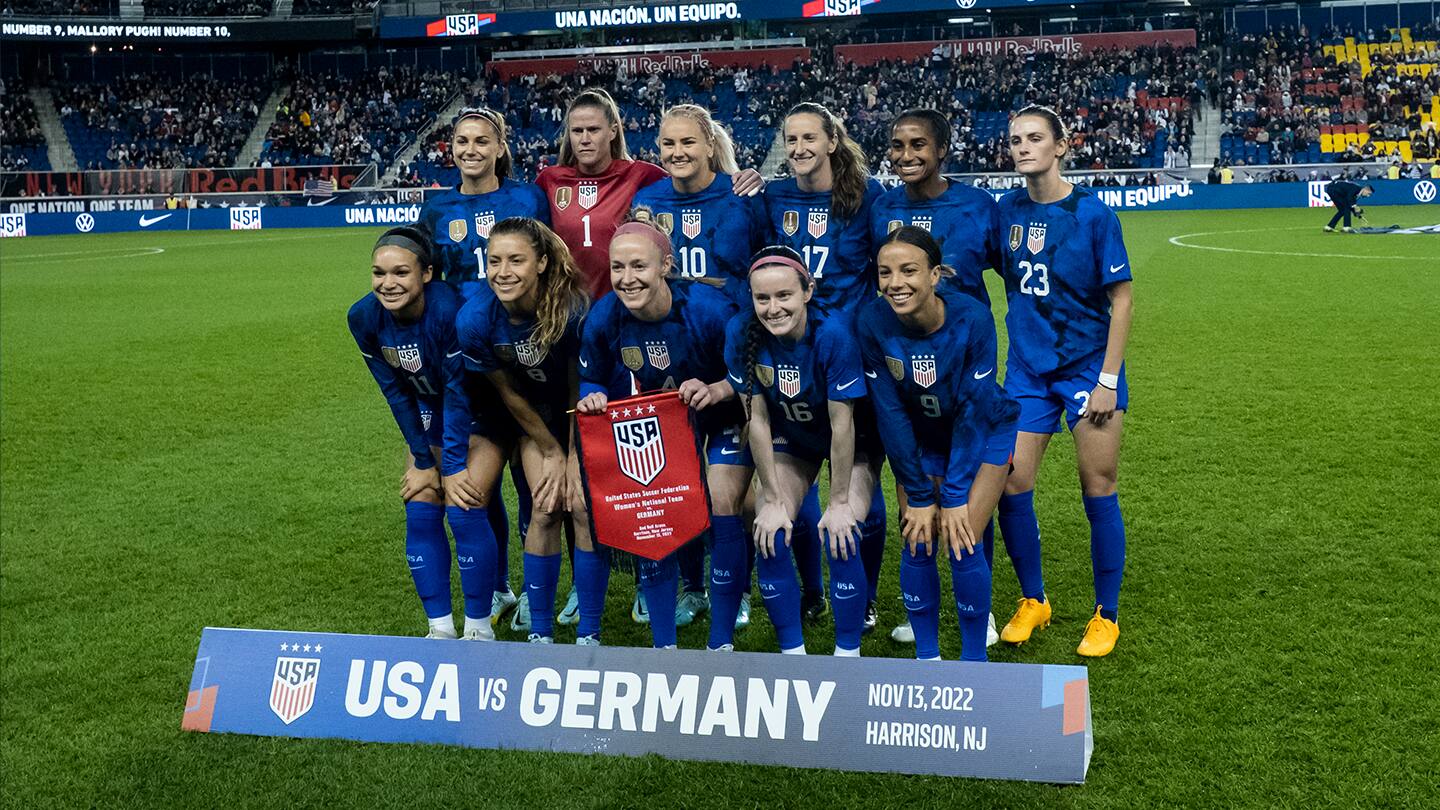 The U.S. Women's National Team's starting lineup poses ahead of their international friendly match against Germany on Nov. 13, 2022 in Harrison, New Jersey.
The U.S. Women's National Soccer Team has been called the world's most successful international women's soccer organization. On the field, the group has collected four World Cup titles (1991, 1999, 2015 and 2019), four Olympic gold medals (1996, 2004, 2008 and 2012), and nine CONCACAF Gold Cups. Since FIFA rankings were established in 2003, the USWNT has been ranked no. 1 for a total of 13 years. Several athletes, including Mia Hamm, Abby Wambach, Alex Morgan, and Megan Rapinoe continue to be inspirations for girls who hope to play professional soccer around the world.
Off the field, the squad has been outspoken on several human rights issues. Most notably, the gender pay gap. The group have been bringing awareness in the pay discrepancies in comparison to the men's team since 2016. In 2019 the U.S. Women's soccer team brought a lawsuit against the United States Soccer Federation alleging violations of the Equal Pay Act and Title VII of the Civil Rights Act. The goal of the lawsuit was to eliminate gender-based pay discrimination. This lawsuit was a catalyst for women's sports teams around the globe advocating for equity. In February 2022 the USWNT settled the case with a multimillion-dollar payment and a pledge from USSF to equalize pay between the men's and women's national teams, setting the stage for other Federations to follow suit.
An Orlando, Florida native, Brendan Rourke is a Digital Media Assistant for the United States Olympic & Paralympic Committee. Previously, he spent three seasons writing for the NBA's Indiana Pacers, and is a graduate of IUPUI's Sports Capital Journalism program.