Since The First FIFA Women's World Cup in 1991, The USWNT Has Had A Wide Impact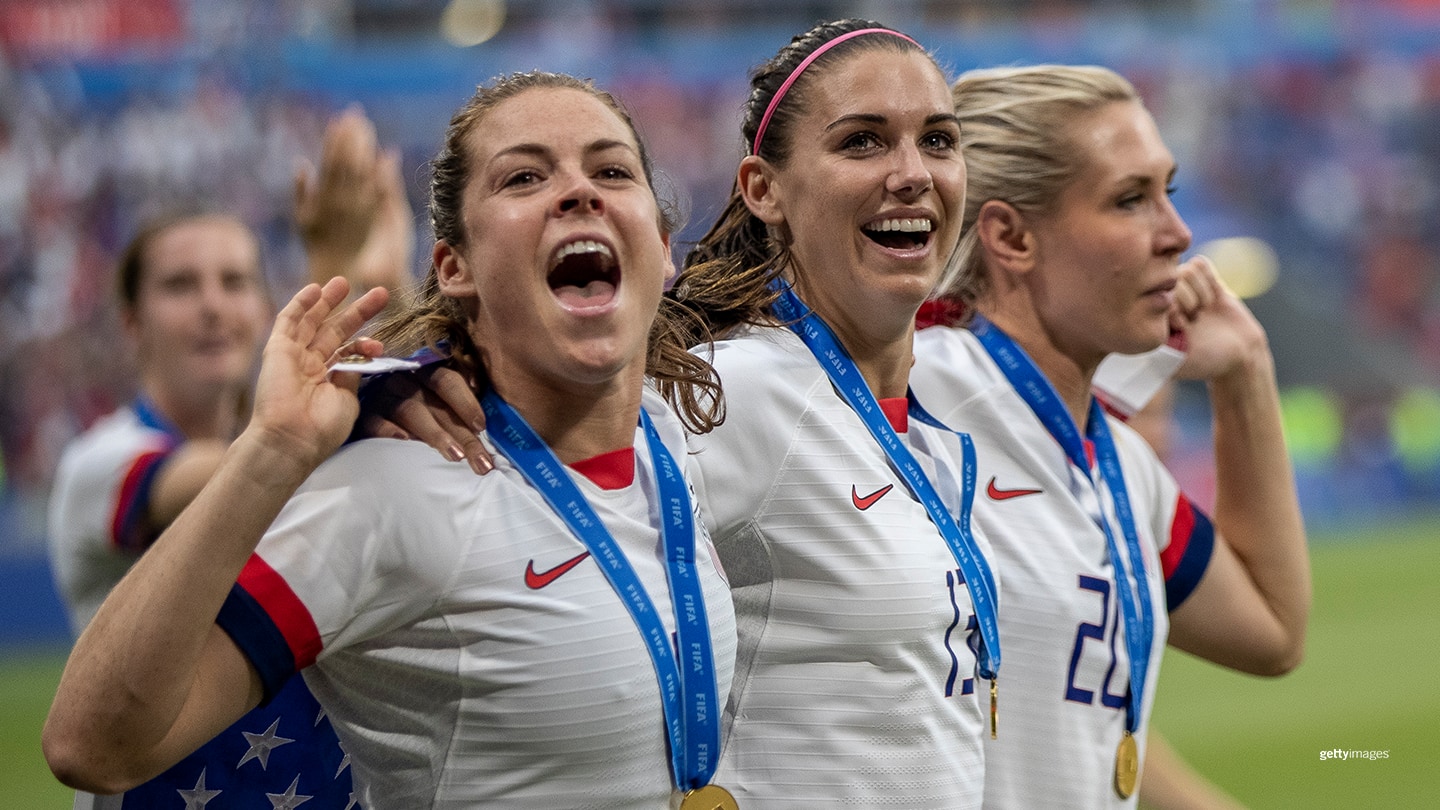 (L-R) Kelley O Hara, Alex Morgan and Allie Long celebrate after winning the 2019 FIFA Women's World Cup on July 07, 2019 in Lyon, France.
On a hot night in the northern Mexican city of Monterrey, the U.S. women's national team beat Canada 1-0 on a penalty kick to win the 2022 Concacaf W Championship.

"It just always feels good to be called a champion," said forward Alex Morgan, who scored the penalty kick in the 75th minute.

Perhaps more important than the crystal trophy, the USWNT also earned a berth for the Olympic Games Paris 2024 soccer tournament — the second team to do so behind host team France. They had already earned a 2023 FIFA Women's World Cup berth by making the Concacaf semifinals.

Next year, the USWNT will strive to win its third consecutive world cup title and fifth overall. In the eight world cup tournaments since the first in 1991, the USWNT has never finished lower than third.

Then in Paris in 2024, the USWNT will aim to win their fifth Olympic gold medal and sixth medal overall since women's soccer made its Olympic debut in 1996. The team has only been left off the podium once in Olympic competition — at the Olympic Games Rio 2016. And at the Olympic Games Tokyo 2020, they won the bronze medal.

Beyond their trophies and medals, the USWNT has long had an impact on women's soccer and on women's sports across the board. Here's a look at how the early USWNTs in the 1990s — with stars like Mia Hamm, Julie Foudy, Kristine Lilly, Michelle Akers-Stahl, Brandi Chastain and Carin (Jennings) Gabarra — established a legacy that has impacted the entire women's sports playing field.


The Start of the USWNT Legacy
Like many women's sports, soccer did not gain a foothold as a women's sport in the U.S. until the 1970s. The Title IX amendments that passed in 1972 mandated equal access to and spending on athletic programs at federally funded colleges. This legislation helped fuel a boom in women's collegiate soccer programs. But it took years to filter down to the grassroots level.

"Where I grew up [in Texas], it was mostly coed teams," said Hamm on an episode of Julie Foudy's Laughter Permitted podcast celebrating the 50th anniversary of Title IX. "There weren't as many girls-only teams until you got to like 13, 14."

"I remember you and Lill [Kristine Lilly] both specifically talking about playing on boys teams growing up," responded Foudy, who in addition to her podcast is a celebrated TV commentator.

Cara (Jennings) Gabarra was one of few who played for all-girls teams in her youth. She moved to California with her family in 1973 when she was 8, and her mother signed her up for soccer.

"My mom saw girls and soccer uniforms," recalled Gabarra, "and she knew I was always running around chasing my brother, so she signed me up."

But she had no female role models in sports and never had a female coach until she made the national team in college.

"I grew up pretending that I wasn't an athlete, hiding the fact that I was because [athletic] girls weren't popular or weren't looked upon in a promising way," said Gabarra, who has coached the United States Naval Academy women's soccer team since 1993 and turned it from a club program into a NCAA Division I team.

In college, players like Hamm, Foudy, Lilly and Gabarra played for growing women's soccer powerhouses like the University of North Carolina (Hamm and Lilly) and Stanford University (Foudy). Recruited by UNC, Gabarra chose the University of California, Santa Barbara, because she wanted to help the women's program grow.

"If today's high school national team players are looking at colleges, they would have 300 options for scholarships, at least at the [NCAA] Division I level," said Hamm to Foudy during the Laughter Permitted podcast. "I had four or five [colleges] that I was looking at because the others just didn't have scholarships."

The first U.S. women's national team, established in 1985, was conglomeration of the top college players at the time, with UNC's legendary coach Anson Dorrance at the helm in ensuing years. Back then, the national team was pulled together for a series of international matches and disbanded afterwards; the women's soccer schedule lacked major tournaments.

Then in 1991, FIFA established the first women's world championship (soon renamed the FIFA Women's World Cup). Twelve women's soccer (football) teams from around the world convened in China from Nov. 16-30, 1991, for the world cup tournament, including strong teams from Norway, Germany and Sweden.

Soccer culture in the U.S. had yet to be established, but the USWNT was "in it to win it," said Gabarra.

"We thought we could win something like that," she added. "We had a great staff. We had great players. We had a lot of support from our families. And we had a purpose. So yeah, we believed we could [win it]."

Their belief was borne from the persistence needed to overcome the adversity that each woman on the team had faced as an athlete back then.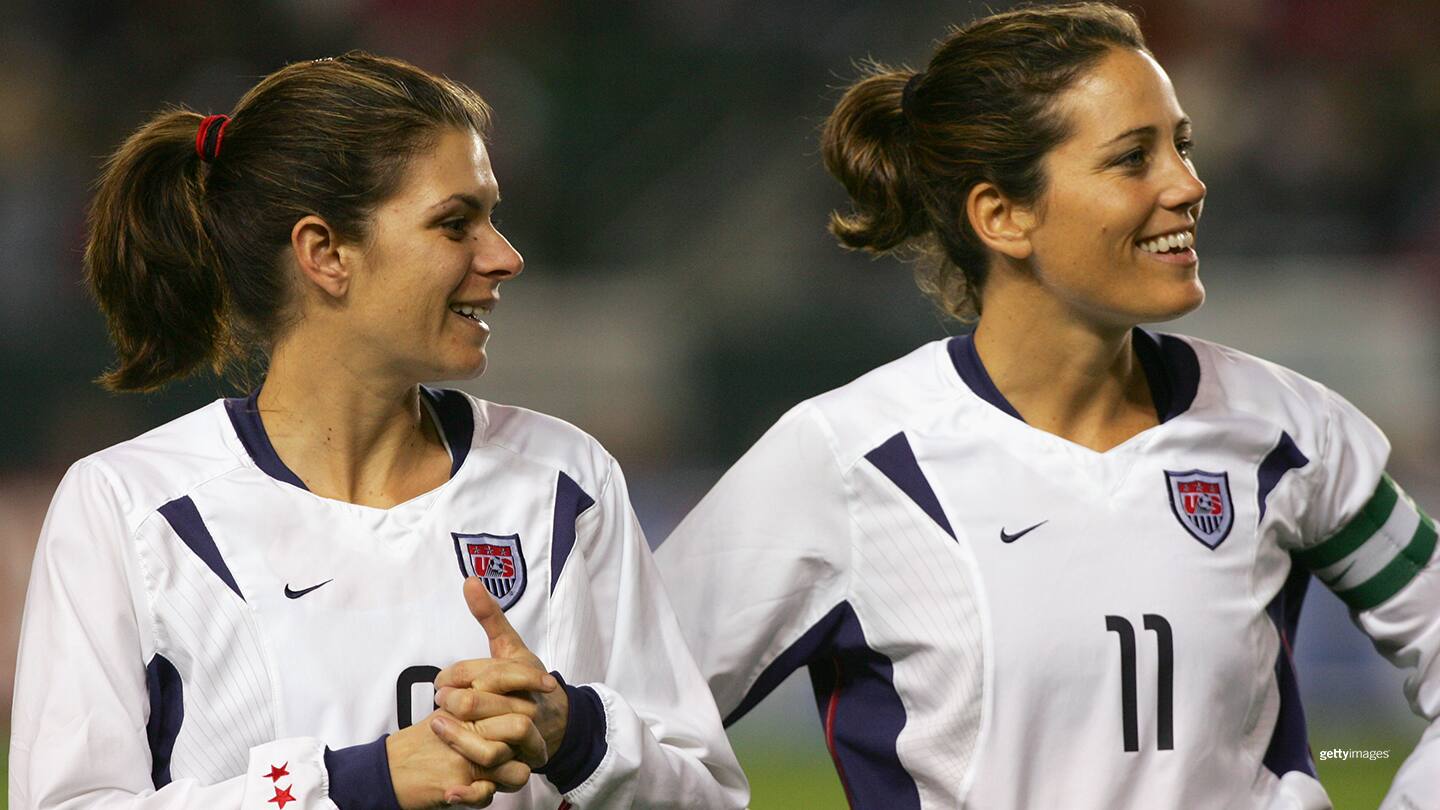 (L-R) Mia Hamm and Julie Foudy celebrate during the "Fan Celebration Tour" finale against Mexico on Dec. 8, 2004 in Carson, Calif.
"We were always told no, you can't do that," explained Gabarra. "You can't play sports, you cannot wear those clothes, you cannot be an athlete, you can't. We all grew up in this time where we were told no, no, no, no. We had to fight back for everything we wanted.

"My high school soccer team only started the year before I went to high school, and there were very few college teams. If we wanted something, we had to make it happen. So, we had this burning desire that was borne out of the adversity that we collectively went through."

The USWNT won the first ever world cup title, defeating favored Norway 2-1 in the final. Michelle Akers-Stahl won the Golden Boot for most goals scored in the tournament (10), and Gabarra received the Golden Ball as best player.


1996 Olympic Games & 1999 FIFA Women's World Cup
Five years later, women's soccer made its Olympic debut at the Olympic Games Atlanta 1996. Even though the final was not broadcasted on TV, the USWNT put on a show, defeating China, 2-1. The Olympic gold medal established the USWNT as a force to watch.

When the 1999 FIFA Women's World Cup rolled around — again on home soil — fans were ready.

Members of the team remembered being stuck in traffic as they made their way to Giants Stadium in New Jersey for their opening match against Denmark. It suddenly dawned on them that the traffic jam was caused by all the fans trying to get to the game. Almost 79,000 people packed the stadium that day — a record for attendance at a women's sporting event. They watched Team USA defeat Denmark, 3-0, with goals scored by Hamm, Foudy and Lilly.

Three weeks later, 90,185 people packed the Rose Bowl to watch the women's final, USA vs. China. The scoreless match came down to penalty kicks, with Brandi Chastain famously putting the USWNT over the top, 5-4.

The 1999 world cup set the "standard for what a women's sporting event should look like," said Foudy.

Equally important, the USWNT set the standard for U.S. women's soccer going forward. And they became a model for women's sports in general.


Impact on USWNT
Many of the women who had become household names from the 1999 world cup continued to play on the USWNT. Although Gabarra retired from the national team in 1996, Hamm, Foudy and Chastain retired in 2004; Lilly in 2010, etc. In the years that they continued to play, they inspired the next generation of young players, who were finding more and more opportunities to play.

When Hamm was inducted into the U.S. Olympic & Paralympic Hall of Fame in June 2022, a few current members of the USWNT filmed a short video to show during the induction.

First to speak was Becky Sauerbrunn, the 37-year-old defender who has competed in three world cups and two Olympic tournaments, and first made the U-16 women's national team in 2000.

"I think I can speak for everyone when I say that you are a role model and inspiration for all of us," Sauerbrunn said to Hamm.

"You're also on all of our personal Mt. Rushmores," added Megan Rapinoe, who has carved a legacy of her own on soccer's wall of fame. "None of us literally would be here without you."

Rapinoe made the U-20 women's national team in 2003 and the senior national team in 2006. At the 2019 FIFA Women's World Cup, she was awarded both the Golden Boot and Golden Ball, and she won her second Olympic medal in 2020.

Sauerbrunn is the current USWNT captain and played in the 2022 Concacaf final against Canada. Rapinoe — also 37 years old — subbed for forward Mallory Pugh, 24, during the semifinal and was included on the team for her winning mentality and experience. Ten players on the Concacaf team are under 26 years old.

But the newer players are not just learning from the USWNT veterans. They are trying to uphold the legacy started by the world cup and Olympic gold-medal-winning teams of the 1990s.

"They created a legacy early on that just instilled this drive and this willingness to fight, and it's just been woven into this team's DNA," said 26-year-old midfielder Andi Sullivan before the 2022 Concacaf semifinal game against Costa Rica. Sullivan was playing in her first Concacaf tournament on the senior national team.

"We realize that we're in the situation we're in because of the foundation that they laid for us years and years and years ago," Sullivan continued. "So we have a big weight on our shoulders that we want to honor, and then we also want to pass that on to the next generation. It's a huge part of this team's values and what we want to live every day."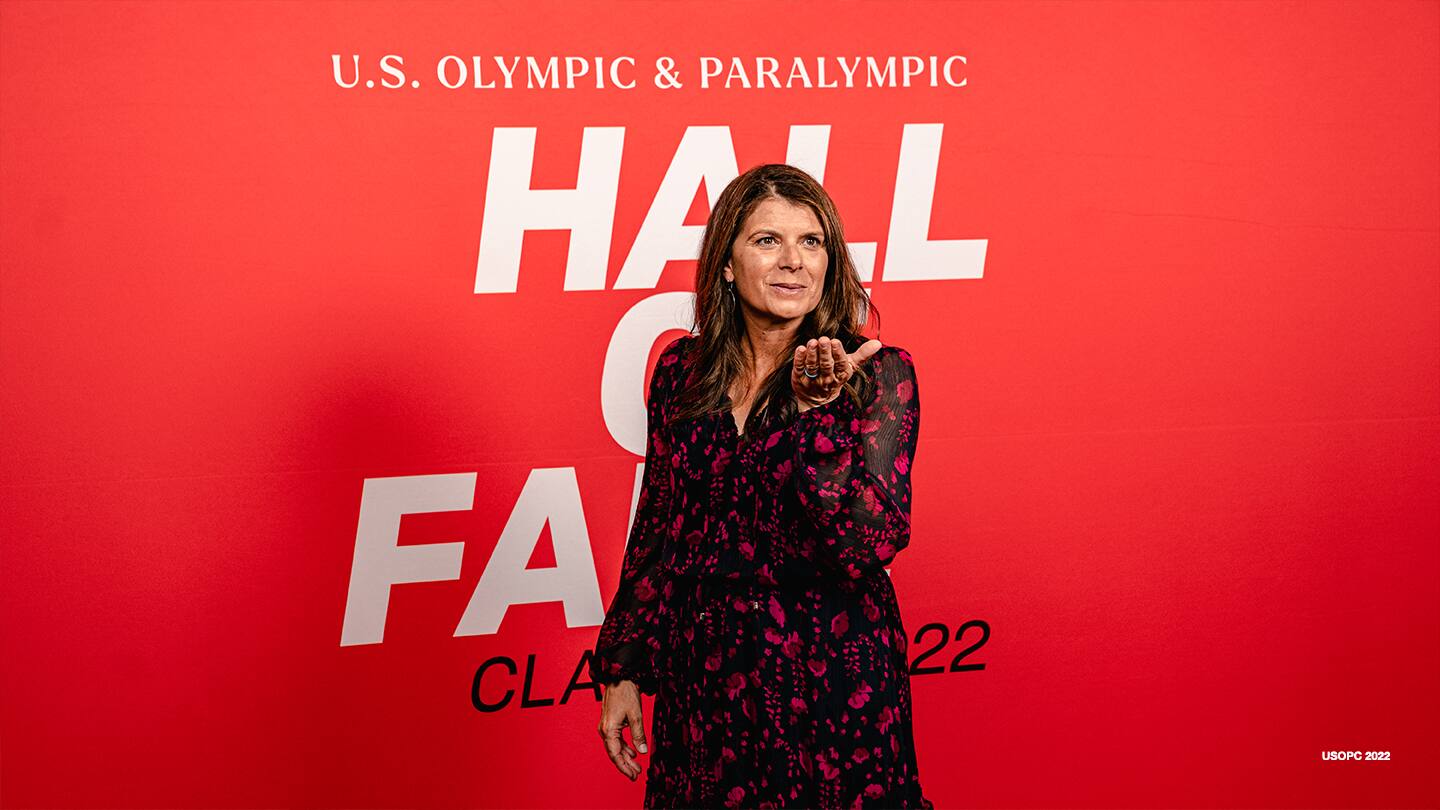 Mia Hamm poses for a photo at the 2022 U.S. Olympic & Paralympic Hall of Fame red-carpet event on June 24, 2022 in Colorado Springs, Colo.
Impact on U.S. Soccer
The USWNT's impact on girls' and women's soccer in this country almost goes without saying. The National Women's Soccer League (NWSL) is now well-established with 12 teams. At the NCAA level, there are 333 Division I women's soccer teams in the U.S. — up from the few that existed when Hamm, Foudy and others were playing in the 1980s. And at the youth level, over 3 million players are registered in the U.S. — up 89 percent from 1990.

"There are so many more opportunities for young girls to play at different levels in different environments," commented Foudy to Hamm in her podcast. Both women have daughters and have run camps and programs for kids.

The reason for this growth?

Perhaps it's because the USWNT made the sport look cool. And acceptable. They have helped show that girls can be athletes as well as anything else that they wish to be.

"Female athletes are celebrated, they're not looked upon differently now," said Gabarra.

"The game has evolved because so many people play now, and the coaches are spectacular and have soccer backgrounds. They played the game and are invested in it and study it and have careers in it. There was never anything like that when I was growing up."

Gabarra, Foudy and Hamm all have daughters, and they have witnessed the growth of girls' soccer, and of women's sports in general, in the 21st century.

"I have two daughters and they can play any sport they want," said Gabarra.


Impact on Women's Sports
The USWNT has inspired more than just soccer players.

Before the USWNT flew to Mexico for the 2022 Concacaf W Championship, 2018 Olympic alpine skier Alice Merryweather watched them play a "friendly" against Colombia in Utah in late June. It was shortly after the U.S. Supreme Court overturned the Roe v. Wade decision, and Merryweather was fired up. For years, she has been particularly inspired by how the USWNT has stood up for women's rights: gender equality and unequal pay.

"It was so powerful to see them, to watch them doing what they're so good at," said Merryweather. "I left that game feeling so empowered."

Merryweather, 25, grew up near Boston and was a fan of the Boston Breakers team (originally part of the Women's United Soccer Association, now a NWSL team). Lilly was a founder of the team, and Merryweather remembers watching Lilly play against her other hero, Mia Hamm, in a match in the early 2000s.

"I was such big fans of theirs," she said.

Alpine skiing was her main sport, but Merryweather also played soccer on her school and club teams, and she looked up to these female sports heroes.

"They normalized the idea that women could be bad-ass athletes," she said. "I saw them as powerful athletes, powerful sports figures. They were my idols. I didn't think of them any differently because they were women."

Looking back 30+ years, Gabarra did not have any idea of how she and the other women on the USWNT would impact a generation of female athletes. She simply considered it an honor to be part of the team.

"It is a privilege to be part of something bigger than yourself and to find success and have had the ability to fight for others that don't have the same platform," Gabarra said. "I've always been very thankful for that opportunity."
An award-winning freelance writer based in Vermont, Peggy Shinn has covered seven Olympic Games. She has contributed to TeamUSA.org since its inception in 2008.