Olympians Jessie Diggins & Rosie Brennan Lead A Promising U.S. Cross-Country Ski Team In 2022-2023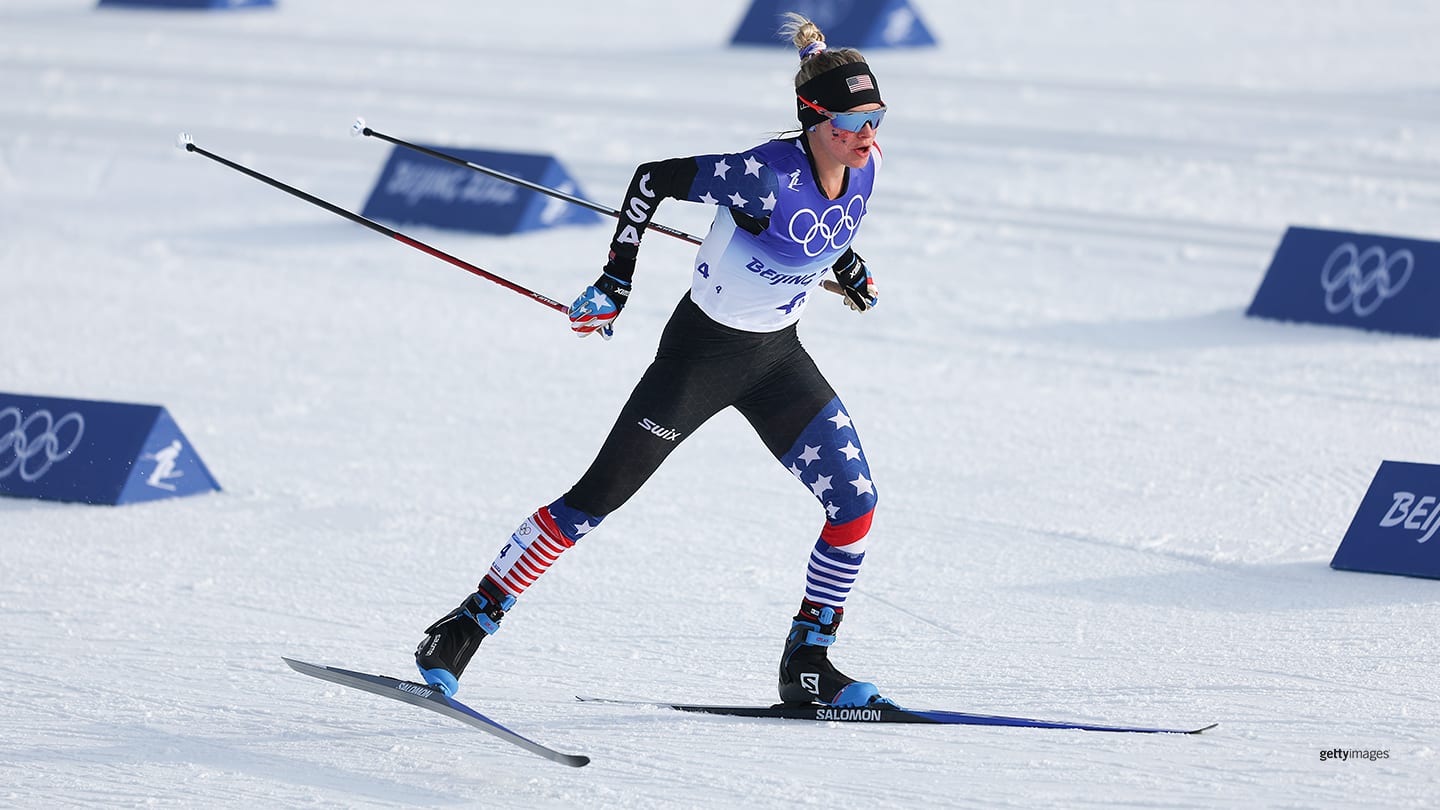 Jessie Diggins competes during the women's cross-country 4x5km relay in the Olympic Winter Games Beijing 2022 on Feb. 12, 2022 in Zhangjiakou, China.
The U.S. Cross-Country Ski Team is coming off a historic Olympic season. Jessie Diggins expanded her Olympic medal collection to three: gold (2018, team sprint), silver (2022, 30-kilometer freestyle) and bronze (2022, individual sprint).
Rosie Brennan had two top-six finishes at the Olympic Winter Games Beijing 2022, and then, along with Diggins, helped the U.S. win the first ever mixed team relay at a world cup in March.
Scott Patterson finished eighth in the men's 50K (shortened to 30K because of the weather) scored the best finish in 46 years for the men at the Olympic Winter Games.
They are all back again for the 2023 world championship season, with Diggins eyeing another overall world cup crystal globe and more world championship hardware. She would especially like to finally win a team relay medal. With four medals and counting, Diggins has won the most world championship hardware of any U.S. cross-country skier in history. Same goes for Olympic medals.
Additionally, the U.S. team this season boasts several skiers in their early 20s. Almost all of them — including Olympians JC Schoonmaker, Ben Ogden, Gus Schumacher, Julia Kern, Novie McCabe, Sophia Laukli, and Hailey Swirbul; plus Luke Jager, Johnny Hagenbuch, Zak Ketterson, and Hunter Wonders — have stood on world cup and/or junior world championship podiums.
"This team is the largest in U.S. Ski & Snowboard's cross-country history, and it could become our most successful one, too," noted head coach Matt Whitcomb earlier this year. "There is clear talent, as well as a history of impressive results."
The cohesive, supportive team atmosphere should continue to drive the U.S. cross-country team to the podium.
"These are individuals from many different clubs in the U.S. that are interested in connecting and believing in one another, and pushing hard," continued Whitcomb. "Talent and past results don't get me as excited as a bunch of athletes that are ready to lock in together."
Here's a look at what's new this year in cross-country and who to watch.
New This Year: Gender Equity in Distance
Racing
When women were first allowed to compete at the Olympic Games in 1952, the one race on the program was 10 kilometers long. Four years later, a 3x5 km relay was added, then later, a 5 km race. But women did not compete at longer distances for decades. Meanwhile, men regularly raced 15, 30 and 50 kilometers.
This year, men and women will race the same distances. For example, at the first world cup in Ruka, Finland, this weekend, both genders race a 10K individual start classic race, then a 20K freestyle race in the pursuit format the next day. Last year, the women skied 10k in both races and the men went 15K.
At the famed Oslo World Cup in March – known as the Holmenkollen Ski Festival – women will compete for the first time in a 50-kilometer race. The Oslo event has been held almost every year since 1892.
"I've been waiting my whole life to race the actual 50k Holmenkollen," said Diggins, who trained several 50km time trials this summer. "To be totally frank, I think its total crap that the women never got to race this iconic distance."
Mostly, Diggins is excited about the message it sends to young women.
"It's the message that you are totally capable of doing anything that you want to do if you train hard and you work hard," she added.
Jessie Diggins celebrates her silver medal finish in the women's cross-country 30km mass start free during the Olympic Winter Games Beijing 2022 on Feb. 20, 2022 in Zhangjiakou, China.
That said, at the 2023 world championships in February, the International Ski Federation (FIS) kept with traditional distances: 15K skiathlon, 10K individual start, and 30K mass start for the women, while the men will compete in a 30K skiathlon, 15K individual start, and 50K mass start.
Veterans Jessie Diggins & Rosie Brennan Back for
More
Diggins burst onto the cross-country ski team a dozen years ago. Fresh out of college, she won her first national senior title in 2011 and then made her world cup and world championship debut.
Now 31 and newly married, Diggins plans to compete at least through the Olympic Winter Games Milano Cortina 2026, which will be her fourth Olympic Games.
"The biggest thing that impacts my decision is my husband [Wade Poplawski]," said Diggins, who will only see Poplawski sporadically over the next five months. "He really supports me. He was like, 'You love doing this, you love training, even when it's raining and awful outside, you love your team, you like talking about eating disorders, you have an amazing job, and you won't be able to do this your whole life, so you might as well make the most of it as long as you can.'"
After last season — where she was a defending Olympic gold medalist and overall world cup champion — Diggins is also feeling less pressure this year.
"I don't have to prove anything to anyone," she explained. "I could retire right now and be really happy with my life. But I'm still here because I love to do what I do, and I love my team, and that's why I'm racing."
Her coach, Jason Cork, is feeling good about this coming season. Norway's Therese Johaug, a perennial dominant force on the world cup and the skier who beat Diggins in the 30K at the Beijing Games for the gold medal, has retired this year.
"I'm looking forward to this season," he said. "I think it could be really, really good."
"Every race is important in the world cup overall," he added. "But I think the 50k [in Holmenkollen] would be a really cool one to win. It's the first one that they've had, and she's had good success in Holmenkollen before. So yeah, it'd be great to see a win in Norway."
As for Brennan, now 33, she too has competed in cross-country skiing for years. She made her world cup debut in 2009, but then rode a decade-long roller coaster of injuries, illness and disappointment. Since then, she has shot to the top, winning her first world cup races in 2020, and even leading the overall world cup tour that year. At the end of last season, she helped the U.S. win the first ever world cup mixed team relay.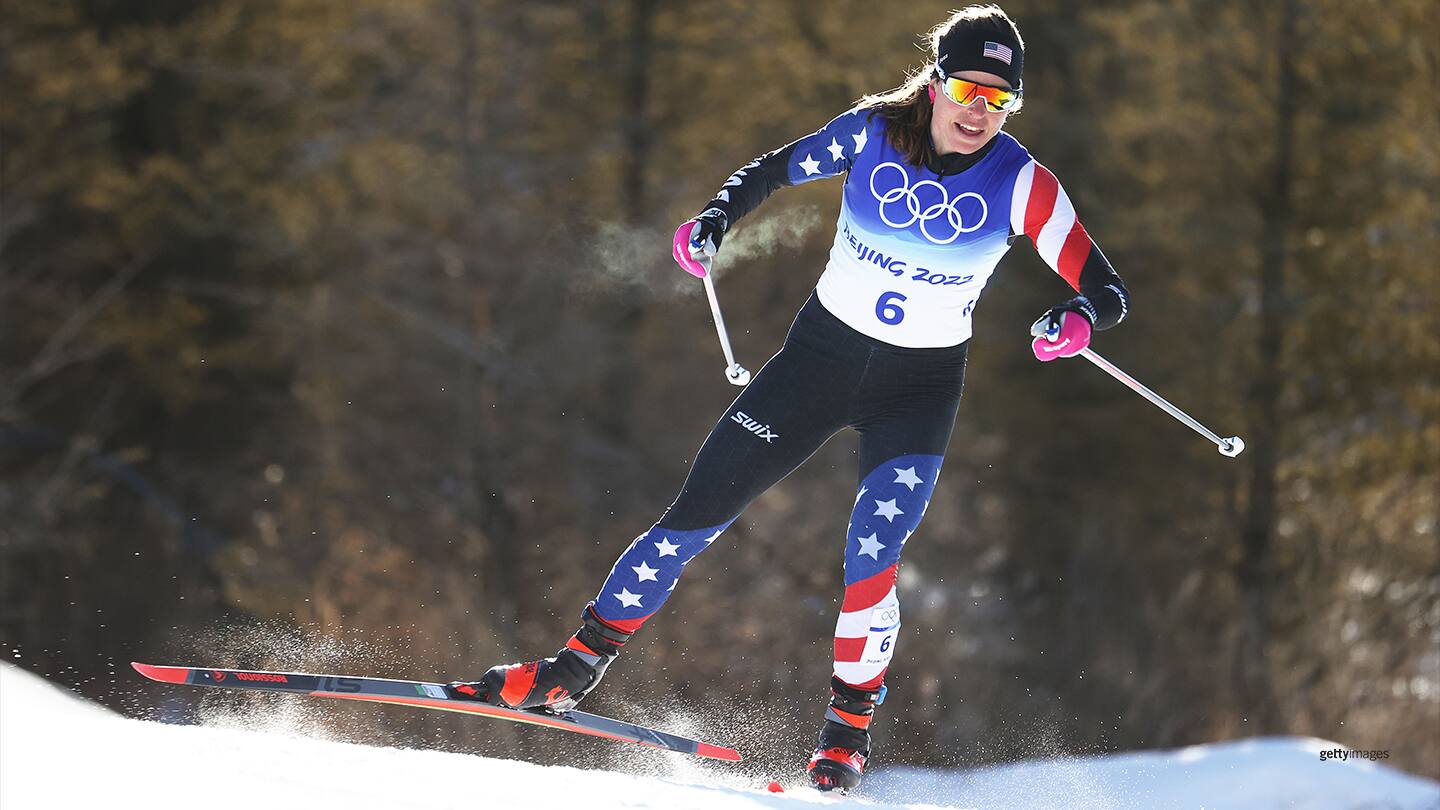 Rosie Brennan competes during the women's cross-country sprint free during the Olympic Winter Games Beijing 2022 on Feb. 08, 2022 in Zhangjiakou, China.
She summed up her reasons for continuing her ski career in a recent blog post titled, "Why Skiing Age is More Important Than My Biological Age."
"My skiing age is not the same as my biological age," she began, "and while I wouldn't have complained had I taken the world by storm, made an Olympics fresh out of college and then been fighting for medals from that point on, that's not what happened, and I think that's the more important story to tell.
"I have had a number of people ask me recently why I've kept going or why I have seen so much improvement in the last few years," she continued, "and every time I respond with the idea that I didn't start skiing until I was 14 (skiing birth). So, at age 31, when I won my first World Cup, I was only at skiing age 17, a perfect time to start seeing the work pay off. Everyone has the same response; they laugh and then jokingly say how that means they are at golf age 3 or something to that effect.
"But I don't see that as a joke, it's true. Mastery takes time, it takes many hours of skill building, learning, making mistakes, reflecting, trying again, and finally perfecting."
Brennan has six world cup podium finishes on her resume. Look for her to add more this season.
Others to Watch This
Season
Almost any of the skiers on the U.S. Ski Team can make the podium this season. They are "moving fast on the trails," noted Diggins. But mostly, she is impressed with their attention to detail — analyzing video, pointing out to each other ways to improve tactics and technique, approaching training with thought and purpose.
"It's not just more, more, more, I'm going to hammer, hammer," said Diggins. "They are very thoughtful in terms of what they need to do for long term sustainability, thoughtful, hard training."
Although anything can happen on race day – from broken poles to crashes – Diggins thinks several of her younger teammates could make headlines this season.
Diggins' friend and SMS Elite teammate, Julia Kern, is on the cusp of finishing top three in a world cup sprint again. The two finished second in a world cup team sprint last January.
Kern, 25, finished third in a world cup sprint in January 2019, and qualified for the sprint heats at the Beijing Games.
"She's been pushing me hard in intervals, and I'm really, really impressed," said Diggins.
Diggins also called out Schumacher, 22, who scored a couple of top 10s his first season on the world cup and won four medals at junior world championships, including gold in the 10K class in March 2020. Gus "has been knocking on the door for a while," noted Diggins.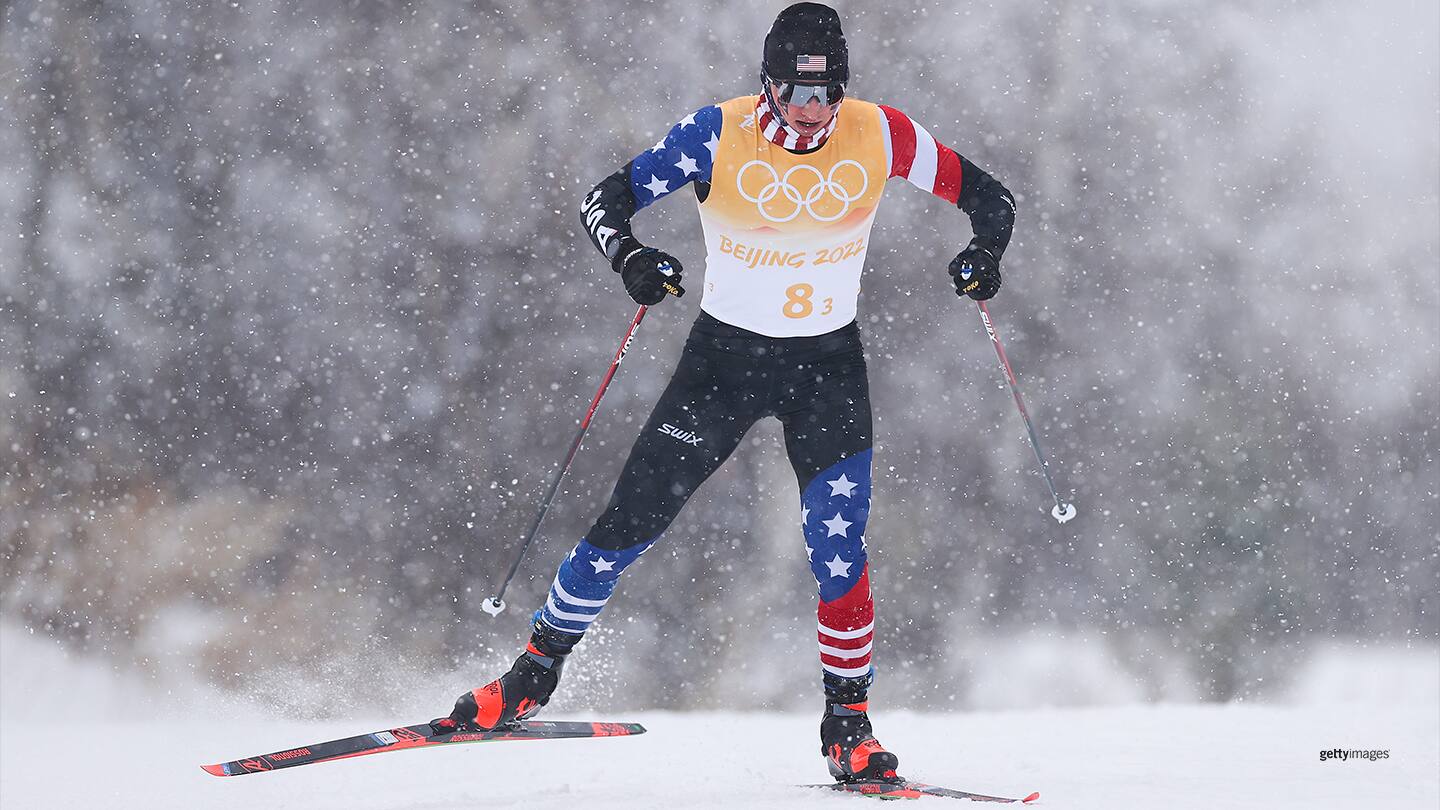 Gus Schumacher competes in the men's cross-country skiing 4x10km relay during the Olympic Winter Games Beijing 2022 on Feb. 13, 2022 in Zhangjiakou, China.
Schoonmaker and Ogden, both 22-year-old recent college grads, could move up the ranks in men's sprinting. Schoonmaker and Ogden both qualified for the sprint heats at the 2022 Beijing Olympics, with Ogden making it to the semifinals, and both ended their college careers on high notes. Ogden won both men's races (classic and freestyle) at the 2022 NCAA championships, with Schoonmaker coming in third in the freestyle race.
"Again, it's hard to know until you seem them race," added Diggins. "But I'm really impressed with what I've seen so far."
Ogden is not the only NCAA champion on the U.S. XC ski roster this year. Fresh from the 2022 Olympic Games, Sophia Laukli, 22, won the freestyle title, with Novie McCabe, 20, winning the classic race. Both women ski for the University of Utah. And Sydney Palmer-Leger, 20 (on the U.S. development team), won both the NCAA classic and freestyle races in 2021 as a freshman at Utah.
Laukli spent the summer long-distance mountain running and won the Broken Arrow Skyrace 26K at Palisades Tahoe, California, in June, then in August, the Stranda Fjord Trail Race in Norway, one of the Golden Trail World Series. Many in trail running worlds dubbed her a rising star.
Other notable names on the development team: Will Koch, 20, son of 1976 Olympic silver medalist Bill Koch, who anchored the U.S. to a bronze medal in the team relay at the 2022 junior world championships, and Sammy Smith, who finished fifth in the freestyle sprint at the 2022 world junior championships. This fall, Smith, 17, competed for the USWNT team at the FIFA U-17 World Cup, scoring two goals in her first international game, the 4-0 win over Morocco.
The Ruka World Cup is a mini-tour that starts with a classic sprint on Friday, Nov. 25. Saturday, the men and women race 10K individual start races, with 20K pursuits determining the mini-tour winners on Sunday.
From Finland, the tour moves to Norway for two races, then Davos, Switzerland, on Dec. 17-18. The Tour de Ski begins on New Year's Eve this year and wraps up with the traditional climb up Alpe Cermis in Italy on January 8, 2023.
The 2023 world championships run Feb. 21-March 5 in Planica, Slovenia.
An award-winning freelance writer based in Vermont, Peggy Shinn has covered seven Olympic Games. She has contributed to TeamUSA.org since its inception in 2008.