News
Brad Synder
Jessica Long
Swimmers Jessica Long And Brad Snyder Overcame Fears To Create Magic At The London Paralympics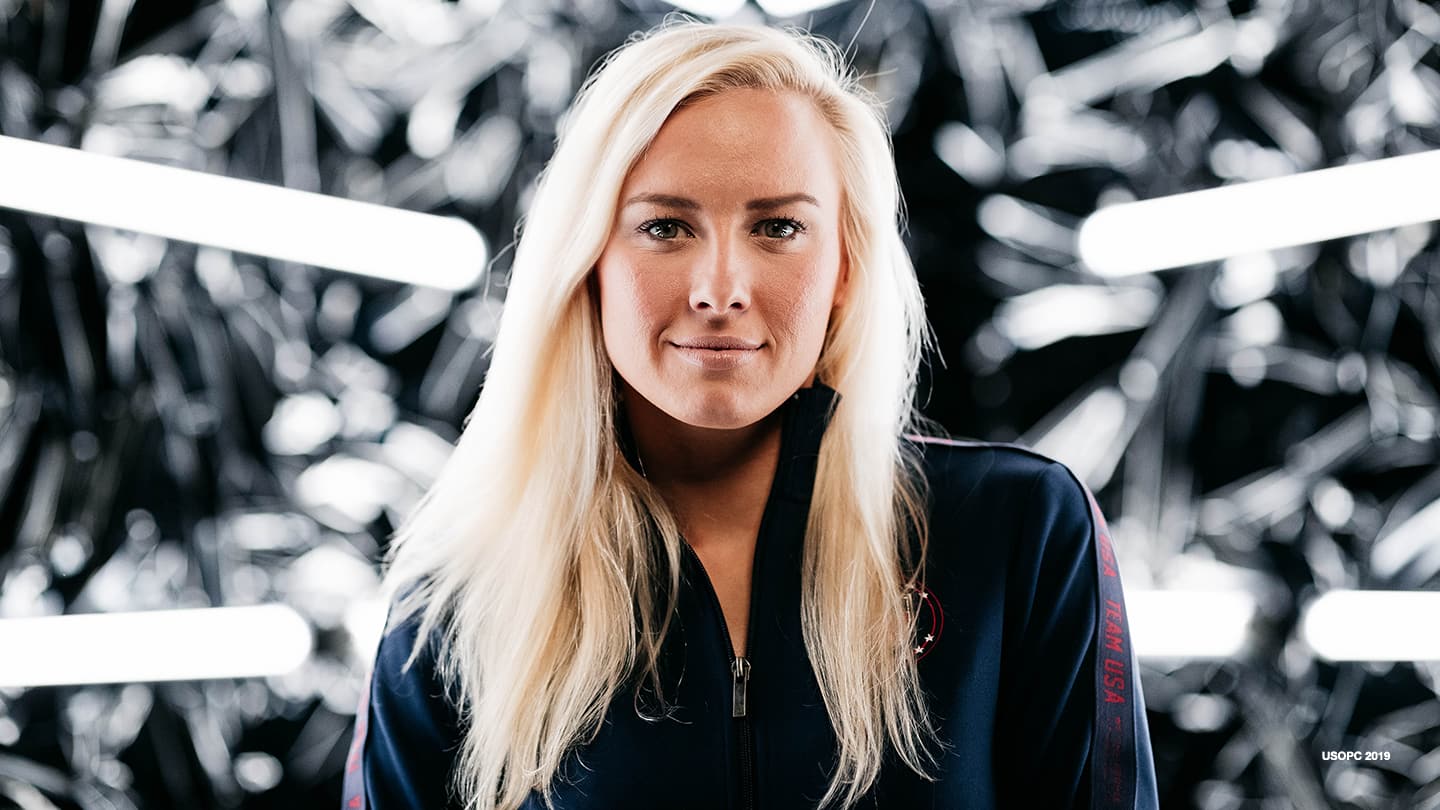 Jessica Long poses for a photo at a Team USA photo shoot on Nov. 19, 2019 in West Hollywood, Calif.
Brad Snyder felt he knew the storyline that everyone was clamoring for as he prepared to compete at the Paralympic Games London 2012.

Snyder was set to race in the finals of the men's 400-meter freestyle S11 race on Sept. 7, 2012. It was coincidentally the one-year anniversary of when he was blinded after stepping on an improvised explosive device in Afghanistan while serving in the U.S. Navy.

"I felt like, 'Man, I'm really going to disappoint a lot of people if I don't make that headline come true,'" Snyder said.

Fellow American swimmer Jessica Long, a favorite in many minds, knew she was about to make headlines, but she couldn't think about it. Long, who was adopted at 13 months old from a Russian orphanage, learned that a Russian reporter had found her biological mother prior to the London Paralympics.

Long didn't know much about the story, or if it was even true, but she couldn't block it out of her mind. Ten years later, Snyder and Long laughed as they reminisced about winning a combined seven golds and 11 total medals in London despite their individual challenges.

Both swimmers were raised in Baltimore and share the same birthday — Feb. 29. For several days in the summer of 2012, they each overcame their fears on their way to dominating in the pool and reaching the top of medal podium.


A Heavy Heart
Long was already a star swimmer by the time she arrived in London at age 20 to compete in her third Paralympics. She had burst onto the scene as a 12-year-old phenom, capturing three golds at the Paralympic Games Athens 2004.

However, Long faced some unexpected challenges in London. She was training in Stuttgart, Germany, prior to the London Paralympics when she started getting text messages and emails saying that a Russian reporter had tracked down her biological mother in Russia.

As if that weren't enough, Long decided to take on the challenge of swimming in nine events in London. She faced a grueling schedule of nine consecutive days of racing. However, Long said it felt more like 18 days in a row because she'd take naps after racing in her prelims and before returning to the pool for her finals later in the day.
She'd wake up from a nap and realize she wasn't done competing for the day.

"At that point, I still hadn't met my birth family. I still had a lot of questions. I still had a lot of anger," Long said. "So for me, in a way because I was so angry, it was like I fell into that routine of competing nonstop, day in and day out."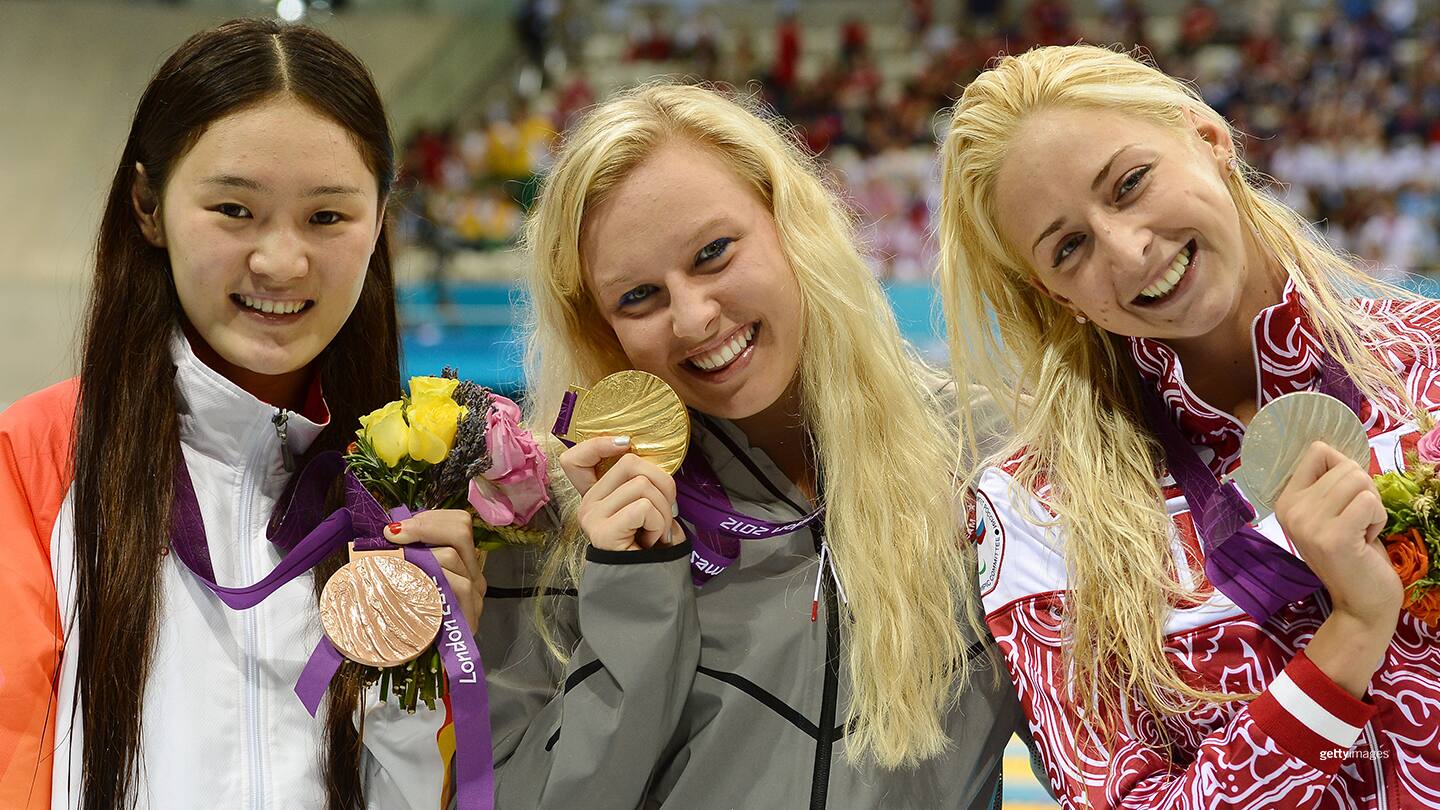 (L-R) Shengnan Jiang (China), Jessica Long and Olesya Vladykina (Russia) pose on the podium following the women's 200-meter individual medley SM8 final at the Paralympic Games London 2012 on Sept. 5, 2012 in London.
Long admitted she broke down and started crying on her fourth day of racing. She felt overwhelmed, and she didn't know how she'd get through the next five days of races.


"There was just so much going on, right? I had just found out about my birth mom. We didn't even know if it was my birth mom," Long said. "I had dreamed about meeting her my whole life. I'm 20 years old. I'm competing. I know my family's in the stands. I'm tired. I'm exhausted. I'm in survival mode, and I allowed myself to almost throw a little pity party."


Long said she quickly pulled herself together with help from her coach, her athletic trainer and fellow American swimmer Kelley Becherer, who was Long's roommate at the London Paralympics and later a bridesmaid at her wedding.


Long cried again five days later, though for a much different reason.


She got emotional after she won her fifth gold medal in London during her final race — the 100-meter freestyle. When she got out of the pool and saw her coach waiting for her, she shed a few tears, knowing she had made it through all nine days of racing.


In addition to the 100 freestyle, Long earned seven more medals (totaling five golds, two silvers and one bronze).


Long, who at the Paralympic Games Tokyo 2020 upped her total Paralympic medal count to 29, said she was eating breakfast the day after she returned home from London when the story about her biological mother in Russia came out. They reunited soon afterward.


An Unlikely Paralympian
Despite sharing the same birthday, Snyder is eight years older than Long. He was 28 when he made his Paralympic debut in London.


Snyder had dreamed of being an Olympian when he was younger, and he served as the captain of the U.S. Naval Academy's swim team in 2005-06. However, his life changed after he lost both of his eyes in 2011, following a bombing in Kandahar, Afghanistan.


Snyder returned to swimming as part of his recovery.


"The goal wasn't necessarily to compete in the Paralympics. The goal was just to kind of grasp onto a sense of normal after a major incident," Snyder said. "I lost my vision, and I'm wrestling with my own doubts as to what kind of life I can live."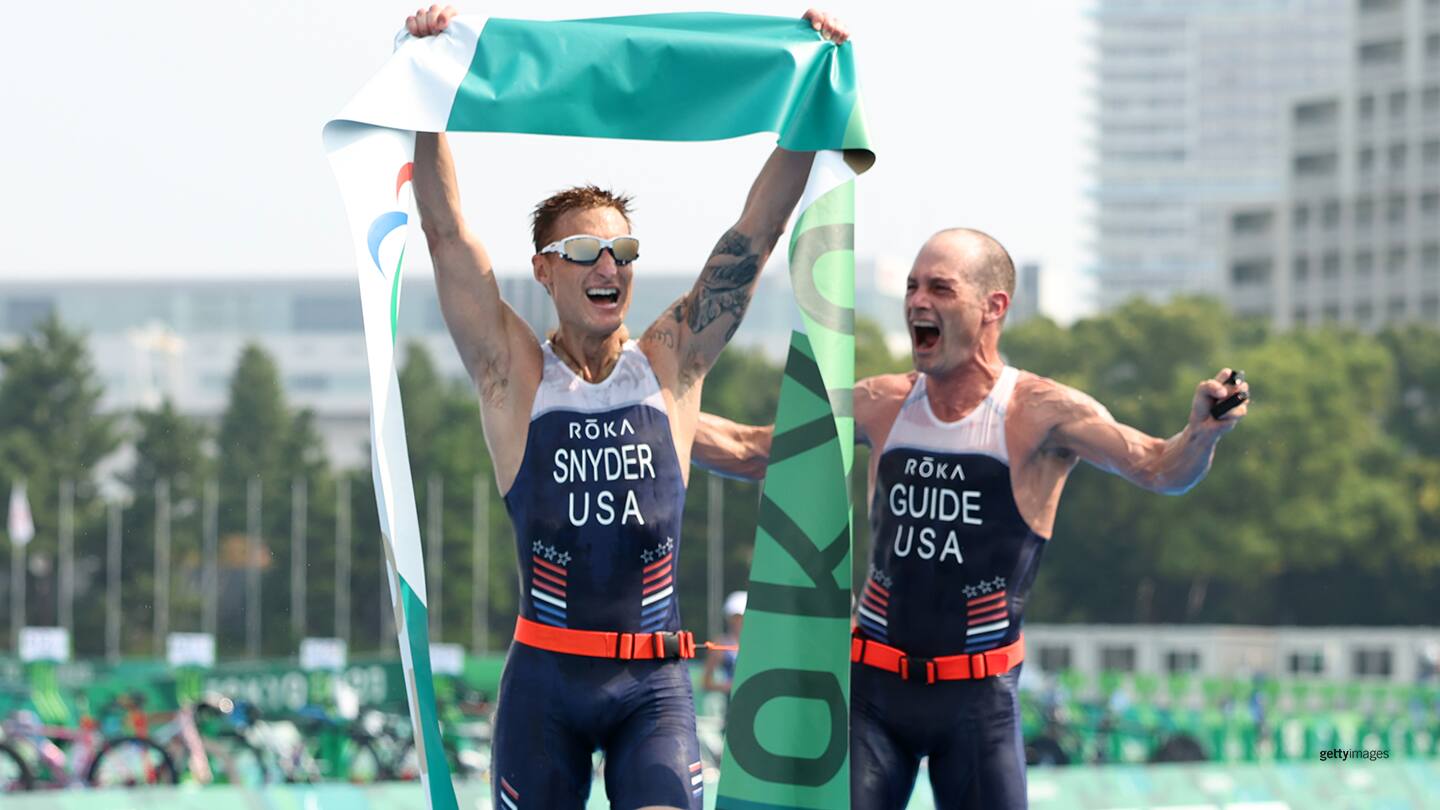 (L-R) Brad Snyder and guide Greg Billington react as they cross the finish line to win the gold medal during the men's PTVI triathlon at the Paralympic Games Tokyo 2020 on Aug. 28, 2021 in Tokyo.
Snyder enjoyed immediate success. He qualified for the London Paralympics, and instead of taking it easy so soon after being wounded in combat, he set his goals on winning gold in London.


On Sept. 7, 2012, Snyder said he felt a wide range of emotions after he won the 400-meter freestyle on the one-year anniversary of the bombing. As he stood on the podium, he felt a combination of relief, excitement and pride.


"For a moment, it's about you. It's about you got this gold medal, and your name is announced and all that sort of stuff," Snyder said. "But immediately following that, they play the (national) anthem, and they raise the flag. It puts things into context about, while this accomplishment was something really, truly special, and you did something great, you wouldn't have done that if it weren't for the community that's behind you and feeling like you're a part of that community."


Snyder won another gold and a silver in London. Four years later, he earned four more medals (three golds and one silver) at the Paralympic Games Rio 2016 before successfully making the transition to paratriathlon. In his Paralympic debut as a triathlete last year in Tokyo, Snyder added another gold medal.


As memorable as London was, Snyder experienced an even more surreal moment once he returned to the U.S.


Snyder was selected to serve as the U.S. flag bearer for the Closing Ceremony of the London Paralympics. As a result, he was given the honor of later presenting the flag to President Barack Obama during a ceremony at the White House.


"In his remarks, he mentioned me by name," Snyder said. "For the president to say he knew who I was and he knew my story and he had watched my race, whether he had or hand not actually watched the race, it was in his speech. That was incredible."


Afterward, first lady Michelle Obama's staff invited Snyder to meet with her privately. He thought to himself, "Who's life am I living? This is not my life."
Alex Abrams has written about Olympic sports for more than 15 years, including as a reporter for major newspapers in Florida, Arkansas and Oklahoma. He is a freelance contributor to TeamUSA.org on behalf of
Red Line Editorial, Inc.