Americans Win Four Events At Diamond League Event In Poland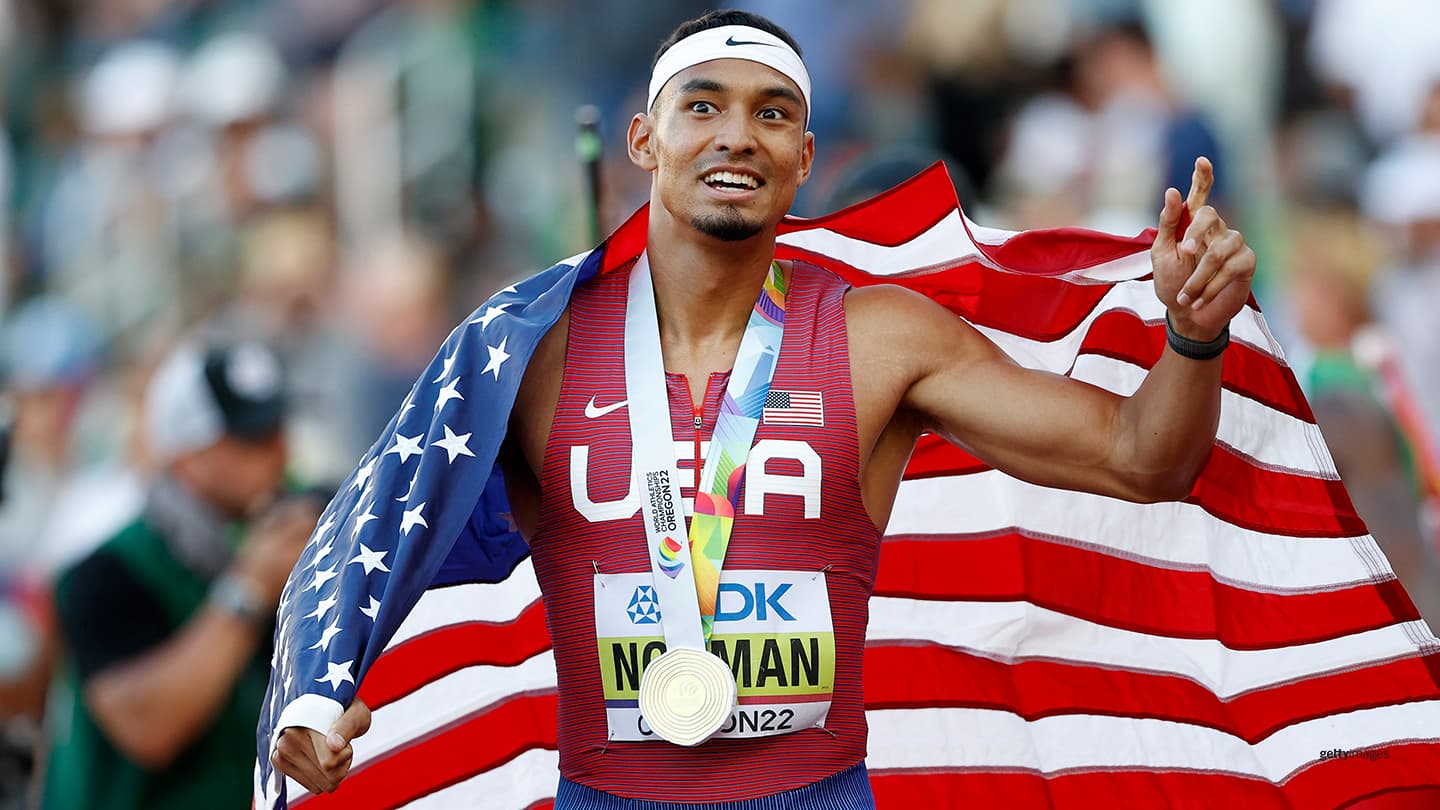 Michael Norman celebrates after winning gold in the men's 400-meter final at the 2022 World Athletics Championships on July 22, 2022 in Eugene, Ore.
A couple of weeks removed from topping the medal table at the 2022 World Athletics Championships, U.S. athletes had podium finishes in multiple events as Diamond League competition resumed Saturday with the Silesia meet in Chorzow, Poland.

Four Americans won events while another seven had second- or third-place finishes at Stadion Slaski.

Two wins came in meet-record performances. Reigning world champion Chase Ealey maintained her perfect four-for-four Diamond League record this season in women's shot put with a toss of 20.38 meters and Olympic gold medalist Michael Norman, a dual gold medalist at the world championships, won the men's 400-meter in 44.11 seconds.

"It is always nice to compete with the best and Kirani (James, of Grenada, who finished second) is a big opponent," Norman said. "I have a big respect for this guy."

Two-time Olympian Ajeé Wilson took first in the women's 800 with a time of 1:58.28. Two-time Olympian Trayvon Bromell scored a win in the men's 100, finishing in 9.95 seconds.

Bromell, who won for the second time this season in Diamond League action, came up short with a bronze medal in the 100 at worlds in Eugene, Oregon, and feels he still has plenty more to show.

"It is my second year on the circuit and I am still learning," said Bromell, 27. "I simply try to be the best I can be. I didn´t like my performance today too much, there were a lot of small details that could be improved. Being back on the circuit after the world championships is just part of the job, I don´t look at it as revenge for Eugene. The rest of the season I will just continue trying to improve."

Finishing runner-up behind Bromell was U.S. teammate and Olympian Marvin Bracy, who was also second in the world championships. Sage Hurta finished second behind Wilson in the women's 800 after Wilson, who qualified for the Diamond League final, caught her down the stretch for the win. In men's 400 hurdles, Khallifah Rosser finished second with a time of 48.30 seconds. Steffin McCarter, a 2020 Olympian, placed second in men's long jump with a leap of 8.09 meters.

Bryce Deadmon, Norman's teammate on the 4x400 team that won gold at the Olympic Games Tokyo 2020, finished third in the men's 400 with a time of 44:68 seconds. Olympic silver medalist Jenna Prandini took third in the women's 200 (:22.39) and Olympian Curtis Thompson placed third in men's javelin (82.39).

This was the first Diamond League event since June 30 as the circuit paused for the world championships. Athletes will be in action again on Wednesday in Monaco for the 10th of 12 events. The Diamond League Grand Final is set for Sept. 7–8 in Zurich.

"The next stop is Monaco — gambling in casino," said Norman.
Todd Kortemeier is a sportswriter, editor and children's book author from Minneapolis. He is a contributor to TeamUSA.org on behalf of
Red Line Editorial, Inc.