Alex Walsh Downs A U.S. Open Record As Olympic Stars Shine On Final Night Of Swimming Trials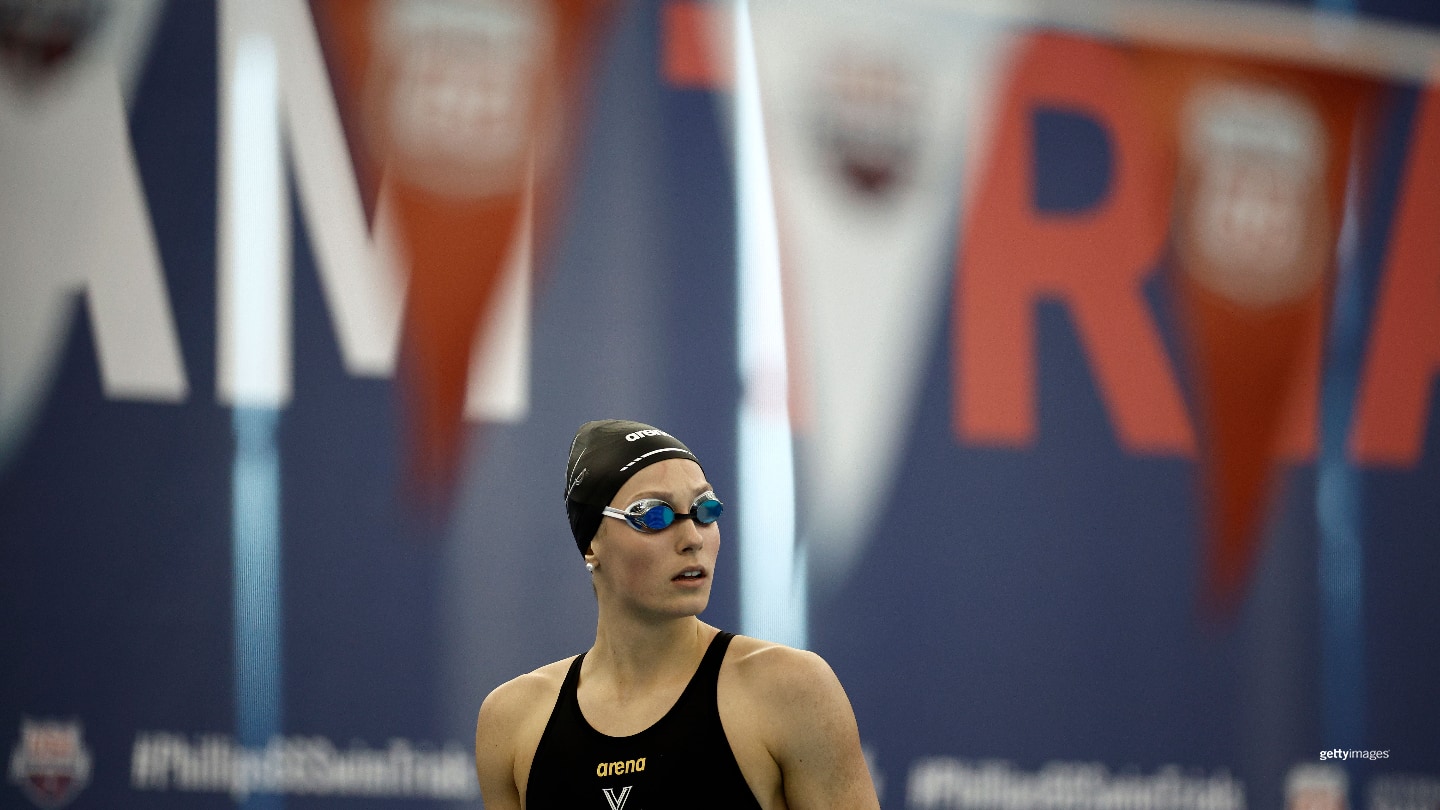 Alex Walsh looks on prior to competing in the women's 200 meter individual medley final at the Phillips 66 International Team Trials on April 30, 2022 in Greensboro, North Carolina.
Alex Walsh wasn't sure what to expect in the finals of the women's 200-meter individual medley on Saturday night. The Olympian just wanted to focus on herself, and when she touched the wall, the 20-year-old from Nashville, Tennessee, was surprised with how fast she swam.

On the fifth and final day of the Phillips 66 International Team Trials, Walsh won the women's 200 IM in 2 minutes, 7.84 seconds to set the U.S. Open record, marking the fastest time ever on U.S. soil.

She jumped out to an early lead inside the Greensboro Aquatic Center on her way to breaking the previous U.S. Open record of 2:08.32 set by Kathleen Baker in 2018.

"I didn't know I had a 2:07 in me at this meet, so (I) really couldn't have been happier with how I swam it," said Walsh, a sophomore at Virginia. "And I think I'm definitely just becoming more confident in myself in that race and learning how to close it really well just because last summer I would really fade in the last 15 meters.

"So I'm really happy with how my endurance is looking."

Walsh's time on Saturday was faster than the 2:08:52 that Japan's Yui Ohashi swam at the Olympic Games Tokyo 2020 to win the gold medal in the women's 200 IM. Walsh took the silver after finishing that race in 2:08.65.

With her record-breaking performance in Greensboro, Walsh secured her spot at this summer's 2022 FINA World Championships in Budapest, Hungary. USA Swimming officially named the 41 qualifiers after the competition.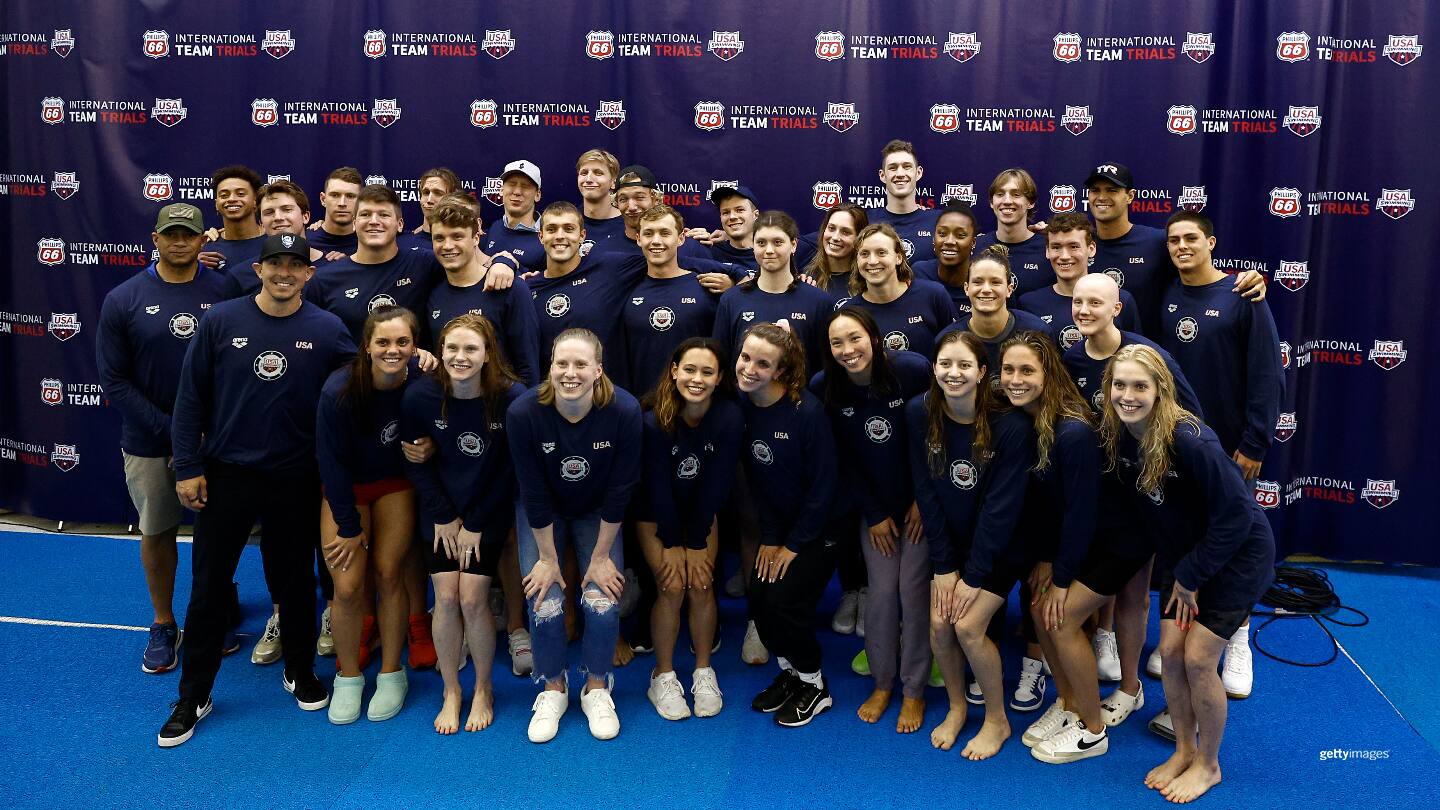 Team USA poses for a photo following the Phillips 66 International Team Trials in Greensboro, North Carolina on April 30, 2022.

The final day of the international team trials also included another dominant performance from Katie Ledecky, a new U.S. Open record from Bobby Finke and plenty of excitement from Caeleb Dressel after his win in the men's 50-meter freestyle race.

Ledecky, the 10-time Olympic medalist, went 4-for-4 in Greensboro after cruising to a win in the women's 1,500-meter freestyle race. She finished in 15:38.99, 13 seconds ahead teenage phenom Katie Grimes, who placed second at 15:51.36.

It was Ledecky's fourth win at the international team trials after she took first in the women's 200-, 400- and the 800-meter freestyle events earlier this week. She is one of four swimmers who qualified for the world championships in four events, joining Dressel, Michael Andrew and Claire Curzan, though she wasn't particularly thrilled with her performance in Greensboro.

"There's not too much to say about it. I didn't really feel my stroke tonight, so not super happy about that," Ledecky said. "But I felt good all week, so I know that there's still a lot there."

Ledecky said the issues with her swimming on Saturday came as result of it simply being a long week of racing.

"I mean I'm still working on a lot, so I think I've been developing these things and kind of have the tools in the toolbox but still learning how to use them," Ledecky said. "So just putting it all together. I think I can do it in a couple of months."

The 16-year-old Grimes hung with Ledecky early in the race before Ledecky separated herself from the rest of the field. Once Grimes touched the wall, Ledecky reached over and gave the teenager a high five.

It was a positive end to the week for Grimes, who made her Olympic debut in Tokyo at age 15.

"It was kind of similar to (the Olympic) trials just like in terms of the emotional roller coaster," Grimes said. "The first night obviously not what I wanted to see, but it gradually got better and just tried to stay positive throughout it all and it turned out great."

Finke, the reigning Olympic gold medalist in the men's 1,500- and 800-meter freestyles, continued to show his dominance in the distance events. He coasted to a win in the 800 freestyle Saturday, finishing in 7:43.32 to break the U.S. Open record. Zane Grothe set the previous record of 7:44.57 in 2018.

Meanwhile, Dressel let his excitement show after the seven-time Olympic gold medalist edged Finke and Andrew to win the men's 50-meter freestyle race in 21.29 seconds.

As soon as he saw the results, Dressel flexed his heavily tattooed arms, splashed the water with his hand and then did the Gator Chomp with his arms in a nod to his alma mater the University of Florida.

"Well, Bobby didn't make it easy for me, so I think a lot of pressure was on me," said Dressel, who swims for the Gator Swim Club. "It was the final freestyle swim for (Florida), so I had a lot of pressure. I wanted to win that one.

"That was a clean sweep, so I'm really happy with the time, really happy with the time."

In the nights other two finals, Torri Huske won the women's 50 free in a photo finish over Erika Brown, clocking in at 24.50, while Chase Kalisz took the men's 200 IM in 1:56.21.
Alex Abrams has written about Olympic sports for more than 15 years, including as a reporter for major newspapers in Florida, Arkansas and Oklahoma. He is a freelance contributor to
TeamUSA
on behalf of
Red Line Editorial, Inc.