Softball Ace Cat Osterman Retires – Again – And This Time It's Final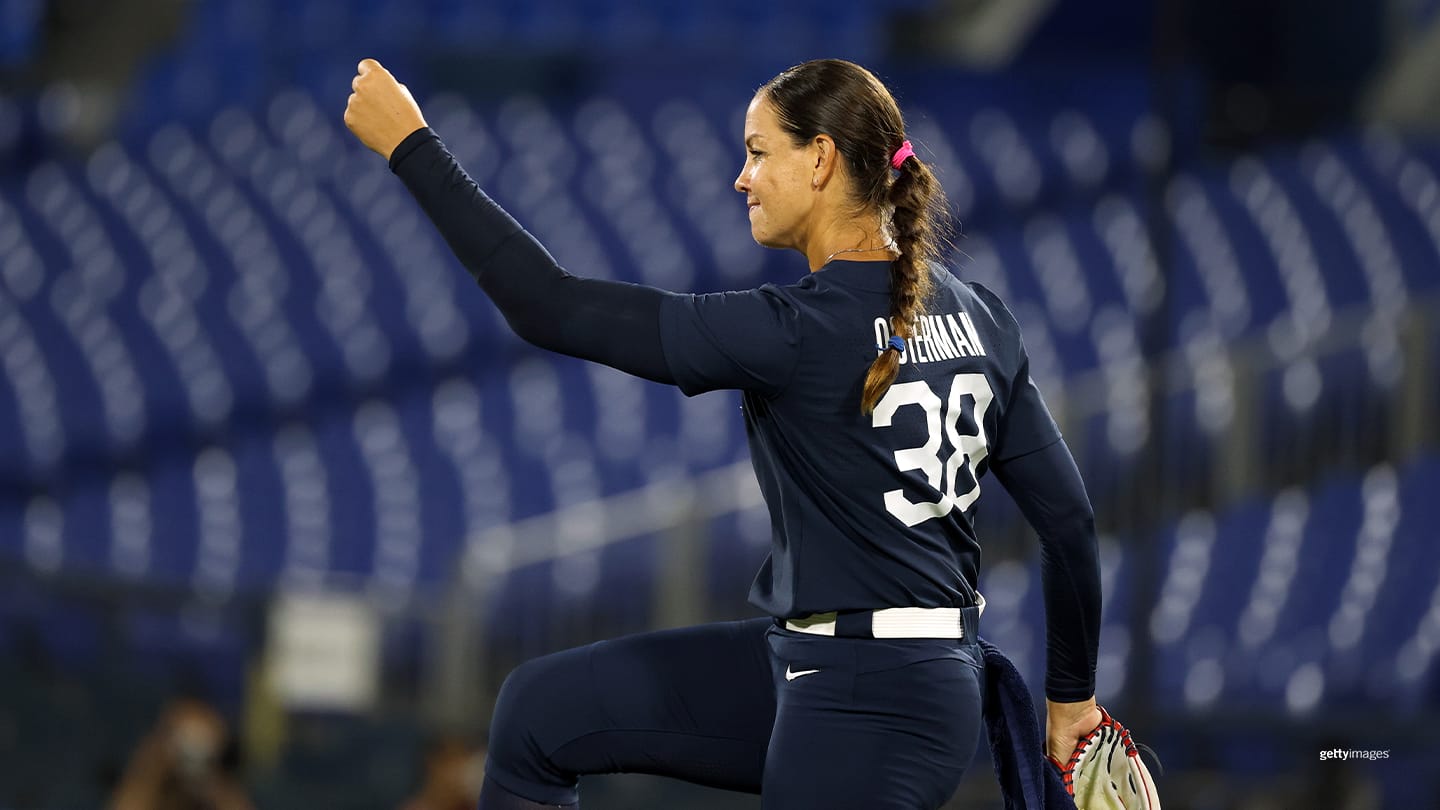 Cat Osterman takes the mound during the Softball Gold Medal Game at the Olympic Games Tokyo 2020 on July 27, 2021 in Yokohama, Kanagawa, Japan.
Cat Osterman tried to let her sport down gently when she decided they needed to break up.

"Dear Softball," the three-time Olympic medalist wrote on her website. "It's time this intimate relationship we've had ends. It's not you … it's me. You've had my heart for 28 years, and now I need it back, to invest it elsewhere. New experiences, my family, and cheering on everyone else who loves you."

Two days later, Osterman was at peace with her decision.

"I think softball understands," the 38-year-old pitcher said. "I really do."

Osterman said she wrote the letter hoping it would "make people laugh as opposed to everyone telling me they're crying."

And yet the emotion was palpable as Osterman pitched for the last time earlier this week, clinching her final win in the Athletes Unlimited league in Rosemont, Illinois. After Osterman got the second out in the bottom of the seventh inning, her team captain took her out of the game so she could receive a standing ovation.

"It was the best I'd pitched at Athletes Unlimited this season all the way around," Osterman said. "Some people can look at it and be like, 'Oh, is that going to hook you to stay because you threw so well?'"

Not a chance. "It's time to move on," she said.


Osterman had actually been here before. She originally broke up with – um, retired from – softball in 2015. They got back together when softball – which was dropped from the Olympic program after the Olympic Games Beijing 2008 – was voted back in for 2020.
In Tokyo, Osterman ended her Olympic career with a 7-1 record, winning a gold medal in 2004 and silver medals at the 2008 and 2020 Games. In her 13-year career wearing the Red, White and Blue, she also won Pan American Games gold medals in 2003, 2007 and 2019 and World Championships Golds in in 2006 and 2010.
She pitched 519 innings with a 74-5 record, an ERA of 0.44 with 1,030 strikeouts.
Already one of the most decorated players in Team USA history, Osterman initially felt torn about launching a comeback. Her inner circle – her parents and husband Joey Ashley – told her, "Just go try it and see how you feel."
"So I did, and I'm glad I did," she said.
Osterman went to tryouts in January 2019, thinking it was an 18-month commitment. When the pandemic delayed the Games by a year, she didn't second-guess her decision. At that point, she was too far into it.
Osterman and Ashley – who would sometimes catch for her in the driveway of their Texas home – talked about putting off their plans to have a child. "Thankfully he knows how much I love softball and how much I put into playing this game," she said. "It was a no-brainer. He said, 'If you want to do it, we're doing it,' and I said OK.'"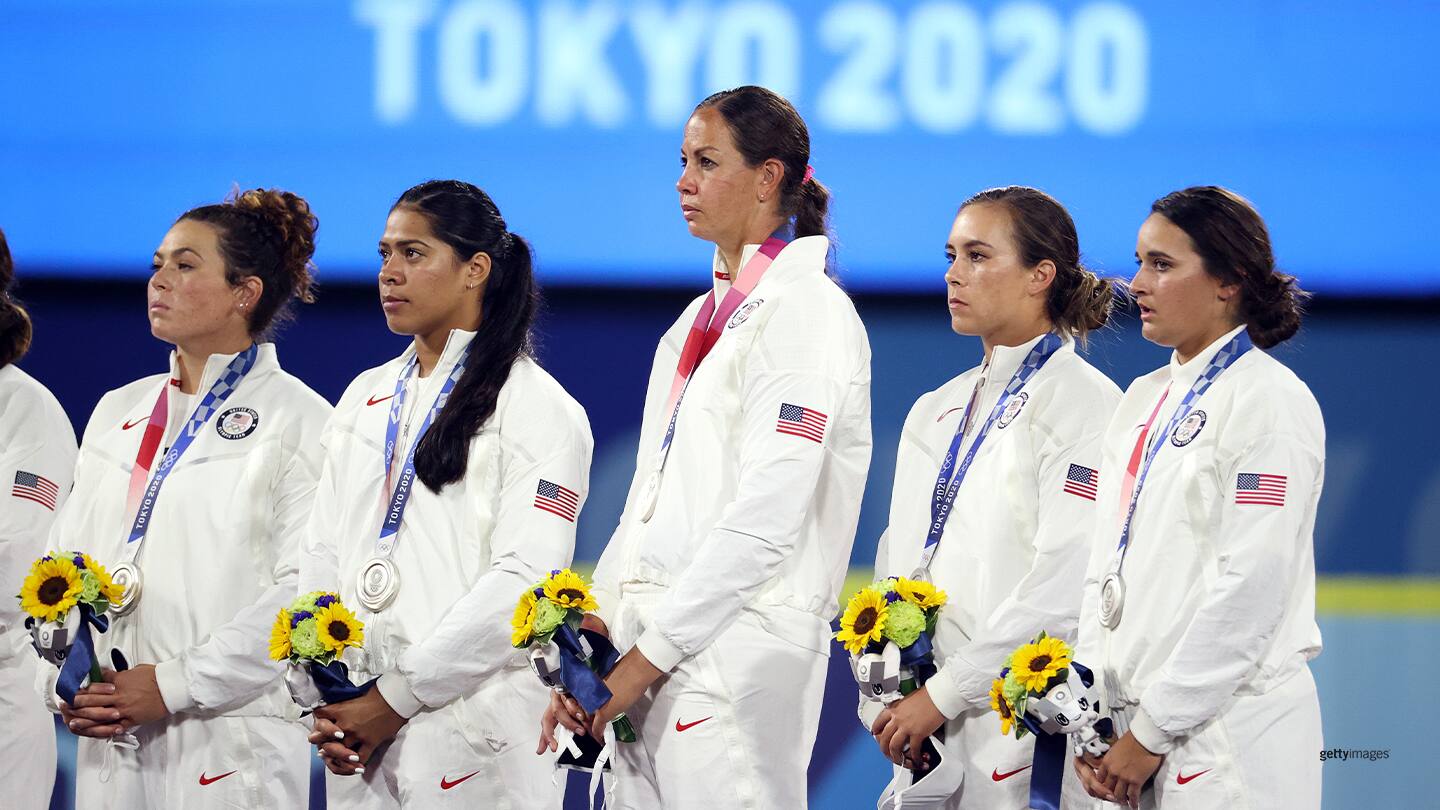 Team USA receives their silver medals after the Softball Gold Medal Game at the Olympic Games Tokyo 2020 on July 27, 2021 in Yokohama, Kanagawa, Japan.
Of course, there were times when the additional year "felt like Mount Everest," Osterman said, "but at the same time, I think it was completely worthwhile regardless of the outcome being silver. It was truly an incredible journey."

Although softball is not on the program for the Olympic Games Paris 2024, there is a chance it could return for the Olympic Games Los Angeles 2028. But Osterman emphatically says there will not be another comeback.

"I do not want to be 46 doing this," she said. "I won't ever rule out possibly throwing my name in the coaching pool, but as a player I have laced up the cleats for the last time. I have thrown in a game for the last time.

"The competitiveness in me is still there, but the desire to wake up and train to stay at the top of my game has waned a little bit – and when that wanes even a little bit, I know it's time to focus on something else."

Osterman is also glad to be retiring while she is still on top.

"I feel like the longer you stay in the game, the more you chance (leaving) not being on your own terms," she said, "whether it's your talent gets caught up with, or an injury. I don't want to leave feeling like I wore out my welcome or that I wasn't able to still compete."

She leaves behind a string of superlatives. As a standout pitcher at the University of Texas, Osterman was a three-time USA Softball National Collegiate Player of the Year, a four-time All-American and set the NCAA career record for strikeout ration (14.34). She had 20 career no-hitters with seven perfect games for the Longhorns with 2,765 career strikeouts and a 0.51 career ERA.

She made her first Olympic appearance at age 21 and said the individual highlight from her Games career is her eight-inning victory against Japan in 2004 that secured the No. 1 seed for Team USA.

"Just because I was the rookie, I was the youngest, and everyone had this strong belief in me going into that game against Japan," Osterman said, "and so I kind of rode the emotions of everyone else and the belief of everyone else."

She threw better than she ever had before in the 3-0 victory.

And Osterman's team highlight, obviously, was capturing that gold medal later in the Athens tournament. Osterman remembers spending most of the game warming up in the bullpen as Lisa Fernandez pitched against Australia.

"Lisa came in every inning saying, 'Hey, be ready.' I'm like, 'You're throwing a gem right now. I don't think I need to be ready, but I'm ready.'"

In the sixth inning, Osterman was still ready, but she went to the dugout because she couldn't see much from the bullpen. With two outs in the seventh inning, Osterman and the other players were holding hands in anticipation of the win, then realized they should spread out so it would be easier to jump the fence and rush the field.

"When that last out was made it was just an amazing sense of accomplishment, relief, excitement and – for the first time in my career – seeing so much hard work and dedication pay off," Osterman said.

And yet, she added, "If you had told me 17 years later that I would have been there (in Tokyo), I would have told you you were crazy."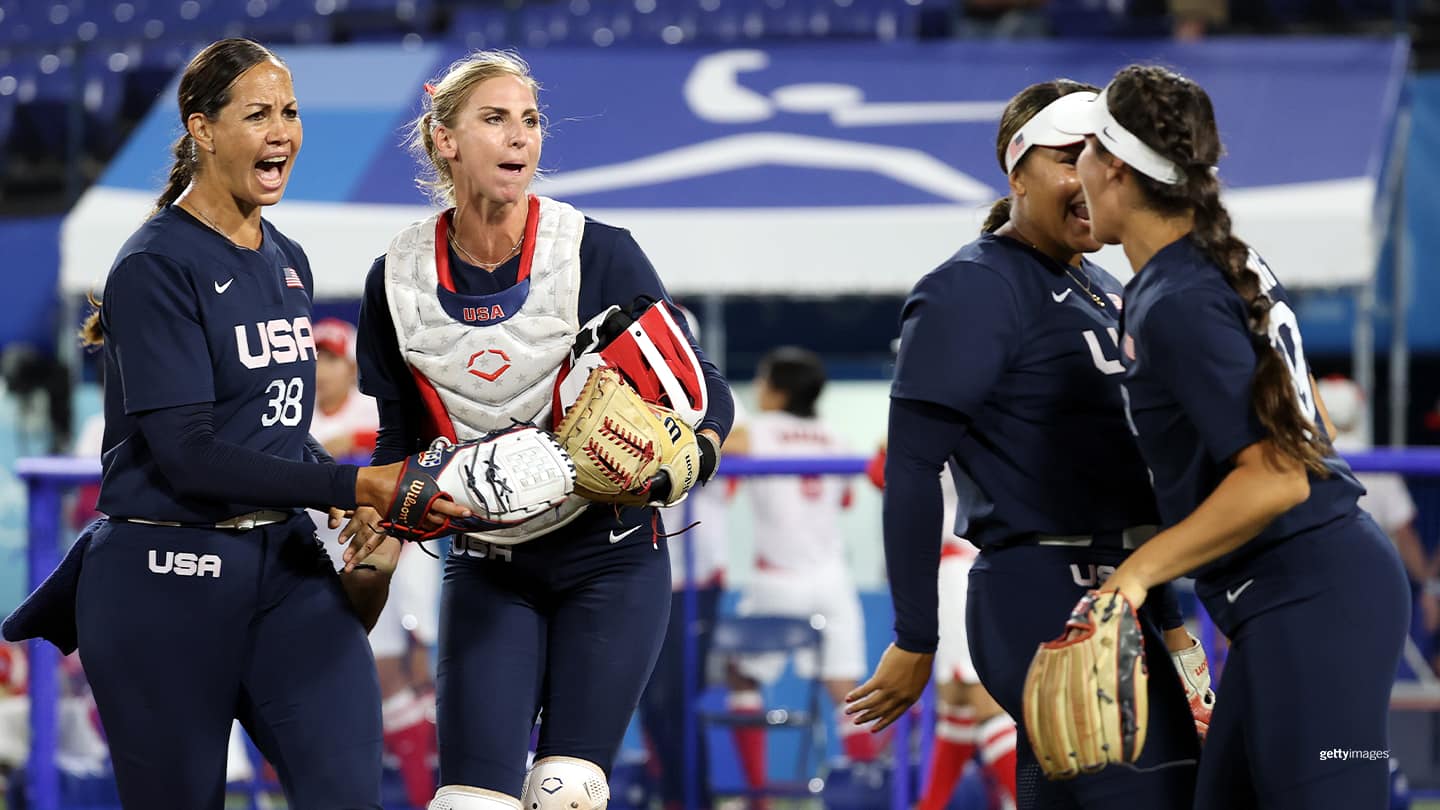 Cat Osterman and Aubree Munro return to the dugout during the Softball Gold Medal Game at the Olympic Games Tokyo 2020 on July 27, 2021 in Yokohama, Kanagawa, Japan.
Osterman said that if softball had never been dropped from the Games, she would have played in 2012 and probably 2016. However, she said her three-year retirement "did give me a little bit of a break that allowed me to be a little bit fresher coming back."

However, when Osterman made the team, she had to pick a new number since No. 8 now belonged to Haylie McCleney. Osterman briefly wondered if she should ask McCleney if she could have it back.

"Then I decided – I didn't un-retire for myself," Osterman said. "I un-retired to hopefully help this younger generation that thought they may never have an Olympic dream achieve the ultimate goal. I said, 'A number's a number, I really don't care.'"

She asked her family for suggestions for a new number. The obvious answer was 88, but Osterman felt it was too big. Her mom said her tryout number – 38 – was fitting since it had an 8 and this was Osterman's third Olympics. With the one-year delay, Osterman celebrated another birthday, so the number also stood for her age, which made it even more appropriate.

Osterman got the start in Team USA's first game at the Olympic Games Tokyo 2020, striking out nine batters in a 2-0 win against Italy. In Game 3 against Mexico, she retired the last 15 batters she faced in order for another 2-0 win.

She started the gold-medal game against Japan, then was replaced in the third inning. Team USA eventually lost, 2-0.

"Unfortunately, I had already had a situation like that in '08, where it was the biggest disappointment of my career at that point in time," Osterman said. "This time around, while I was disappointed, it hit me a tad different – to where I was disappointed, but it wasn't so much that I couldn't appreciate being able to say, 'You know what? We are silver medalists and that's something to be proud of because to be honest, I'd rather be a silver medalist than not a medalist at all.'"

She did get another gold medal for her trophy case, though, as the champion of Athletes Unlimited's inaugural season in 2020. She also pitched the first no-hitter in the league.

"Tokyo was supposed to be the only reason I came back," Osterman said. "Athletes Unlimited became a silver lining to the Covid situation. I'm honestly appreciative of that because it did a whole new turn for the sport of softball and all of us individually, but I knew that after Tokyo, and obviously Athletes Unlimited had season 2, that this was it."

She added that it was tough "just leaving the field for the last time and knowing the good parts of the game, I'm not going to experience those again, but I am definitely in a much better place than I truly expected."

And Osterman's not really leaving softball. She'll be on staff with the Texas Bombers, an 18-and-under team, coaching travel ball this fall. Osterman is also taking on the role of director of softball for a non-profit called RBI Austin, which helps the underserved population and underserved kids play baseball and softball while also offering academic support and mentoring.

"I'm not going too far away," Osterman said, "but the intimacy of playing, that's going to be separated."

But not forgotten.

"Cat's career has had an impact on the way the game has been viewed by both women and men," said Team USA coach Ken Eriksen. "She has left an indelible mark on the game as well as on many people across the country."
Karen Rosen has covered every Summer and Winter Olympic Games since 1992 for newspapers, magazines and websites. Based in Atlanta, she has contributed to TeamUSA.org since 2009.