Three-Time Paralympian Jarryd Wallace Grabs His First Medal, Bronze In The 200m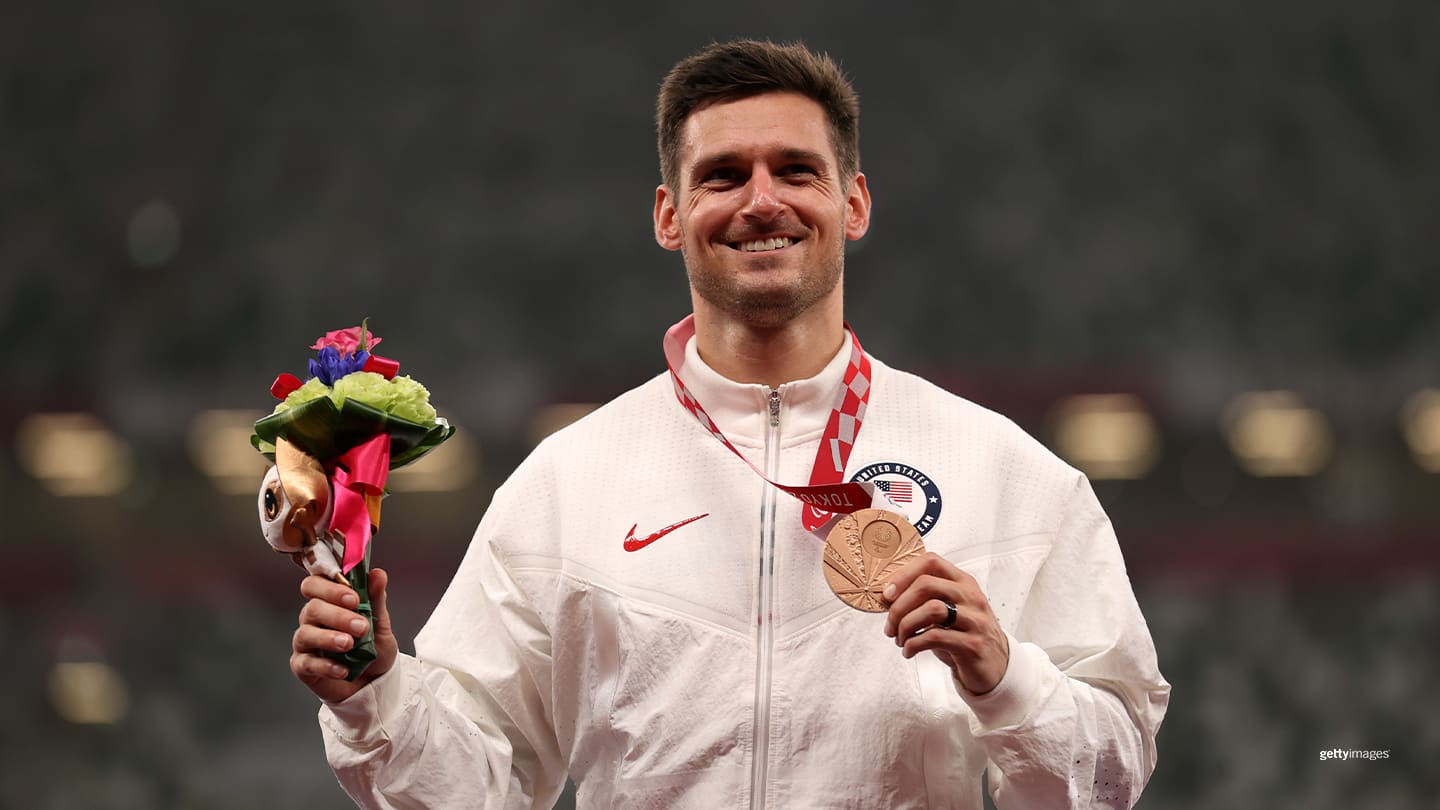 Jarryd Wallace poses on the podium during the medal ceremony for the men's 200-meter - T64 final at the Paralympic Games Tokyo 2020 on Sept. 04, 2021 in Tokyo.
TOKYO — After three Games and six total Paralympic events, Jarryd Wallace's first medal came in his last race on the last night of track and field at the Paralympic Games Tokyo 2020.

For the 31-year-old, putting down a time fast enough to earn a silver medal in the men's 200m T64 is still hard to believe. Probably because he doesn't even know how fast he ran.

"I don't even know what time I ran. I still don't know what time I ran," Wallace said to the room full of journalists.

22.09 was the reply.

"Oh, a season-best — perfect," he laughed.

Racing in his last event in Tokyo, after finishing sixth in the 100m T64 earlier in the week, the new dad was overcome with emotion.

"I still don't have words," he said, trying hard to catch his breath and fighting back the tears. "I still can't believe I'm here holding the flag. And shortly, I'll be putting on this beautiful white podium kit, getting on the podium and grabbing a bronze medal."

Wallace shared the podium with Germany's Felix Streng, who secured silver with his time of 21.78. Sherman Isidro Guity Guity of Costa Rica grabbed gold and a Paralympic record, crossing in 21.43.

"I'm 31. I'm getting up there and near the end of my career," he said. "To be able to have competed — placed bronze against the strongest amputee field in this Paralympic sport — is amazing."

Before tonight, Wallace's highest finish in a Games was in Rio in the 100m T44, where he finished in fifth.

He admitted that none of this would have been possible without the support of his wife.

"It might be a broken record, but man, she's sacrificed so much for me over the past few years to just continue to pursue this dream," he said. "She set her dreams aside and really did everything she could to support me. I wouldn't be standing here without her."

He's looking forward to getting back home to see his wife and their son, Levi, who will turn two in October.

The first thing he's going to do when he gets there?

"Little man and I are going to go hang out," he said. "He loves golf and basketball and just playing with dad, so just lock us in his playroom for a few hours and just let us have some time."

Wallace's teammate, Jonathan Gore, finished just behind him, with a time of 22.66.

"I didn't have the start that I wanted, but I executed it really well, and it kept me in the mix," he said. "Thank you to everybody that supported me."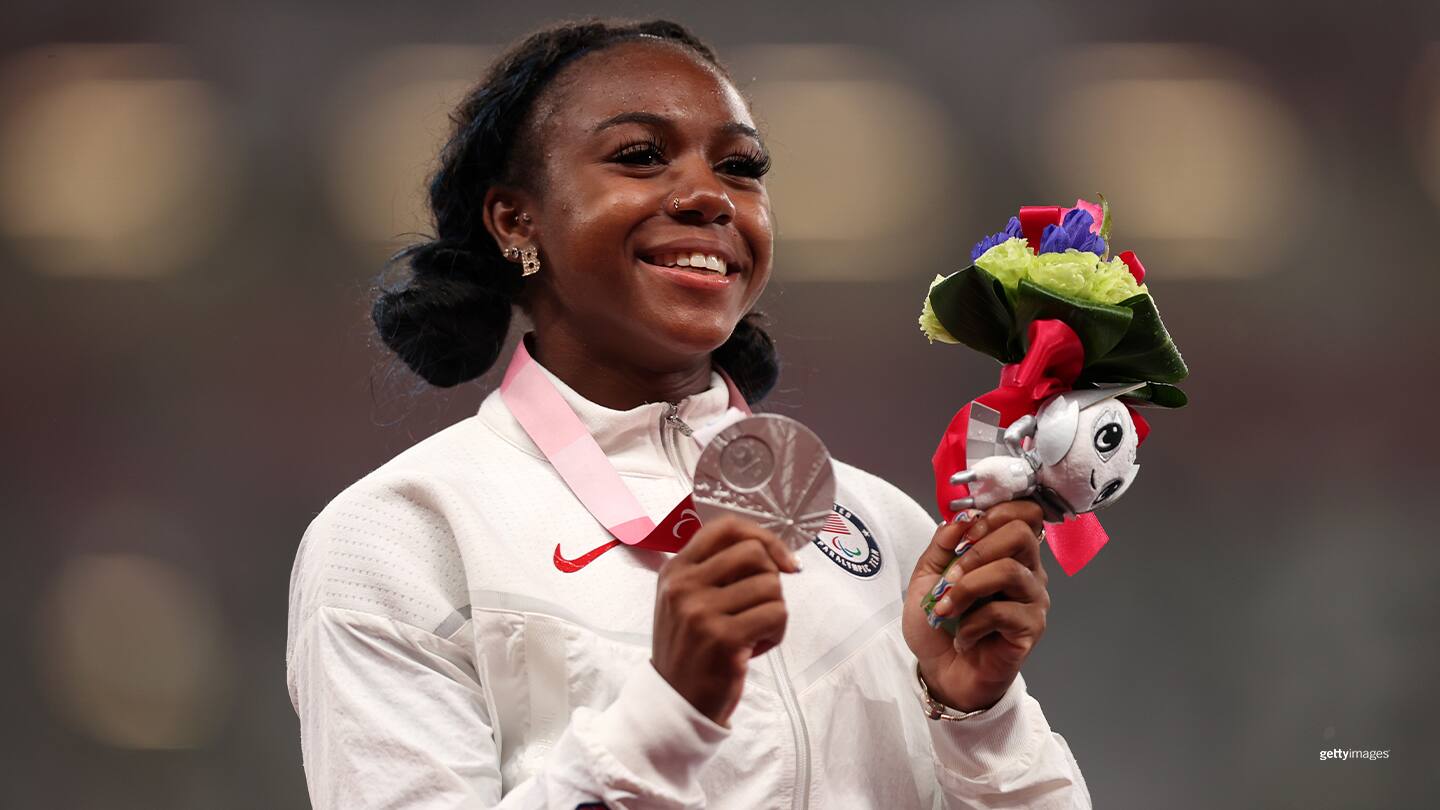 Brittni Mason poses on the podium during the medal ceremony for the women's 200-meter - T47 final at the Paralympic Games Tokyo 2020 on Sept. 04, 2021 in Tokyo.
Brittni Mason Secures Her Third Medal In Her Paralympic
Debut
Team USA's Brittni Mason closed out an impressive first Paralympic Games, earning her third medal of the Games on day nine.


In the women's 200m T47, the 23-year-old pushed off the line and quickly got comfortable amongst the lead pack. But after Venezuela's Lisbeli Marina Vera Andrade shot from behind, Mason would finish in second — with a time of 25.00 —and a new personal best.


It would also be a personal best for the gold medal winner and fellow first-time Paralympian, who clocked in at 24.52.


After finishing the event at the last world championships in fourth, Mason said her goal going into the race in Tokyo was, "I definitely wanted to be a top three," she said. "That's what I was shooting for. Decrease my time. Run my fastest time this season, and that's what I did."


The bronze medal would go to Alicja Jeromin from Poland, who was the silver medalist in Rio.


The high level of competition was something Mason said she was thankful for. "It definitely pushed me to be my best at these Games, and that's all you can ask for," she said. "It's not really a lot of fun if you don't push each other from different countries and have that competition and that exciting race."


Mason's teammate, Deja Young, crossed the line in fifth with a time of 25.53.

Athletics will conclude early tomorrow morning with the men's and women's marathon events. Closing Ceremony for the Paralympic Games Tokyo 2020 will follow later that night.

Want to follow Team USA athletes during the Paralympic Games Tokyo 2020? Visit TeamUSA.org/Tokyo-2020-Paralympic-Games to view the medal table and results.
Lisa Costantini is a freelance writer based in Orlando. She has covered Olympic and Paralympic sports for various publications, and has contributed to TeamUSA.org since 2011.