Nick Mayhugh Does It Again — Breaking A World Record He Set A Day Earlier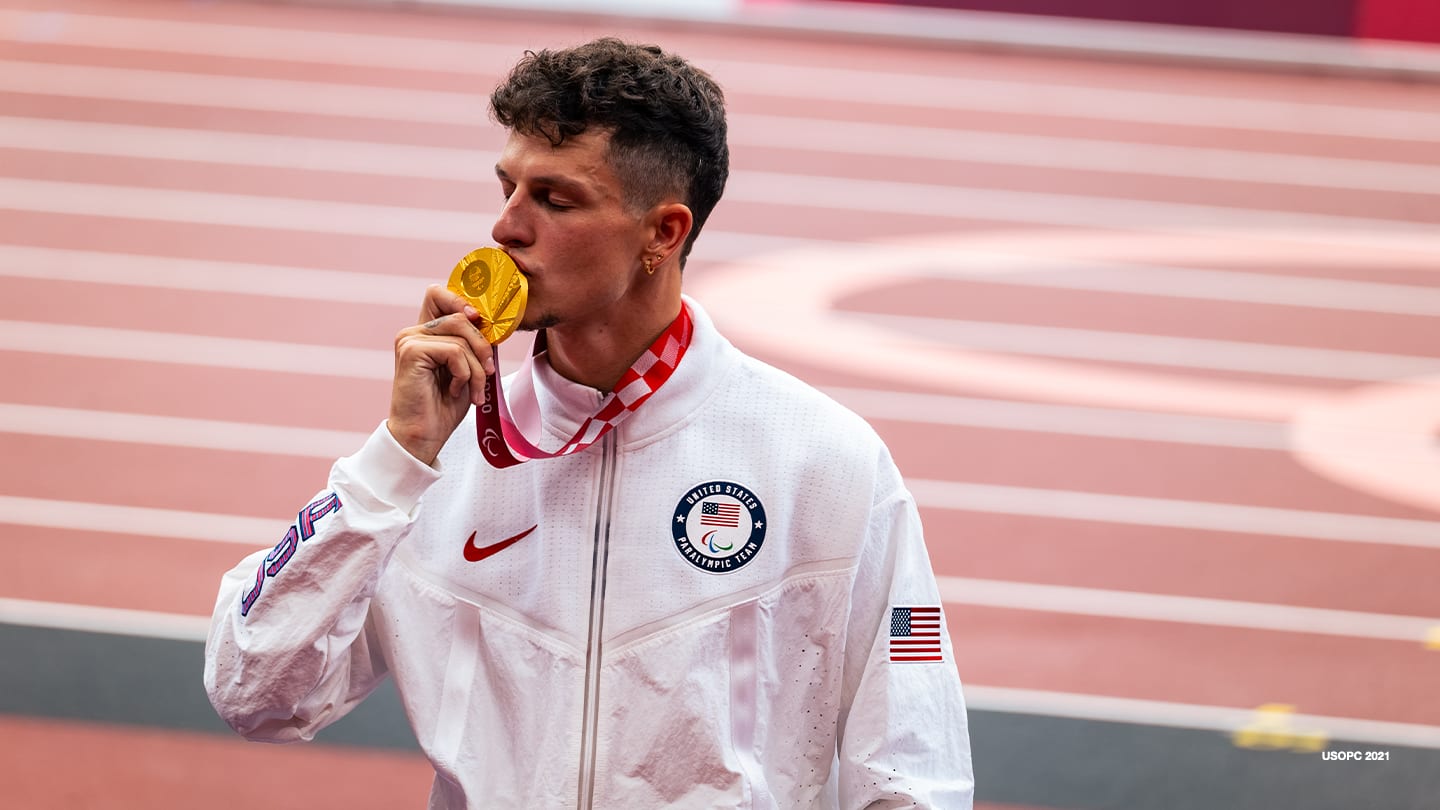 Nick Mayhugh on the podium during the medal ceremony for the Men's 200m - T37 Final at the Paralympic Games Tokyo 2020 on September 04, 2021 in Tokyo, Japan.
TOKYO — Nick Mayhugh will need an extra bag to take home all the medals he's won at his first Paralympics.

Racing in the last of his four events at the Paralympic Games Tokyo 2020, the 25-year-old went four for four —medaling in every event he entered — three of which were gold.

On top of the impressive medal tally, the Charlotte, NC native would set world record after world record after world record. In Saturday morning's men's 200m T37, Mayhugh broke the world record for the second time with his time of 21.91. It would be his third WR of the Games.
NO SLOWING NICK!@nickmayhugh x #TokyoParalympics pic.twitter.com/HG5Dpx1UZl


— Team USA (@TeamUSA) September 4, 2021

At the start of the 10-day tournament, Mayhugh was confident in what he could do in Tokyo.

"I know what I'm capable of," he said. "I know I can come here and medal in every single one of the events I'm running in."

And he did.
THAT MAYHUGH MAGIC.

In four events, @nickmayhugh is taking home 3 golds, 1 silver and 3 world records. All of this? In his @USParaTF Paralympic debut. #TokyoParalympics pic.twitter.com/L5GLhE40lG


— Team USA (@TeamUSA) September 4, 2021
This morning's gold medal on the final day of track would be in addition to the one he received the night earlier after racing in the first-ever 4x100m universal relay. The U.S. team of Tatyana McFadden, Brittni Mason, Noah Malone, and Mayhugh would earn the event's first gold.
Only 18 months ago, the first-time Paralympian switched from soccer to track and field, getting voted U.S. Soccer Player of the Year with a Disability in 2019.
"Football is my first love. It's second nature to me, so to try to learn this entire sport in a year and a half is completely insane," he said. "But I'm here now."
When he returns home, Mayhugh said he's looking forward to enjoying a vacation where he'll "eat as many Oreos as possible."
But after that, "The first thing I'll ask is, 'What's next?' Let's go make some more history!"
Three Bronze Medals For Three Team USA Athletes
Alexa Halko chased Great Britain's Hannah Cockroft long before today's morning final at Tokyo's Olympic Stadium.
It was Cockroft's name she saw on the jersey ahead of her when she crossed the finish line in the women's 800m T34 in Rio 2016 to claim the silver. And it was her name she saw again in today's race.

Cockroft set a new Paralympic record with a time of 1:48.99, grabbing the gold and beating the time she put down in Rio. She was just shy of breaking her world record time of 1:48.87.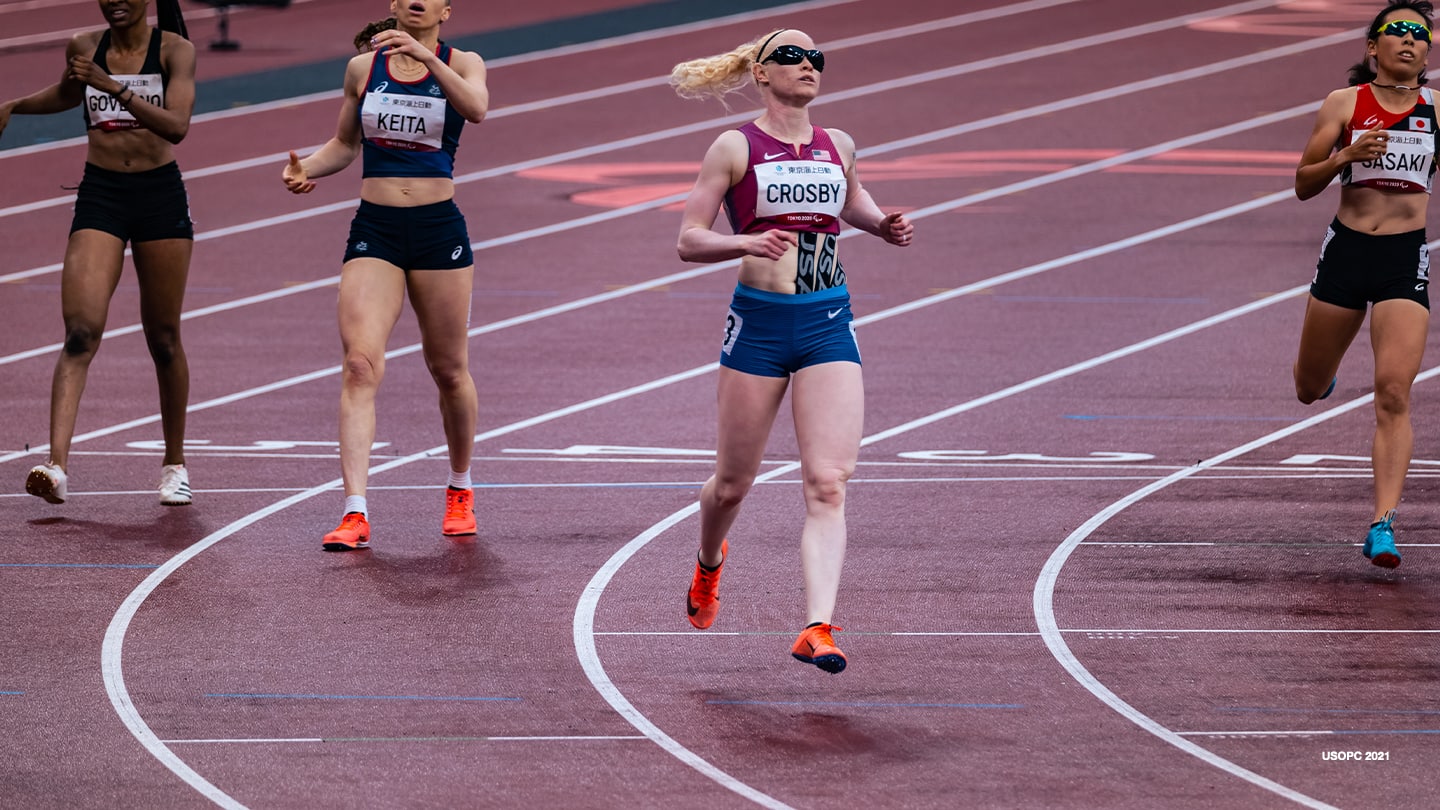 Kym Crosby in the women's 400m (T13) final at the Paralympic Games Tokyo 2020 in Tokyo on September 4, 2021..
The silver medal also went to Great Britain with a time of 1:59.85 for Kare Adenegan.

"I got to race against the two competitors I always do, so it was awesome to try to chase them and just go as fast as I can on their tails," Halko said.

After finishing with the bronze medal and setting a season-best performance with a time of 2:02.22, the 21-year-old two-time Paralympian said having the world record holder racing ahead of her definitely "keeps you going. I want to get that gold, and I want to get to the top," she said.

Halko's teammate, Eva Houston, finished in sixth with a time of 2:21.21.

Rounding out the three bronze medals in today's session was Isaac Jean-Paul in the men's long jump T13 and Kym Crosby in the women's 400m T13.

Jean-Paul, 28, concluded his first Paralympic experience with a souvenir: a new bronze medal. After finishing just off the podium in the men's 100m T13, the Gurnee, IL, native would grab bronze in the men's long jump T13 after a distance of 6.93 meters on his sixth attempt.

He said the event started rocky with a foul on his second jump, "jumping off the wrong leg, but I finally put it together," Jean-Paul said. "I got my nerves together," and "it feels amazing!"

Azerbaijan's Orkhan Aslanov (7.36) gold, with Spain's Ivan Jose Cano Blanco (7.04) taking silver.

In the women's 400m T13, two-time Paralympian Crosby, 28, ran away with the bronze and a time of 56.79 — leaning just enough at the line to inch out France's Nantenin Keita (57.17).

"I had no idea that I came in third while crossing that finish line. So hearing it just was a shock to me. I was so excited," Crosby said after learning about her podium finish from a team member. "Having the visual impairment makes it hard to know what my time was and what place I got.

"The same thing happened to me in Rio. I didn't know that I got bronze for the 100 until way afterward. I was going to leave the track until somebody was yelling."

Like Mayhugh, Crosby also medaled in every race she competed in at the Tokyo Games. She earned her first bronze medal in the women's 100T13, where she went a time of 12.08.

In this morning's event, she raced a new personal best, finishing just behind Spain's Adiaratou Iglesias Forneiro, who took the silver (55.53) and Azerbaijan's Lamiya Valiyeva in first (55.00) with a Paralympic record time.

"I just ran it how I knew I needed to run it — not based off of anybody ahead of me or behind me. I just needed to run my own race, and to me, I executed it pretty well," Crosby said.

Twenty-year-old Erin Kerkhoff of Team USA finished with a time of 58.06.

Athletics will conclude early tomorrow morning with the men's and women's marathon events. Closing Ceremony for the Paralympic Games Tokyo 2020 will follow later that night.

Want to follow Team USA athletes during the Paralympic Games Tokyo 2020? Visit TeamUSA.org/Tokyo-2020-Paralympic-Games to view the medal table and results.
Lisa Costantini is a freelance writer based in Orlando. She has covered Olympic and Paralympic sports for various publications, and has contributed to TeamUSA.org since 2011.