Men's Goalball Bronze Medal Match Ends 10-7 With Lithuania Taking The Win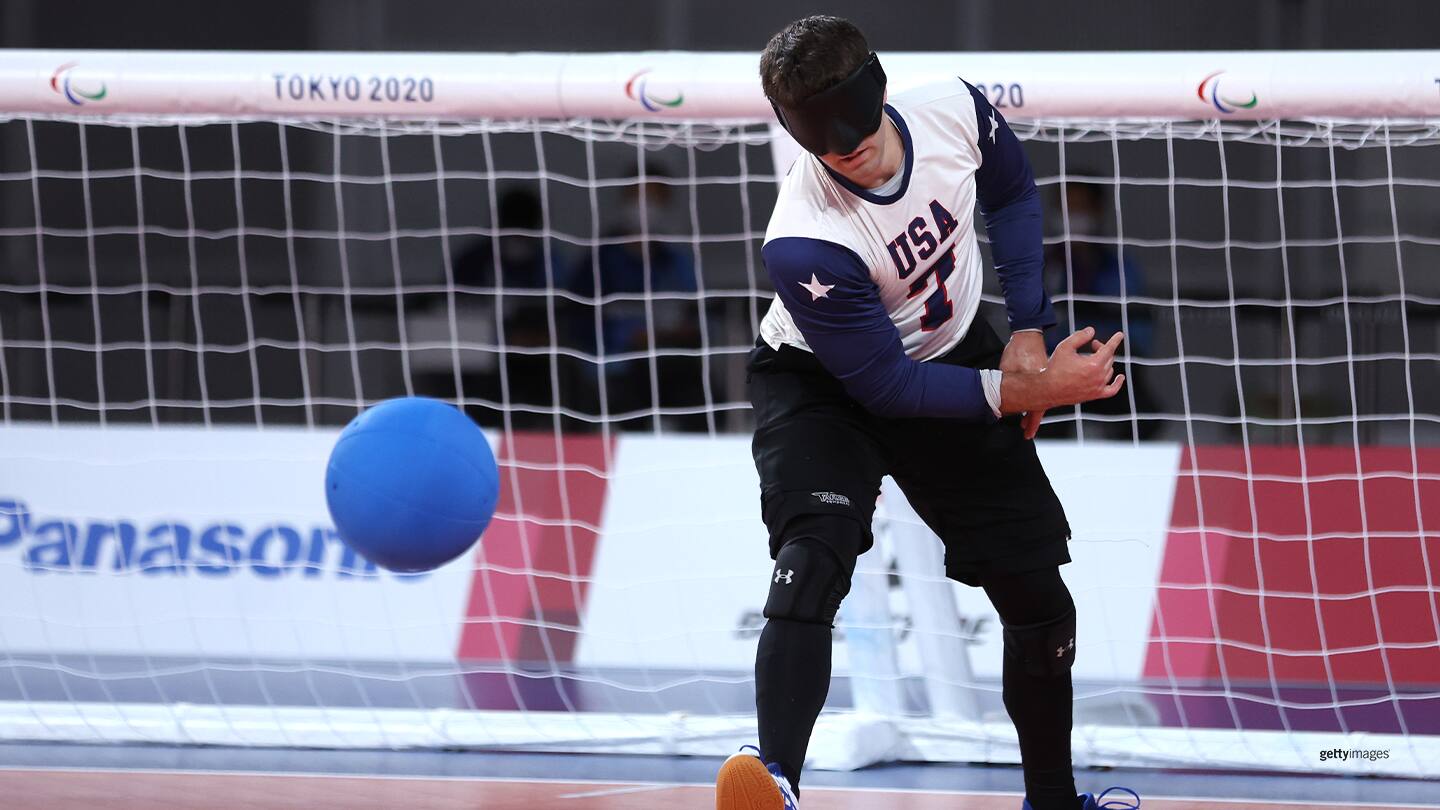 Matt Simpson shoots against Lithuania during the Paralympic Games Tokyo 2020 on Sept. 03, 2021 in Chiba, Japan.
TOKYO — Friday afternoon's game between Team USA's men's goalball and the defending champions, Lithuania, was a game that had played out before. In Tokyo — where Lithuania beat out the Americans with a score of 13-3 in the final preliminary round game — and at the last Paralympics.

Playing against one another in Rio in 2016, the teams faced off in the fight for gold. Ultimately Lithuania would finish victorious 14-8.

But Team USA was hoping today's outcome after 10 days of play at Makuhari Messe Hall would be different.

In an agonizingly hard-fought battle between the two powerhouses, Lithuania would walk away with the bronze after a steady-scoring game with the outcome of 10-7.

For Daryl Walker, who was one of the four guys on the team in Rio, it felt great to get the team's first goal after 12 minutes in and down 2-0. A straight shot into the back of the net is a move Walker has become known for.

"Anybody who knows me, they know that I'm that guy that loves throwing that shot. It's clean, it's fast, and it's smooth."

"It felt really good to plug that in," Walker said. "Five years ago, when I played in the gold medal match against Lithuania — which was cool that we were playing for the bronze this time — I scored one goal in that game. And to be able to get that early in the game —and even starting that game — was amazing."

Earlier in the tournament, the team was able to come back from a devastating blow when their team captain, Tyler Merren, was injured.

"We lost our team leader, our best player, we lost him in the first half of the first game," Matt Simpson said, who was responsible for a pair of points in today's game. "Losing Tyler as we did and for us to end up in the top four was a real win for us."

The team was also down first-time Paralympian Zachary Buhler, 24, who was sitting out the medal match as a form of strategy should the game go into extra throws.

It quickly became a team effort for the remaining four guys, with everyone putting up two points. John Kusku was the sole scorer, getting in the first point in the second half.

The game started fast and furious when Walker threw a ball that landed long, giving Lithuania their first point with less than 15 seconds in.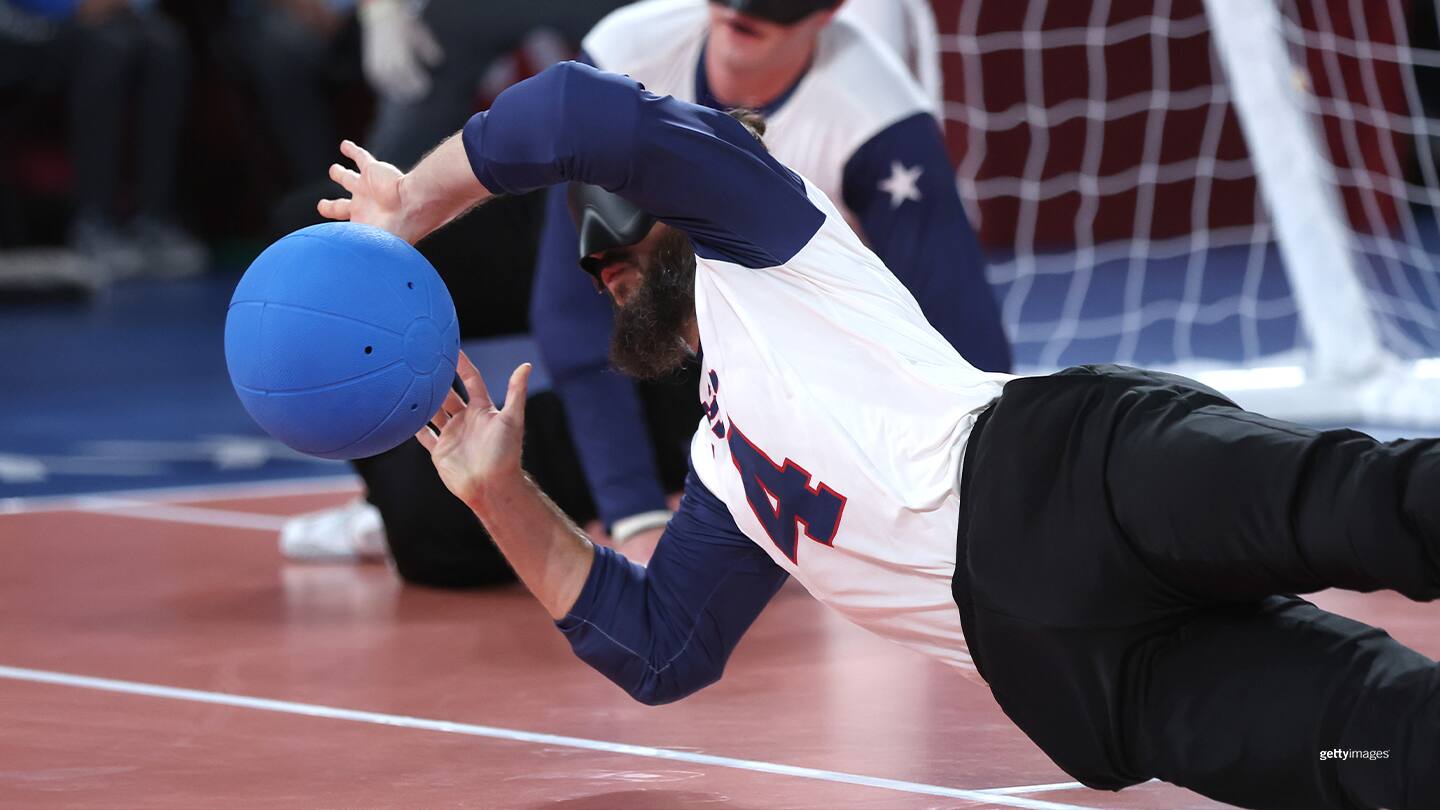 John Kusku makes a save against Lithuania during the Paralympic Games Tokyo 2020 on Sept. 03, 2021 in Chiba, Japan.
The team's biggest goal scorer, Calahan Young, evened out the game shortly after. And by the end of the hard-fought first half, Lithuania would narrowly be ahead, up 3-2.

A couple of penalties in the second half by Team USA kept the score from being closer, and by the time the margin had widened to four, the U.S. was never able to recover.

"We don't give up. We fight," Simpson said about being behind throughout both halves. "We don't stop until the last throw or the last possession. We did that today."

But after losing to Brazil 9-5 in the other semifinal match, Lithuania was looking to prove something by securing a podium finish.

"We knew that they were going to come out swinging, that it would literally be a fistfight," Walker said. "We just basically had to go out there with the same amount of intensity that they were going to bring. Otherwise, they were just going to walk all over us, and we did not want that to happen."

After 24 minutes of play, the U.S. was off the podium when the hooter sounded, but their spirits were still high — and so was their energy level.

"I feel like I could play another tournament," Young, 26, joked at the end of his first Games. "If this were a pool play, I would still be good."

But for now, they look ahead to Paris 2024.

"Knowing all the guys fighting for the team back home, knowing all the stuff we've been able to put in place to build a strong program. It's going to be really exciting for three years to make a strong push for Paris," Simpson added.

"Our goal was set for gold and we came in fourth, so it's going to motivate me and drive me to dominate in Paris," Young concluded.

In the men's gold medal match, Brazil defeated China by a score of 7-2.

Want to follow Team USA athletes during the Paralympic Games Tokyo 2020? Visit TeamUSA.org/Tokyo-2020-Paralympic-Games to view the medal table and results.
Lisa Costantini is a freelance writer based in Orlando. She has covered Olympic and Paralympic sports for various publications, and has contributed to TeamUSA.org since 2011.