U.S. Women's Sitting Volleyball Team Holds Off RPC To Move On To Friday's Semifinals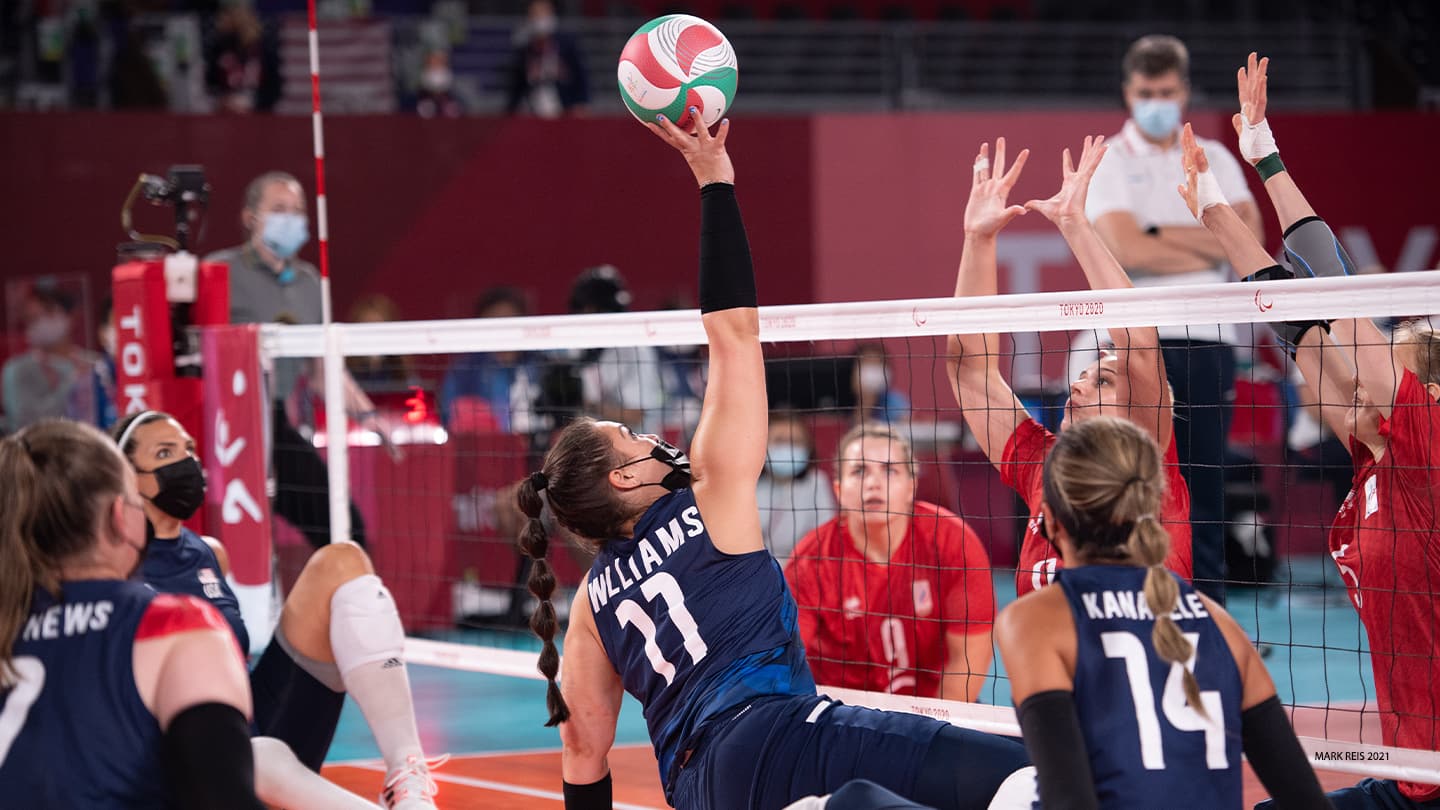 Jillian Williams attempts to block a shot during a match against the Russian Paralympic CommitteePC at the Paralympic Games Tokyo 2020 on Sept. 1, 2021 in Tokyo.
With the U.S. leading 24-22 and about to serve for match point in a must-win women's sitting volleyball encounter Wednesday, the Russian Paralympic Committee called a time out.

U.S. coach Bill Hamiter took the occasion to offer his team a little advice.

"Let your training do the work," Hamiter told his players during the break.

The Americans returned to the court at Makuhari Messe Hall, and Heather Erickson immediately served for the deciding point that gave the U.S. a 3-0 victory over the RPC (25-19, 25-15, 25-22) and propelled the defending Paralympic gold medalists into the semifinals.

The U.S., which scored the final five points of the third set, will face Brazil, a 3-1 winner over Italy, in the first semifinal on Friday. China and Canada will square off in the other semifinal.

"We know them pretty well," said Hamiter of Brazil. "Of course, we'll start looking at the video that we have, breaking things down, start our preparations tonight, actually, so we can go through our practice plans tomorrow."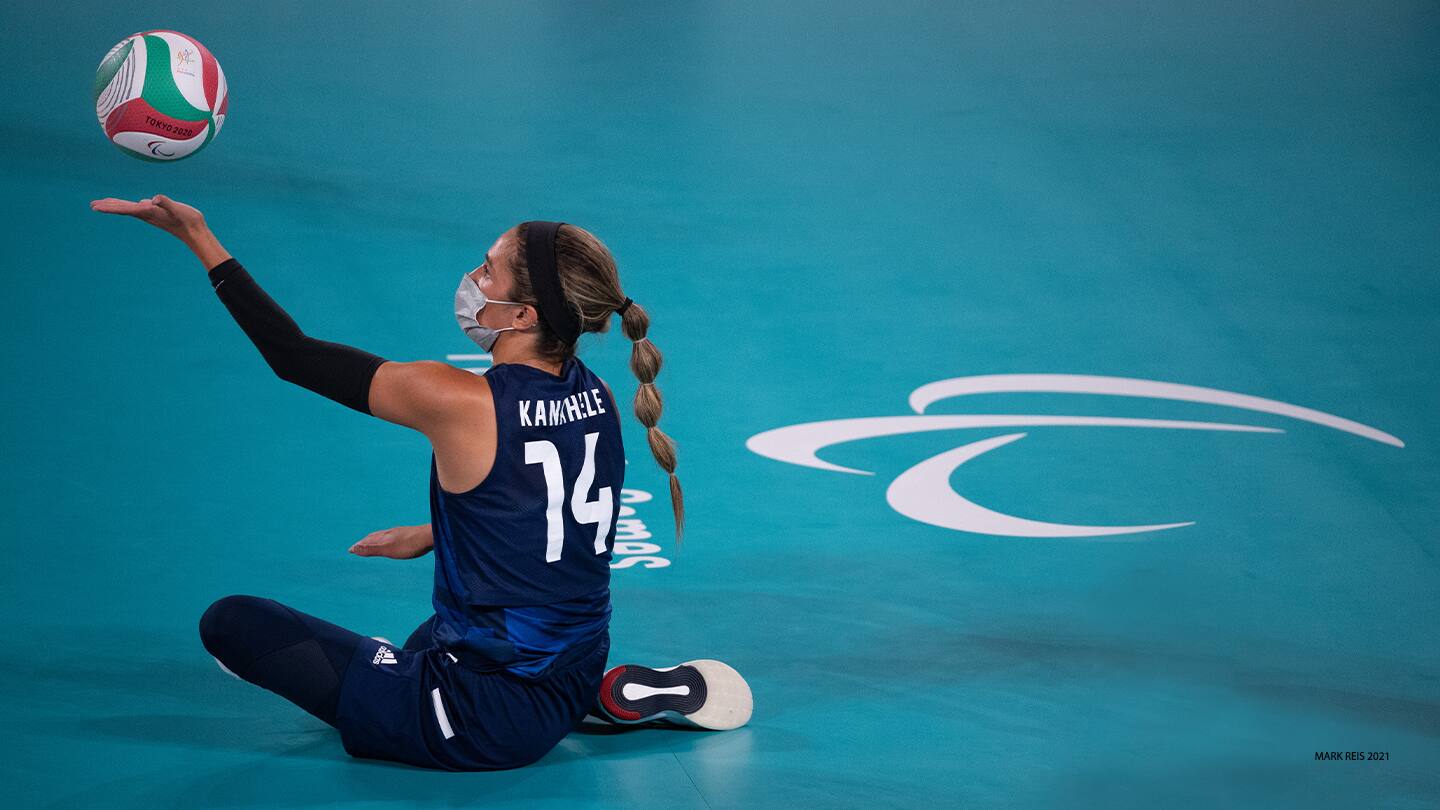 Kaleo Kanahele Maclay serves the ball during a match against the Russian Paralympic Committee at the Paralympic Games Tokyo 2020 on Sept. 1, 2021 in Tokyo.
The U.S. and the RPC had entered the match with identical 1-1 records in Pool B preliminary round play. They had each defeated Rwanda in straight sets but lost 3-0 decisions to China. The U.S. was coming off the loss to China.

"We sided out way better today than we did against China," Hamiter said. "I don't know that we attacked better. I think it was maybe more well-timed plays, some things like that.

"Our vision of the court was way better today — seeing blocks, seeing what's open, making smart shots, limiting our errors — all those little things that matter."

After the Americans won the first two sets with relative ease, the RPC fought back to lead most of the way in the third set and threatened to extend the match.

"I don't know if they were feeling as much pressure as I was," Hamiter said of his players. "Every one of the games that I've coached, we've always had to win one of those matches to make it into the medal rounds. So, we're used to it, but it's always one of those things where you sweat it out.

"I liked the first two sets, and then that third set (we) had to struggle a little bit, but then (had) a great comeback."

The U.S. battled back and eventually tied it at 20-20 on a Lora Webster serve. The RPC scored the next two to go up 22-20, but then the Americans went on their closing spurt to put away the match.

"What we did today directly built off of what we tried to work on yesterday," Webster said. "In the third set, we came out behind, and we had to dig ourselves out of a hole, and there was no frantic energy.

"Everybody was calm. We all knew what we had to do. And that just goes to show what we worked on yesterday really showed up on the court, and I'm just excited by what we did."

According to Webster, as the Americans head into the semifinals, they will focus on what they can control on their side of the net.

"People are going to falter, but it's a team sport for a reason," Webster said. "So, we've got to figure out how to pick each other up, and we did that here. And as long as we continue to do that, then we'll be on the right trajectory going into the semifinals and, hopefully, into the finals."
Want to follow Team USA athletes during the Paralympic Games Tokyo 2020? Visit TeamUSA.org/Tokyo-2020-Paralympic-Games to view the medal table and results.
Bob Reinert spent 17 years writing sports for The Boston Globe. He also served as a sports information director at Saint Anselm College and Phillips Exeter Academy. He is a contributor to TeamUSA.org on behalf of
Red Line Editorial, Inc.