U.S. Women's Sitting Volleyball Team Off To Perfect Start With Win Over Rwanda
Nichole Millage dives for the ball at the Paralympic Games Tokyo 2020 on Aug. 28, 2021 in Tokyo.
U.S. libero Bethany Zummo used knitting to control her thoughts as she prepared through the COVID-19 pandemic for the Paralympic Games Tokyo 220.

"I swear, I haven't had a panic attack only because I keep crocheting," said Zummo, a two-time Paralympian and the U.S. defensive specialist. "I'm just saying to myself, 'I'm going to keep crocheting, and everything's fine.'"

Zummo and her U.S. women's sitting volleyball team weaved their way to a 3-0 victory in their Pool B preliminary round opener Saturday at Makuhari Messe Hall as they seek their fifth straight medal and second consecutive gold medal.

The top-ranked Americans put away No. 8 Rwanda in straight sets, 25-11, 25-9, 25-11. The match was over in just under an hour. The U.S. faces second-ranked China on Monday. China defeated the U.S. to win Paralympic gold in 2008 and 2012.

Except for trailing briefly in the first and second sets, the Americans were dominant throughout the match. Kathryn Holloway led U.S. scorers with 11 points, followed by Lora Webster with 10 points. Heather Erickson and Jillian Williams contributed nine points apiece.

Webster and Monique Matthews each had four blocks for the U.S.

Webster, pregnant with her fourth child, is playing in her fifth Paralympic Games. Holloway and Erickson are both making their fourth appearances, while Williams was in her debut.

Zummo related how it was a pleasure just to travel to the Games and get onto the court after dealing with the pandemic for so long.

"We were warming up, and I was in the serve, serve, receive (drill), and I tell you, I have never been happier," Zummo said. "I'm where I'm supposed to be. I'm comfortable. I've been playing this for 11 years."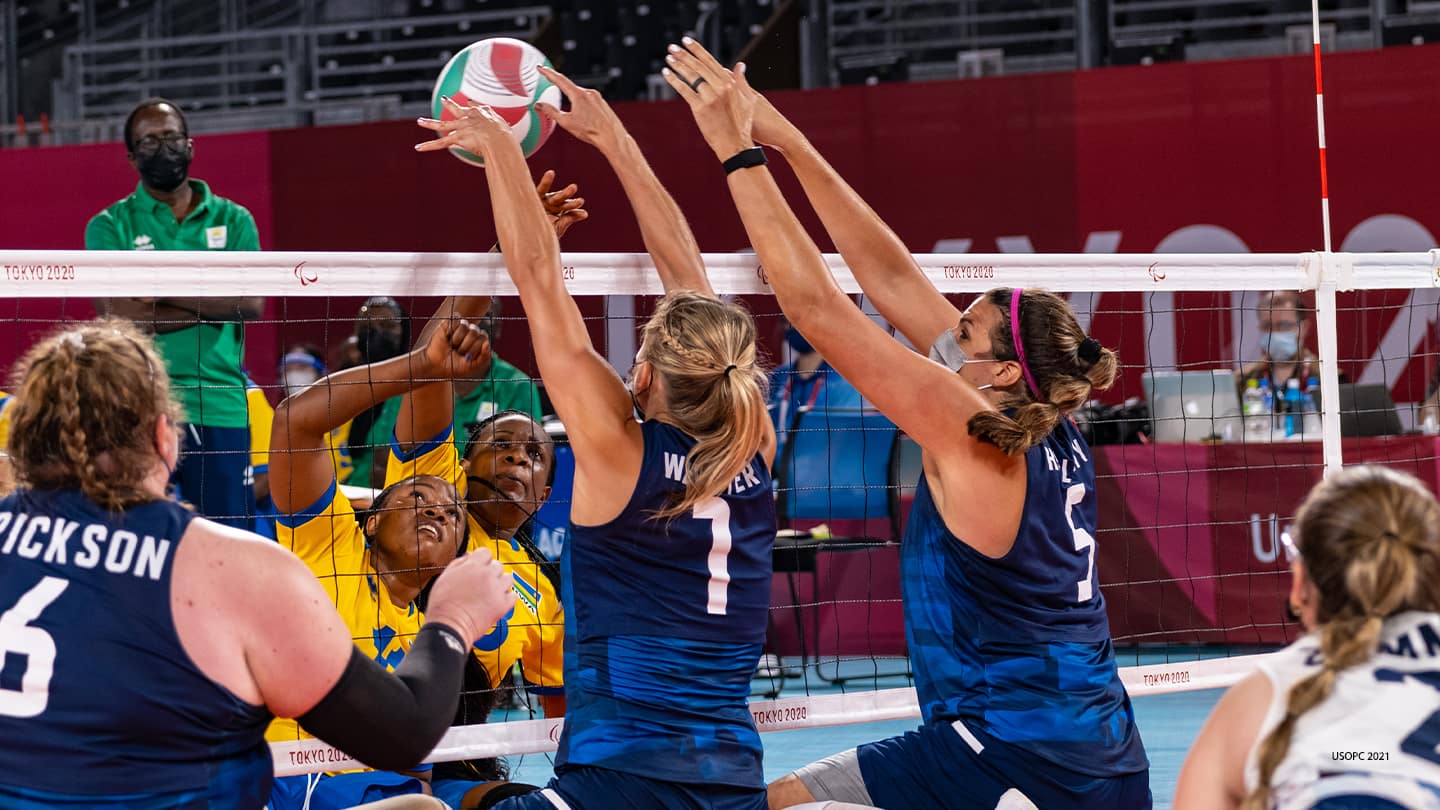 Bob Reinert spent 17 years writing sports for The Boston Globe. He also served as a sports information director at Saint Anselm College and Phillips Exeter Academy. He is a contributor to TeamUSA.org on behalf of
Red Line Editorial, Inc.