News
Monique Burkland Matthews
What To Know About Sitting Volleyball Heading Into Tokyo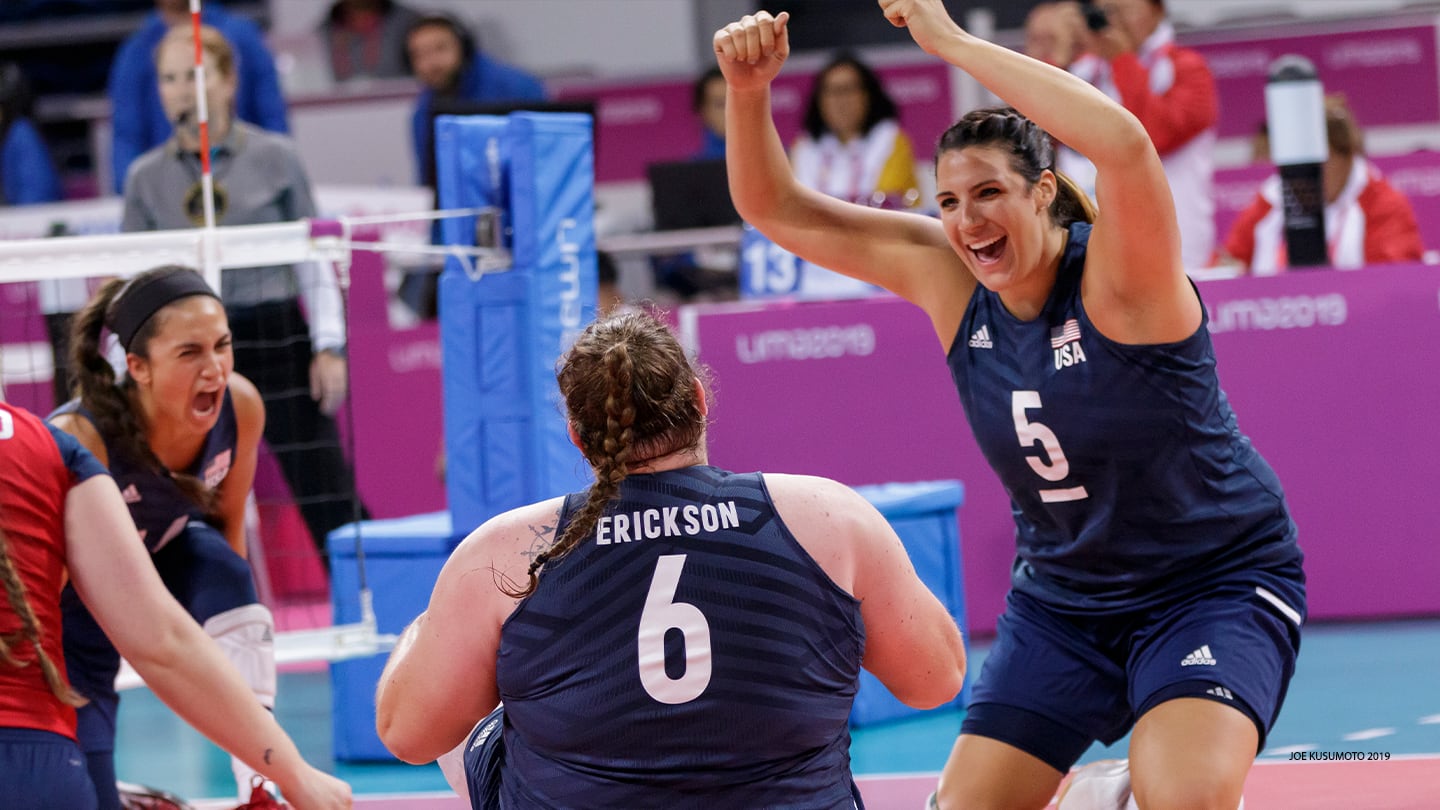 Katie Holloway celebrates a point at the Parapan American Games Lima 2019 on Aug. 28, 2019 in Lima, Peru.
The No. 1-ranked U.S. Women's Sitting Volleyball Team will not only be aiming for its fifth straight medal and second consecutive gold at the Paralympic Games, it could also give the American women an unprecedented Tokyo triple.

Team USA already claimed the women's indoor volleyball and women's beach volleyball gold medals at the Olympic Games, and so a women's sitting volleyball Paralympic gold would complete the sweep.

Since women began playing the sport at the Paralympics in 2004, Team USA has made the podium at every Games — starting with a bronze in Athens, silver in Beijing and London and then the gold in Rio. The team was named "Best Paralympic Team" at the 2016 Team USA Awards.

Eight of the 12 players on the Tokyo squad are returning from the 2016 U.S. Paralympic team.

Lora Webster will be playing in her fifth Games – and you could say she's playing for two.

A month ago the middle blocker announced that she is pregnant with her fourth child. Webster, who turns 35 on Aug.26, is due in early 2022.

"With my family and @usav_sitting_wnt supporting me, the goal of GOLD remains the same," she said. "This baby is just along for the ride."

Katie Holloway, Heather Erickson and Nichole Millage will appear in their fourth Games while Monique (Burkland) Matthews and Kaleo Kanahelo Maclay are three-time Paralympians. Two other players return from Rio: Lexi Shifflett and Bethany Zummo.

Whitney Dosty, Emma Schieck, Jillian Williams and Annie Flood will make their Paralympic debuts in Tokyo.
"Our strength has been and still is our offense, especially our transition offense," said coach Bill Hamiter. "But we're also pretty good from the service line. Those bode well for us."
With the exception of losing the 2018 World ParaVolley Championships to Russia – a defeat which still rankles the American players – Team USA has been the dominant country on the women's side the past five years.

Team USA won the 2019 World ParaVolley Super 6 gold medal as well as the gold at the 2019 Parapan American Games.

Throughout 2019 Team USA won all 25 of its matches, dropping just 10 sets out of 85 while experimenting with lineups throughout the season.

The Americans defeated Russia eight times in 2019, including three times in the World ParaVolley World Super 6 without losing a set. Based on such a stellar record, the sitting volleyball team was named USA Volleyball's Team of the Year for 2019.

"I honestly think it was due to our team dynamic," Matthews, an outside hitter, said at the time. "When we get along better off the court, it shows up on the court. We end up trusting each other more. When we are playing, we are having fun. Everything just clicks together when having fun."

Erickson agreed that chemistry was integral to the team's success.

"It brought us more together," she said, "and it made us realize that we can't be complacent with what we are doing and we have to keep working."
Unfortunately, the pandemic brought everything to a standstill.

"It's been slow, especially after having a whole year off and training at home because you can only do so much at home," Matthews told paralympic.org.

However, she said when the athletes finally got back together the team was "probably at a good 80 percent of where we were when we left off."

The team, which is based at the University of Central Oklahoma, started having training camps again in February 2021.

"I feel our setting has gotten a lot stronger," Matthews said. "Our hitting has been strong and we can really rely on all six players on the court. We also have a deep bench…We keep getting better each year and pushing each other."

In June, Team USA hosted Canada, winning a series of friendly matches, and then celebrated the Fourth of July by winning the Golden Nations League Tournament in Assen, Netherlands. The Americans beat Russia 3-1 (27-25, 25-19, 25-27, 25-18).

Holloway, an outside hitter, led all scorers in the final with 23 points on a match-high 16 kills and also led all players with six blocks. Matthews added 19 points on 11 kills with a match-high three aces and five blocks.
Several countries are looking to unseat the Americans as Paralympic champions. Team USA is in Pool B and will face No. 8 Rwanda, No. 2 China and No. 6 RPC (Russia) in Mukhurai Messe Hall A in Tokyo.

China won the gold in three straight Paralympic Games before losing to Team USA in 2016 and was the 2018 world bronze medalist. Tang Xuemei, who lost her leg at age 14 in the 2008 Wenchuan earthquake, competed in London, although not in Rio, and is expected in Tokyo.

Rwanda was the first women's team from sub-Sahara Africa in 2016 and has also qualified for Tokyo. Rwanda is captained by Lilianae Mukobwankawe, who was voted "Best Spiker" at the 2019 African Sitting Volleyball Championships.
Pool A is composed of Brazil, Italy, Canada and Japan.

Brazil, which won its first medal in sitting volleyball in 2016 – the bronze - is led by Suellen Cristine Dellangelica Lima, who was part of the team that won the silver medal at the 2019 Parapan American Games.

Italy won the silver medal at the European Championships to become the first Italian sitting volleyball team – male or female – to qualify for the Paralympics. Silvia Biasi is a defensive specialist for Italy.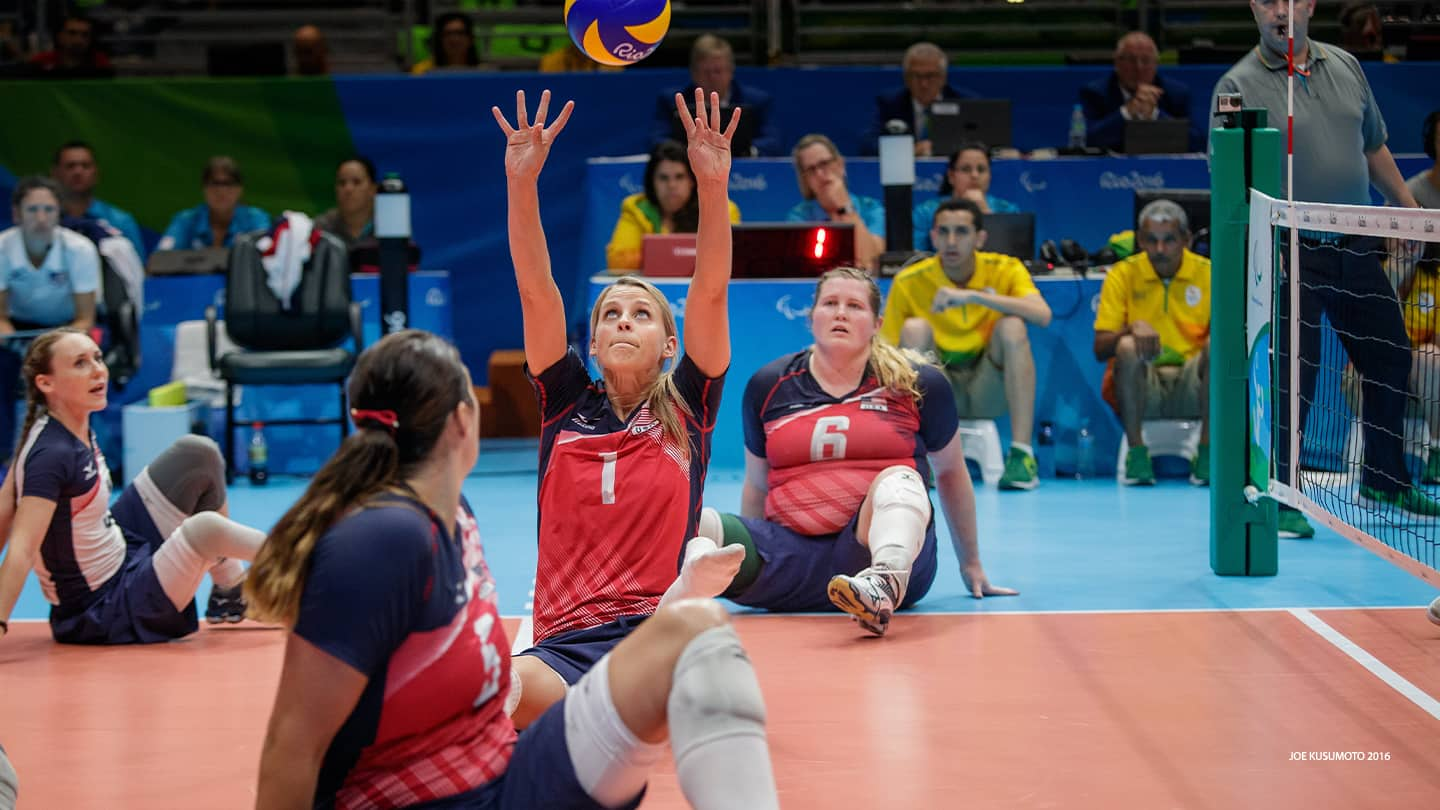 Lora Webster competes at the Paralympic Games Rio 2016 on Sept. 12, 2016 in Rio de Janeiro, Brazil.
Sitting volleyball is a much faster game than standing volleyball because the court is much smaller (10 meters by 6 meters) and the net is only about a meter high. The rules are similar with six players on a side.

Players must have quick reaction time since they are so much lower to the floor. They slide around the court using the power of their arms without leaving a sitting position. Since players can cover only a small area that makes teamwork imperative.

Players are not allowed to lift their torso off the floor when in contact with the ball. An exception occurs when the ball is played in a defensive action below the net height at the moment of ball contact.

The libero is a specialist defensive player who wears a different color uniform than the rest of the team and may not play any attacking shots.

Serves can be returned by blocking or spiking. Each team is allowed three touches of the ball (in addition to a legal block) before it must cross over the net.

Each match has a maximum of five sets, with the winner the first team to 25 points (15 in the fifth set) while being two points ahead of the opposition.
Webster was the inaugural recipient of USA Volleyball's All-Time Great Female Sitting Volleyball Player Award and was player of the year in 2004 and 2007. She was named "Best Blocker" at the 2016 Paralympics. Webster was diagnosed with bone cancer in her left tibia age age 11. She later underwent a procedure to remove the cancerous bone, which included the knee, and in 1998 was fitted with prosthesis.

Matthews made her Paralympic debut in London where Team USA lost to China in the gold-medal match. She had 31 points on 23 kills, six blocks and two aces at her first Games. In Rio, she helped Team USA defeat China 3-0 to win the gold.

Matthews was named USA Volleyball Sitting Player of the Year in 2015, 2017 and 2019 and was "Best Server" at the 2017 World ParaVolley Super 6.

She became an amputee after her left foot was smashed between two forklifts in an accident at her workplace. Matthews was an all-state softball player in high school and also participated in athletics and basketball. According to her Instagram profile, she is obsessed with cats and zombies.

Holloway was named Best Blocker at the 2018 World ParaVolley Championships in the Netherlands while Maclay was named "Best Setter" and Zummo was "Best Libero," the title for a specialist defensive player. Team USA was the only squad with three members of the "Dream Team" while Russia had two and China had one.

Holloway, the best spiker of the 2012 Paralympics, was born with fibular hemimelia in her right leg. Her parents decided to amputate the affected part of her leg when she was 20 months old. While playing for Cal State-Northridge, Holloway was the only woman to compete with a prosthetic limb in the history of Division I basketball. She hosts a Paralympic podcast called "Inside ParaSport."

Maclay began training with the U.S. team when she was 12 years old. She was named Most Valuable Player and "Best Setter" at the 2019 ParaVolley World Super 6. Maclay was born with a club foot. She underwent a tenotomy when she was 9 months old that placed pins through the toe and heel bones, but left her with limited calf flexibility and muscle.



NBCSN has plans to air some live coverage of sitting volleyball with streaming for some matches also available on
NBCOlympics.com
the NBC Sports app. All times are EDT.
Saturday, Aug. 28: No. 1 USA vs. No. 8 Rwanda (1 a.m.)
Monday, Aug. 30: No. 1 USA vs. No. 2 China (5:30 a.m.)
Wednesday, Sept. 1: No. 1 USA vs. No. 6 RPC (5:30 a.m.)
Friday, Sept. 3: Semifinals at 5:30 a.m. and 7:30 a.m.
Saturday, Sept. 4: Bronze-medal match at 3:30 a.m.; Gold-medal match at 9 p.m.
Karen Rosen has covered every Summer and Winter Olympic Games since 1992 for newspapers, magazines and websites. Based in Atlanta, she has contributed to TeamUSA.org since 2009.