Chris Mazdzer & Jayson Terdiman Hope To Make Luge History at 2022 Beijing Games
Chris Mazdzer and Jayson Terdiman compete in the Men's Doubles during the 50th FIL Luge World Championships 2021 on Jan. 30, 2021 in Koenigssee, Germany.
In late September, Chris Mazdzer was in Sochi, Russia, training on the 2014 Olympic luge track. It was the defending Olympic silver medalist's first time sliding since last March, and he was gearing up for what he hopes will be a historic year.

At the upcoming Olympic Winter Games Beijing 2022, Mazdzer wants to become the first luger since 1976 to win men's singles and doubles luge medals at the same Games. Currently, he is the only slider competing in both singles and doubles luge — a difficult task given that the starts, track lines, and speeds are different.

He also wants to add a team relay Olympic medal to his collection.

"Honestly, I felt so good coming into the season," said Mazdzer. "We have all new equipment, we were just really psyched about it."

Mazdzer's doubles partner, Jayson Terdiman, also wants to make history, wryly adding that he aims to become the first doubles luger to slide with three different partners in three different Olympic Games. Terdiman finished 11th at the Olympic Winter Games Sochi 2014 with Christian Niccum and 10th at the Olympic Winter Games PyeongChang 2018 with Matt Mortensen. He teamed up with Mazdzer in 2018 after Mortensen retired.

But the path to these 2022 Olympic goals became rockier when Mazdzer hit an icy fin with his right foot during a run on the Sochi track. His fourth and fifth toe metatarsals shattered upon impact. He also broke his ankle on the icy fin, which was created by ice melt building up on the track.

It was only his second day sliding this season. Mazdzer and Terdiman have yet to slide together in the pre-season.

After the injury, which did not even cause Mazdzer to crash, he flew back to Lake Placid, New York, for surgery. He now has pins in his foot — with cadaver paste and chips reshaping the bone — and is unable to put weight on it until the end of November.

Still, his goal has not changed.

"Will it potentially change?" Mazdzer said in an interview at USA Luge headquarters in mid-October. "I don't know. I'm just taking it day by day, week by week. I don't know how it's going to play out."

But "adversity is a good motivator," he added.

Terdiman is taking it in stride — at least he appears to be.

The 32-year-old luge veteran is all too familiar with the fickle fate of doubles, where each slider is dependent on the health of the other. At the 2018 Olympic Winter Games, Mortensen slipped a disc in his back two days before the Opening Ceremony. After finishing third in the overall world cup standings in 2017, the two had been medal contenders in PyeongChang until Mortensen's injury.

This go-round, time is on Terdiman and Mazdzer's side, and Terdiman is remarkably chill.

"It's still October," he said. "Chris seems to be healing well, which is good. I'm going to keep the faith as long as I can, until somebody tells me it's not happening."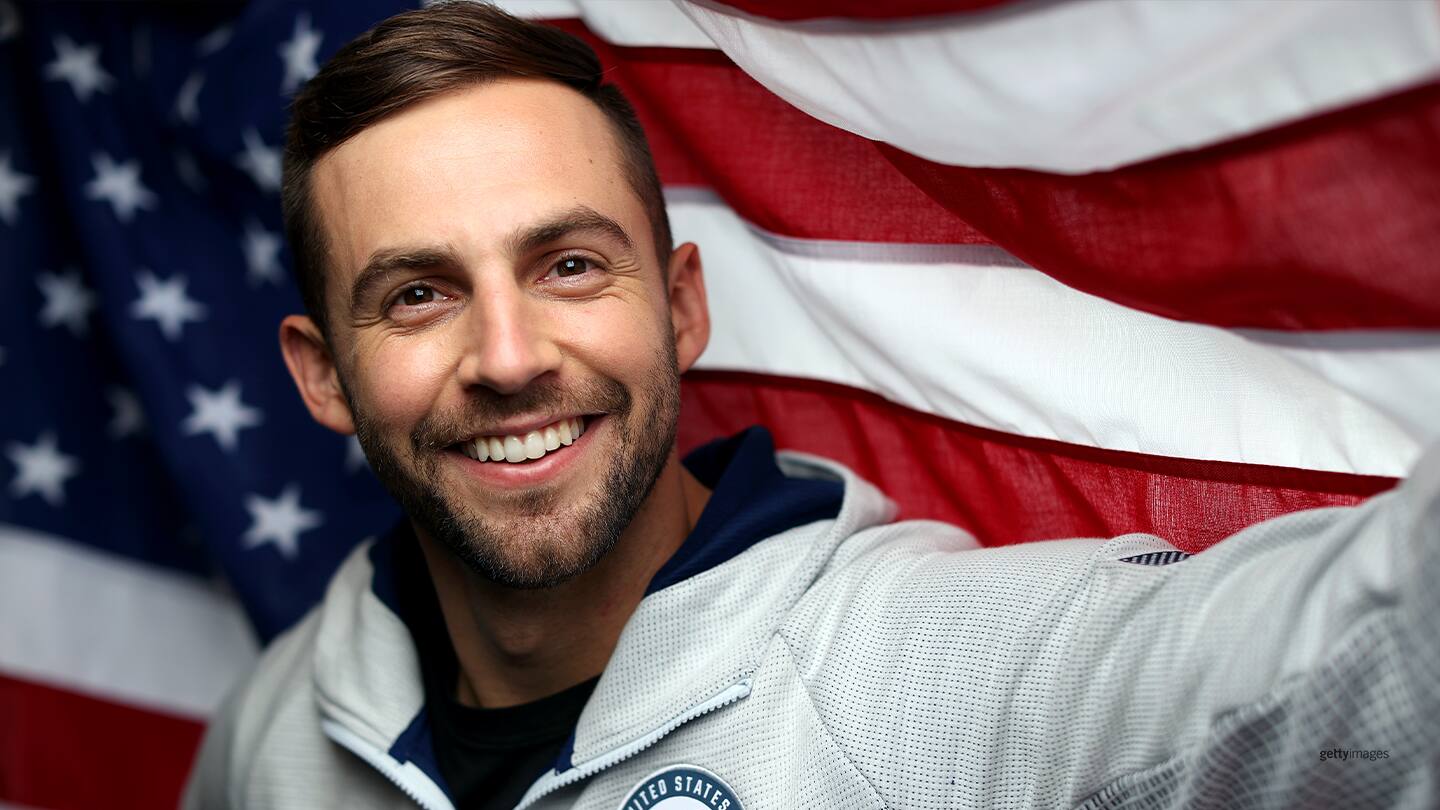 Chris Mazdzer poses for a portrait during the Team USA Beijing 2022 Olympic shoot on Sept. 12, 2021 in Irvine, California.
After Mazdzer won an Olympic silver medal in 2018 — becoming the first non-European luger to win a medal in men's singles — he paired with Terdiman in doubles. With Mortensen's retirement, Terdiman needed a new partner.

In many ways, the band was back together. Mazdzer and Terdiman competed in doubles as juniors, winning a junior world championship bronze medal in 2007 and a silver in 2008. On the junior world cup tour, they claimed six silver medals and finished second overall in 2008.

At the time, USA Luge was ripe with doubles teams. With little hope of qualifying in doubles for the Olympic Winter Games Vancouver 2010, Mazdzer switched to singles. Over the next eight years, he scored 10 world cup podium finishes in singles and four wins.

At both the 2010 and 2014 Olympic Winter Games, Mazdzer finished 13th in men's singles. Then in PyeongChang, his third Olympic Games, he won the silver medal.

But Mazdzer has always considered himself a better doubles slider. So, when Terdiman needed a doubles partner, Mazdzer stepped up to the sled. At one of their first world cups — the 2018 Lake Placid World Cup sprint race — they won a silver medal.

While the two have struggled with injuries — besides Mazdzer's recent foot fracture, Terdiman had shoulder surgery last February, and Mazdzer has had back and neck issues — they have had success in the team relays, winning several world cup medals in the discipline.

And at the 2020 FIL World Championships, they helped Team USA win a bronze medal in the team relay, then finished fourth at the 2021 world championships also in the relay.

This past summer, Mazdzer — who lives in Salt Lake City with his wife Mara and their six-month-old baby Nicolai — came to Lake Placid and took a few runs down USA Luge's indoor start ramp with Terdiman.

"Things were going in a very good direction," said Terdiman.

Shoulder rehab had helped Terdiman get into "the best shape of my life." He also purchased a new doubles sled, which the duo was going to try for the first time in Sochi last month. In a sport where technology is as important as fitness, the new sled is key to their Olympic medal quest. They had been using a sled designed for Terdiman and Mortensen, who is smaller than Mazdzer.
Jayson Terdiman poses for a portrait during the Team USA Media Summit on September 25, 2017 in Park City, Utah.
Mazdzer is hoping his surgeon clears him to slide in time for the first world cup on the Beijing track in late November. He will likely slide with a cast on his foot.

Terdiman has been sliding mostly singles as he waits for Mazdzer's return.

Mazdzer now heads into his fifth Olympic cycle (and hopefully fourth Olympic Games) as an underdog. The underdog mentality him train harder so on race day, he can "compete like a champion."

"But training, absolutely, it's makeup time," he added. "We've got a lot of work to do."

The two will be competing with other talented young USA Luge doubles teams for the Olympic spot. Should the duo qualify for the 2022 U.S. Olympic Team, then win medals in Beijing, Mazdzer would join four other lugers who have claimed medals in both singles and doubles at the same Olympic Games.

At the 1968 Olympic Winter Games, Manfred Schmid (Austria), Thomas Kohler (East Germany), and Klaus Bonsack (East Germany) won gold, silver, bronze, respectively, in luge singles. Then in doubles, Kohler and Bonsack won the gold medal while Schmid teamed with countryman Wald Walch for silver. Then at the 1976 Games, Hans Rinn from East German won an Olympic bronze medal in singles and gold in doubles.

With Mazdzer's return to luge out of his control, Terdiman is both hopeful and philosophical about their chances.

"I need to detach from the result," he said, "and be prepared best I can."
An award-winning freelance writer based in Vermont, Peggy Shinn has covered six Olympic Games. She has contributed to TeamUSA.org since its inception in 2008.