After Beating Breast Cancer, High Jumper Chaunté Lowe Advocating For Awareness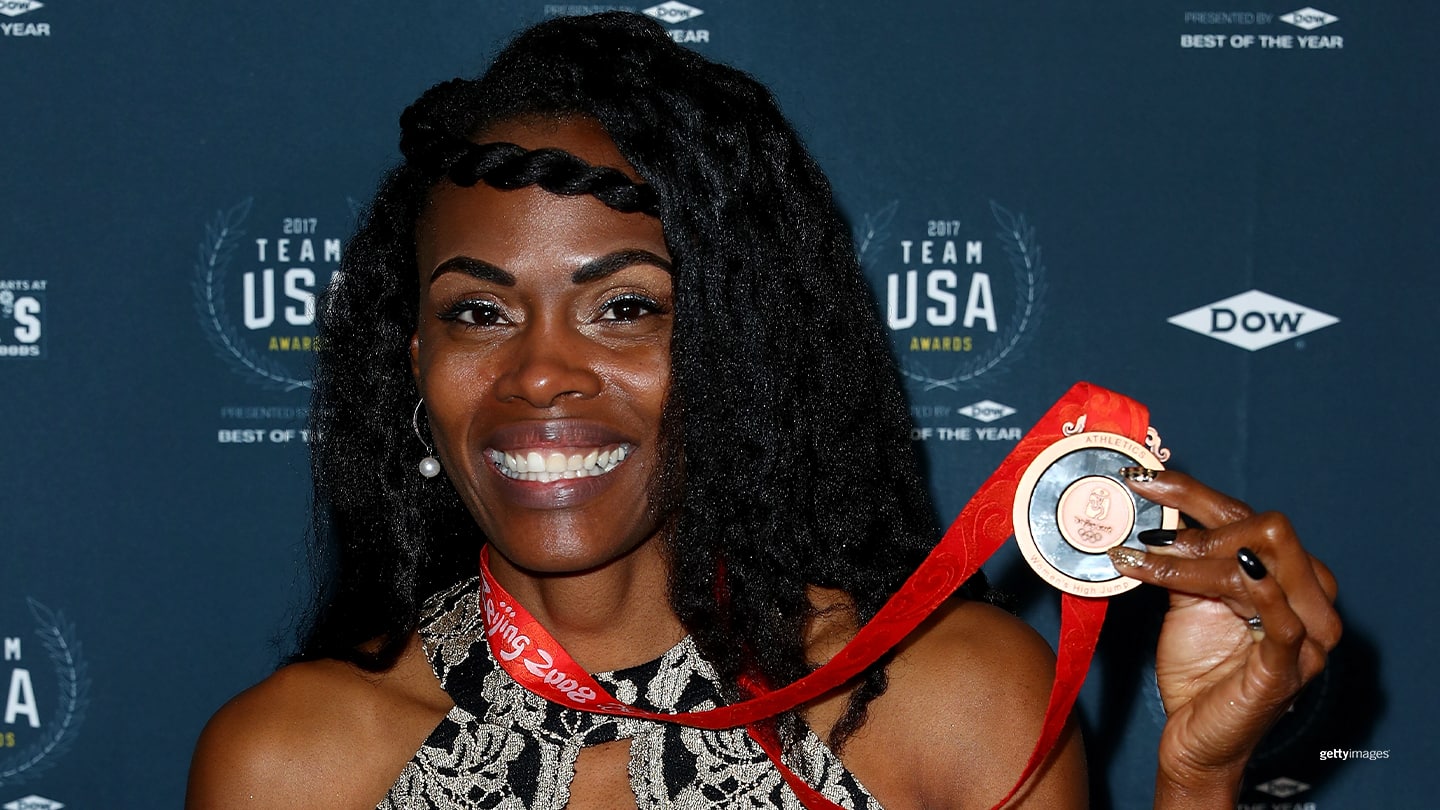 Chaunté Lowe attends the 2017 Team USA Awards on Nov. 29, 2017 in Westwood, Calif.
Four-time Olympic high jumper Chaunté Lowe is raising the bar for breast cancer awareness.

After being diagnosed with the disease two years ago at age 35, Lowe is now cancer-free. Yet the 2008 Olympic bronze medalist continues to champion the expansion of resources and support for those facing breast cancer, especially in the African American community, while urging people to be proactive by knowing the risks and getting tested.

October is Breast Cancer Awareness Month, but for Lowe the mission is front and center every day of the year.

"I think that sometimes not everybody likes to share and talk about what they're going through," she said. "It's a very personal, very emotional situation, but I felt like there was no way that I couldn't share it if there was a chance that even one life would be saved."

Lowe is a Global Ambassador for the American Cancer Society and earlier this month became the spokesperson for a new partnership between pharmaceutical company Eli Lilly and patient advocacy group Susan G. Komen. The initiative will provide increased resources in support of black women facing breast cancer in Indianapolis, Chicago and St. Louis.

The high jumper, who recently began training for the 2022 indoor and outdoor seasons, knows she can make the greatest impact by lifting her voice.

"I feel that I'm a mouthpiece," said Lowe, who is the American indoor and outdoor record holder in her event. "I love to talk, and so I'm very vocal about it on any platform that I have."

Her battle against breast cancer drew international attention in 2019 and in the lead-up to the Olympic Games Tokyo 2020, with appearances on NBC's "Today Show," CNN and in various newspapers and websites. Lowe also has a thriving speaking business where she gives talks at events and does corporate coaching.

"I always find a way to tie that in there," she said of her advocacy.

According to the CDC, about 42,000 women and 500 men in the United States die each year from breast cancer.

"There are a lot of very abysmal numbers," Lowe said. "There's a statistic that one in eight women in their lifetime will be diagnosed with breast cancer, but when it comes to African Americans, we have found that the outcomes for breast cancer compared to our white counterparts are very alarming -- that black women are 40 percent more likely to die of breast cancer.

"And a variety of factors go into that: systemic racism, lack of information, hereditary factors, lack of research and not having access to resources. So my advocacy work is toward addressing those barriers."

As a competitive athlete, Lowe has a bigger stage to get the word out.

She competed in her first Olympic Games in 2004 when she was 20. The NCAA champ from Georgia Tech placed sixth in both Beijing and London, then finished fourth in 2016, wondering if her best shot at an Olympic medal had just slipped through her fingers.

It turned out that Lowe's performance eight years earlier should have put her on the podium. When the Beijing doping samples were re-tested – which is standard practice – Lowe found out in late 2016 that the Russian jumpers who placed third and fourth and the Ukrainian who was fifth were disqualified.

In November 2017, she was officially awarded the Olympic bronze medal. (She later moved up to fifth in London when another Russian was DQed).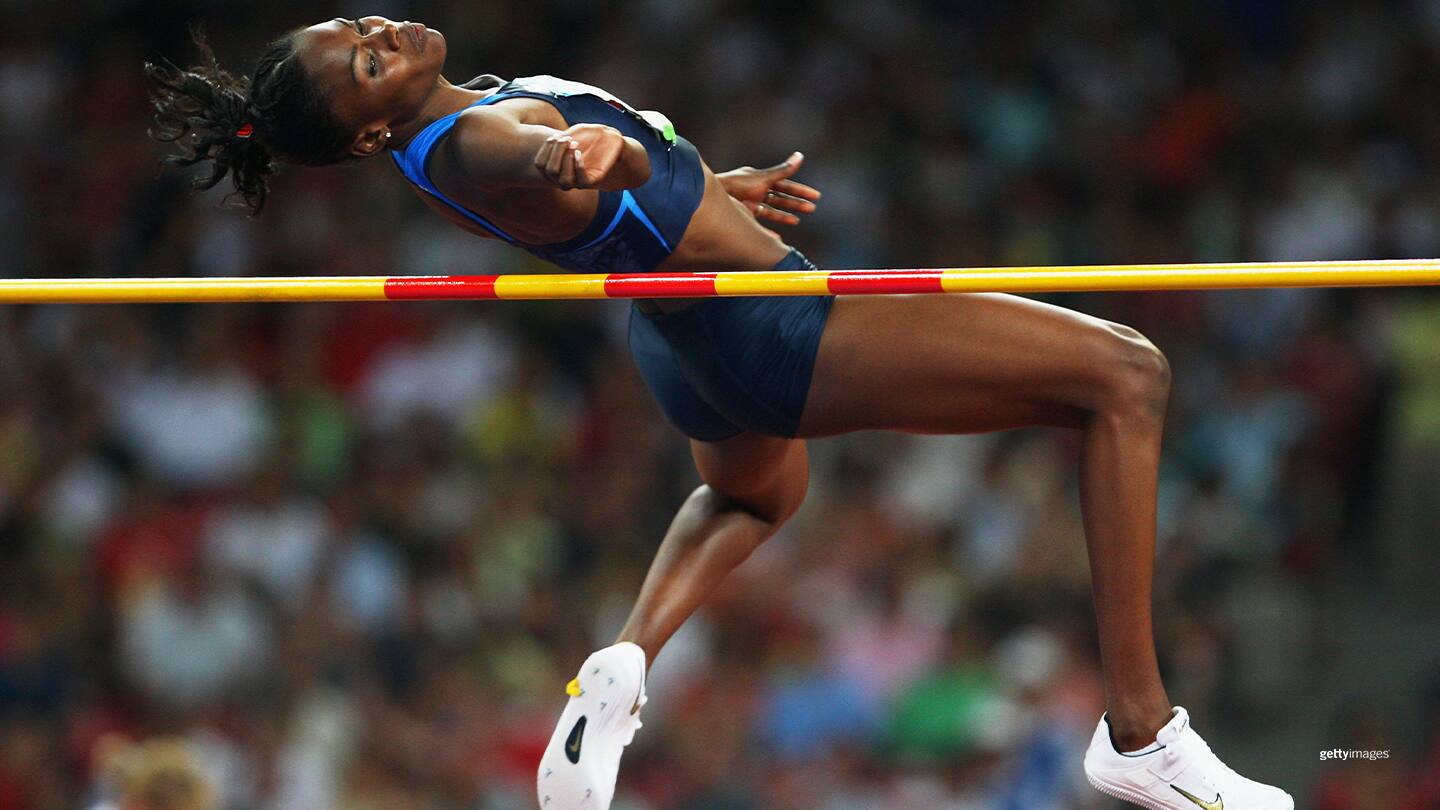 Chaunté Lowe competes in the Women's High Jump Final at the Olympic Games Beijing 2008 on Aug. 23, 2008 in Beijing, China.
While Lowe found out that sometimes good things do come to those who wait, that didn't apply to her health.

She was just 34 years old when a self-examination revealed a lump in her breast the size of half a grain of rice. Mammograms are usually not recommended for women under age 40 so Lowe had to push to have one in August 2018. Her doctor dismissed her concerns, telling her the lump was just a lymph node and she shouldn't worry about another mammogram until she was 40.

However, Lowe believes that if she had followed his advice and waited until she was 40, she would not be here today. Another mammogram detected an aggressive form of cancer that disproportionately affects black women.

Because of the 11-month delay, Lowe underwent a double mastectomy and chemotherapy rather than a lumpectomy with radiation.

While looking for a community to share her experiences, Lowe reached out to organizations. Komen asked her to write a blog about her feelings and the American Cancer Society made her a founding member of its women in sports advisory council.

Lowe believes that one of the most beneficial aspects of the Lilly-Komen partnership will be the "patient navigators," who will guide people through the process while providing information and emotional support.

"They are specifically going to be trained in how to help African American people – to help them find exactly what it is that they need," she said.

Lowe is also reaching out to all communities with her message about early detection which is the great defense against breast cancer.

"My mission has always been inclusivity for everyone," said the recipient of the NCAA's 2021 Inspiration Award. "I was dismissed because I was young, I was fit, I wasn't the stereotype of what breast cancer should look like. However, it was completely false, and it was wrong and when women that don't look the part are dismissed, it could have a potentially fatal impact.

"I'm glad that people are listening and I'm hoping that there's also people in the medical field that can understand what's going on and how they can better service their clients and their patients."

Lowe has applied for the $25,000 Team USA Service of Hope Award, a grant that would help her continue her work, and said that $12,500 will go to the charity of her choosing in furthering breast cancer research and advocacy.

People who have heard Lowe's story contact her to share their own experiences. "I know that it's definitely made an impact," she said.

The eight-time national outdoor champion has also made an impact on her sport – and she has one more lofty goal. While Lowe has three world championships medals, including the indoor gold medal in 2012 and the outdoor silver medal in 2005, she has never won an outdoor medal on home soil. The world outdoor championships will be held for the first time in the United States next summer in Eugene, Oregon.

Although Lowe hasn't competed regularly since 2017, the elite level in her event is still within her reach.

Lowe's American record of 2.05 meters (6 feet, 8 ¾ meters), set at the U.S. national championships in 2010, is still tied for 10th place on the world all-time list. Team USA Olympian Vashti Cunningham, 23, jumped 2.02 this year outdoors and cleared 2.00 in 2019, but no other American woman has surpassed 2 meters outdoors since Lowe went a world-leading 2.01 in 2016. Cunningham placed sixth at the Olympic Games Tokyo 2020 with a leap of 1.96 meters.

Lowe had hoped to compete in her fifth straight Olympic Games, and the postponement of the Tokyo Games gave her more time to recover from her surgery and chemotherapy.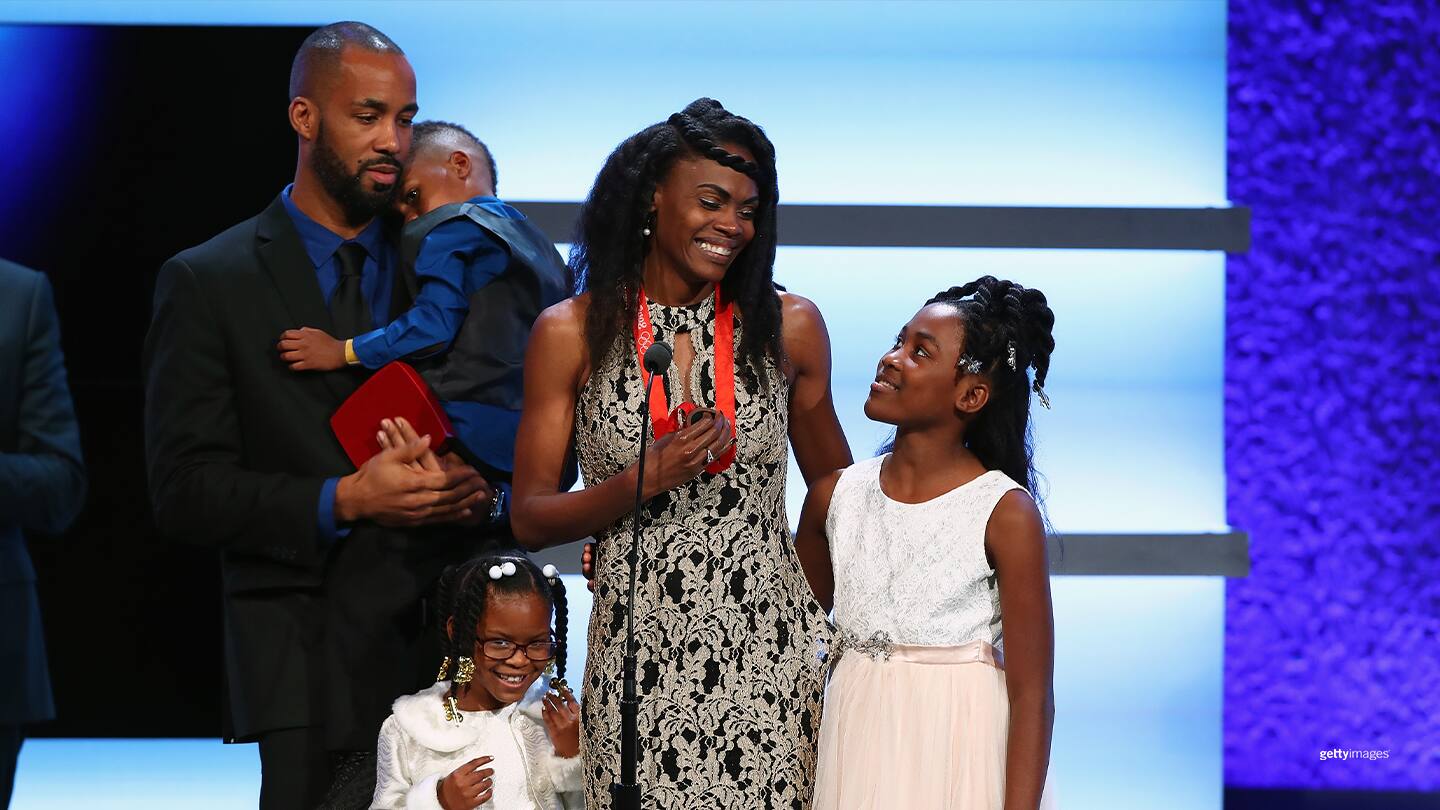 Chaunté Lowe stands on stage with her family at the 2017 Team USA Awards on Nov. 29, 2017 in Westwood, Calif.
She trained through her treatment, "finding ways to push through and be resilient," Lowe said.

She competed twice in March of this year, clearing 1.80 in both small meets, before the entire Lowe family – Chaunté, her husband Mario, and their three children, Jasmine, Aurora and Mario Josiah – all came down with Covid-19 in April.

When Lowe tried to jog in May, "My heart had a pain that I had never experienced before," she said.

Fearing longterm damage, she trained at only 50 percent capacity and was not able to compete that summer.

On Oct. 19, Lowe ran her first mile of the season to see how it would feel. "I just tried to jog it and ended up running 8:15, so that's good for a little jog," she said.

Her heart didn't hurt. Neither did her lungs. "I feel completely recovered, so I think it's a go," she said. "I've started measuring my ability based on how I feel. I still feel 20-something, which is weird. I weigh the same exact thing I did when I came out of high school, so I keep waiting for my body to feel old and it hasn't happened yet."

Lowe hopes to clear 2 meters again, which would no doubt lead to one of the joyous dance celebrations that punctuated her performances.

And now her success would carry a deeper meaning. "Realistically the goal is to save lives," Lowe said. "Even any height that I jump, any distance that I'm able to do, any time that I'm able to run, it's not for the sake of my own personal glory, but instead it's being able to extend this message even further."

She'll work out mostly by herself, but near where Lowe lives in the Orlando, Florida, area, "There's a training group that's been gracious enough to hold me accountable and check in on me," she said.

In the midst of her training, Lowe will also prepare for a TEDx talk on Jan. 29 at the Mizner Park Amphitheater in Boca Raton, Florida.

"It's about defining moments, those moments that really change everything," she said.

One is becoming a mom, with her oldest now 14 and her youngest 8. And, of course, the breast cancer diagnosis.

"I'm definitely a very positive person and even if the situation wasn't a positive experience, it still impacted me in a positive way," Lowe said.

On the speaking circuit, she said the topic most in demand is "resiliency."

"A lot of people are having a hard time because of Covid or motivating their staff or helping them through difficult times," Lowe said. "I actually do talk about my cancer journey, getting the medal eight years later, going through pregnancy and coming back to the Olympic Games, to inspire organizations."

The former financial advisor has a personal goal of eventually speaking to all Fortune 500 companies to both inspire and inform.

"I am determined and committed," Lowe said, "even outside of competition, to continue this work."
Karen Rosen has covered every Summer and Winter Olympic Games since 1992 for newspapers, magazines and websites. Based in Atlanta, she has contributed to TeamUSA.org since 2009.