U.S. Tops Medal Table At NACAC Open Championships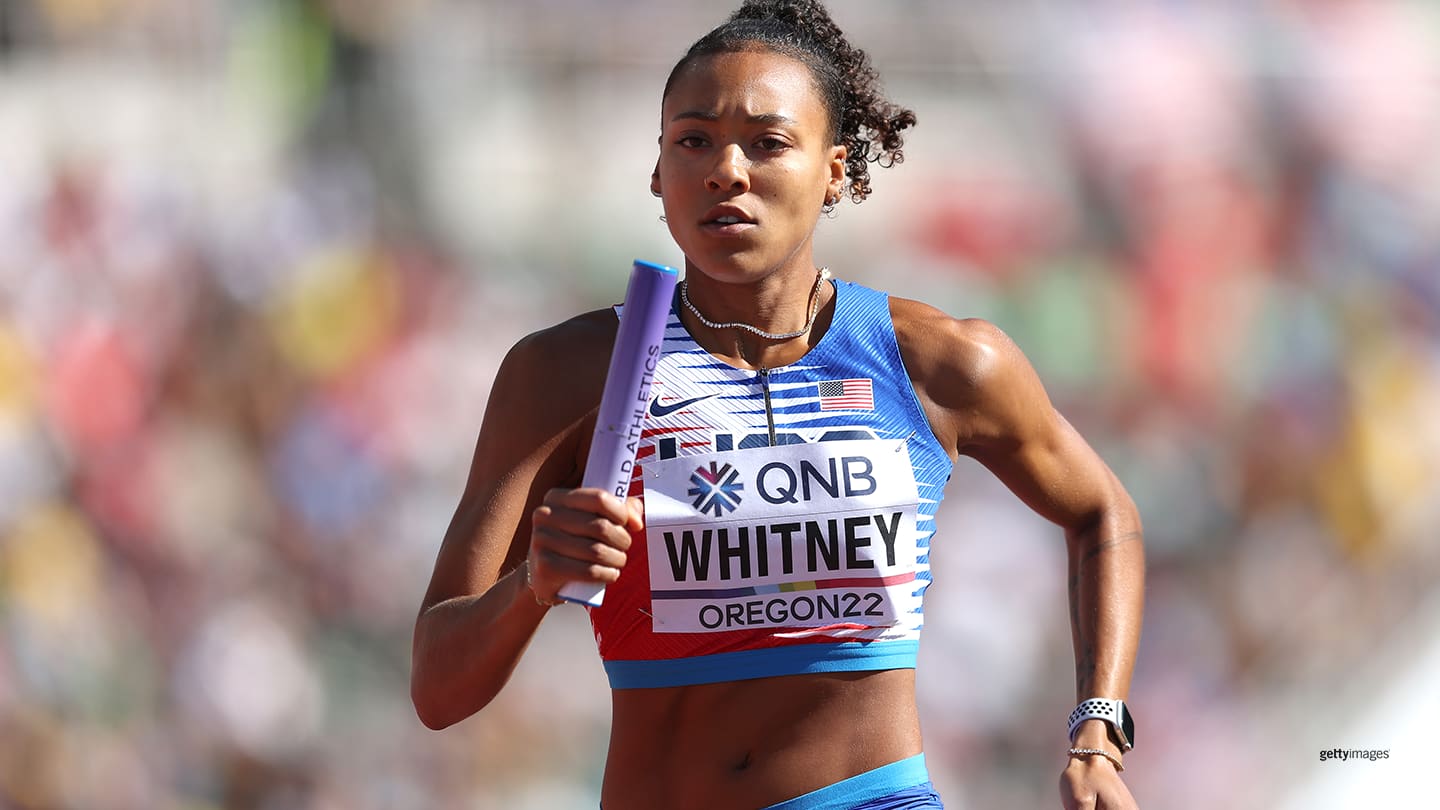 Kaylin Whitney competes during the women's 4x400-meter relay at the 2022 World Athletics Championships on July 23, 2022 in Eugene, Ore.
Athletes from over 30 countries flocked to the Grand Bahama Sports Complex in Freeport, Bahamas, for the North American, Central American and Caribbean Athletics Association Open Championships this past weekend.

This was the fourth time the NACAC Open Championships have taken place, with the inaugural event being held in San Salvador, El Salvador in 2007. The United States has topped the medal table in the three previous competitions, and that was no different this time around, as the Americans won 64 total medals, 40 more than runner-up Jamacia. In fact, the U.S. won more golds (29) than Jamacia's total medal count of 24.

Of the hundreds of athletes in attendance, the Americans had 20 Olympians who won medals in the Bahamas. Of those 20 medalists, 14 of them won golds.

The standout performance came from Kaylin Whitney, who won golds in the women's 4x400-meter relay and the mixed 4x400-meter relay. The 24-year-old from Clermont, Florida, started the women's relay and anchored the mixed relay, helping the U.S. set a competition record in both races.

Whitney is no stranger to the 4x400, as she won gold in the women's relay and bronze in the mixed relay at the Olympic Games Tokyo 2020.

Jaide Stepter-Baynes, who helped the Americans win gold in the women's 4x400 at the world championships in July, also ran in both races with Whitney.

Those relays accounted for two of the 15 competition records American athletes set over the weekend.

On the men's side, two-time Olympian Evan Jager — who won silver in the 3,000-meter steeplechase at the Olympic Games Rio 2016 — broke the competition record in the same event, winning gold with a time of 8 minutes, 22.55 seconds. Curtis Thompson, who made his Olympic debut in Tokyo last summer, set a new competition record with a javelin throw of 84.32 meters.

On the women's side, Heather MacLean beat her 1,500 time of 4:05.33 in Tokyo by almost a second, setting a competition record of 4:04.53. Two-time Olympian Vashti Cunningham record a 1.92-meter jump in the high jump for a new competition record.

Kara Winger rounded out the competition records set by Olympians, as her javelin throw of 64.68 meters beat fellow American Olympian Ariana Ince by 4.99 meters. The record-setting throw by Winger, a four-time Olympian, was almost five meters farther than her best throw in Tokyo of 59.71.
Luke Hanlon is a sportswriter and editor based in Minneapolis. He is a freelance contributor to TeamUSA.org courtesy of
Red Line Editorial, Inc.