Rough Start for Nathan Chen at Skate America Opens Door for Vincent Zhou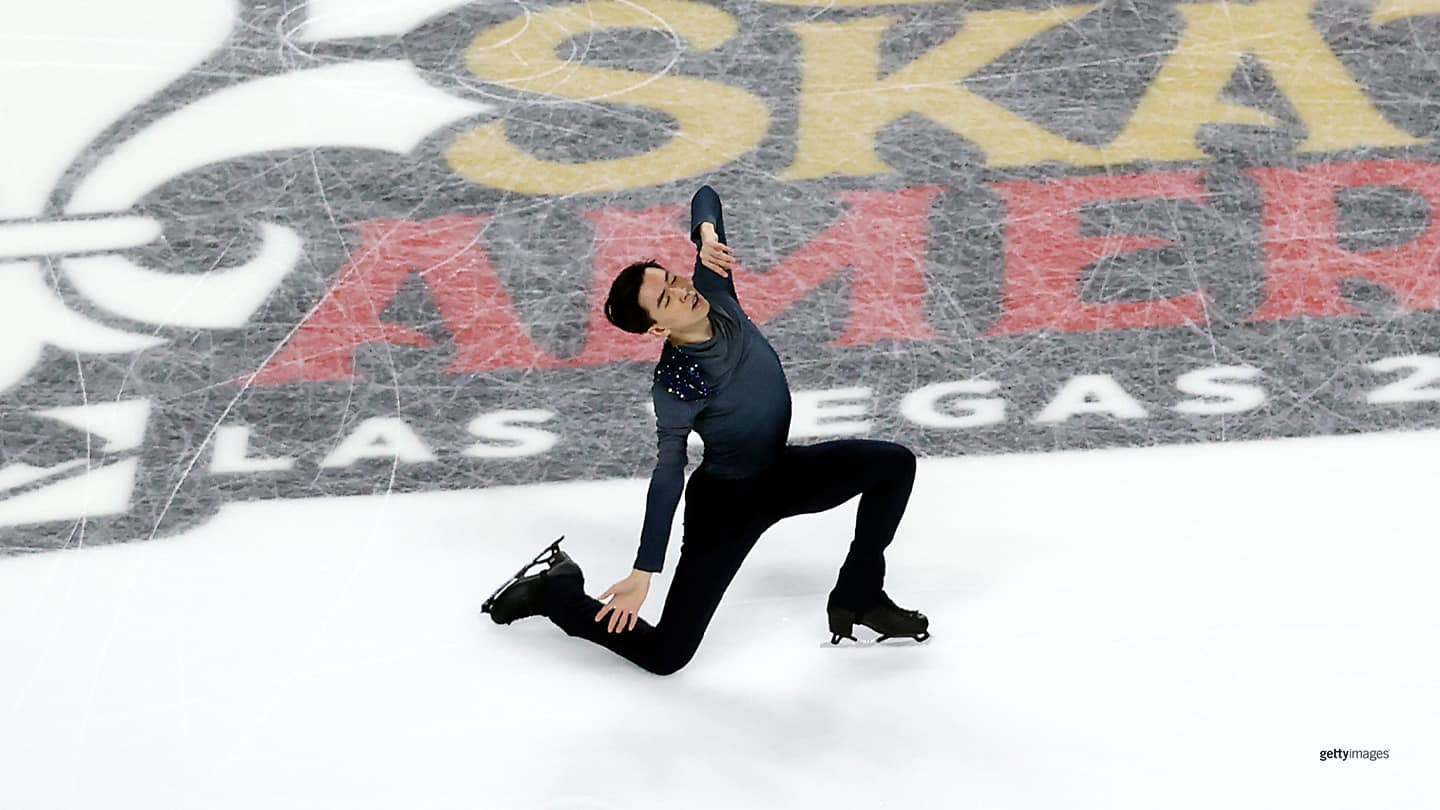 Vincent Zhou competes during the Mens Short Program of the ISU Grand Prix of Figure Skating - Skate America on Oct. 22, 2021 in Las Vegas, Nevada.
LAS VEGAS — Shock reverberated around the Orleans Arena on Friday when Nathan Chen fell on the opening quadruple lutz jump early in his short program.

Moments later, there was more disbelief as Chen stepped out of his quad flip and failed to execute the required combination. Suddenly, his four-year run of Skate America men's titles — and his more than three-year undefeated streak — was in jeopardy.

"Right now, I still have to figure out exactly what it is logistically that went wrong," said Chen, the five-time U.S. and three-time world champion. "I didn't skate well, that is just the bottom line right now. I'm not going to make any excuses, everything felt fine. Fortunately, this is the first event (of the season), so I have a lot of time to continue improving."

The 82.89 points Chen earned was more than 27 points off his personal best score. It left the 22-year-old skater mired in fourth place heading into Saturday's free skate, 14.54 points off the lead of fellow American Vincent Zhou.

It was Chen's worst showing since his infamous 17th-place short program at the 2018 PyeongChang Olympics.

Skate America is Chen's first event of the season. He elected not to compete in a tune-up competition, preferring to stick with practices in Irvine, California, where he trains under longtime coach Rafael Arutunian.

"Clearly not ready enough," a terse Chen replied. "So go back home and start working again."

Others noted that his practices in Las Vegas, especially his triple axel, were a bit off.

"I think that (the practices) took a little bit of mental real estate in my head," Chen said, adding, "Olympic season is always a completely different animal. I'm trying to keep up with that, but of course, today it didn't happen."


A bad night for Chen was a triumph for longtime rival Zhou, who has placed second to Chen at three U.S. Championships.

Zhou, who will turn 21 on Oct. 25, skated a sparkling short program to Josh Groban's rendition of "Vincent (Starry, Starry Night)" including a quad lutz, triple toe loop combination and quad salchow.

The U.S. silver medalist was also on top of his game on his spins and steps, and earned an impressive 97.43 points to lead Japan's Shoma Uno (89.07), the reigning Olympic silver medalist, by more than eight points.

"I think the score is definitely good, I have definitely trained better (programs)," Zhou said. "I know being first (to skate) in the whole competition is a tough spot to be in. … I knew I had to put on a good show to set the bar right away. That was my intention tonight and I think I did a pretty good job."

The only flaw in the program was a shaky triple axel.

"I think I just thought I had it a little too early," Zhou said. "I checked out a little bit early, that was why my landing was forward and to the right. A little silly mistake, I can do better."

Unlike Chen, Zhou has already competed this season, gaining mileage on his programs and testing his competitive mettle at Nebelhorn Trophy, which he won last month, and several other events.

"I feel like this season has definitely been very consistent so far, in terms of my training," Zhou said. "I've been training very consistently, and my performances in training have definitely been more consistent than past seasons."

"We've been working a lot this season on being able to translate that training into good practices at competitions," he added. "I have always had a hard time practicing at competitions. I feel these weird feelings in my legs, it is very high energy, the TV lights make you sweat a lot, you feel more tired than usual, there is jet lag. I've had much stronger practices here. I definitely feel like I'm on the right path."

It was also a terrific night for American Jimmy Ma, who skated one of the best short programs of his career to place third with 84.52 points.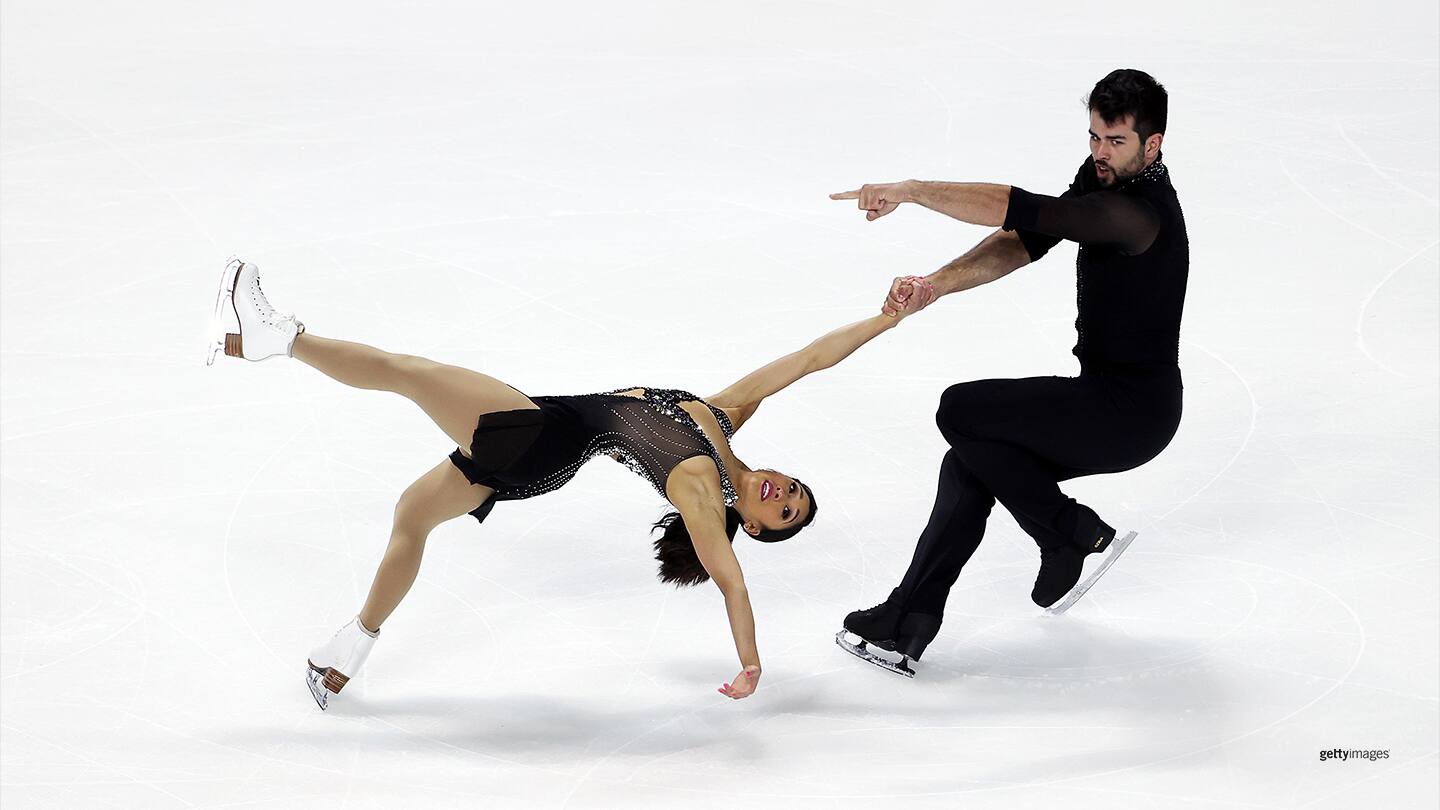 Jessica Calalang and Brian Johnson compete during the Pairs Short Program of ISU Grand Prix of Figure Skating - Skate America on Oct. 22, 2021 in Las Vegas, Nevada.
Calalang, Johnson lead U.S.
pairs
Jessica Calalang and Brian Johnson's reaction at the close of their short program ran the emotional gamut: there was satisfaction, joy and, most of all, relief.

"It felt like a huge weight lifted off," Johnson said. "We were carrying the weight of our whole career on our backs — and now we can just skate."

The Irvine-based skaters are back in competition after eight nightmarish months of uncertainty.

On Feb. 12, soon after winning a second straight silver medal at the U.S. Figure Skating Championships, Calalang was informed she had tested positive for a banned substance, 4-chlorophenoxyacetic acid, a USADA-prohibited stimulant.

Although the pair had been nominated to represent Team USA at the 2021 World Figure Skating Championships in Stockholm, Sweden, in March, they were forced to withdraw. It took what Johnson called "testing, testing and more testing," as well hiring legal representation, to put the matter right.

"(USADA) would keep pushing the date back, or not give us concise answers to our questions," Johnson said.

"It was a lot of back and forth because we were fighting so much," Calalang said. "The situation had never happened before. I knew I didn't do anything wrong. We kept fighting for the truth. It was kind of hard to hold on to that, but we made it out the other side."

Finally, after clearing another athlete who had also tested positive for the banned stimulant, USADA found that a substance found in Calalang's make-up had metabolized into 4-CPA.

"I was just waiting for Sept. 30 for the final say," she said. "I got a letter that (read) 'You are at no violation, so you can just go about your business.'"

And that is just what they did here at Skate America in their short program, a high-energy routine set to a hard-rock version of the Beatles' "Come Together," landing clean side-by-side triple salchow jumps — a major hurdle — as well as a strong triple twist. While Calalang had to fight to save the landing of a throw triple-lutz jump, their closing lift was one of the more spectacular of the night.

Their 68.87 points put them fourth heading into Saturday's free skate, but the score felt almost beside the point.

"We felt like we really performed the heck out of it, which is what we were trying to do," Johnson said. "All of the elements were done really well, which we were really happy with."

"It was unbelievable, I am so satisfied with that performance," Calalang said. "After my suspension was lifted, it really felt like we could skate with a new sort of joy and freedom."

Calalang and Johnson's training partners in Irvine, Alexa Knierim and Brandon Frazier, were not as happy with their program, set to the rock classic "House of the Rising Sun."

While the performance had a lot of positives — dramatic footwork, a strong throw triple flip, exciting closing lift — Frazier fell out of his triple toe. Their 66.37 points put the U.S. champions in fifth place entering the free skate.

"Some things were just tight, not sure why," Frazier said. "We trained really well, we are confident with our training."

"For me, obviously I'm frustrated with the jump," he added. "It's something I do (every day) and when you make that error under pressure, it's a little frustrating. But move past it and look to the bigger picture down the road."

Last season, the pair took Las Vegas by storm. Just six months into their partnership, every triple twist and throw, every lift was impressive because it was all brand new.

Now, with a Skate America title and U.S. crown under their belts, expectations are far higher.

"I felt like I was a little tight in some areas," Knierim said. "I think maybe we came out of the spin a little different this time, but it was very uncharacteristic of us. I think there were just some spots we are going to grow from and get better (for our next Grand Prix in) France."

Knierim and Frazier teamed up in spring 2020 after long careers with other partners. Knierim won three U.S. titles with her husband, Chris, while Frazier is the 2015 U.S. champion with his former partner, Haven Denney.

"I think we are still a newer team," Frazier said. "Long(time) teams can agree there are a lot of waves you ride as you gel and grow, and you compete more. That's what we are still doing, figuring out what makes our boat go full force."

A third pair training in Irvine, Chelsea Liu and Danny O'Shea, sits seventh with 60.16 points.
Two-time European champions Evgenia Tarasova and Vladimir Morozov lead with 80.36 points, while fellow Russians Aleksandra Boikova and Dmitrii Kozlovskii, the reigning world bronze medalists, are second with 75.43 points. Riku Miura and Ryuichi Kihara of Japan sit third with 72.63 points.
Lynn Rutherford is a sportswriter based out of New York. She is a freelance contributor to TeamUSA.org on behalf of
Red Line Editorial, Inc.