Gymnasts Leanne Wong, Kayla DiCello Earn First World Championship Medals In All-Around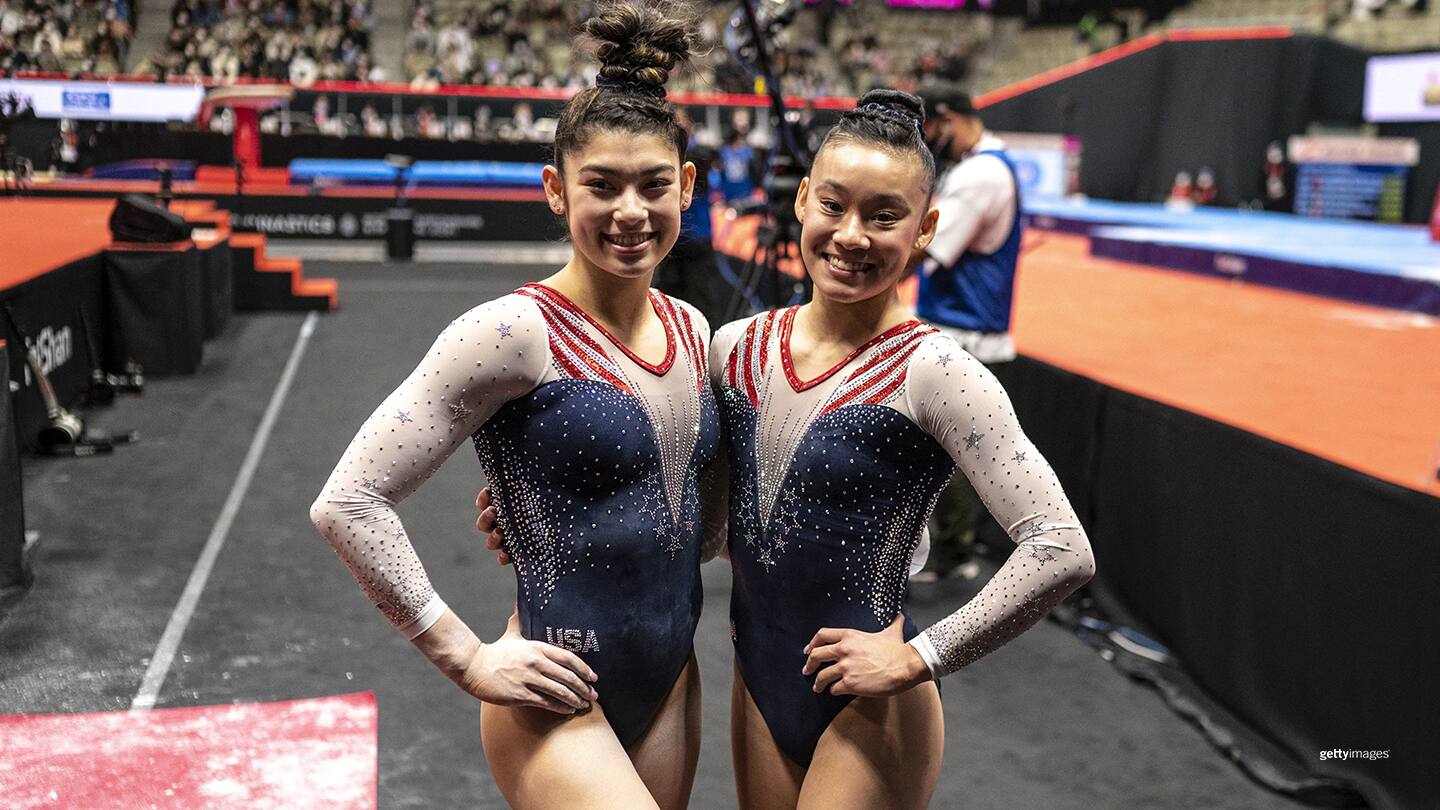 (L-R) Kayla DiCello and Leanne Wong pose after competing in the women's all-around final at the World Artistic Gymnastics Championships on Oct. 21, 2021 in Kitakyushu, Japan.
Leanne Wong came so very close to a gymnastics all-around world title, but in the end, it was an athlete from Russia taking the gold to end a long stretch of U.S. dominance at the Artistic Gymnastics World Championships on Thursday in Kitakyushu, Japan.

Wong had a strong day with a high score on balance beam (13.900) and floor exercise (14.033). Olympic all-around bronze medalist and team gold medalist Angelina Melnikova, who was in first place after qualifying, needed a score of 13.541 on the floor, her last apparatus of the night, in order to move past Wong and delivered with a 13.833. Melnikova's total score was 56.632, just three-tenths ahead of Wong with 56.340. Team USA's Kayla DiCello earned the bronze medal with a score of 54.566.

Despite the two-medal performance for the U.S., Melnikova's victory marks the end of a long string of all-around world championships coming from the U.S. American women had won every world all-around title for the past 10 years, with Simone Biles claiming five golds (2013, 2014, 2015, 2018, 2019), Morgan Hurd one (2017) and Jordyn Wieber kicking off the streak in 2011. The last athlete not from the U.S. to win the all-around title at the world championships before this year was Russia's Aliya Mustafina in 2010.

DiCello led the competition after the first rotation, scoring 14.600 on her vault. But after the second rotation Melnikova moved to the top with Wong in second, and that remained unchanged throughout the rest of the meet. DiCello, who dropped to fourth after the second rotation, pulled back into third with a score of 13.400 on the balance beam.

The top three at the conclusion of the final were in the same positions after qualifying.

Wong, 18, is a freshman at the University of Florida. She went to the Olympic Games Tokyo 2020 as an alternate but ended up in quarantine after roommate Kara Eaker tested positive for COVID-19. She previously won gold medals at the Pan American Games and American Cup in 2019. DiCello, 17, was also an Olympic alternate and is committed to Florida. She won gold on vault at the world junior championships in 2019.

Joining Wong and DiCello on the U.S. women's team this year are eMjae Frazier and Konnor McClain. It is the first senior world championships for all four women.

Both Wong and DiCello will compete in the floor and balance beam finals over the weekend.
Karen Price is a reporter from Pittsburgh who has covered Olympic and Paralympic sports for various publications. She is a freelance contributor to TeamUSA.org on behalf of
Red Line Editorial, Inc.