Yul Moldauer Leads Four U.S. Men In Qualifying For Finals At Gymnastics Worlds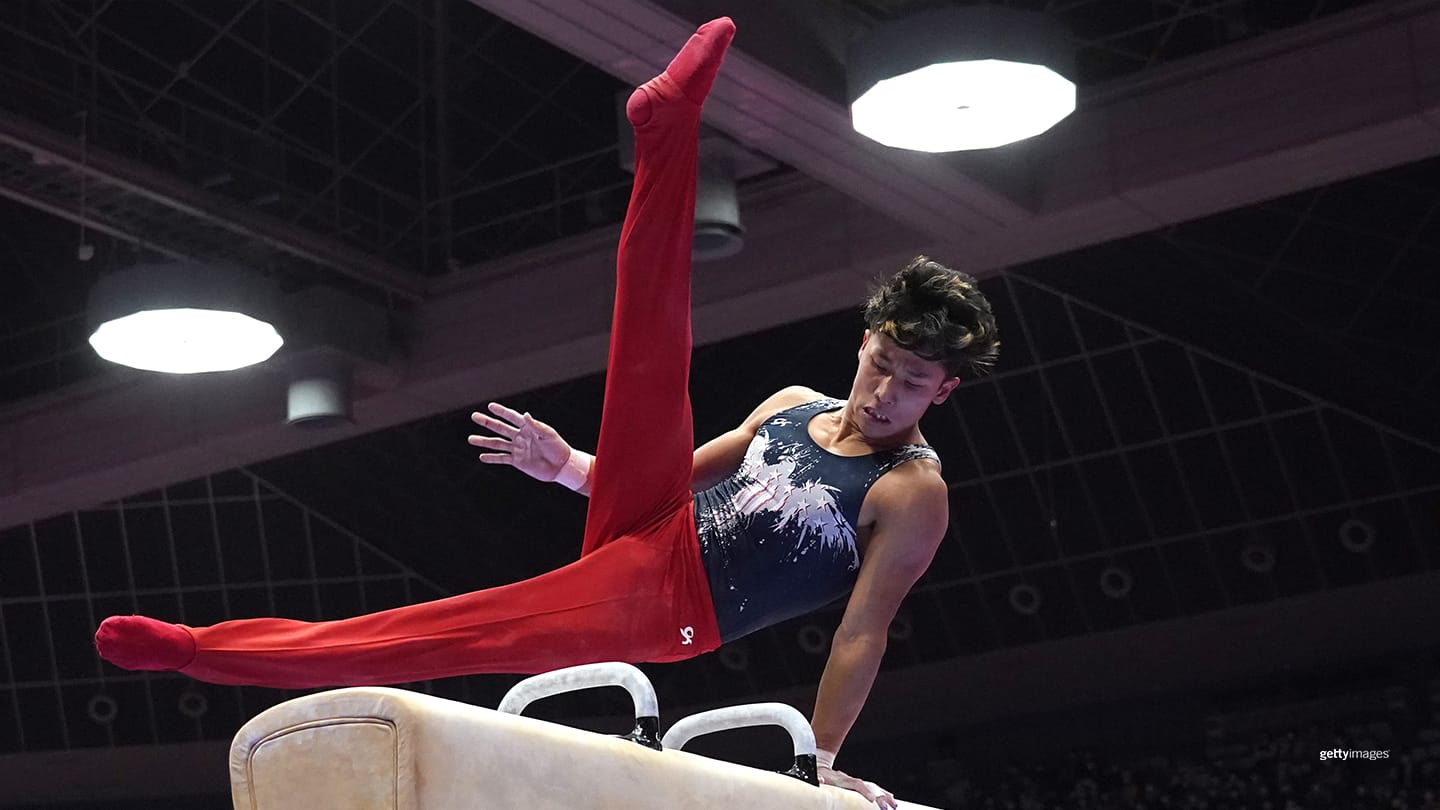 Yul Moldauer competes during pommel horse at the 2021 FIG Artistic Gymnastics Championships on Oct. 20, 2021 in Kitakyushu, Japan.
Before leaving Tokyo, his debut Olympic experience in the review mirror, gymnast Yul Moldauer laid out some plans for his return home to the U.S.

"I fly in Wednesday, I probably get a light day Thursday, Friday, and new skills on Saturday," Moldauer said prior to departing the Ariake Gymnastics Centre for the last time. "We've got to ramp up and get ready for world championships."

Now 11 weeks later, that commitment is paying off as Moldauer led four U.S. men in advancing to finals at the gymnastics world championships in Kitakyushu, Japan. There is no team event in the world championships after an Olympic Games.

Moldauer, a 25-year-old originally from Arvada, Colorado, was the only U.S. man to compete in all six events in Wednesday's qualifying round, and he advanced to Friday's final in 13th place with a score of 81.064. The former NCAA champ at Oklahoma also advanced to Sunday's parallel bars final after scoring 14.866 for sixth place. In addition, he is the first alternate for floor exercise after scoring 14.433.

The top eight gymnasts in each event during the qualifying round move on to the apparatus final, though a maximum of two per country can advance. Twenty-four advanced to the all-around final.

Moldauer, the 2017 U.S. all-around champion, is coming off an Olympic debut in which helped Team USA finish fifth and then placed sixth individually in the floor exercise final.

In a development that would have been unthinkable in recent U.S. history, two Americans advanced to Saturday's pommel horse final.

No American has won a world title on the notoriously unforgiving event, and the apparatus has often been the undoing for the U.S. in team competitions. Now the U.S. has two bona fine contenders.

Earlier this year, Stephen Nedoroscik and Alec Yoder battled for what was presumed to be a single event specialist spot on the Olympic team. In the end Yoder was cleaner at the U.S. championships and Olympic trials, and was selected to the team. He finished sixth in the event at his Olympic debut.

On Wednesday it was Nedoroscik, the former NCAA horse champ from Penn State, who proved superior, scoring 15.366 to Yoder's 15.300, as they finished second and third respectively.

Brody Malone, the defending U.S. champ who also made his Olympic debut in Tokyo, elected against doing the all-around in Kitakyushu but put together a powerful routine on high bar to finish fourth with a score of 14.366. He'll compete in Sunday's final.

The reigning U.S. all-around champ and two-time defending NCAA champ at Stanford, Malone, 21, was Team USA's top all-around finisher at the Olympic Games Tokyo 2020 in 10th and was just off the podium in the high bar final, taking fourth.

Veteran Donnell Whittenburg and newcomer Alex Diab rounded out the U.S. team.

The top U.S. all-around finisher at the 2015 world championships, Whittenburg ended up going to the Olympic Games Rio 2016 as an alternate, then battled injuries in the years since. Now 27 and training in the Milwaukee area, Whittenburg showed up at June's Olympic trials — his second domestic competition since 2019 — and won the vault title. Though he again fell short of the Olympics, he continued on to make his fourth world championships team. The 2015 world bronze medalist on the event fell short of the final, though, scoring 14.333 to take 12th place.

Alex Diab, yet another event specialist, scored 13.366 on still rings, which was good for 27th place. The 24-year-old former NCAA champ at Illinois was an alternate for the 2020 Olympic team but was competing in his first major international competition in Kitakyushu. He previously competed at the 2017 and 2019 World University Games.
Chrös McDougall has covered the Olympic and Paralympic Movement for TeamUSA.org since 2009 on behalf of
Red Line Editorial, Inc.
He is based in Minneapolis-St. Paul.