A Long Road Now Behind Them, The U.S. Men's Olympic Gymnasts Are Ready To Finally Head To Tokyo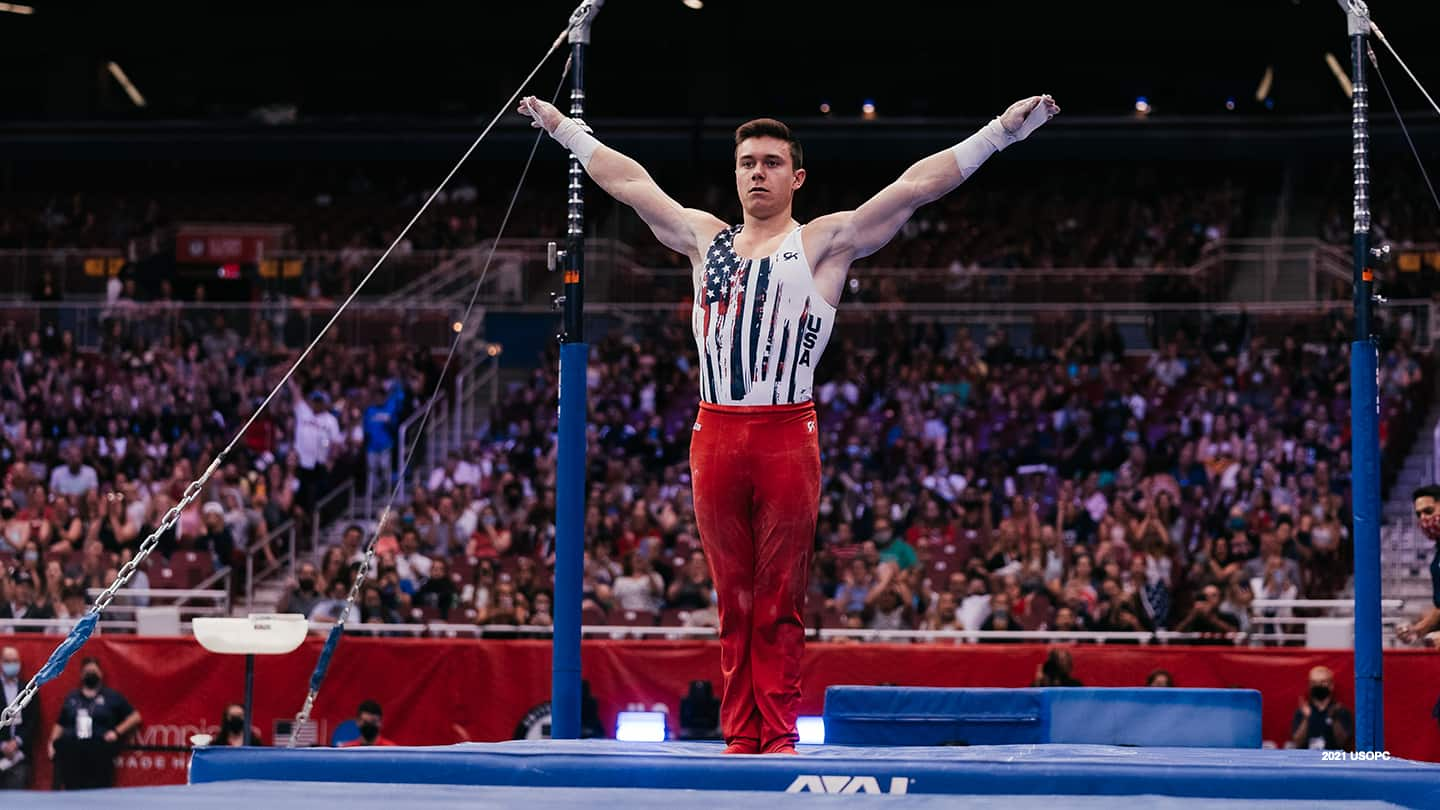 Brody Malone competes at U.S. Olympic Team Trials - Gymnastics on June 26, 2021 in St. Louis.
ST. LOUIS — Three years ago, when Stanford freshman Brody Malone won his first NCAA title, the possibility of making the 2020 U.S. Olympic gymnastics team started to feel like a distinct possibility.

"There was definitely a lot of hard work to do," he said, "but that kind helped me realize this could happen."

Little did he know.

COVID-19. Season canceled. Olympics postponed.

Then, with California on lockdown, Malone and a handful of teammates found themselves in Cypress, Texas, for several months last fall training with a local coach there ahead of the 2021 season.

All the travails of the past year and a half proved worth it as Malone so far this year has defended his NCAA title, won his first U.S. championship and, on Saturday, clinched the big one: a spot on the U.S. Olympic Team.

The Georgia native qualified automatically as the top all-arounder over two days of competition at the U.S. Olympic Team Trials in St. Louis, and he'll be joined on Team USA by second place Yul Moldauer as well as Shane Wiskus and two-time Olympian Sam Mikulak. Also heading to Tokyo is Alec Yoder, who was selected to compete as an individual.

"We're all just super happy," said Malone, who scored 171.600 over both days. "I think Shane started crying when he heard his name announced. It was just everything we've all ever dreamed of. It was awesome to share it with those guys."

The journey to make an Olympic team is never easy, and the added uncertainty of a pandemic only made it harder. Each of the gymnasts had their own winding, unexpected road to get here.

While Malone and his teammates were down in Texas, Moldauer and his roommates worked around Oklahoma's "stay-at-home" order by installing gymnastics equipment in the garage of their Norman house.

"It's just a one-door garage, but this is what it is right now," Moldauer told a local TV station, FOX23, in an April 2020 interview. "So here's the horse. See, this is the outside, and these are the rings."

Up north, Wiskus had to compete through the impending doom of his program being cut. The University of Minnesota announced in September that 2021 would be the last of 118 seasons for Golden Gophers men's gymnastics.

With the added knowledge that the program's last-ever meet would be the NCAA championships at home in Minneapolis, Wiskus split his time between training in Colorado and competing for the Gophers, ultimately ending his collegiate career in April with a third straight NCAA runner-up finish in the all-around.

"You can't make this stuff up," Wiskus, 22, said. "I go from first the season getting cut (short in 2020), practicing in the yard, then going and practicing alone at local gyms and then finally getting back on campus, and then they cut our program, and then I have to move. It's just like one thing after another."

Even Mikulak, the ever cool Southern Californian, has opened up about his struggles with mental health, letting it be known that life behind his laid back smile has been more of a struggle than he's let on.

Competing for the first time in 15 months at the national championships three weeks ago, the 28-year-old Mikulak was rusty in finishing third — the first time he's competed for a U.S. title and not won since 2012. His performance remained uneven this weekend. Besides his high-scoring floor exercise and high bar, his other routines were less polished, and a fall on his last event, pommel horse, had him wondering if he'd even make the Tokyo team.

When national team coordinator Brett McClure read the four names for the Olympic team, he saved the veteran's for last, nearly giving him a heart attack.

"The whole time, pommel horse was on my mind: was that the moment that just blew it for me?" said Mikulak, who finished fourth in the all-around with 166.750 points but first on floor and second on high bar.

Then McClure read his name.

"It was just like this wave of relief of, like, oh my god," Mikulak said. "I actually did it."

With a month to go before the Olympics begin July 23 in Tokyo, McClure described Mikulak as "still on theat upswing" after all the time off and a lingering wrist injury that led to him announcing the 2021 season will be his last.

If Mikulak wasn't quite at his best in St. Louis, his Olympic teammates sure were.

Malone backed up a breakout performance at the national championships with 12 rock solid routines in the Gateway City, the 21-year-old showing little emotion as he marched from one apparatus to the next and hit, hit, hit. He ended with the top score on high bar, while taking second on floor and rings, and third on parallel bars. Even his lowest scoring events, horse and vault, still ranked sixth.

If the Olympic team final were to be held today, it's likely he'd perform on all six apparatuses.

"What a stud, huh?" McClure said. "He competed with ice in his veins. He just looked unshakeable. I'll tell you what, I was watching high bar about to fall out of my seat on every single release move. He just caught it so perfectly."

The top all-arounder this weekend qualified automatically, and a second berth was available to the second-place finisher should he also go top-three in at least three events. Moldauer and Wiskus battled out for that spot all weekend, with the 24-year-old Moldauer pulling it out with a score of 168.600 to Wiskus' 168.150.

Moldauer finished top-three on four events, and was first on parallel bars. Wiskus was top three on two events but top-five on four.

Mikulak, Moldauer and Wiskus were all teammates on the 2019 world championships team that finished fourth for the second consecutive year. The U.S. finished fifth in Rio, and in Tokyo will be going for its first medal since winning bronze in 2008.

While the four guys named to the team were expected, the bigger question when the selection committee hunkered down in a room deep inside the Dome at America's Center was about the final plus-one spot. Four guys came into St. Louis as the top contenders, but no one had clearly separated himself.

The selection committee was looking for the gymnast who give the U.S. the best chance of winning a medal in Tokyo.

Pommel horse specialist Stephen Nedoroscik came in with a sky high difficulty score of 6.7 but fell on night one and was below his best on day two. Donnell Whittenburg, a 2016 Olympic alternate, dropped two massive vaults on Thursday and upgraded one on Saturday, but the landings on day two lowered his score significantly. Meanwhile, Alex Diab showed on Saturday that he had a rings routine to compete with the best in the world, but his execution on Thursday left him below that standard.

That left Yoder, who hit a big pommel horse routine on Thursday to score 15.05 and just needed to do it again today. Having to wait until the final rotation, the former Ohio State standout and 2014 Youth Olympian avoided a fall but dropped half a point from night one.

None of the four candidates would have been a surprise.

Then, with the lights out, music pumping and 13,379 fans in their seats in patient anticipation, five guys in red track suits ran back into the arena to be introduced as the Olympic team — Yoder among them.

Going into the back room, McClure said the deciding factor between taking Diab and Yoder was difficulty.

Yoder, for one, is already looking ahead.

"The next step is winning a pommels medal," the 24-year-old from Indianapolis said. "This is the step I needed to take to reach that goal. Making the Olympic Games is a good start."
Chrös McDougall has covered the Olympic and Paralympic Movement for TeamUSA.org since 2009 on behalf of
Red Line Editorial, Inc.
He is based in Minneapolis-St. Paul.