Shalane Flanagan Ending Marvelous Marathon Journey In New York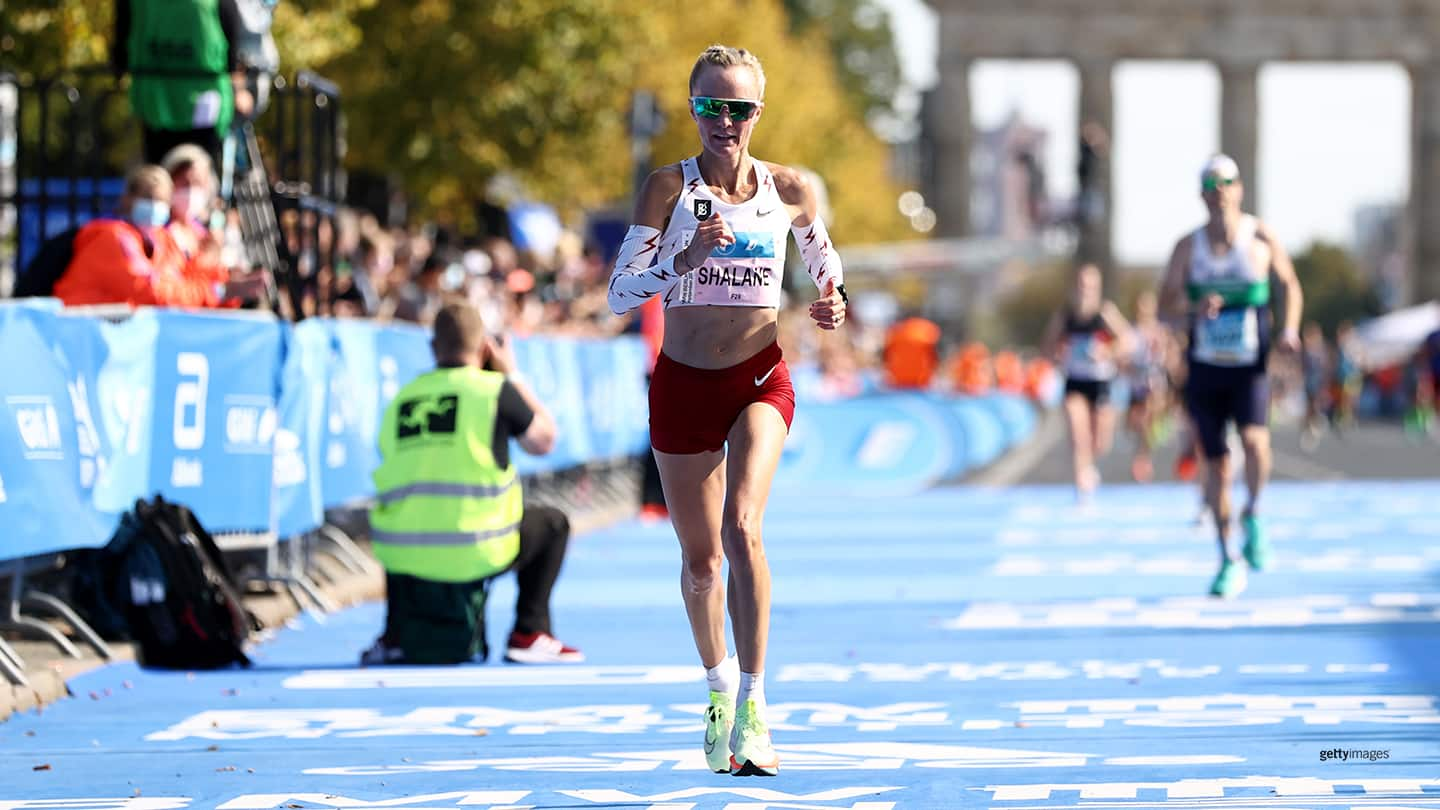 Shalane Flanagan crosses the finish line in the women's elite race at the 47th Berlin Marathon 2021 on Sept. 26, 2021 in Berlin.
For Shalane Flanagan to even consider her ambitious and unprecedented venture, the moon, stars, and planets had to align.

First, the worldwide pandemic compressed the international race calendar. Then Flanagan – who retired in 2019 – fell back in love with running. Once she was assured her surgically repaired knees would cooperate, "Project Eclipse" was born.

Six marathon majors in six weeks – 157.2 miles in 42 days.

"The opportunity of a lifetime has presented itself," Flanagan wrote on Instagram.

To make it even more challenging, the 40-year-old set a goal of finishing each marathon in under 3 hours.

With five down and one to go, Flanagan's slowest race has been 2 hours, 46 minutes and 39 seconds in Chicago. And that was with the Boston Marathon looming not quite 22 hours later.

On Sunday, Flanagan will step to the starting line in the New York City Marathon, a race she won in 2017 to become the first American female champion since 1977.

But this time Flanagan will not be running with the elite competitors. She will start in Wave 1, once again mixing in with the masses where she has chatted with fellow runners, learned the intricacies of grabbing cups full of water and even, gasp, walked in one of her races.

Flanagan reeled off her first five races within 23 days, then had almost three weeks to get ready for her final 26.2-mile journey.

"Honestly, I had no idea that this project would be as magical as it has been," she wrote on Instagram. "This is the most fun that I've ever had running. For over two decades, I have loved this sport, but in the past six weeks I fell for it. With an overflowing and full heart, I can genuinely say, I don't want it to end. When I cross the finish line in NYC, elated and exhausted, I already know I will wish that I could do this all over again."

After retiring and undergoing her knee surgeries, the four-time Olympian and 2008 silver medalist in the 10,000 meters said she felt "goal-less in 2020."

While Flanagan had settled into a new job as a coach with the Bowerman Track Club and was a devoted mom to her adopted son Jack, she said, "I felt lost without having something to chase."

Then in January, the 16-time national champion saw the schedule for the Abbott World Marathon Majors. They are usually spread throughout the year, but postponements due to the pandemic crammed all six into a period from late September to early November.

On the C Tolle Run podcast hosted by Olympian Carrie Tollefson, Flanagan said she noted how close together the races were. She thought, "Man, someone should do that. It seemed like it would be really fun, a world tour of marathons."

Flanagan went out for a run and couldn't stop thinking about it. But she was afraid of re-injuring her knees. When she got back, she asked her physical therapist, Colleen Little, "Do you think I could do it?"

Little thought she could.

On another run, Flanagan confided in her old teammate Andrew Bumbalough. "I've got this idea – is this crazy?"

"He's like, 'It is – it totally is, but you should do it. It's like an eclipse, it's so rare."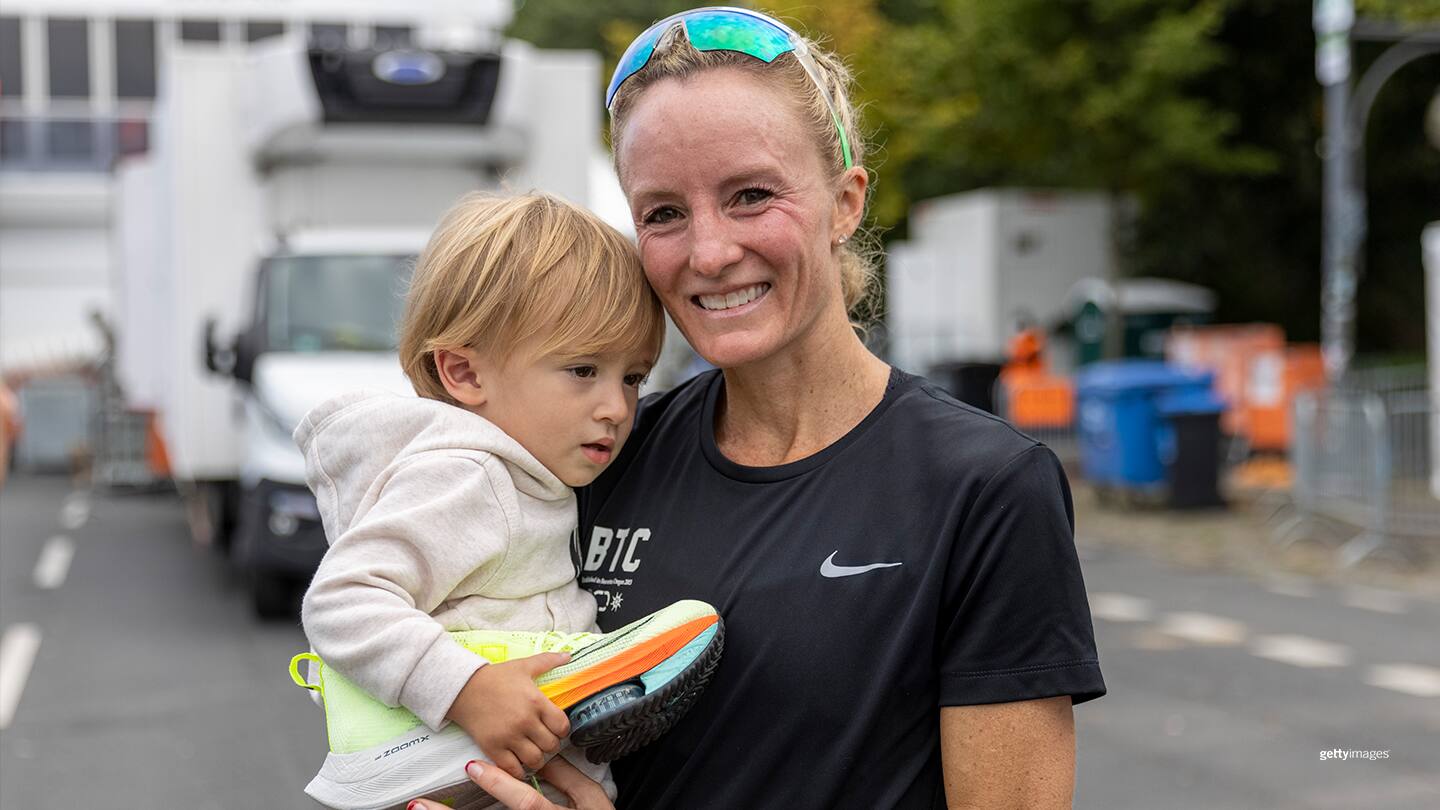 Shalane Flanagan poses with her son Jack at the 47th Berlin Marathon 2021 on Sept. 26, 2021 in Berlin.
Flanagan also enlisted the support of her sponsor, Nike, and finally committed to a training regimen in the spring.


She revealed her project to the world on Sept. 20 in an Instagram post that began, "Dear Running: It's me again, and I have fallen back in love with you. Only our relationship has a different texture than it did before. There is a depth to it that I had never experienced in the past. It still feels familiar, but it's softer. It's lighter. It's changed for the better. There is a freshness to something I've done for over 20 years, and I think I finally know why.
"It took me retiring and not running for a year due to two reconstructive knee surgeries to realize you are my best friend. I need you to feel like myself. My best self."
Flanagan knew her adventure also could help young girls discover their best selves, "to showcase the connection between mental and physical health and how important of a role athletics can play in your life."
And, she added, "Coming off a year and a half where so much was taken away from the world, I thought… could this be a chance for you and me to take some of it back?"
Flanagan ran a maximum of 80 miles per week compared to 130 miles per week when she was a pro athlete training for the New York City Marathon. Between marathons, Flanagan put in only 5 to 8 miles a day.
She paid particular attention to hydration, fueling, nutrition and sleep, knowing she couldn't take anything for granted. "The marathon is a beast," Flanagan said.
"Project Eclipse" officially began on Sept. 26 in Berlin, where Flanagan had posted her fastest marathon time of 2:21:14 in 2014. Little also entered the race, and they ran together for the first eight miles until Flanagan pulled away and hammered home to finish in 2:38:32.
She enjoyed the camaraderie in the race, and before she knew it was clicking off 5:40 miles. However, Flanagan had some difficulty at the fueling stations – elite runners have a different set-up – "so I basically wore more fluid than I drank," she wrote, adding that she wasn't used to dodging cups on the ground.
Flanagan's time was faster than she'd intended – and then on Oct. 3, she went even faster in the London Marathon, clocking 2:35:04 in the race usually held in April.
And that was despite having to walk.
"You know those sayings like, 'Don't go out too hard' or 'Save some for the end of the race,'" Flanagan said. "Well… I did no such thing."
She accidentally took off with sub-elite men instead of Wave 1, so was sucked into a much faster early pace. "I blame my competitiveness for that one," Flanagan said.
Her fueling also wasn't up to her usual standards – and she paid dearly.
"I ended up having to stop and walk for the first time ever in a marathon," Flanagan told Tollefson on the podcast, "and I guess the takeaway from that one, though, was it's not bad to stop and walk. I would encourage it more because I actually feel like when I stopped and walked, I was actually rejuvenated."
After 20-30 seconds of walking, Flanagan was able to regroup. "If I hadn't (walked), I felt like I was going to topple over," she said. "So, if I ever were to give advice to newbies, if you feel like you're under-fueling and you need to stop and walk and fuel, highly recommend, instead of trying to run through something…There's no shame."
And Flanagan still finished well under 3 hours.
A week later came her biggest test, the monster double. While many people don't even drive 50 miles on consecutive days, Flanagan ran 53.2 miles with about 21.5 hours between her finish in Chicago and her start in Boston.
"I'm asking a lot from my body this weekend," she wrote.
With her friend Mickey Wilson to help pace her in her first Chicago Marathon, Flanagan withstood wind that was "pretty gnarly."
She ran conservatively and fueled well, "because I knew as soon as the gun goes off, I have to start recovering for Boston," she said. "The gun goes off, hydrate, hydrate, hydrate, calories, calories, calories, nonstop."
Flanagan was so well-hydrated she had to deal with a full bladder the whole race.
After finishing, she waited about 10 minutes for Wilson to come in, then hopped in a golf cart, went straight to the hotel for a "little rinse off," met a car a few blocks away to avoid traffic and headed to the airport to fly to Boston.
Shalane Flanagan crosses the finish line at the 2021 Boston Marathon on Oct. 11, 2021 in Boston.
Understandably, Flanagan was nervous. "I was in foreign territory, and I had no idea how my body was going to react," she said. "If we're being honest, I was prepared to implode."

But this was Flanagan's hometown, where she grew up watching her father run the Boston Marathon and learned to love the sport. "Running gave me a future," said the Marblehead, Massachusetts, native.


Flanagan, who went on to star at the University of North Carolina at Chapel Hill, came prepared with an excellent pacer in Bumbalough, who was fifth in the Boston Marathon in 2018.
The race, which is historically held in April, begins with a fast downhill section, but Flanagan opted to ease into it and find a groove. She wanted to save something for the notorious hills.
"I've never felt good in the hills," Flanagan said, "but right about halfway, I looked over at (Bumbalough) and said, 'I think I'm feeling good. I think I've got this.'"
Her time was 2:40:34.
"Today gave me the confidence to know deeply and truly that I can accomplish this goal," Flanagan wrote, adding that it "feels so close I can taste it."
Even her husband Steven, now a high school coach, was impressed. When she initially told him about her plans, she said he replied, "Seriously? We just closed that door; you're really going to go do this again?"
"He's like, 'You go have fun, I'm going to have fun with my athletes,'" Flanagan recalled on the podcast. He called me after Boston, 'Oh my God, how did you do that? That was really good. That might be one of the more impressive things you've ever done.'"
Bumbalough later told Flanagan their last mile was a sizzling 5:35. "I was like 'Dang, it, we should have slowed down. We should have soaked it up more. What the heck were we doing?'"
Although the Tokyo Marathon scheduled for October was bumped to next March, Flanagan didn't let it break her stride.
One week after Boston she staged her own marathon in Portland on Oct. 18, running on some of her favorite roads at Sauvie Island with athletes including Olympic steeplechase silver medalist Courtney Frerichs to pace her.
Flanagan wore "Jack's Mom" on her bib as family and friends cheered her on.
Although she said that after Boston, she had a "marathon hangover," feeling tired and hungry, Flanagan clocked 2:35:14, just 10 seconds off her fastest Project Eclipse time from London.
"It is a blast to watch you," Tollefson said on the podcast. "You smile so big. People can see that you're truly loving it, even when we know it's hard and you are in pain at times, you're still bringing the joy to the sport."
As Flanagan waited for the final leg in her journey, she and Elyse Kopecky released their third cookbook, "Rise & Run," which includes recipes — such as superhero muffins — and race plans.
Kopecky will run her first marathon in New York, making the occasion even more special for the best friends.
"For each marathon I don't have a preconceived idea of what's going to happen," Flanagan said.
On race day, she assesses temperature, wind, humidity and other factors. But Flanagan knows she won't have the tunnel vision she had when she was trying to win in New York.
She wants to be able to "read the awesome signs that people are making, (hear) what they're shouting on the side of the road and acknowledge that or give them a wave or a high five."
When Flanagan crosses that final finish line in Central Park, checking off her sixth marathon in six weeks, Project Eclipse will be over.
And then, she said, "I'll let my competitive juices flow into my athletes and let them do all the kicking butt."
Karen Rosen has covered every Summer and Winter Olympic Games since 1992 for newspapers, magazines and websites. Based in Atlanta, she has contributed to TeamUSA.org since 2009.