Winter And Summer Games In Under One Year? Oksana Masters Can Do It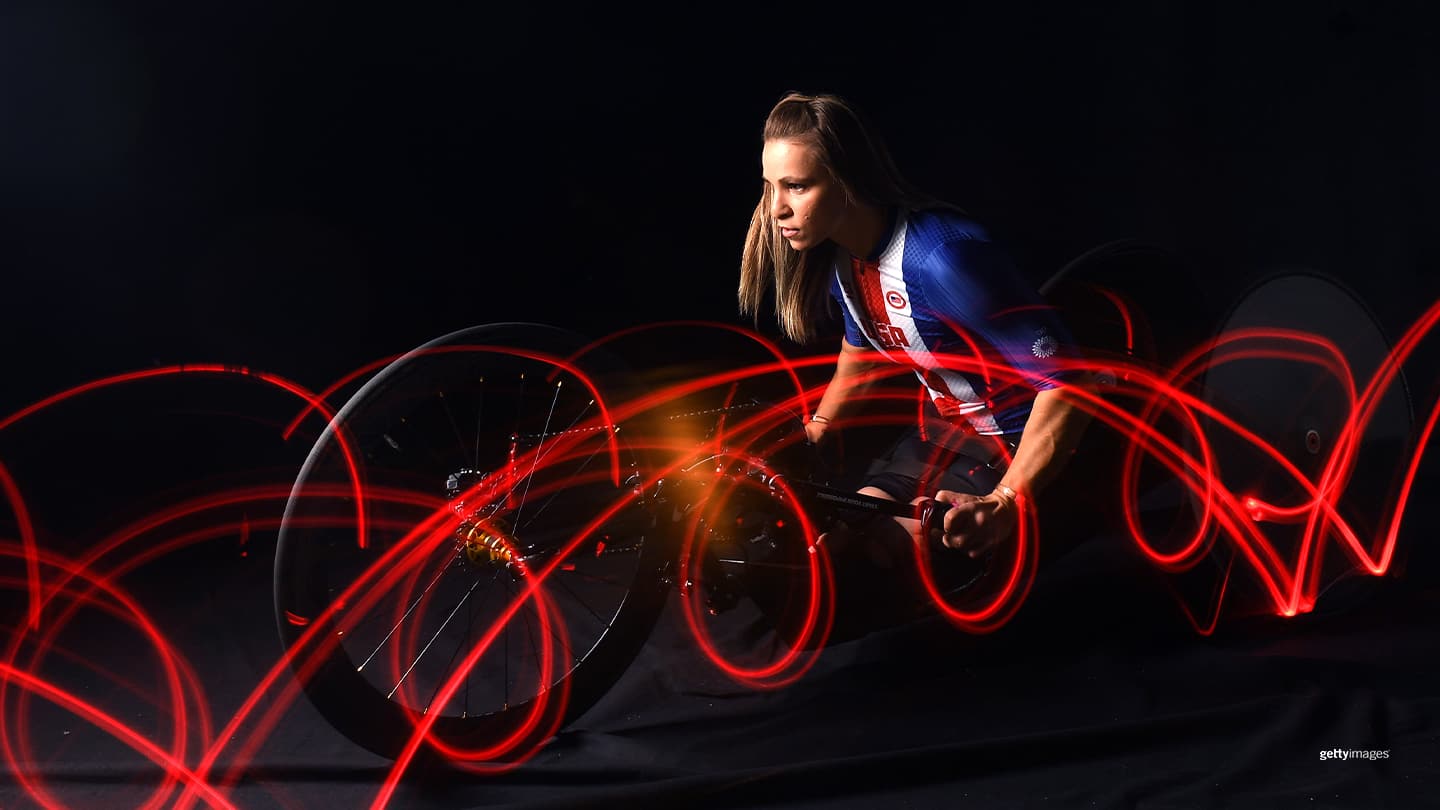 Oksana Masters poses for a portrait during the Team USA Tokyo 2020 shoot on Nov. 20, 2019 in West Hollywood, Calif.
It's hard to imagine another athlete who has more on her or his plate these days than Oksana Masters, who likely will compete in both the winter and summer versions of the Paralympic Games over the next 10 months.
The 31-year-old Masters already owns eight Paralympic medals that she has accumulated over four Games since 2012 in four different sports — rowing, Nordic skiing, cycling and biathlon. She also has collected 16 world championship medals.

To say that Masters has shown incredible versatility would be an understatement.

"I love pushing myself into uncomfortable situations because I truly believe that's where … I learn the most and I learn new things about myself," Masters said. "It's just incredible how the body and the mind automatically — if you let (them) — start adapting to the situation you're in, if you stay with the right perspective."

Masters has always defied long odds. She was born with severe birth defects in Ukraine to a mother who was exposed to fallout from the Chernobyl nuclear disaster. After a stay in an orphanage, she was adopted and brought to the U.S. by Gay Masters, a college professor.

She began rowing at age 13 and attempted to make the U.S. team for the 2008 Games. She failed that time around but made it in 2012 and brought home a bronze medal.

A serious back injury forced her from rowing in 2013, but she began skiing and hand cycling. Soon she was juggling three sports at an elite level.

"Opportunities, I guess, arose in the craziest ways," Masters said. "I felt like I went with the flow of opportunities. I wanted to take every opportunity and not live life wondering what if I tried this? What if I did that?

"That's kind of how I've gotten into so many sports. I did not set out to maintain so many different sports at the same time, that's for sure."

Masters said she often wonders how she got to this place athletically.

"Every, single morning, I have to pinch myself," she said. "Honestly, if feels like everything just moves so fast. It's amazing to kind of sit back and reflect. It's really cool."

It can be challenging to train for and compete in multiple sports, however.

"I think what mentally drives me is I wasn't satisfied with how I left the sport of rowing," said Masters, who still considers it her favorite sport, "It wasn't my choice to walk away from it. My body failed me at that sport. I wasn't able to maintain a quality of life to pursue that sport more."

Going from rowing to skiing meant transitioning from a team sport to an individual one.

"I was so proud of the (rowing) bronze medal in London, but I always thought it's because I had a male partner that helped me make this possible," Masters said. "I want to know what I can do on my own."

Masters has proved time and again — on skis and on the bike — that she can, but that doesn't mean she isn't constantly working at it.

"You would think cross-country skiing and cycling cross over to each other really well, but it's actually the opposite," Masters said. "It's wild to see how my body physically changes.

"My back muscles and my lats and my triceps are so defined for skiing. When I start cycling, my back muscles and my lats disappear, and … my shoulders and my chest and my biceps start to grow. It's just constantly adapting."

During cycling season, Masters also does workouts on a rowing machine or roller skis. In ski season, she does recovery bike rides in the afternoons.

"I think a lot of people don't understand that," Masters said. "I learned the hard way how painful it is if you're not making sure every, single muscle group is staying awake."

Ironically, the pandemic has prompted Masters to step up her training.

"Especially because of COVID, I transformed the basement into a gym," Masters said. "If it's raining or anything, I have no excuse. I'm constantly training."

Beyond Tokyo and Beijing, Masters is looking toward the Los Angeles Games in 2028, where she hopes to put an exclamation point on her career by competing in road cycling. When that is done, she has even bigger plans.

"Para-cycling is the most under-represented sport in the United States," Masters said. "Cycling and the equipment is really expensive, and it's really hard to customize, and school systems don't offer it.

"I want to help grow cycling, and women's cycling — most specifically, hand cycling — in the U.S. I just want to help bring awareness to society … that there are so many different ways to ride a bike, and money should not be the reason why a little kid who needs a hand cycle isn't able to ride a bike."
Bob Reinert spent 17 years writing sports for The Boston Globe. He also served as a sports information director at Saint Anselm College and Phillips Exeter Academy. He is a contributor to TeamUSA.org on behalf of
Red Line Editorial, Inc.