Oksana Masters Secures Silver In Cross-Country Long-Distance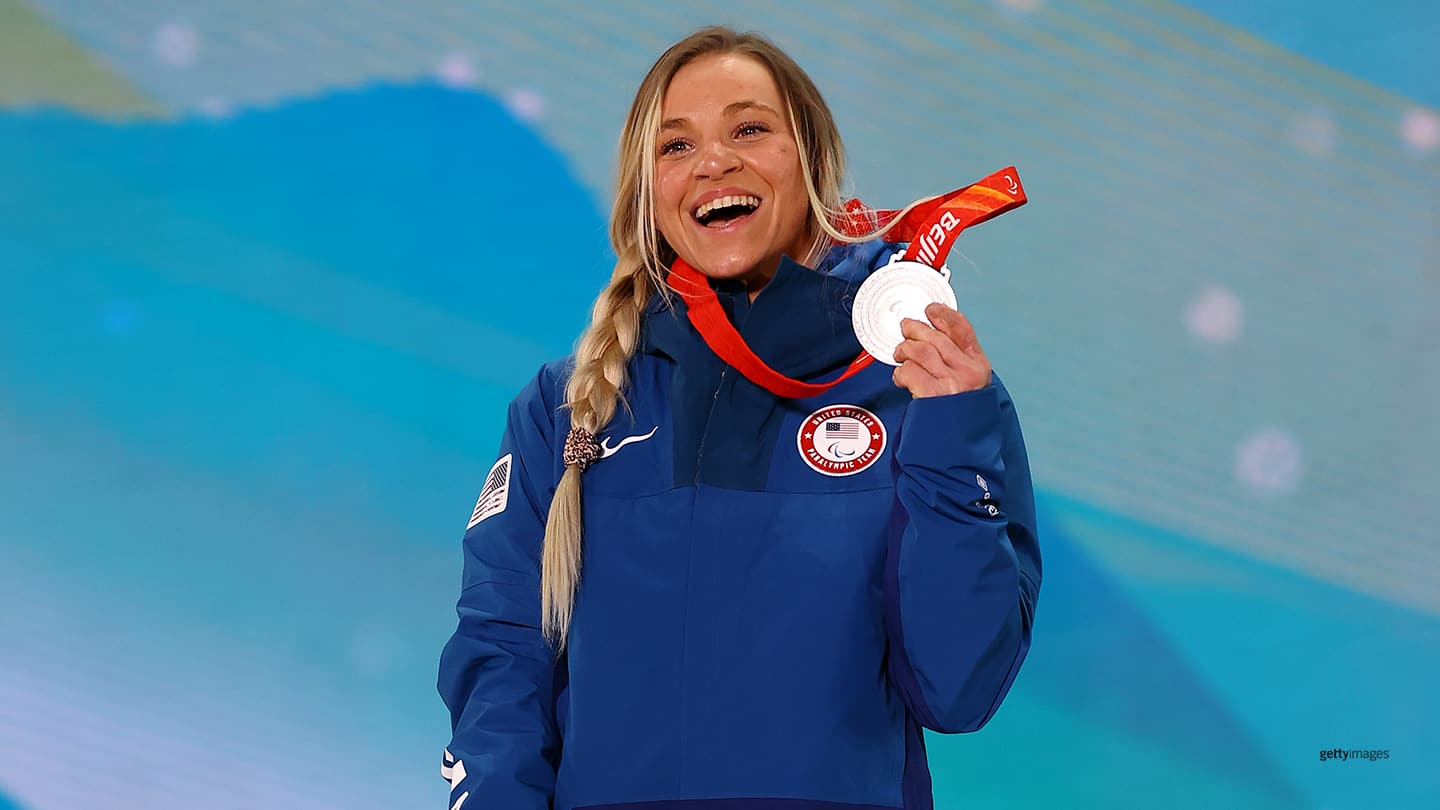 Silver medallist Oksana Masters poses during the women's sitting cross-country skiing long-distance medal ceremony during the Paralympic Winter Games Beijing 2022 on March 6, 2022 in Zhangjiakou, China.
ZHANGJIAKOU, China – Oksana Masters is two-for-two in podium appearances at the Paralympic Winter Games Beijing 2022.

She raced to a silver medal in the Para cross-country skiing women's long-distance sitting race finishing in 43:38.8 on Sunday at the Zhangjiakou National Biathlon Centre. China's Hongqiong Yang won gold in 43:06.7 and teammate Panpan Li finished in 45:17.0 to win bronze. Team USA's Kendall Gretsch finished just off the podium in fourth with a time of 46:26.2.

"I was trying so hard to get the gold," Masters said. "I was trying to upgrade from silver in Sochi and the PyeongChang bronze, but I'm just so happy to to be able to fight my way onto the podium. I can't wait to see the U.S. flag being raised today at the medal ceremony."

Masters, 32, said she fought hard throughout the grueling distance race, drawing on the energy of her coaches on the sidelines and the local fans cheering in the stadium. The 15-kilometer long-distance race was made harder for both Masters and Gretsch, who also competed and won medals in the biathlon sprint race on Saturday.

Another compounding factor for the Team USA racers was the Chinese athletes, who don't compete regularly on the world stage in non-Paralympic years. Masters said they were the surprise factor for the U.S. headed into the race.

"We kind of saw yesterday that they're here and they're going to be racing well," Masters said. "At the same time, it's just really exciting to see that they are racing well because it's going to be growing Para biathlon and cross country here in China. It's a sport that is underrepresented so to have more countries competing is exciting."

Team USA's women came out fighting in Sunday's final as they have done time and time again on the world stage. Masters skied several seconds faster than her world championship winning time from January. She is the reigning world champion in both the sprint and long-distance sitting events. Gretsch also improved on her long-distance world championship time, and is the current world champion of the middle-distance sitting race.

With two podium finishes and four remaining races on her program, Masters is looking forward to make the most of her time on the Paralympic course.

"This course is not really technical so there's not a lot of places to make up time," Masters said. "I wish there were more elements of skiing in it, but I think it challenged me in a really different way and I'm excited to see what the next few races have."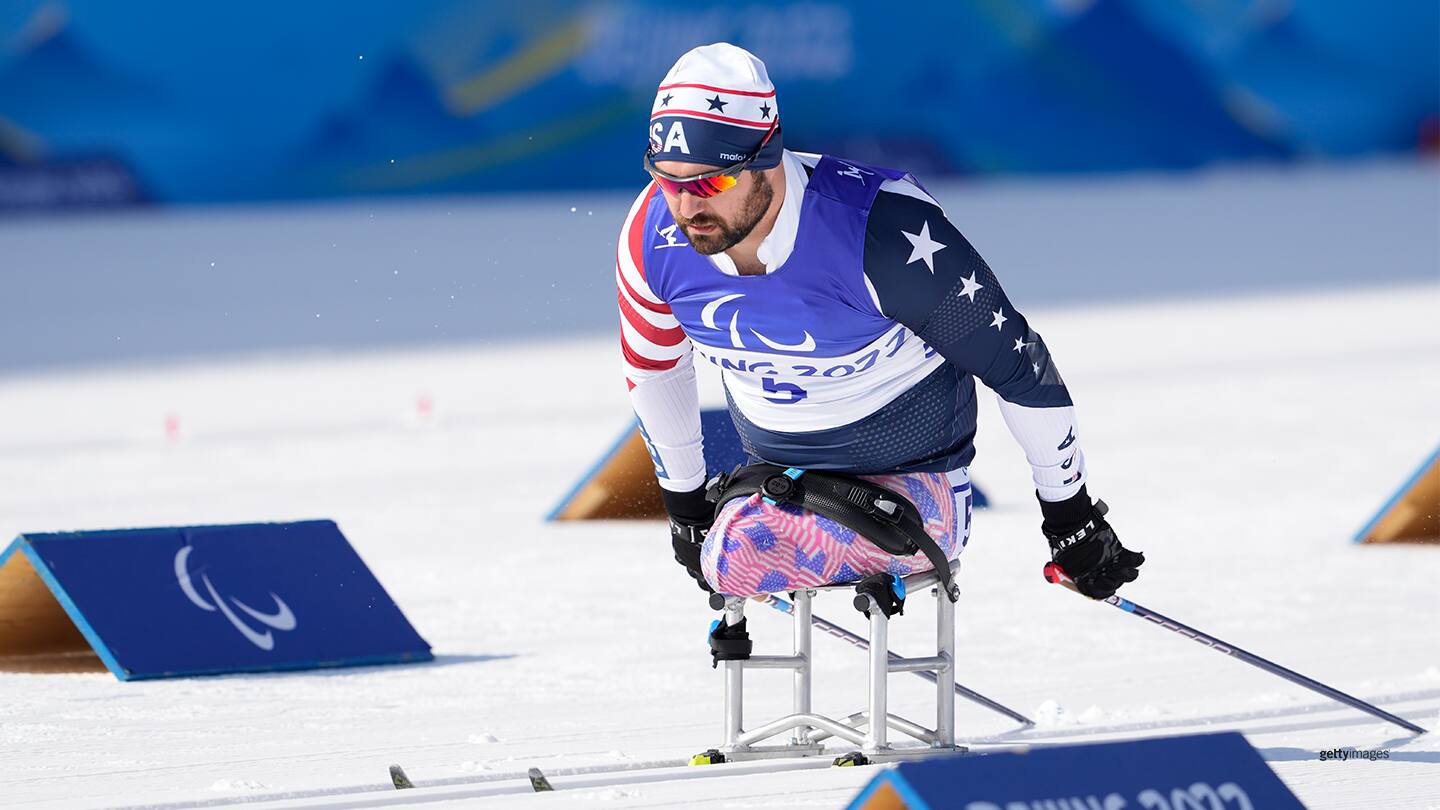 Josh Sweeney competes the men's sitting cross-country skiing long-distance race at the Paralympic Winter Games Beijing 2022 on March 6, 2022 in Zhangjiakou, China.
Dan Cnossen Posts Top Finish For U.S. Men; Josh Sweeney Makes His Paralympic Debut In Nordic
Skiing

Dan Cnossen again rose to the challenge posting a sixth-place finish in 49:22.7 for Team USA in the men's long-distance sitting event. China's Peng Zheng and Zhongwu Mao won gold and silver, finishing in 43:09.2 and 43:23.8, respectively. Collin Cameron of Team Canada raced to bronze in 47:36.6.

The former U.S. Navy SEAL waited until the last minute to decide he was racing, ultimately deciding to enter the mentally and physically challenging event as a personal test to see what he can do.

"In my opinion, this is the hardest race that we do in the cross-country discipline at 18 kilometers. In the last Games we had in 2018, it was a 15-kilometer race. I've never done an 18-kilometer, and I just wanted that personal challenge."

Cnossen said he considered that race a success because he stuck to his plan and had enough gas in the tank on his final lap. Also seeing success in the long-distance race was Team USA's Josh Sweeney, who finished 16th with a time of 54:07.7.

Already a Paralympic gold medalist in sled hockey, 34-year-old Sweeney competed in paratriathlon before eventually making the switch to Para Nordic skiing. He competed in one international Para Nordic event before making his Paralympic debut in Beijing. Sweeney views his multi-sport background as an asset to his racing.

"Having the different sport experience helps you know, especially in the triathlon world, what good pacing can do for you and not getting too carried away with what everyone else is doing," Sweeney said, "I've learned over all these sports that you have to trust yourself and your coaches, respect the process and just put in the work and you'll be alright."

Key to trusting in the process and coaching includes the support of U.S. teammates Aaron Pike and Dan Cnossen. The pair has mentored Sweeney throughout his transition to Para Nordic. Cnossen spent time with Sweeney discussing race tactics ahead of his debut race and was eager to celebrate his success afterwards.

"Honestly if it wasn't for both of them, I wouldn't be where I am, and I wouldn't be competing at the level I am today," Sweeney said. "They truly want to see me excel, and they don't try to keep information from me for their own benefit …I think Aaron Pike was the first one that kept telling me I should get into the sport so really if it wasn't for them, I wouldn't be here."

Team USA's Para Nordic athletes will look to continue their success in the long-distance races for the standing and visually impaired classifications on Monday.
Want to follow Team USA athletes during the Paralympic Games Beijing 2022? Visit TeamUSA.org/Beijing-2022-Paralympic-Games to view the competition schedule, medal table and results.
Katie Grunik is a digital content creator for TeamUSA.org. She is covering her second Olympic & Paralympic Games for teamusa.org and currently serves as the digital content coordinator for the U.S. Olympic & Paralympic Committee.