Texas Was The Perfect Place For Diver Murphy Bromberg To Chase Her Olympic Dreams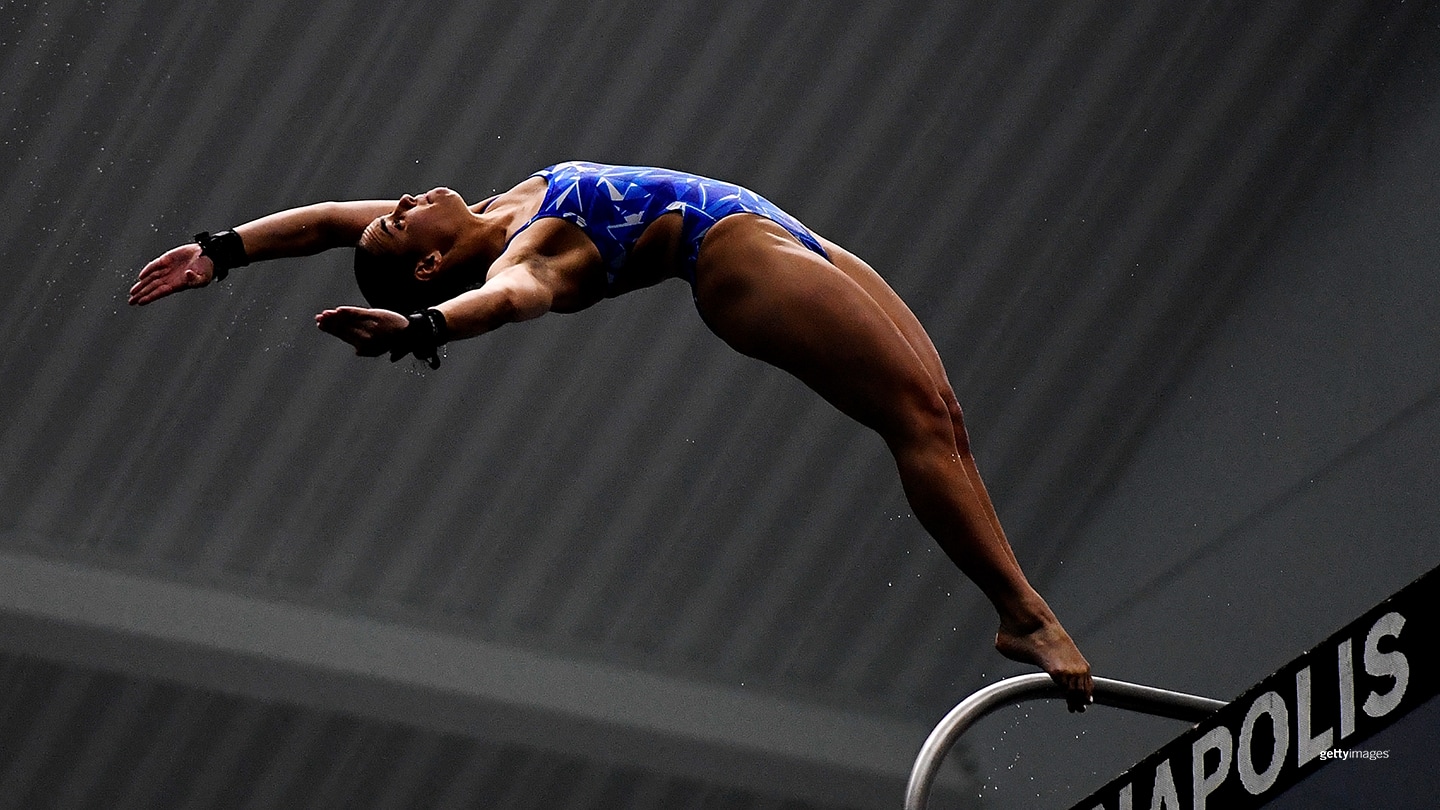 Murphy Bromberg dives during the USA Diving Senior National Championships on May 25, 2019 in Indianapolis.
As a high school diver, Murphy Bromberg's biggest concern in deciding where to go to college was finding a program that could get her to the Olympic Games.
Bromberg is now 25 with an undergraduate and a master's degree from the University of Texas. She's hoping to make her first Olympic team a month from now at the U.S. Olympic Team Trials, and her time diving for the Longhorns has her well prepared. But her college experience gave her a lot more than just the chance to develop her skills as a diver. From learning about teamwork and collaboration to the importance of empowering and uplifting other women, Bromberg owes plenty to her time at Texas.

"Coming to college and having team meetings with the swimmers and everyone, and understanding that we're fighting together, that we want to be an NCAA championship team and program, and realizing how diving was more than me individually trying to reach my goals, it's a huge part of who I am today," said Bromberg, whose signature event is the 10-meter platform.

It wasn't easy transitioning from preparing for the 2020 Trials to preparing for the 2021 Trials, but Bromberg knows well the ups and downs of an athletic career.

At the 2016 Olympic Trials she was in second place going into the finals, but finished third and just missed a spot on the team that went to Rio. That summer, she underwent shoulder surgery to take care of a torn labrum that had bothered her for the better part of a year.

After the disappointment of not making the Olympic team, she said, it was the thought of returning not to USA Diving but to her teammates at Texas that motivated her through the year-long recovery and rehabilitation process.

Bromberg ended up taking an injury redshirt following the Olympic redshirt the season prior and wasn't able to compete with the teammates she started school with in 2013 for their final season. But the support from both the diving and swimming coach to take the time needed to heal made her appreciate Texas even more.

"It's rare to get that support from the swimming side of things, too," she said. "I don't want to put down anyone else's program, but Texas is incredible in the way that it's truly swimming and diving, and you get support from the swimmers as well."

She came back as a redshirt junior in 2017-18 and then the following year capped her long list of collegiate accomplishments, including five-time Big 12 champion, four-time All American and two-time Big 12 Diver of the Year, by winning the NCAA title in the women's platform in 2019.

The meet was at Texas.

"It was really cool and really special," she said. "It was a blast to finish my college career like that. It's one of my favorite memories."

That performance, followed by winning the bronze medal in women's synchronized 10-meter at the world championships later that summer, would have been the perfect springboard into the 2020 Olympic season and Bromberg's second go at making the team.

Like every athlete with Olympic dreams, Bromberg had to readjust after last year's postponement due to COVID-19. If things had gone according to plan, she would have competed last summer in Tokyo, retired from the sport and been well into her "real world" career by now.

Bromberg is hoping to use her undergraduate degree in corporate communications and master's in sport management to find a job where she can connect athletes with a brand or brands. The most important thing, though, is finding a company that has a mission she believes in. Working for Athleta would be a dream job, she said, because she believes they have the same culture of empowering women and lifting women up that she found at Texas.

With Trials coming up June 6-13 in Indianapolis, Indiana, however, Bromberg is happy she decided to put off finding that career and stick with diving through the postponement to make her push for Tokyo.

Katrina Young, her synchro partner, will soon be in town, Bromberg said, and her training for Trials will include a few mock meets over the next few weeks before heading to Indianapolis.

"I'm such a planner that I have everything written down and it's so cool to finally see this last month all written out and see OK, this is what we're doing and then we're there, finally," she said. "This whole year has been Groundhog Day, like OK, we lived this day last year, thinking last Jan. 15 was the last Jan. 15 before Trials. Now we're past April, we're in a new time that we never got to live last year and it really is exciting."
Karen Price is a reporter from Pittsburgh who has covered Olympic and Paralympic sports for various publications. She is a freelance contributor to TeamUSA.org on behalf of
Red Line Editorial, Inc.