News
Steele Johnson
Michael Hixon
Hixon/Capobiano and Parratto/Schnell Make Olympic Team In Synchro Diving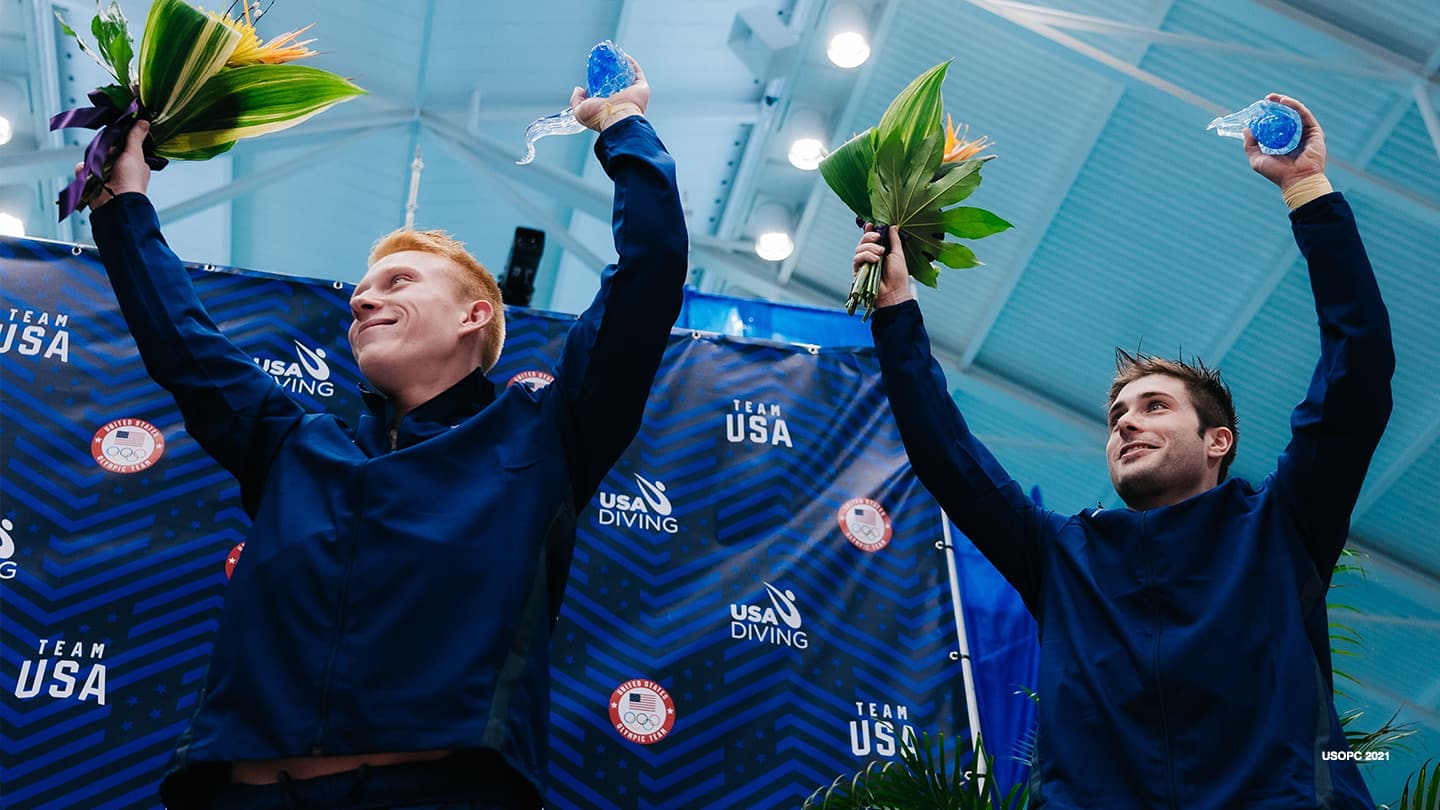 Andrew Capobianco and Michael Hixon celebrate qualifying for the Tokyo Olympics in the men's synchronized 3-meter springboard at U.S. Olympic Team Trials - Diving on June 11, 2021, in Indianapolis, Indiana.
INDIANAPOLIS – Mike Hixon and Jessica Parratto proved their resiliency by qualifying for their second straight Olympic Games -- each with different diving partners.


Hixon teamed up with Andrew Capobianco to win the synchronized men's 3-meter springboard event Friday night at the U.S. Olympic Team Trials – Diving. Meanwhile, Parratto dove with Delaney Schnell to capture the synchronized women's 10-meter platform event.


Capobianco and Schnell are first-time Olympians.


Hixon and Sam Dorman won the silver medal at the Olympic Games Rio 2016 in 3-meter. When Dorman retired, Indiana coach Drew Johansen put Capobianco, his new freshman sensation, together with red-shirt senior Hixon in 2018.


"I feel like I'm just really the bridge between two great divers to be honest," Hixon said. "They both make their dives a lot easier than I do. I spend most of my time just trying to keep up."


Capobianco said he had not competed in synchro before college. When the former gymnast arrived at Indiana, he said Johansen tried to model his diving after Hixon's so their timing would be similar.


"Coming in your first real synchro partner being the Olympic silver medalist from the last Olympics was pretty crazy," Capobianco said, "but he took me under his wing and it's been really special."


On the flip side, the pairing of Parratto and Schnell was a last-minute decision. When Schnell's partner Tarrin Gilliland was injured and couldn't compete, Parratto made the hard decision to team up with Schnell instead of diving with her 2016 Olympic synchro partner Amy Cozad Magana, with whom she finished seventh in Rio.


Parratto and Schnell had experience diving together from 2019.


"Obviously, it worked out for the best," said Parratto.


Following the preliminaries and semifinals, Hixon and Capobianco, the 2021 NCAA champion, carried a 63.21-point lead over Greg Duncan and Grayson Campbell into the six-dive final.


After Duncan and Campbell scored 70.38 on their last dive, Hixon and Capobianco still held the lead, assuring them of victory no matter what happened on their 109C – a forward 4 ½ somersaults from the tuck position.


That's when Hixon kept Capobianco from making a rookie mistake.


"I looked at the scoreboard, and I saw the scores and that we had kind of done it," Capobianco said. "And Mike saw me do that and said, 'Keep your head in it,' which was very important for me because I think my head was definitely out of it at that point."


Hixon said he had a similar experience at the 2016 Trials.


"We had a sizable lead going into the last round," he said. "We hadn't clinched or anything, but the same thing where you just don't even want to do a hurdle at all to a 109C -- and I ended up doing it from 2 feet back on the board.


"And that's not where you want to be for NBC to have to air that dive where you're crashing in the water."


His dive was much better this time, and they totaled 90.06 points — their highest tally of the night. Their final score was 1,289.37 points, a cushion of 120.57 points ahead of Duncan and Campbell at 1,168.80.


Olympic medalists David Boudia and Steele Johnson were in third place after the semifinals, but Johnson had to pull out because of a lingering foot injury. Boudia is in the lead in the men's 3-meter event and will compete in Sunday night's final, while Hixon is in third place and Capobianco is sixth.


Hixon said he and Capobianco should stack up well against international competition at the Olympic Games Tokyo 2020. They were fourth at the World Cup, the Olympic test event in May, finishing only a point and a half off the podium.


"That list will be very competitive," Hixon said. "There are definitely some things we can work on, improve on, clean up a little bit but that's sort of in the ballpark of where we want to be."


The synchronized women's 10-meter was a duel since only two teams competed.


Parratto and Schnell had a 23.46-point lead going into the five-dive final ahead of Katrina Young and Murphy Bromberg, who won the bronze medal at the 2019 World Championships.


They extended their lead to 40.86 points on the first dive and were still ahead by 43.38 points as they entered the final round.


"I'm not usually a scoreboard watcher," Parratto said, "but I knew where we were at in the standings."


When she hit the water after their last dive – a back 2 ½ somersaults with 1 ½ twists from the pike position -- she said, "It was just relief."


The duo finished with 930.00 points to win by 41.46 points.


However, there's still hope for Young and Bromberg to qualify for Team USA. Young, who was 13th at the Rio Olympics, is the leader in the individual women's 10-meter platform while Bromberg is in second place. The final is Sunday night.


Parratto's Olympic roots are deep. Her father Mike is a swimming coach who guided Jenny Thompson and now coaches phenom Regan Smith, who is attempting to make her first Olympic team.


"It's just crazy to be able to call myself a two-time Olympian," Parratto said.


For Schnell, a former gymnast, making her first Olympic team "is a lifelong dream of mine." She said her coach, Dwight Dumais, often tells her that she needs to dive because she enjoys it.


"He always uses a quote with me," Schnell said, "'Do it for the little girl that started in the first place.'"
Karen Rosen has covered every Summer and Winter Olympic Games since 1992 for newspapers, magazines and websites. Based in Atlanta, she has contributed to TeamUSA.org since 2009.