A Perfect Match: Delaney Schnell and Jessica Parratto Team Up For Synchro Platform Lead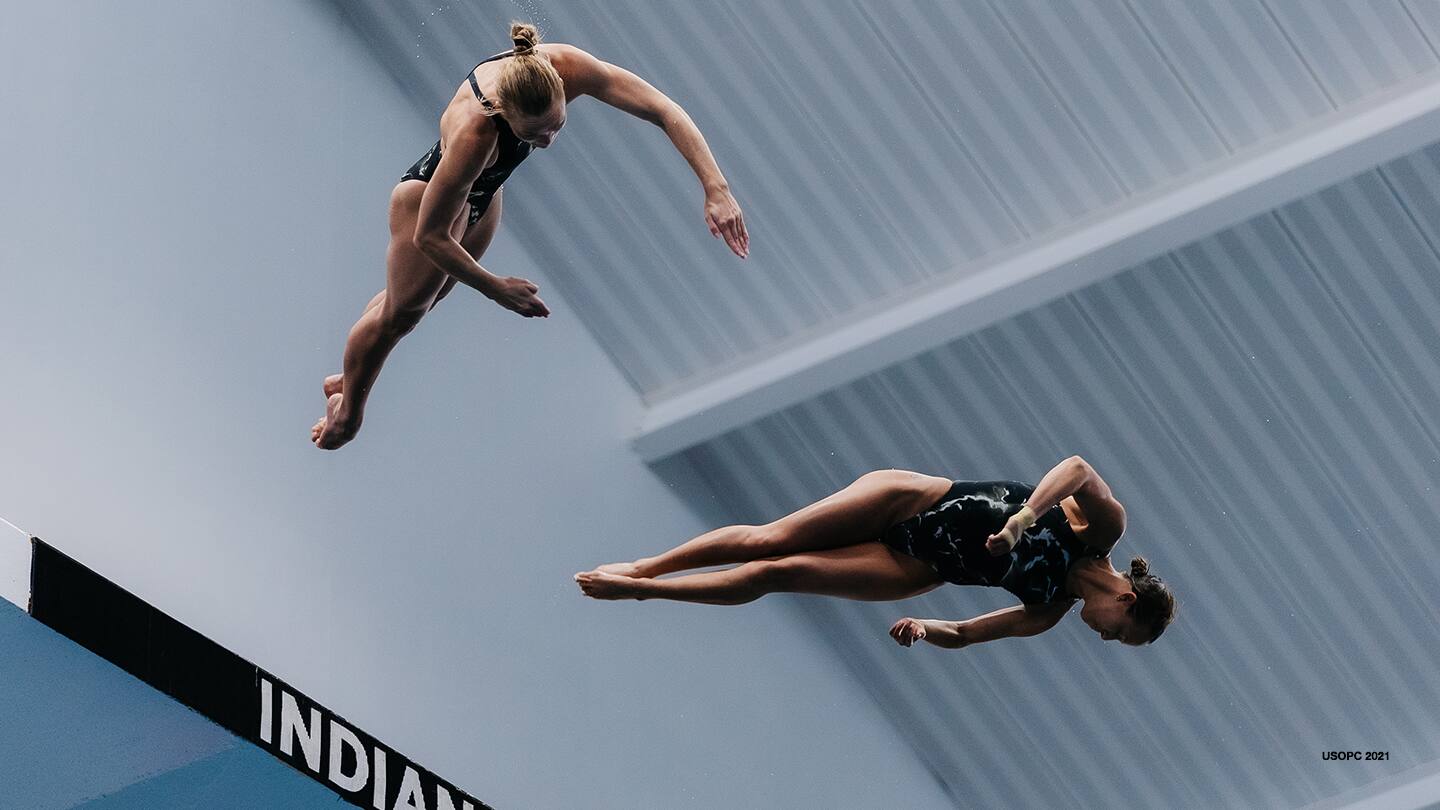 Delaney Schnell and Jessica Parratto dive during night two of the Diving U.S. Olympic Team Trials on June 7, 2021, in Indianapolis.
INDIANAPOLIS – Until a few weeks ago, Delaney Schnell and Jessica Parratto didn't intend to team up at the U.S. Olympic Team Trials – Diving. But when Schnell's partner Tarrin Gilliland had to pull out due to an injury, she turned to Parratto.

Within the mix-and-match world of synchronized women's 10-meter platform diving, Schnell and Parratto had competed together at the USA Diving National Championships in December 2019. They placed third behind the pairings of Schnell and Gilliland and Parratto and Gilliland.

"We had a last-minute switch-up," said Parratto. "Delaney needed a partner and we just thought it was the best decision for Team USA to put the next-best team forward.

"Obviously it worked out well today."

Following their five dives in the preliminaries and another five in the semifinals Monday, Schnell and Parratto have a combined total of 613.68 points. Katrina Young and Murphy Bromberg, the 2019 world bronze medalists, are in second place with 590.22 points. Only one team will qualify for Team USA in the final on Friday night.

In synchronized men's 3-meter springboard, Andrew Capobianco and Mike Hixon forged a commanding lead after the semifinals. Hixon, who won a silver medal at the Olympic Games Rio 2016 in this event with former partner Sam Dorman, and Capobianco scored 848.10 points to lead Gregory Duncan and Grayson Campbell by 63.21 points. David Boudia and Steele Johnson, Olympic silver medalists on synchronized 10-meter platform in Rio, are in third place by .73 points.

Parratto was a 2016 Olympian with Amy Cozad Magana, where they placed seventh, and had planned to dive with her again at Trials.

"Unfortunately in synchro, sometimes you have to make really hard decisions," Parratto said.

In yet another example of how the same names keep popping up, Parratto and Magana earned their trip to Rio by defeating the team of Schnell and Bromberg, while Young was also a 2016 Olympian in the individual 10-meter event.

Schnell, 22, said there were no hard feelings after Parratto, 26, helped end her Olympic hopes in 2016.
"Not at all," she said with a laugh. "I was really young at that time and still learning a lot and just working on becoming a better diver. I wasn't quite at that level yet."

She added that they found their strength as a pair after Gilliland couldn't compete at the Trials.

"Jess and I just decided we want to try and not only make the team, but also bring back medals," Schnell said. "I think we just both felt that as a pair we would have been the best chance for that."

With only three teams competing, it boiled down to a duel between Schnell/Parratto and Young/Bromberg as Grace Lee and Remi Edvalson dropped out of contention early.

The lead went back and forth, with Young and Bromberg leading after the preliminaries by a scant .72 points – 302.04 to 301.32.

But Schnell and Parratto pulled ahead in the semifinals to build a cushion.

"It's been a while since we've competed at this level, and I think we were just trying to get in our mindset and in our zone," Schnell said. "We both knew in the prelim that we were capable of more. In the semifinal, we just needed to put the pieces together and we were able to do that."

Parratto added that they won't rely on the margin they have built.

"I want to pretend that we're on an even level playing field," she said, "so we can just do our dives the best that we can. Every dive counts."

Capobianco and Hixon took the lead on their first dive, a back dive from the pike position, and steadily pulled away from the other four teams as they progressed through their six-dive list.

Boudia, who is attempting to make his fourth Olympic team and his first in springboard, and Johnson were in third place most of the day.

Capobianco and Hixon finished with a flourish, scoring 87.78 points on a forward 4 ½ somersault tuck with a degree of difficulty of 3.8. Their scores ranged from 7.0 to 7.5 for execution and were mostly 8.0s for synchronization. Hixon yelled with excitement when he came up for air.

"We were happy with how it went tonight," said Capobianco. "That was definitely a really good list for us, very consistent and solid, and it was a good way to build off of the prelims."

At the World Cup in Tokyo last month, which served as the Olympic test event, they placed fourth to secure the quota spot for Team USA at the Olympic Games.

"We got the job done; we did what we needed to do for Team USA," Capobianco said. "but we weren't very pleased with how we dove. Our timing was a little bit off and we didn't have much training going into the test event."

Capobianco, who won both the 1-meter and 3-meter events for Indiana at the 2021 NCAA Championships, only had about a week to train with Hixon going into the World Cup. However, with Hixon spending the last two weeks in Bloomington, Indiana, Capobianco said they were able to really get everything squared away and ready to go at trials.

He said in the final they hope to get an even bigger score than they did in the semis.

"We won't be taking our foot off the gas," Capobianco said.
Karen Rosen has covered every Summer and Winter Olympic Games since 1992 for newspapers, magazines and websites. Based in Atlanta, she has contributed to TeamUSA.org since 2009.